Fun pics of me in a show 25 yrs ago!
---
Hey everyone.
I have to say these are the ONLY pics I have left from me riding many years ago. Over the years many things have been lost stolen and shuffled around in my less than normal lifestyle. I came across these about two years ago and brought them home. When I visited my folks for christmas, I brought them with me so my Mom could scan them and I could save them and also post them here.
Here is the scoop on the little chestnut Arab. He was 5 and very untrained! I believe I am 15 in these photos. I worked with a woman feeding and riding horses for money. This little arab was purchased by a family (along with 4 other unsuitable arabs for their non experienced children) Our job was to get them traned and rideable. So for about 8 months I worked with Arab. His name was Haliam.
At this show, I rode in a flat class and in a jumping class. In the jumping class we did absolutely poorly as Heliam had never been there and was afraid of all the jumps. He refused 2 or 3 jumps. I remember having a real difficult ti,e with one in particular but since it was not a rated show or anything like that they let us continue to try. I didn't give up and circled until I calmly managed to het him over all the fences.
At the end of the show I was given the huge bowl trophy for having the best horsmanship. Becasue when Heliam refused etc. I managed to keep my wits about me and just get the job done. I think the judges were impressed because I was had talked and rewarded Haliam after he did the right thing. That trophy had been around for years. It was a trophy that they engraved your name on and the next year you got to give it away to the new winner.
Here we go.
1.) Me clearly getting cut off in a flat class. lol
2.) Must have actually got a ribbon inthat class
3.) a line up
4.) right be fefore a refusal at the next jump (I think)
5.) a ribbon I think from the flat calss
cute pix! I remember those days... the rubber boots and the pants that don't match everyone elses! I bet it was a blast!
---
"Be a best friend, tell the truth, and overuse I love you
Go to work, do your best, don't outsmart your common sense
Never let your prayin knees get lazy
And love like crazy"
Okay a few more pics ...
1.) blurry but I thought it was cute
2.) looking at my next jump!
3.) hehe way to ahead of him
4.) the trophy
5.) A pny named shadow I rode for a womans daughter.
6.) Me working one of my best OTTB's. I am probably 17 or so in this pic. I sold this horse "Up and Gone" JR. for short to a young girl who later took him to the Junior Grand Nationals and won everything
7.)
Me at age 25 or so...
I raised Australian Cattle dogs for a while. The one with the mask face is Gizmo and the other one is her sister Annie. Annie was deaf and trained with hand signals.
Fun fun...
LOL. I'll have to scan some old pix in too!
---
"Be a best friend, tell the truth, and overuse I love you
Go to work, do your best, don't outsmart your common sense
Never let your prayin knees get lazy
And love like crazy"
Haha thats so funny I didn't even notice.
This place actually let me bring my horse there and be in the show even tho I didn't ride there and usually no outside horses are allowed. So I was lucky to allow Heliam in that show...I think I barrowed the coat!
hehehe!!
I felt old when I realized the age of these photos...lol
LOL! Great pictures! Man, if you were 15 then, how bloody old are ya?!?! LOL. Teasing.

Man, I wish I could share my pictures - but MANY of my pictures are back home at my Parents place, on regular picture paper. Cause back then, we didn't have Digital Camera's.

I think you fall into the "Old Hag" Category with Spyder!
---
RIGHT ON SISTA!!!!
lol...I just turned 40 and it's the new 20 Ya Know!!!
that is too funny.
I used to have this pic of me landing in the water while riding Haliam at a Pony Club cross country day! lol. I remember I had to ride to the hore park and had to get off to open a gate and got stugn by a Bee in my butt...lol
I found this old photo of my gaming years. The other three riders are my sisters. I was doing dressage lessons (not my sisters), but we took our horses gaming. I am the little one.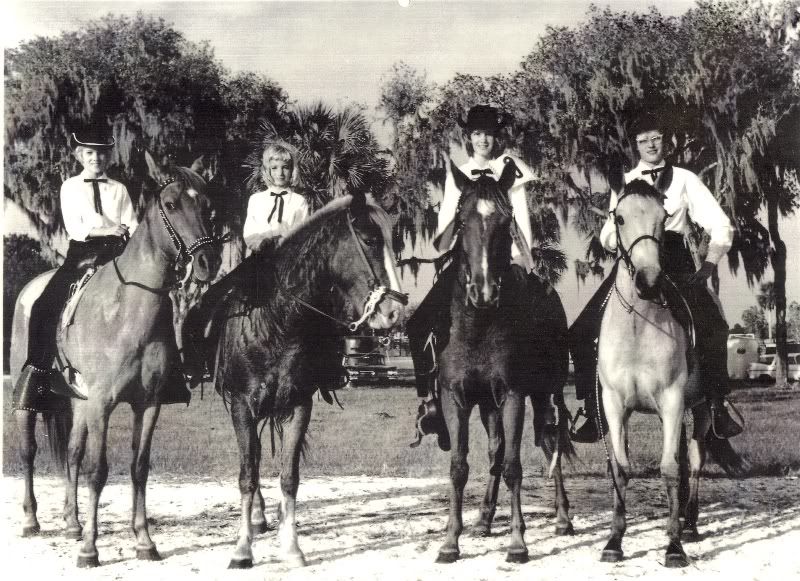 That was a borrowed horse I was on. We never walked anywhere, we both loved galloping! My horse didn't do these games.
The chestnut (second from the right with my 6' sister) was reserve Fl. state champion pole bending champ. The little buckskin was champ barrel racer with my other tall sister.
I was about seven? That would make this about 1960? Yeah, I'm 56 (so you don't have to rack your brains counting LOL!).
Green Broke
Join Date: Mar 2009
Location: Kansas in the summer, Kentucky most of the time
Posts: 3,028
• Horses:
3
awwwww! That's awesome HP! I've wanted to see pics of you riding for a while now! lol.

That horse is adorable...or was?
---
Look like a SUPERSTAR, Ride like a FOUR STAR, Win like a ROCKSTAR
Eventers: Making BAD Dressage look GOOD!