OMG you guys. These are awesome. SR, if that's not your Mack in the first post, I bet it is my Nester, he's slightly obese as well LOL.
Here is the new "smart car" version. Introducing, the Smustang LOL.
I can just hear this horse thinking "ZOMG, that dude is
such
a dumb ass!"
---
Always remember that feeling of looking at a big, open country over the ears of a good horse, seeing a new trail unwind ahead of you, and that ever-spectacular view from the top of the ridge!!! Follow my training blog:
http://robertsontraining.blogspot.com/
Oh my gosh, some of these are too funny!
Here's the horse Major that I briefly leased, he was such a character!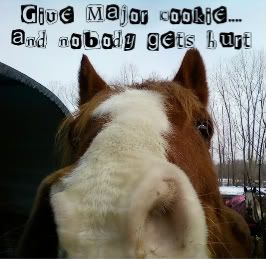 ---
RH Queen O Anywhere "Sydney"
2009 Sugarbush draft
Here are a few pictures of a gelding I just sold. He was a goof. There are also a couple of the mini filly I had for awhile.
He shows his baby teeth :)
DSCF1910.jpg
He was running away from me!
DSCF1920.jpg
Ahem...someone knows how to open the door and get treats
DSCF1889.jpg
Baby eats standing in her tub!
IMG00166.jpg
And bad cell pic, but she's rolling :)
IMG00157.jpg
ahhhhhh they are sooooooooo funny!!!
---
Wild isn't bad and it certainly isn't mean wild is equis and that is pure. - Monty Roberts.