Gaited Horses....
---
I would love to see the different breeds of gaited horses owned by members here. I have a Tennessee Walker, Chopin. He is my trail horse not a show horse. I think the running walk of a TWH is the most comfortable ride you can have on a horse. I rode my first gaited horse when I was about 14, also a TWH. I wasn't so impressed back then. Fast forward MANY years later and I have decided that there is NOTHING wrong with a smooth ride!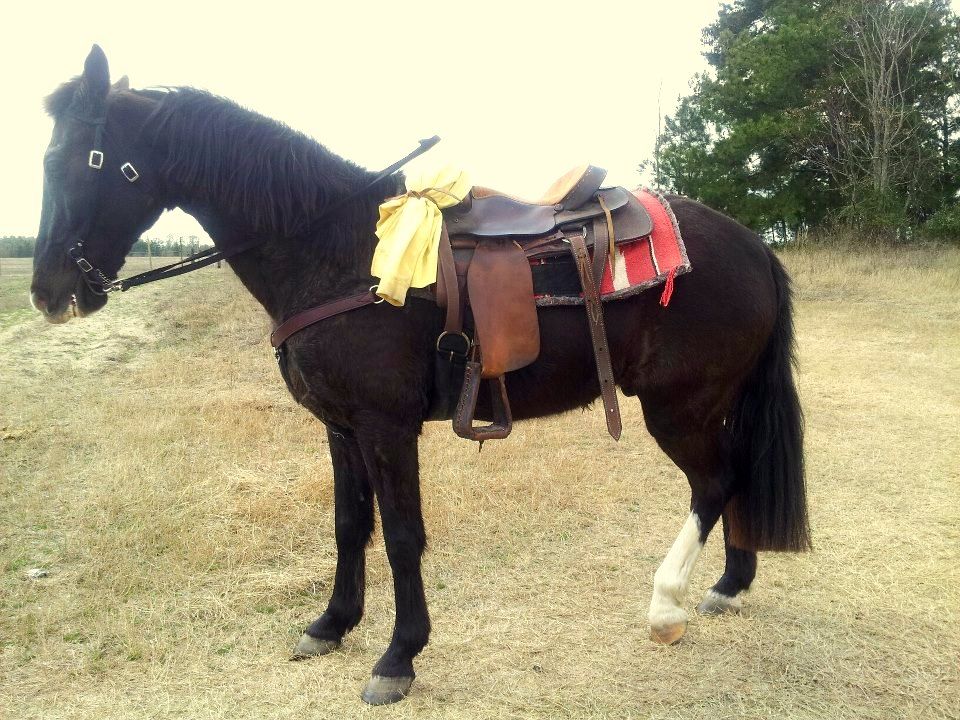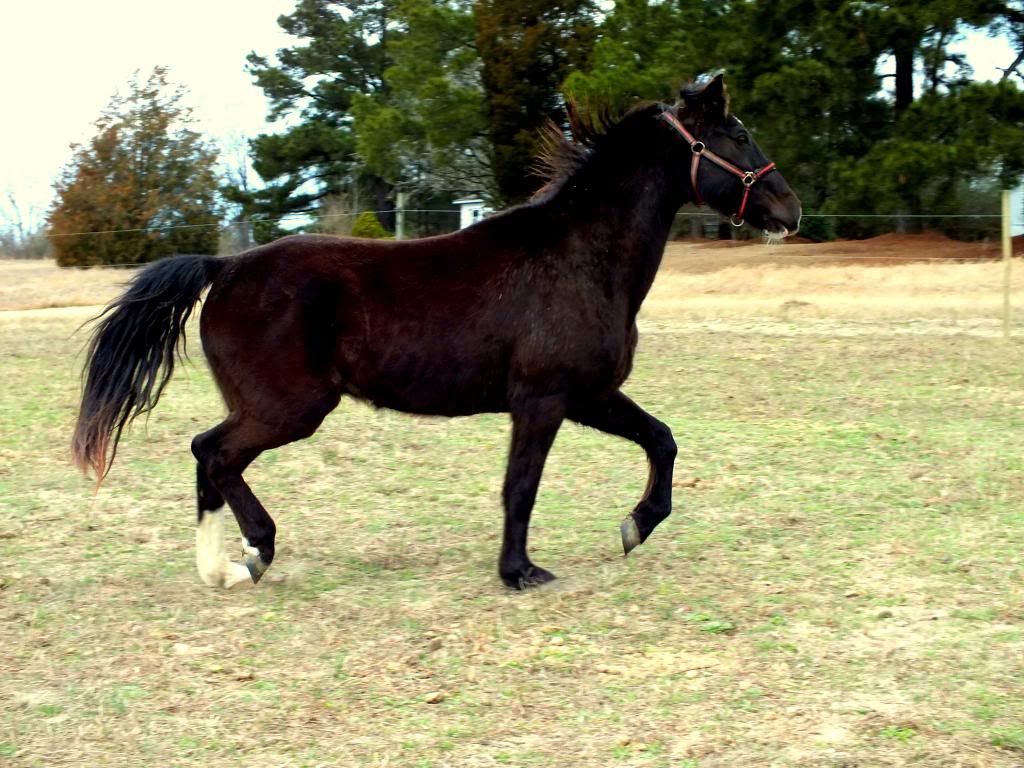 He's beautiful! I haven't ridden a gaited horse yet. Though my gelding used to do a bit of a gait that was inbetween the trot and canter, it was smooth and fun to ride. I have no idea of his breeding.
My sister rode an off the track Standardbred gelding named Killer (sweet horse actually) for a friend. He paced and she had a blast riding him. Sadly he would go lame if ridden for more than a few miles.
My gelding... Excuse the fact that he is extremely dirty, fat, and wormy (taken care of now).
A picture I took yesterday when I was home for the day. It's a cell phone pic, sorry for the quality.
I always thought my boy looked part TWH, but someone on here said he looked part Standardbred, which would make sense because that is a more common breed in SK.
---
I figure if a girl wants to be a LEGEND, she should just go ahead and be one. ~Calamity Jane
He's a beauty! I have always had a soft spot for black horses....I guess I can thank Walter Farley and his Black Stallion books for that!
Lovely horses
all of them
---
Country Woman


Thanks! I love my boy! I am getting a new filly (four) and there is a possibility that she is half morgan! It would be nice to have something other than the run-of-the-mill QH or paint. Not that they're bad or anything, just really common.
---
I figure if a girl wants to be a LEGEND, she should just go ahead and be one. ~Calamity Jane
I really like Arabians
---
Country Woman


I prefer a part arab to a full one.. But then I've never worked with a full one. My best horse was 1/2 Arab 1/2 QH. My sister owns a 3/4 Arab 1/4 QH gelding. Lovely horses!
---
I figure if a girl wants to be a LEGEND, she should just go ahead and be one. ~Calamity Jane
Arabs were my first "love loves". My first horse that my father bought for me was a liver chestnut Arab mare named Babe. She taught me soooo much! There will never be a horse that can replace her in my heart!
I have ridden a full Arabian and I love the feel of the trot
also ridden a 3/4 Arab Quarter Horse as well I liked her better

I also rode my cousins American Saddlebred which I rode English
I wish I had pictures of Sunny he was chestnut 16:3 hh

Arabians are my favorite breed of horse
---
Country Woman


---
Last edited by Country Woman; 03-03-2013 at

05:11 PM

.
Okay I have a question about Saddlebreds. My brother has a four year old filly that is 1/8 saddle bred (the rest is QH). She is lovely to look at but tends to flip out about everything! She just panics and goes crazy, rearing and spooking. I worked with her a bit when she was a yearling and a two year old. But I didn't ever do much with her, I was working full time and had three horses of my own to work with. She actually used to belong to my sister (buy a weanling and let the 'kids' grow up together, stuff) she didn't have the experience and couldn't do anything with Golda. She gave the horse to my brother who is two years older and has done a bit more riding. Zeke put a couple rides on Golda and then hasn't done much with her. The horse is a nice mover, works off her hindquarters naturally, etc.
Is the high strungness coming from the Saddlebred? Or is it just Golda's lack of training? I know not to classify horses attitudes by their breeds but she is crazier than any horse I have ever worked with before. I worked with her half brother a couple of years ago, he was solid as a rock, but his sire was a paint/percheron, so he was pretty heavy.
Zeke putting the first ride on Golda as a 3 year old
Golda as a yearling
---
I figure if a girl wants to be a LEGEND, she should just go ahead and be one. ~Calamity Jane