this is my 17.2 warmblood Snufkin (yes i named him lol),
it's the first rug i bought him and it this picture was taken not long after we had him so he looks all scrawney & out of preportion - oh well, he looks better now lol
i have a really nice pink spotty saddlecloth too, i'll try and get a picture of him in that =]
i dont have pictures, but my friens put a FUSCIA (her mares pad lol!!!) pad on our trainers 3yo palomino QH gelding. it acctually looked great on him! lol
---
I was a dreamer
Before you went and let me down.
Ninja, our black mustang, he has a pink halter, pink boots, bit tail bag. You name it, he's got it in pink.

Poor horse is going to be scarred for life. I think it's our way of getting back at him for being such an ass hole.

I, however, refuse to put ANYTHING pink on Cricket. Her colors are Black, green, purple, and orange. NO pinks. None. And the only she'll wear anything purple is if it's in with orange, black or green. Her colors are halloween colors. I'm NOT a big fan of pink. LOL but I love it when ninja's all decked out in his pink.
---
"I was eight years old, and I've never forgotten her face when she told me about watching you ride. She told me she saw you, and your horse was dancing in the moonlight."
-- A.C. Crispin's "Sylvester"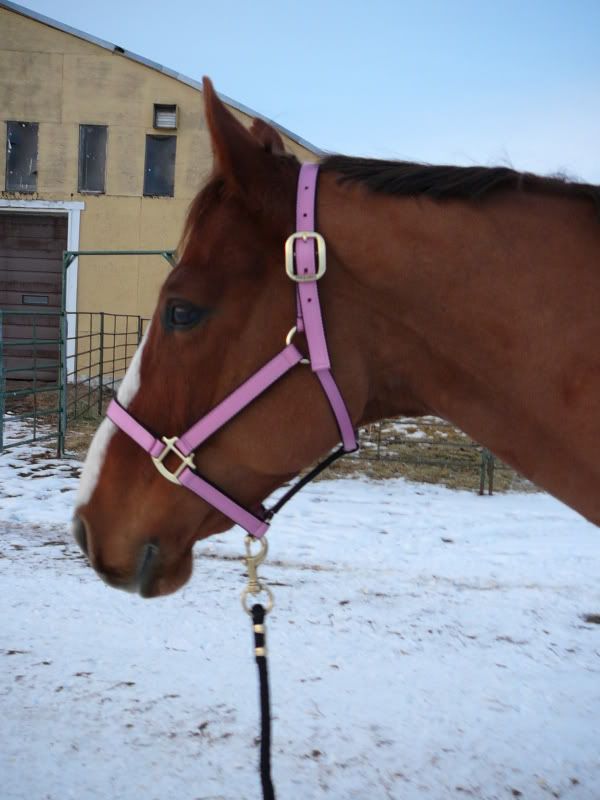 ---
The lovely images above provided by CVLC Photography cvlphotography.com
---
Last edited by JustDressageIt; 09-10-2009 at

12:12 AM

.
My gelding Chex's first "baby blanket" last winter was pink, and this was when he was still a stud colt! :) Poor kid, now that I have a mare she wears the girly colors and he wears green or blue.
---
Treasure Valley Gypsy watching over her kid brother CR Sizzlin' Jet Chex
I'm a self confessed pink nut. I don't wear it, but I LOVE it.
Trust me, if nobody was around all my tack and horse gear would be pink and black. I cope with having a pink dressage whip and lead rope. Maybe I will take a picture of my gelding with his pink stuff later.
lol everyones boys look great!