Actually nothing lol. He is on 24/7 turnout with good grass, gets whole oats with a local made pellet (I'm not sure what it is, his food is provided). He gets groomed once a week or so. Before I took these pictures I knocked him off with a stiff brush then a soft one but that's it. He is very healthy and it shows!
it sure does - he is a real credit to you - Kudos!
Here is our elders of the herd lol...
Fancy, who is in her 30s got her last year from some people we know for my cousins to plod around on when they feel like riding. She mainly is a pasture pet though and enjoys just grazing with the others.
Then Skippy who is 26 this year :) Oh how time has flown.........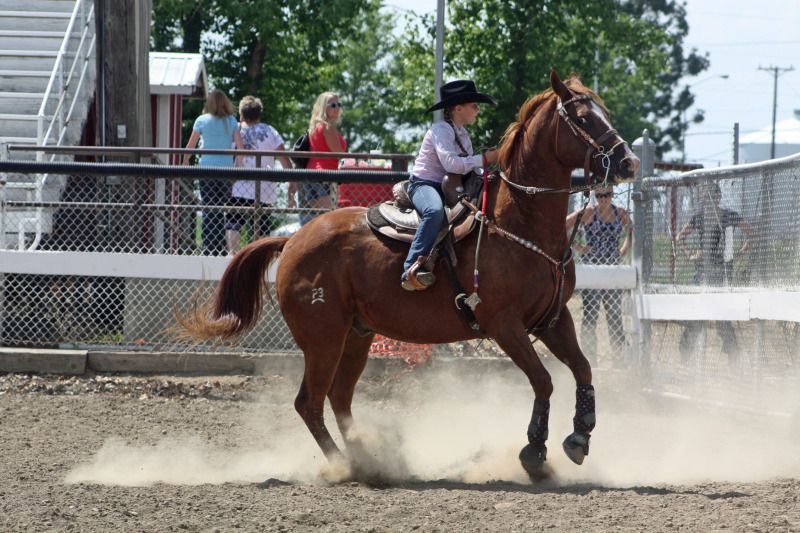 That was this summer with our friends daughter Jr. Rodeoing on him....and this is him 10 years ago at 16 at OUR first Jr. Rodeo together...
And this is Kelly....our Baby Sitter :) She is 20 this year...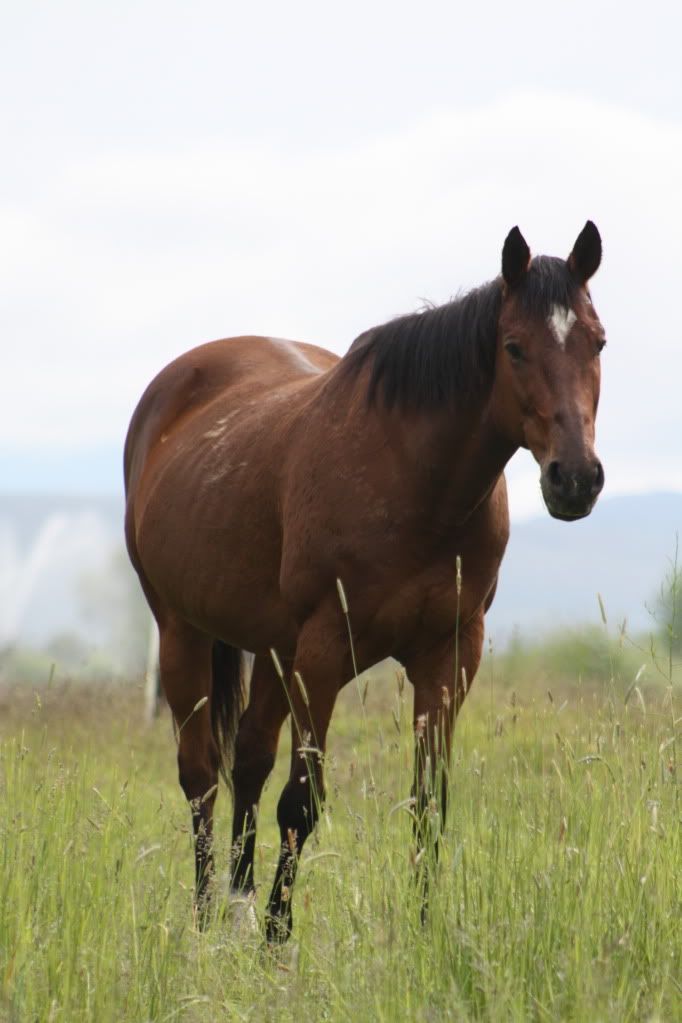 We have a couple others that are pushing their big 20.....hard sometimes watching them get old :(
---
Conformation is how far the horse CAN go,
Mind is how far the horse WILL go,
Training is how far it DOES go.
Green Broke
Join Date: Jan 2010
Location: south of nowhere, north of nothing
Posts: 4,643
• Horses:
6
haha brl im guessing thats you in the last picture???

that expression=PRICELESS lol

everybodies oldies are looking great!

its so crazy how time flies with them.

seems like just yesterday i was crawling over the fence to go look at the big QH mare with the attitude to match!
Great pics everyone! Love the old steady eddies. Here's my oldies.
Hondo, the old man and my best friend, 30 years young. My heart belongs to this guy. (My hubby & I have come to an understanding about that, until Hondo is gone he plays second fiddle lol!) We've had a lifetime together. He was my saving grace through my teenage angst years. He's caught more of my tears on his shoulder than I'd like to admit. He taught me a lot about stallion handling, the breeding side of things as well as how a good stallion should behave. I won my first AQHA All-Around with the old man.
Hondo.jpg
About 24 in this pic I think
064.jpg
Jana Banana, 25 yo semi retired reiner. Jana is my go to steady eddie. She is one of those horses that knows who is on her back. She refuses to go any faster than she thinks the kid on her back is ready for but still has all the motor and willing to turn it on for any competent adult. Tested that last summer when I hauled her to a fun show with a student and rode just for the heck of it (was a $20 ride all day for ribbons show to raise money for the local 4-H club), as it so happens the old girl can still turn in a barrel run under 16 and a 20 second pole run.
as a 5 or 6 yr old with my sister on board
061.jpg
with my little monster
backnumber.jpg
with me a couple summers ago at a benefit show just for fun. The old lady still has it. She'd spin until she's buried up to her hocks if you'd let her ;)
Jana.jpg
Buttons, 23 yo semi retired wp mare. Buttons was my first futurity horse (and last - I have zero desire to push a young horse hard enough to enter a 2 yo futurity anymore) She has developed some arthritis so she spends most of her time prettying up my pasture but still does a few walk trot lessons a month. She is the resident "mama" - couldn't care less about adults, loves and seeks out children and befriends any other small creature the cats are her pals and she is one that will steal another mares foal if she has the opportunity.
around 19 in this pic
059.jpg
with my mom & nephew
buttonsbrady.jpg
Missy Moo, 21 yo Hanoverian
I love the big girl more and more every day. I bought her for me to have a bit of fun with and lesson kiddos to learn on and she's been fantastic. I've been jumping again and it feels great - she loves it as much as I do. She has more than filled her role as the schoolie. My daughter (7) almost always picks her to ride. It's pretty cute seeing the 45 lb little squirt on the giant strided mare. Also fun to listen to the giggles as Morgan tries to sit her trot. If nothing else, my kid is going to have one heck of a seat
007.jpg
123.jpg
With a student at her 4-H fair. The old lady stood reserve grand English mare in a sea of much younger mares (most stock breeds), even out of shape & slightly fluffy
The judge pulled her out and spoke over the pa system and had my student trot her out and had everyone watch her movement. The old girl has got a stellar trot :)
mooreserve.jpg
---
Life is like a camera. Focus on what's important, Capture the good times, Develop from the negatives and if things don't work out, Take another shot.