Gidet in her endurance tack :)
---
Sooo I almost have all her endurance tack =D I do have her red halter bridle combo but took it off before pictures..anyways,here are two pictures.Let me know how she looks =D In a couple months she will be getting a pair of easyboot epics :)
Ohh,and I know she is on the fluffy side..she needs to lose some weight as she is sporting a hay belly.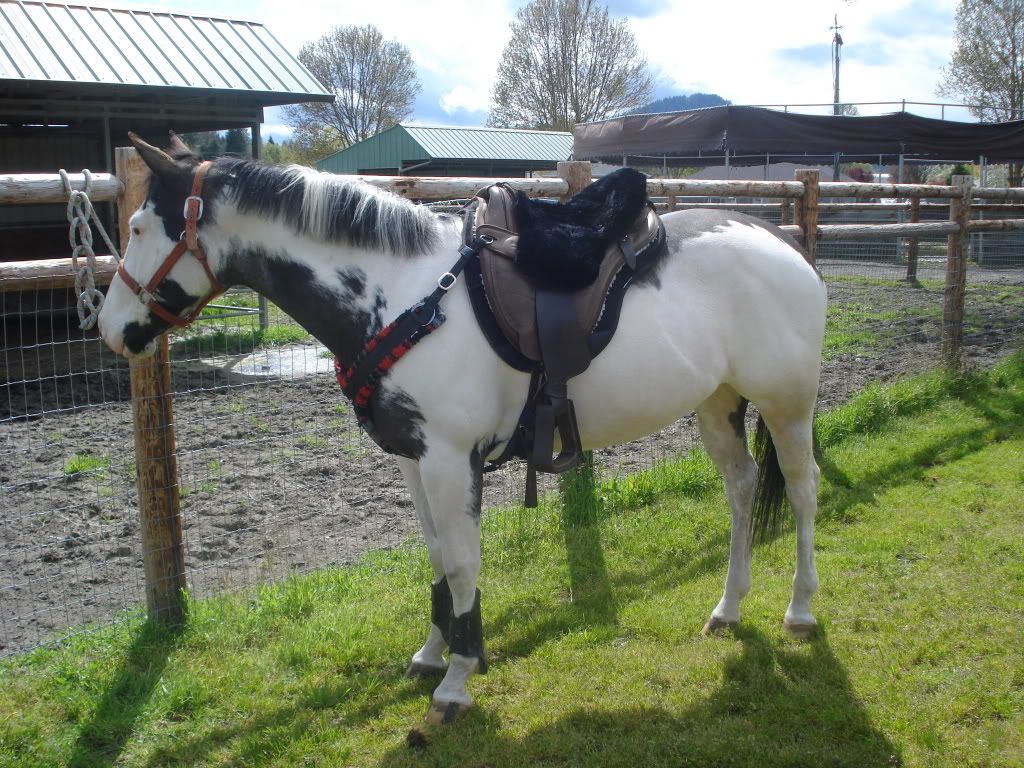 She is a very pretty girl.
---
So in lies the madness, the pursuit of the impossible in the face of the complete assurance that you will fail, and yet still you chase.
Thank you =D I think so too..well i use to think she was weird looking but thats because she had no "eyeliner" and she was the first horse I've seen with a bald face but now I'm very partial to them.
She is so stunning! I just love her markings.
The new tack looks great on her.
I agree, she looks good with that tack!! Would love to see it all together!
Thank you =D I will get more pictures today :)
Gidget is looking good! I love her tack.
---
RIP Minnie, 1981-January 15, 2010
RIP Maggie Mae I miss you
Thank you :)

She has put on some weight since winter which is GOOD! Her butt is filled out now. She is a bit chubby in the belly(you can tell more in person) but we have been hitting the trails and going up really steep hills and such so she is getting a nice workout. For the most part I think she is in pretty good shape as she recovers quickly on the trails now. She's not your typical endurance horse by any means but we have our first 30 mile ride in August so we are conditioning right now and I don't think she will have any issues.

I will get pictures of her in her bridle combo today. We will be riding in the pasture for warm ups and then we will go to this little trail and ride on the road.
She is so pretty! I love her breast collar.
she's pretty :) love the tack! red always looks good on paints :)