more pictures...there is one picture with me on her...i know,i have big legs and i am insecure about how my body looks...this would have been an AWESOME picture is the jacket would have been out of the way.
enjoy!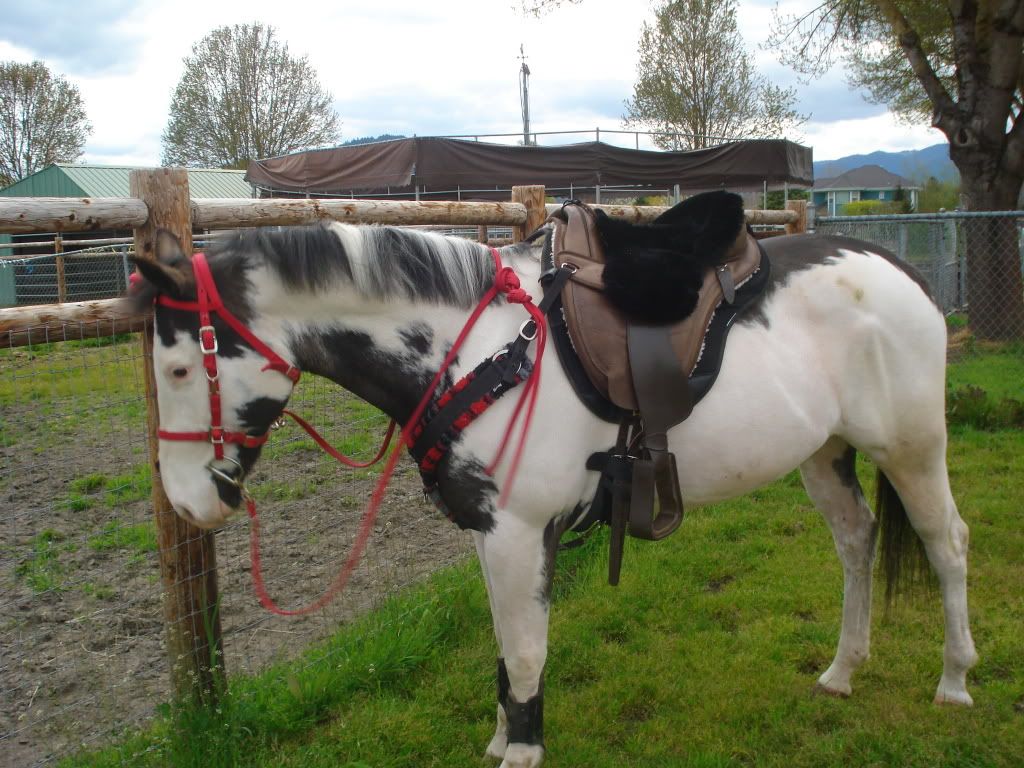 I L-O-V-E love her bridle! You guys look great!
---
You are never better than anyone. Every rider has skills they need to improve. The only one you must compare yourself with, is you.
THANKS!

I got that bridle for only $10 brand new =D
I agree! I think the red looks fantastic! Both you guys look great!!
Gidget is so adorable! And red is definitely her color. :)
---
Fabio - 13 year old Arabian/Lipizzan gelding

~
Rest peacefully, Lacey.

Wow your horse is beautiful, I have to agree that the red looks amazing! I just noticed the way you tied your lead ropes to! I've never seen that before. (: Where did you get your halter/bridle combo? I've been trying to find a good one.
---
"Every person you will meet will have at least one great quality. Duplicate it and leave the rest." --Clinton Anderson
Teen Forum Moderator
Join Date: Dec 2010
Location: South East Texas
Posts: 7,157
• Horses:
2
you guys look like a serious endurance team! Absolutely gorgeous mare, and very nice, confortable looking tack. Good luck on that 30 mile ride! Should be a fun experience =P

Oh, and Annenoel- its just a standard release knot, but she continued the loops in a 'daisy chain' to make it more secure instead of ending it after two loops. Everyone at my barn does it that way because it makes it harder for the horse to figure out how to release itself!
---
Everyone in your life is meant to
be in your journey, but not all of
them are meant to stay till the end.
---
Last edited by Endiku; 04-28-2011 at

03:50 PM

.
Aww,thanks everyone!
I got my bridle combo froma gal that collects tack for onl$10 =D
You can get them online for under $20 on some websites. They work really well!
The tack is soooo comfy.I tested it all out officially on the trail yesterday and my seat saver which I thought I would end up sliding off at a canter stuck to my saddle and we cantered all down the trail without my falling off. I had neoprene tack but she has a bad reaction to it so I have to sell it all so now we have all fleece items and no chaffing,no trying to bite me,no kicking..it's great!
We went on a 2.5-3 hour ride yesterday..I have pictures in the trail section but will post on here..i look lik a doof...I was leaning forward.I was trying to get in the picture and I ended up being perfectly fine,hahahaa...
Oh and yes,thats a quick release knot but I do it a billion times so if my horse tries to walk off she won't release herself so easily. It's great :)