the good Lady Lacey
---
This is kinda a combination of pictures from the last week or two.
For some reason I haven't been taking a TON of pictures, like usual, but some of them are cute. Heehee
Here's an artsy sorta shot from last week, I think...
Then a similar one in color. I love how her saddle pad is so pink, the lunge line is so purple and the ground is so dang green! I love the color combination. =P
I had just finished lunging her and she was "carrying" all her stuff.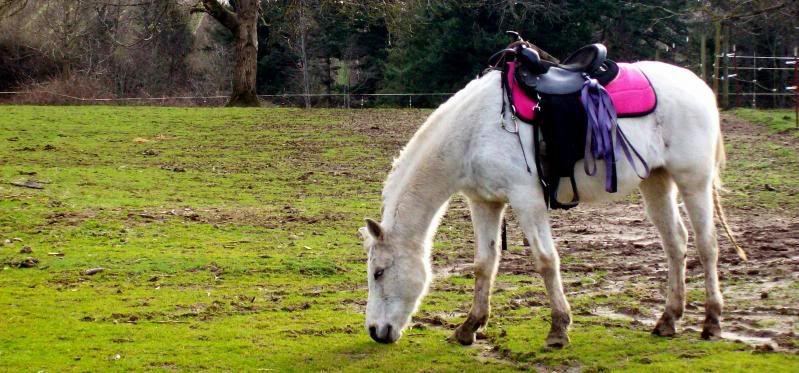 And then an artsy fingers+hair picture. I love the texture in this one...
"Sup. I'm on a bridge. Whaddya think of that, fool?"
She so thinks she's funny.
Sunbathing!
"Can I just go sleep now??"
Check out her poofy forelock! It's pretty cute. Her forelock is basically little, really thin, baby hairs, completely different than any other forelock I've ever seen.
And then, a super awesome picture I took of my shoes that I just love. It totally has nothing to do with horses but I REALLY like this picture. Haha (hopefully no one minds)
And there you go!
---
Fabio - 13 year old Arabian/Lipizzan gelding

~
Rest peacefully, Lacey.

Wonderful pictures!!! I love the one of your shoes!!!!!
---
♥ Gypsy gold does not chink and glitter. It gleams in the sun and neighs in the dark ♥
Aww, Lacey is oh so fuzzy. I love the creativity of the photos.
Started
Join Date: Aug 2009
Location: In the barn whenever possible.
Posts: 1,910
• Horses:
2
Great photos! Specially love the one of the shoes!!!
---
"Riding a horse is not a gentle hobby, to be picked up and laid down like a game of solitaire. It is a grand passion. It seizes a person whole and, once it has done so, he will have to accept that his life will be radically changed." -Ralph Waldo Emerson
Awesome pictures! Shoes included =P
Lacey is such a cute girl