Grew up and then got into horses
---
Hi there,
My name is Sparky and I am the proud mom to 2 great kids (15 and 4) and a wonderful thoroughbred named Jay. He is 15.3 hh and he is a wonderful family pet. He is exercised or ridden each day and my 4 year old rides him bareback on occasion. Jay is not a horse but a much loved family 'dog' and he is very much an atypical thoroughbred.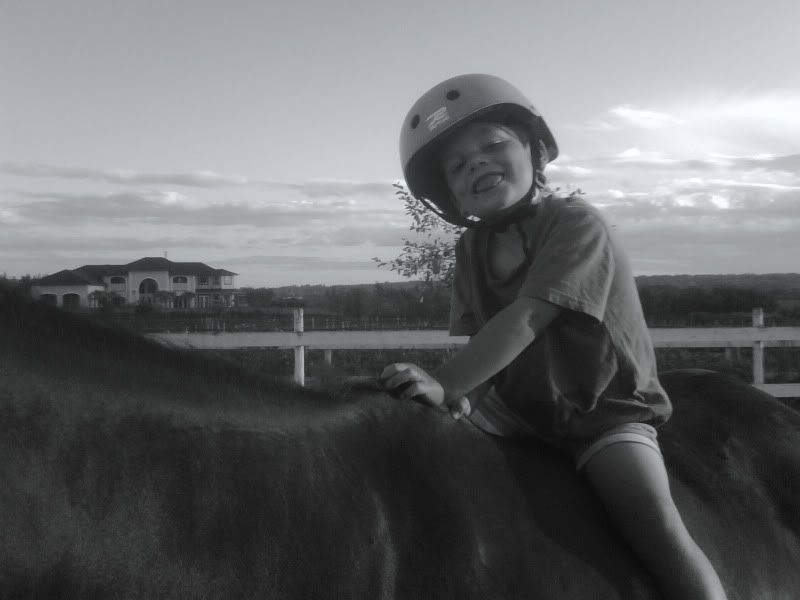 I leased horses in my 20's and early 30's but never took the leap. I think now that I wasn't 'growned up' enough to actually do it and do it right. I'm a computer consultant by background and never took the time to actually own one of my very own.
When my son was 3 months old, I was diagnosed with cancer. When it was all done, the first thought that came into my head was to actually own my very own horse for the very first time.
It was then that Jay came into my life. He was a god send. Jay needed to lose 150 pounds and I needed to appreciate my brand new life. We developed an amazing bond and Jay excelled as did I.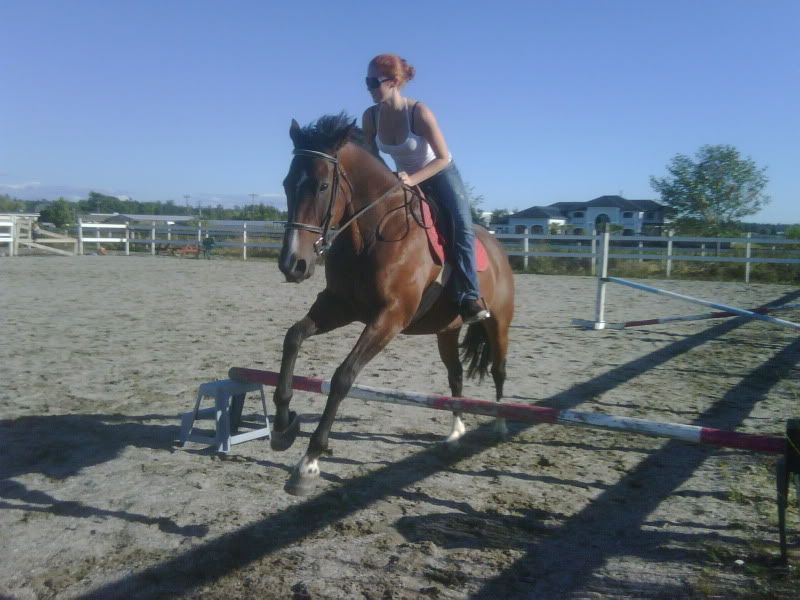 An old saying goes that if you find something that you really love, you get into it in a wonderful way and I did. I got a job working 3 hours a day in a 'warmblood dressage barn' and I learned about horses and I learned about me.
A few months ago, an opportunity arose to acquire 'Feenix' who is an 18.3hh hanovarian that is majestic and dream-like when you see him. He is SO big. Feenix however has shivers on his 'ass end' which precludes him from being a dressage superstar although he was bred and trained for it. Feenix is 8 years ago. Feenix has a wonderful movement although his backing up is awkward.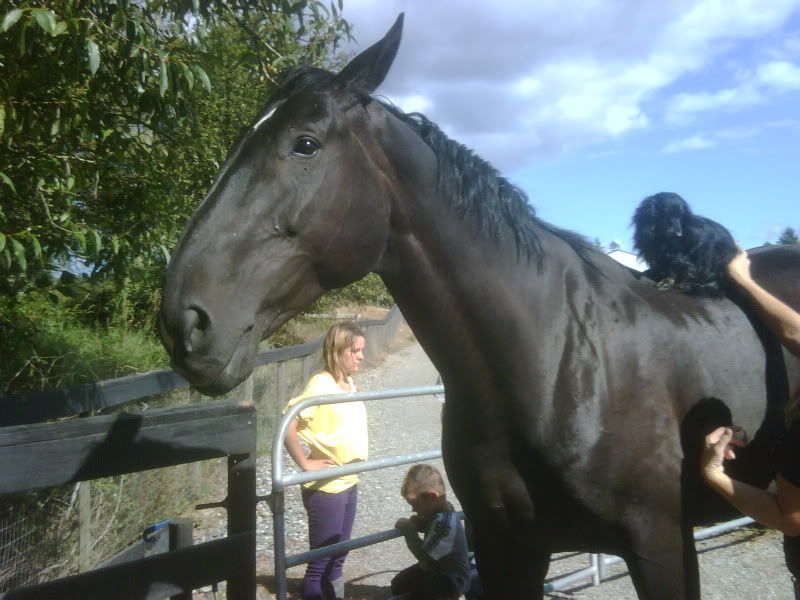 Sometimes, although a ton of money is spent on breeding and training a horse, it doesn't work out. He's not exactly right. Money cannot fix everything and it couldn't fix Feenix.
Feenix now though is at my home and he's getting spoiled rotten and people come by all the time to watch me lunge and exercise this wonderful beast of a horse and I'm totally in love again.
My kids love him immensely. My 4 year old is the size of his head and Feenix is SO SO gentle with them.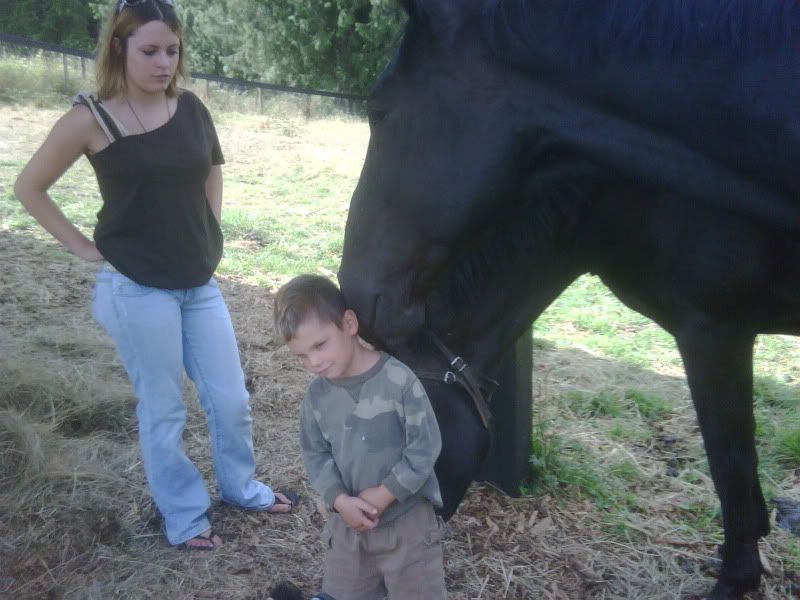 I ride him just like I ride Jay and he has no 'dis qualifiers' in my books.
Owning one horse is like having a boat. Owning 2 horses is like having a mortgage and I wouldn't change my world for any other world. I love it.
I'm hoping to learn more from this forum and hope to find more 'crazy-ass' women like me.
Sparky
Hi, Sparky! Nice to meet you and welcome to the Forum!
I LOVE Feenix, his roman nose is adorable and its so cute your son loves him. (: I'd consider myself one of those crazy-ass women. Lol Spending money I don't have on horses, but loving every minute of it. Hope you stick around and welcome again!
---
There is something about the outside of a horse that is good for the inside of a man. ~Winston Churchhill
Hello, welcome to the forum! Your horses are beautiful x
---
Keep your feet on the ground when your head's in the clouds.
Congradulations on your fight with cancer. You won! What a wonderful story and very inspiring! Its great to share your passion with the people you love and with wonderful horses that can change your life. Welcome to the forum.
Posted via Mobile Device
Banned
Join Date: Jul 2009
Location: In a land far far away, or so I wish.
Posts: 12,825
• Horses: 0
Welcome, all your boys are gorgeous!
Gorgeous horses. Which barn did you work at, if you don't mind me asking? (I'm in Langley too!)
That is a very wonderful story and God Bless you are healthy again. You have very beautiful horses! (as a side note, I LOVE the little black long-haired weenie dog) !!
---
Lettin' the cat outta the bag is a whole lot easier than puttin' it back. -- Unkown

Howdy and welcome to the forum from another crazy-ass woman
, congratulations on your successful battle with cancer
. You have beautiful horses and adorable kids. Looking forward to getting to know you.
Welcome to the forum! those horses are absolutely beautiful. Excited to hear about your adventures and seeing more pictures of your horses.
Again, welcome aboard