Hi! I LOVE Feenix <3
---
"All I pay my psychiatrist is the cost of feed and hay, and she'll listen to me allll day."
Awww...
Thank you guys so much for your warm welcome. I guess I got into this whole 'horse thing' a tad late than most.
It's incredibly rewarding having one horse. Having two horses is pure heaven but a whole lot of work.
hahaha I figured out my life so that my son now goes to school in full-time kindergarten and I run home after dropping him off and exercise them both for 2 hours before I have to work.
I've always been the type to never let 'fear and common sense' stop me from doing anything.
Everyone howled with laughter or shook their heads at my first horse being a thoroughbred. Jay proved them all wrong and he instilled in me enough confidence and probably 'pure' optimism that made me think of getting another.
My son sealed the deal with wanting Jay to have a 'good boy bucket'. Each night, we would put some treats into it and my son would get so excited to be able to feed Jay before he went to bed. We'd walk into the barn and it became a ritual sitting there and having wonderful conversations with Jay in his stall. It sometimes worked out being me with a glass of wine by myself late at night wondering what I did to be able to have this incredible animal love me unconditionally. I was in pure awe and I've never gotten over it to this day.
'Fee' has proven to be a bit more work and he deserves every minute. You always have to watch his 'ass end' when you are grooming him etc. His sheer size dictates that you have to make sure you are 'safe' around him. He's as calm as the day is long but a horse over a ton in body weight is going to hurt you if you are not always on your guard.
When he walks beside me, he's always leaning down and licking the top of my head and my son says that he's like a dinosaur. hehehe
When I got on him the first time, I expected him to be choppy. He was the exact opposite. I never once felt him moving. It was like he floats on the air although crazy that sounds. I remember looking down and hoping like hell that he wouldn't kick me off.
I remember going to other people's barns twice a week and riding a wonderful horse and I loved it. I took it seriously and I rode a lot of different horses and I did it just for me.
When I decided to get into 'owning' my own horse, I decided to do it for my family too and get them involved in the 'day to day' care of these wonderful animals. I am amazed at the love in my kids when they see and treat our horses just like they were pets in our houses. Jay and Fee each have their own set of 'matching buckets' and they are cleaned out each and every night.
My 4 year old picks branches off the willow trees for treats and my apple bill has gone through the roof. Our horses are fed fresh 'clover' from the fields by a little 4 year old boy who thinks that they will still grow if they eat it fresh.
A few days ago, my son wanted to ride Jay again. He does it everyday. I made him get a helmet and I heaved him up on the back of Jay so he could ride him bareback while he cooled down.
We walked around the farm and I kept talking to Jay telling him what a good boy he was for being so good with Dane.
I looked back to see how Dane was doing and I realized that he actually fell asleep on the back of a thoroughbred horse that we were walking in the fields. I knew then that owning a horse was undoubtedly one of the best things that I've ever done in my life.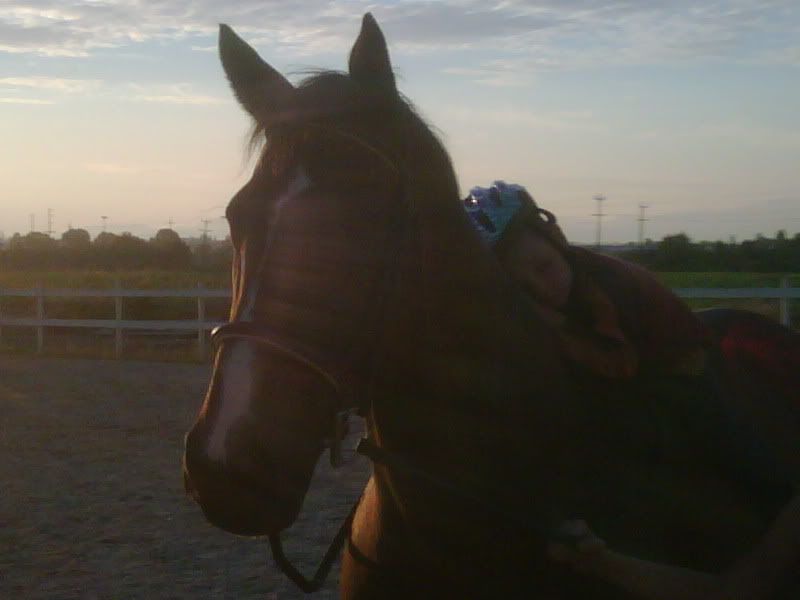 Aw, that pic makes me tear up :,,), what a great story and an even better experience. I am so happy for you that you are able to have such wonderful horses to share your life with.
Isn't true love grand?
Your story is very moving. I myself am casually horse shopping after leasing for awhile. Your boys are beautiful!