She is GORGEOUS. I love her colouring too :).
mare and foal.
---
many thanks for shareing your wounderfull pictures of your mare and foal.
and its great to see your foal halter trained and handled thay are both beautiful horses.
thank you.

Michaelvanessa, thanks alot. She has been extremely easy to work with. she WANTS to be with you and is eager to do whatever. She leads, loads, trailers quietly, stands tied at the trailer quietly at shows, stands tied at home, will go wherever you go, she clips and bathes. she has a wonderful mindset to her and Im extremely lucky to have this filly as my first. shes been a dream. training isnt really training with her, its like, you do it one time and boom, shes got it. haha.

My mom is bound and determined to have her as her own though. she has always wanted a black, with just the right amount of chrome. she keeps saying she's going to steal her from me. lol.
Posted via Mobile Device
Aww what a cutie she is!!
---
Being horseless is the pits!!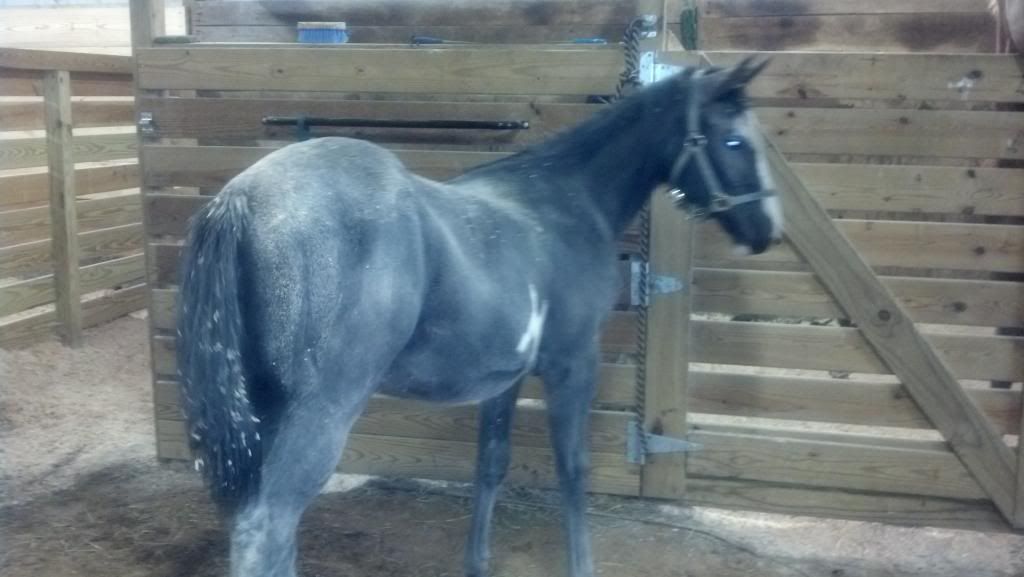 How could i forget this picture...I had a blue roan for awhile. Fresh sawdust ='s majorly fun rolling time. Plus she was damp from the rain we had. Sawdust is very hard to get out of damp coats. *sigh*
I dont even get how she knew to do that. Im blaming Chilly. She doesnt even get all the way in her stall and she is rolling. LoL. Like mother...Like daughter!
Posted via Mobile Device
I remember Chilly's foaling thread from a while ago :)

Aaand then I decided to look at this thread since I've seen it crop up every now and again...and got so hooked it read all 11 pages.

Wrecker is beautiful!

However...her name...why Wrecker? Does she pull things apart?
---
This space has been left intentionally blank.
well, i had her name picked out when Chilly was just 6 months along. lol.

Justin Moore's song 'Til My Last Day' has a lyric that goes 'Yeah, Ill wreck your world' and I immediately wrote it down. I loved how well Wreck Your World sounds. And i originally wanted a colt, so it was a strong name. And i was going to call him Wrecker for short.

My mom said what happens if you get a filly? I said its still Wrecker. Registered name will just be Wreck HIS World. lmao. So low and behold, it was a filly.

People think im crazy for the name Wrecker. Especially since she was born on St Patricks Day, they thought Id go with the holiday theme. But nope, my mind was set for 5 months before she was born. But i love her name, its original, strong, intimidating (future barrel horse) and its not girly. haha.

And as I was filling out her reg. papers, I didnt even realize Chilly's reg name is Worlds Chilly Filly, so Im actually incorporating Chilly into the name. lol.
Posted via Mobile Device
I love her name. Although, this is coming from someone who named a horse Blondesraisinhel with the barn name of Tribulation so....

You can't have a barrel horse named Patty anyway ;)
I love it too. LoL.
My mom, after Wrecker was born, had to ask me one more time if i was sticking with Wrecker, and I looked at her like she was crazy.
The stallion owner does not like the name. She came out the first day and asked me what her name was, I told her, and she was like "Really? Why?!?!"
My hopes is that she'll be a big, solid horse once grown, to back up her BA name.
Posted via Mobile Device
7-1/2 Months old now. She had a moderate case of colic last Tuesday. Farrier was out to trim hooves. When she was done, she was put in her stall and given her grain. Halfway through her portion, she started to roll. We haltered her, walked her as needed to keep her up. Increased respirations, Super sweaty, quickened pulse. Called the vet, administered banamine. Within 30 Minutes she was better. Kept an eye on her all night, no other problems.
Sick baby from last Tuesday...After her colic episode.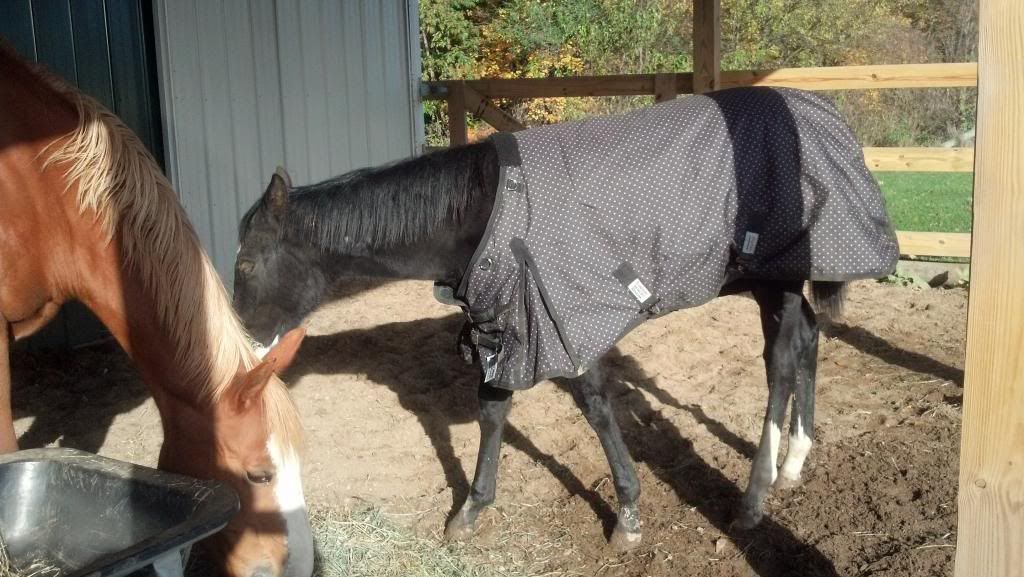 I got her winter blanket in. She is fitting darn near perfectly in a 58" and will definitely outgrow this by the end of December. I should have ordered a 60"/61" but they looked so big! But she'll be fine in this one for the year.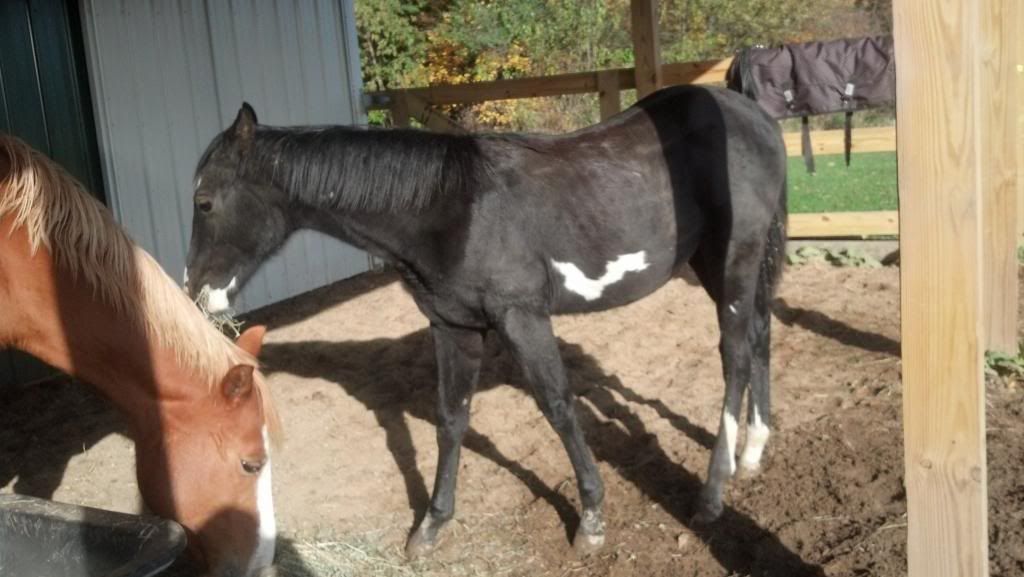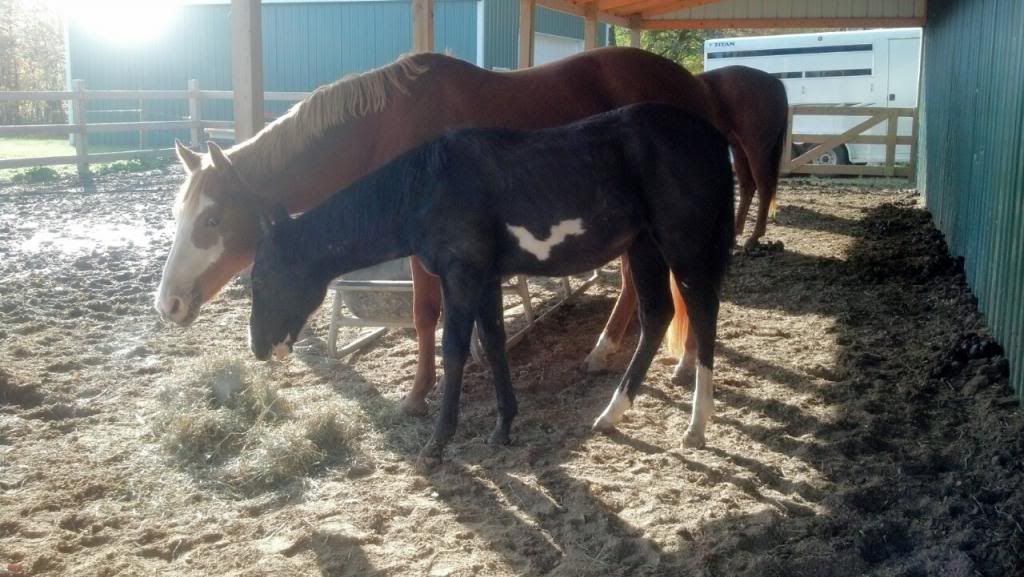 Look at how big she's gotten! She's catching up to momma quickly!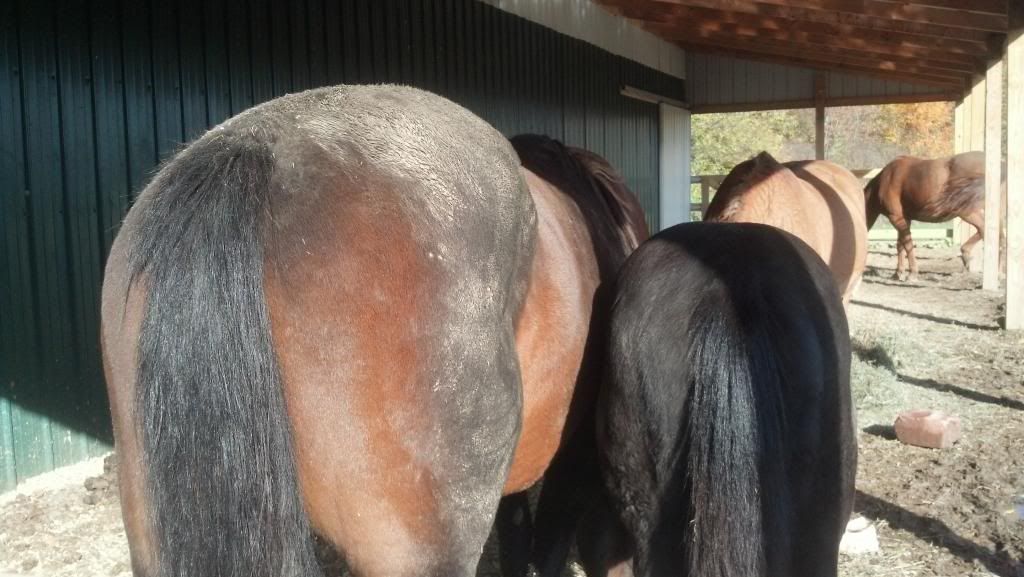 Aunt Rumor...15.2 HH.
She is measuring 51" at the winters, and 53" at the hip. So...12.3 hands in front, 13.1 Hands in the behind. I really didnt think she was that big!
And she so gosh darn lazy! She walks EVERYWHERE! I have absolutely NO, NONE, ZIP, ZILCH photos of her running/bucking/playing like most foals do. She's the last one walking up from the back pasture, 100 yards behind everyone else. Goofball.
I hope by the time she's started under saddle she gets a little fire under her butt. Or she might just be my moms horse yet! She may not even walk to run barrels. LoL. But she will probably walk them.
Posted via Mobile Device
---
Last edited by CLaPorte432; 10-28-2013 at

09:41 PM

.