LoL, it was safe for us to pack the carhartts away for the summer at the end of April.
it held onto the 40s for weeks and then boom, hot weather!
Posted via Mobile Device
Happy 3 MONTHS Wrecker!!!
---
I know, I know, It's been awhile.
Wrecker is 3 months old today. I can't believe how fast time has gone by.
She already knows how to...
-Lead, Including backing and moving her butt over
-Load in the trailer and haul down the road
-Stand tied
-Clip and Bathe (Grooming too)
-Picks up front and hind feet
-Stands for farrier and has been filed twice
-Stand still for fly spray
I'm starting the process of separating mom from her for an hour or so. They are put in different stalls and can't see each other. They called back and forth for a little while and then all was quiet.
For reference in the pictures. My mom is 5'3".
And yes, she is a filly.
That "thing" is her hernia.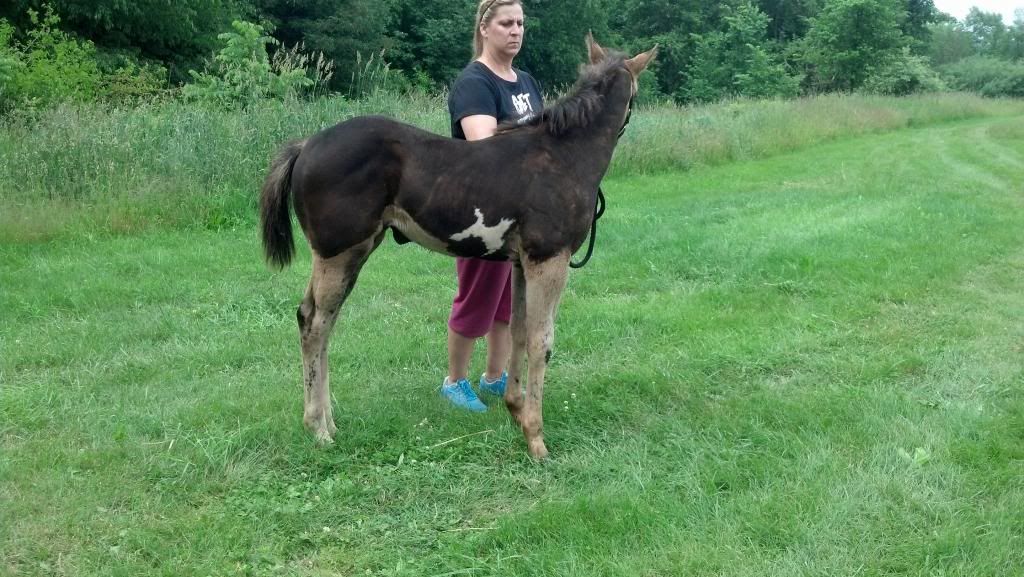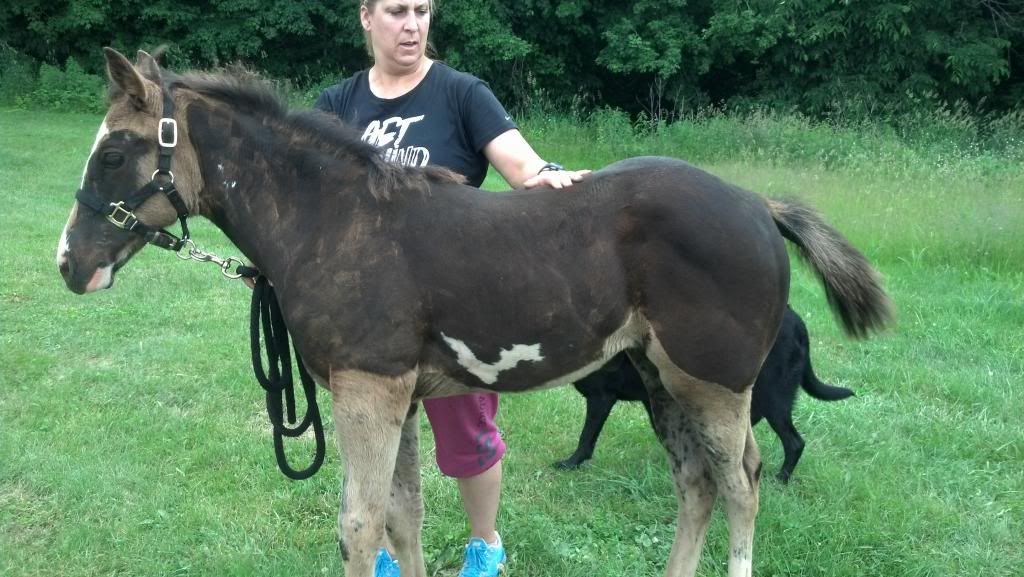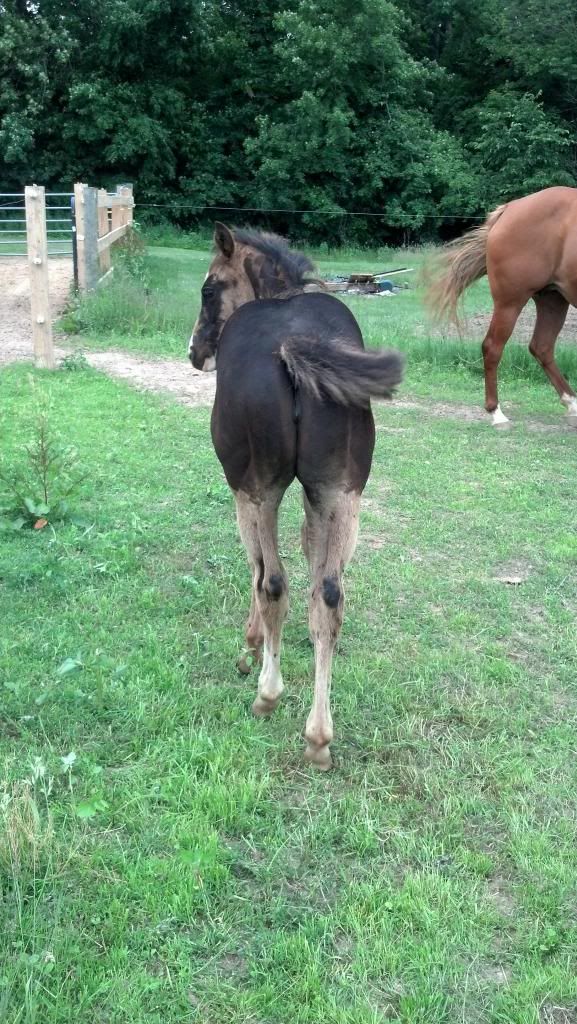 ---
"The greatest pleasure of a dog is that you may make a fool of yourself with
him and not only will he not scold you, but he will make a fool of himself too."
-Samuel Butler
She's growing so fast! What a beautiful girl :)
Thank you! She is going up way too fast. I can't wait until all that yucky baby fuzz is gone. Her mane is about 7 inches and starting to flop overtoo.
Posted via Mobile Device
I am in love with her! She's beautiful and seems like a sweetheart.
Shes sooo pretty!!!
Posted via Mobile Device
She's beautiful! I can't believe the difference between her foal coat, and her new coat.
thanks everyone. shes a special one.

i called and talked to a different vet regarding her hernia. because of how large it is, and the severity of it...i can fit 4 fingers in it pushing the intestine back up, and it falls right back out...he is recommending surgery. he said not to worry about how young she is, that he works on youngins all the time and its better to do it now as opposed to waiting until shes over a year.

so...as soon as i schedule the appointment...sometime in june...and get the days off work, chilly and wrecker will be making a trip to the vets for surgery. its a one to two night stay, and around 500 bucks, unless there are complications they run into.

id like this done and over with as quickly as possible.

the barn addition is starting wednesday. it should be all framed in by this coming weekend. yay!
Posted via Mobile Device
I love her side markings, very unique! And her name is fantastic. :)
---
"Donít be the rider who gallops all night and never sees the horse that is beneath him."
-Jelaluddin Rumi
Wrecker is so beautiful I hope Surgery goes well. I will say a prayer for her.
---
Don't Flatter yourself Cowboy I was looking at your Horse

LORI