Gucci :D:D (Vry IMG HVY!!!)
---
Went to pick up "Dad's" new horse today :P A mate told me about him and said the owners were sending him down to her from Alice Springs because he's suffering with all the flies up there, and she thought he'd be perfect for my old man to lease :)
Anyway, his name is Gucci, 16.2hh bay tb gelding, 20 yrs old but doesn't look a day over 11!! He's done dressage, hacking, western... haha VERY much an alrounder and has the most beautifull temperament! He's been out of work for 12 months because of the evil flies up there hurting his poor little mouth, so I'll bring him back in slowly, and hopefully steal him off my dad for some dressage comps as he's so lovely!!!
Arrived home safe and sound :) So chilled out, I took his halter off and he just wandered off down the track to find some nummy grass to munch on.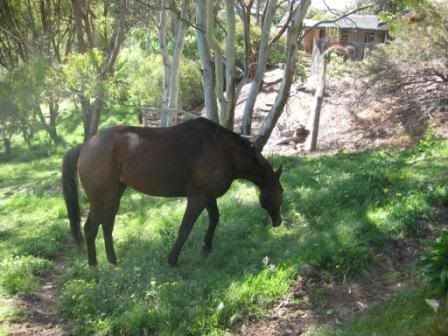 The girls spotted him!! (one very obese girl
)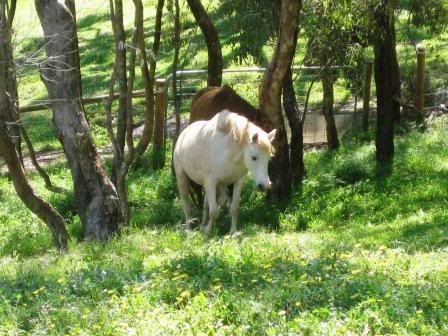 Gucci says "Oh No..... they're coming for me!!!"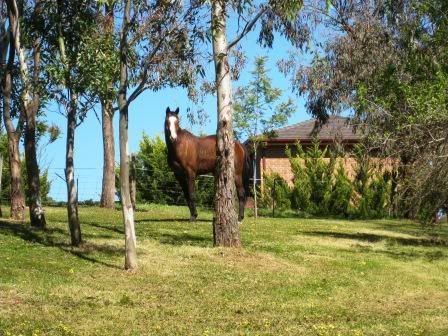 "Lets get him Getti!!"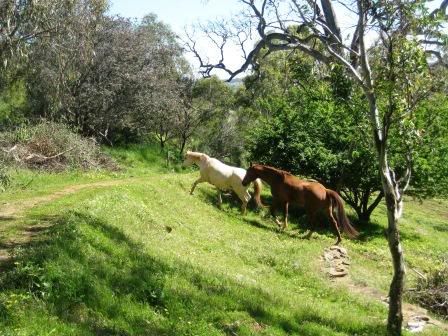 "Wow he's so uber sexy! Can't believe there's a man on the place!"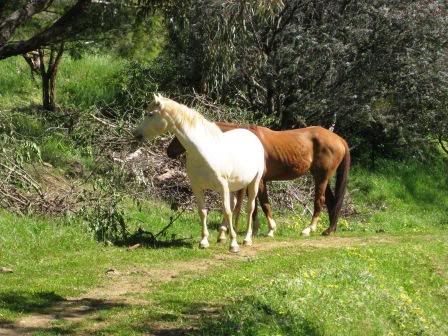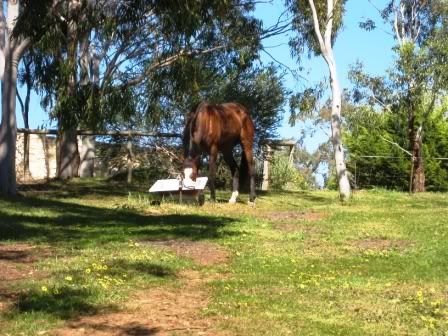 Getti girl :(
Getti and Berwyn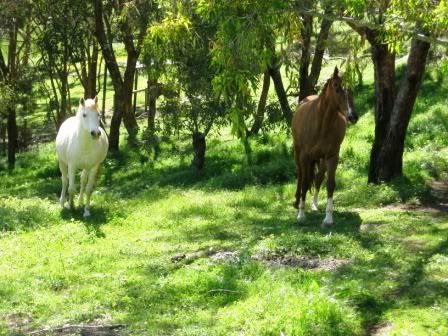 Let the games begin!! Poor Gucci got followed around like a bad smell for a good 30mins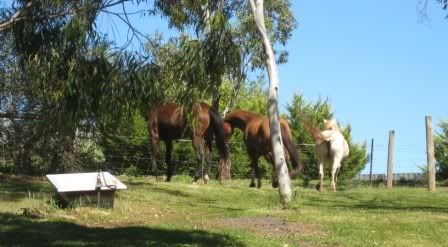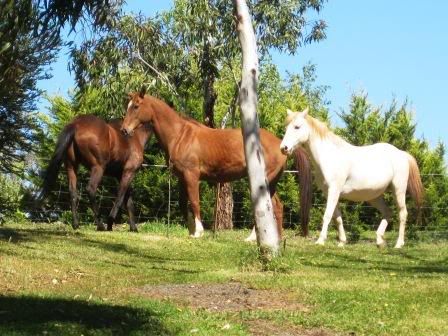 "Ahead! He's getting away!!"
You go Getti girl!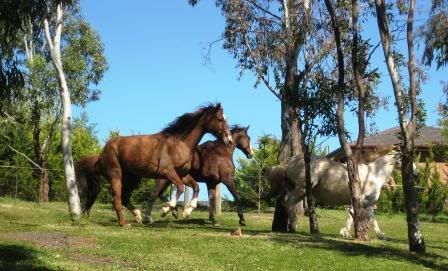 ---
Last edited by farmpony84; 10-20-2009 at

11:32 AM

. Reason: removed curse word.
"Quick!! He's going the other way :O"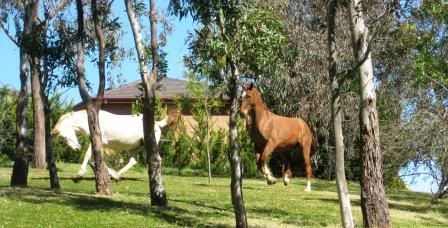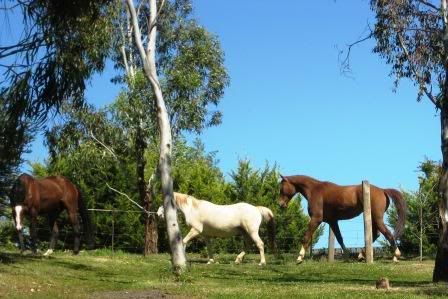 Lol Getti's leg!!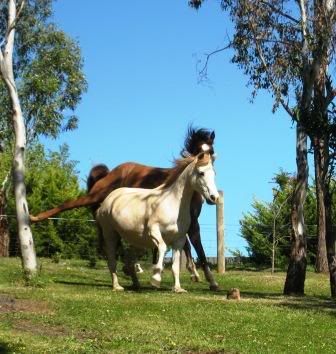 Gucci running away haha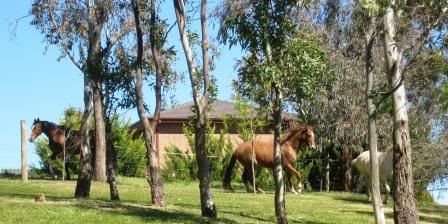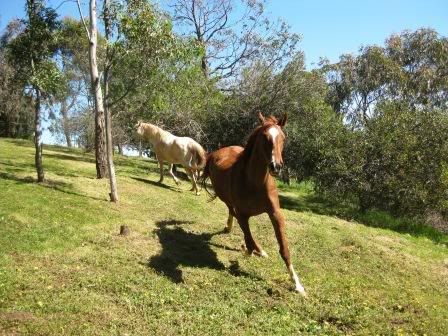 Hiding behind trees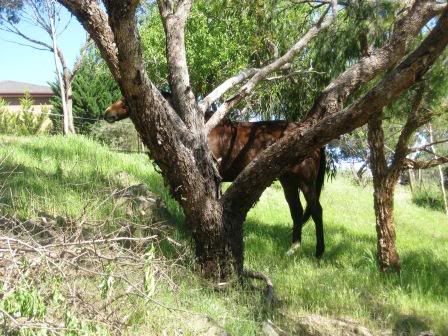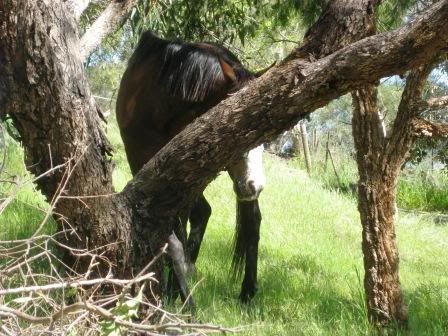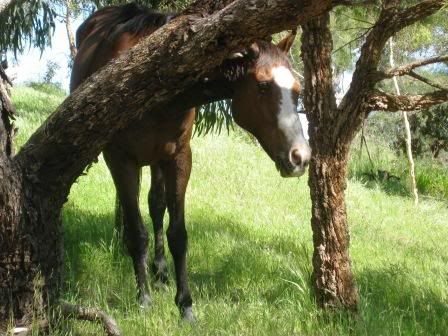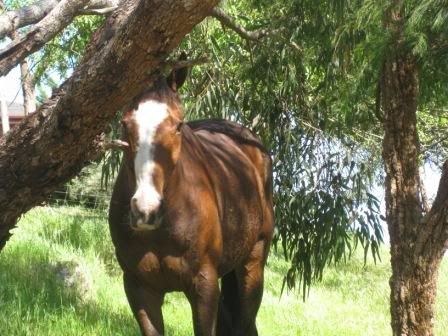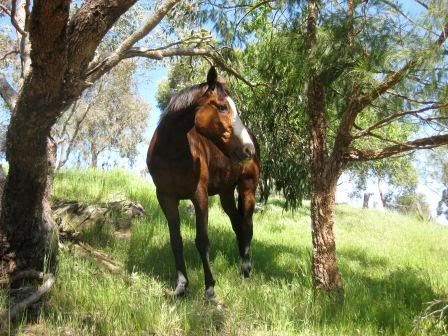 "nomnomnom tree!"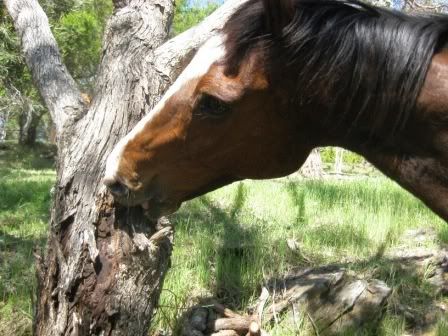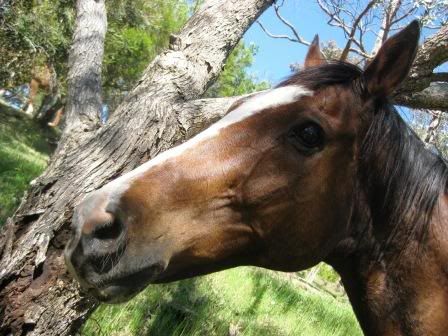 hes doesnt look 20 at all!
I know hey!! He's got perfect legs for his age, but he certainly acts like a been there done that 20 year old, we've got 2 mares that were squeeling and carrying on when he came off the float and he just went off into the paddock to find grass and ignored them :P
Cant wait to start getting him back into work and fatten him up a bit, he'll be lovely!! I'll try and find the photo's the owner sent me of his last comp
Hes gorgous, Haha looks like the Girls got some lust for him :) !
so cute! hes a looker!
---
:: Karley ::
Tucker WB/TB- 11 yr
Speedy QH/TB- 22 yr
He's gorgeous, love all the pics! The "O No" one is awesome!
---
Last edited by farmpony84; 10-20-2009 at

11:32 AM

. Reason: removed reference to cursing.
He looks great! I just love that little pony, I want him! :)
Quote:
Originally Posted by
FehrGroundRanch
View Post
He looks great! I just love that little pony, I want him! :)
Haha she's my first pony, I don't have the heart to sell her so she just stays on the property and babysits any of the new ones that come through :) She's 20 but you wouldn't know it, she's had such an easy life, had 2 foals and did about 3 years old pony club, then mostly trail riding
She's a bit of a cow though lol, she snobs you off big time and is certainly not affectionate!!
Superb blood lines though, I've been contemplating putting her back in foal as she's had two gorgeous bubs to a welsh B stallion, one has been successfull at royal level and the other has been a fantastic little eventer for a young girl. She's an up to height welsh B mare too, which is quite rare around here!