Hanging out with the Lacey poneh! :D
---
So the other day I decided to just go hang out with Lacey in her pasture cuz we've been doing a lot of work and she isn't so thrilled with that. So we took the day off to just be buddies. I don't think she understood what I was doing though; after I had been in the field for 5 minutes she came over and just stood next to me, with her head right next to my arm like "where's my halter? I'm ready to go, homes!"
Then, I got her out to groom her and cut her mane again cuz I wanted to take pictures of her weird bald spot for you guys! That girl grows hair so quickly, it was already about an inch and a half long after only 3 weeks or so.
Anyway, pictures!
Btw, the bay is Lacey's new bestie, Gypsy. I think she still misses her real best friend who she had known for over 15 years that was put down last fall since Gypsy is the only dark bay (like Danni, Lacey's old friend) on the property and what are the odds that that's just a coincedence? Poor Lacey girl.
Peekaboo! Where's Lacey? She must be hiding...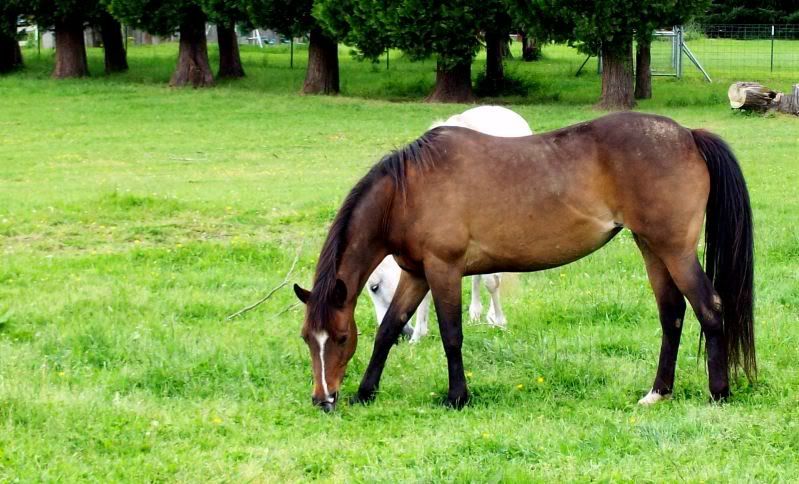 There she is!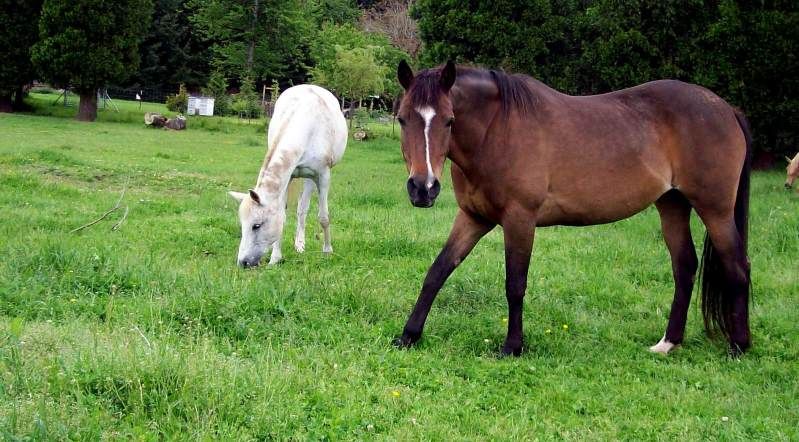 "Hiya Mom! Whatcha doing? I like grass."
For the longest time, Lacey has had the nastiest mane. It's super thick at the top and about half as thick at the bottom, so I roached it a few weeks ago. And you know what I discovered? The half of her mane that's thin is only half there. The other half of where her mane should come out is almost completely bald!
She has so many stories I would like to know all bottled up inside her. Now I'm dying to know what happened to her mane! Someone suggested that maybe she rubbed it out, but for it to not come back ever? That seems pretty drastic... I mean, she's not a compulsive rubber. She has itchy spots sometimes but she doesn't rub herself raw, ever.
But anyway, WEIRD!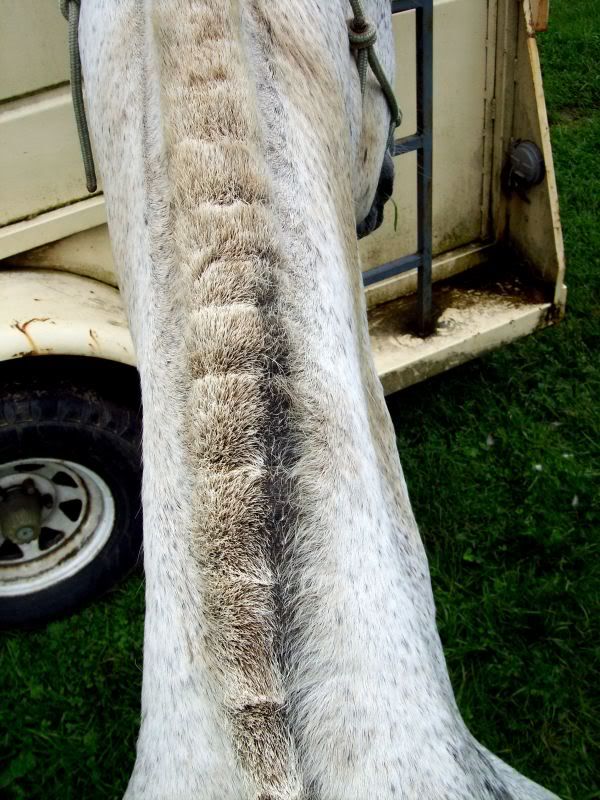 Where did it go?
---
Fabio - 13 year old Arabian/Lipizzan gelding

~
Rest peacefully, Lacey.

Probably a fungus or something. Maybe put some fungicide on it. Or try MTG. Lacey is bald! maybe you should get her a horsey wig... lol
---
Ω Horses are a projection of peoples dreams Ω
Great pictures! I adore Lacey, she is so pretty :)
---
She's very pretty, a good scrub and applying MTG should help her mane.
Thanks ladies! <3 She's a veeeerrrryyyy happy girl. I can totally see why her previous owner was so broken up about having to part with her!

I don't think the thing with her mane is anything that's currently happening... It's just her normal looking skin down there with a few hairs sprouting out of it. I thought fungus would have hair falling out of it and such?
---
Fabio - 13 year old Arabian/Lipizzan gelding

~
Rest peacefully, Lacey.

Ricci's mane is like that too; bald on the thin part of mane. I just think they don't grow hair there. o_O
---
"Great spirits have always encountered violent opposition from mediocre minds."