Happy Easter Photos!
---
I know I am early but Happy Easter to everyone!
I did a photo shoot with my ponies today for Easter, cute bunny ears included!
pintopony
Here are two sneak peek pics so click the link above to see them all!
Easter Bunny Kai hopping to it!
So hard to tell them apart!
I couldn't edit my post to add these...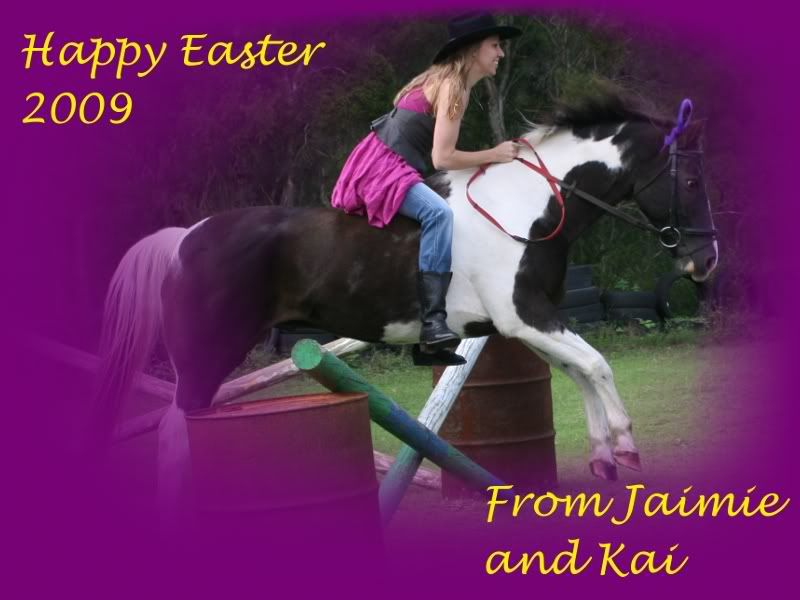 My lame attempts at editing pics hehe.
Very cute!
---
The horse...powerful, majestic, beautiful.
I love the second one! That is great! I always look forward to your posts.
That is too cool!! i like your shirt too.;)
---
12 days until Twiztid ( i get to see my Jamie) then two months until graduation.
Great pics! those 2 paints look like twins!
Aww your horses are so cute!
Great pictures, hehe I love their bunny ears.
SO cute!
---
Ride more, worry less.
Cute pics!
---
Cornelia =]
i love to talk to new ppl =] feel free to add me on icq etc =]
you said rhode island are you moving there?but great pics there sooo cute
Cute pictures! Happy Early Easter to you too! :)
---
TM Tardy's Chick "Hunter" - 13 yo Paint
Remmy - 18 yo Morgan/QH cross
Gunner 3/31/11, Heidi 7/2009 Miniature Sicilian donkey