What kind of pony is Harley? He looks like a little fresian!
---
Someone stole my %&#*@&% Carrot!
O_O What -is- that?
It's like a tiny fat litte freisan! Too cute
oooh i want him
hehe cute
---
love mustangs, but little yard? come see the mini Mustangs! woot!
Thanks guys :) He's a Fell pony :)
omg he is sooo cute!!!! i want him!!!!
One more, forgot I took this with my cell phone when we were in the river :)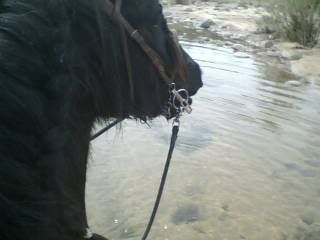 Harley is gorgeous
---
No hour of life is wasted that is spent in the saddle. ~Winston Churchill

Similar Threads
Thread
Thread Starter
Forum
Replies
Last Post
Photos

wanderlust

Hobbies

54

08-03-2009

10:25 PM

More photos

my2geldings

Horse Pictures

6

07-14-2008

12:38 PM

some new photos

my2geldings

Horse Pictures

5

05-19-2008

02:36 AM

New photos

my2geldings

Horse Riding Critique

9

05-09-2008

10:49 PM