He didn't want his feet cleaned.
---
So I went out to clean this guys feet today and he didn't want to I guess.
Plopped himself down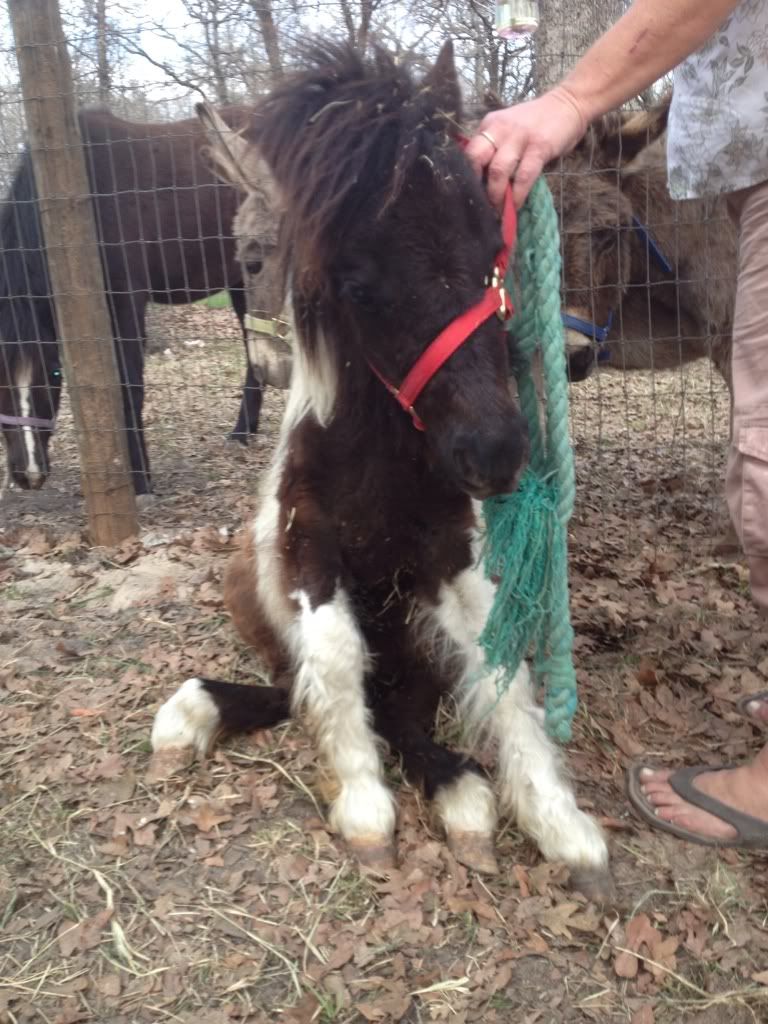 He's so cute!
We used to have a (much bigger
) horse in training who who do this under saddle right after you'd get on. Quite a surprise at first! We broke him of it though, and now he's back being a productive citizen with his family.
Showing
Join Date: Jun 2011
Location: Cariboo, British Columbia
Posts: 11,940
• Horses:
3
I think he probably can't physically support himself on 3 legs with his deformities. Poor little guy!
Well yes this guy is super cute lol.

But poor guy isn't very healthy.
Feet have thrush so I'm treating that, and I guess from actually getting to eat good food he had a bit of a belly ache today.


Waresbare - he did, I stood him back up and he stood fine, I think e just had to figure it out lol
I was going to say what waresbear said. I don't think he can stand on three legs.
You might try and support him some how when you work on his feet.
Maybe some type of A-frame contraption with some wide straps to run under his belly to help hold him up.

Poor little guy, he needs so much help.
We helped him out, had my mom there to help him balance.

Gosh he's so small I can pick him up.
HAHA my shetland colt did something similar when we had the farrier out! He tried to LAY DOWN! Completely, like a dog! I was holding his weight up and finally the farrier said, just let him go! He dropped himself, but then he stood back up when he figured out we weren't trying to eat him lol
---
Quote:
Originally Posted by Jareth, the Goblin King
I move the stars for no one.
RIP Pumpkin: 2012-8/26/13
I agree with warebear
poor little man
---
Country Woman