Hello
---
Hi Everyone,
I'm new to this forum and would like to introduce everyone to my gang.
This is Buck, he is a 21 year old QH gelding. He's been my barrel horse for 4 years and together, we have won 2 Womens Year End High Point Awards
He's been having troubles with his knees and hocks lately, so for now he is enjoying life hanging out eating and pooping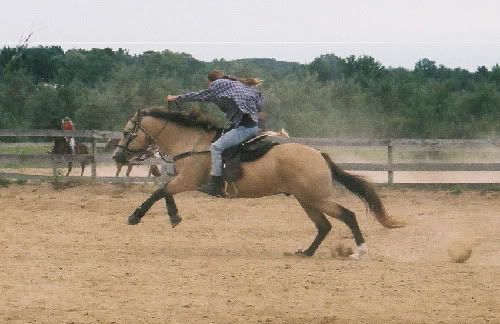 This is Beau, he is my pride and joy. I saw him for the first time when he was ten hours old and bought him on the spot. Brought him and his momma home when he was 4 days old. My husband and I have spent countless hours with him and he is a fantastic guy. He is a yearling, still a stallion (for now), and has the most laid back fantastic temperment.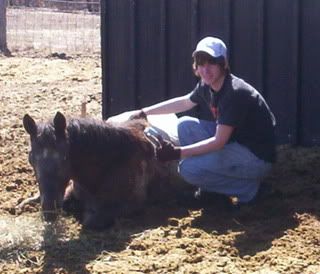 This is BS. He is also a 21 year old QH gelding. He was given to me last year by a friend and is phenominal barrel horse. Not the best riding to horse for trails or anything, but with his personality, you can't help but love him.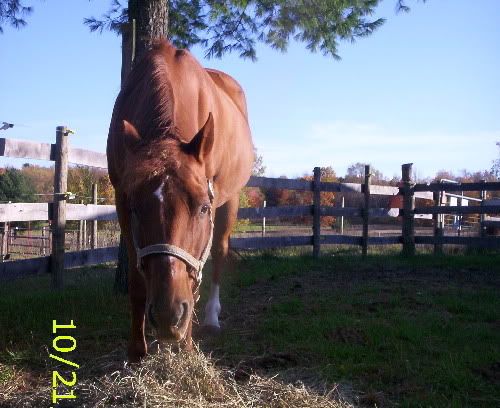 My first time running him in barrels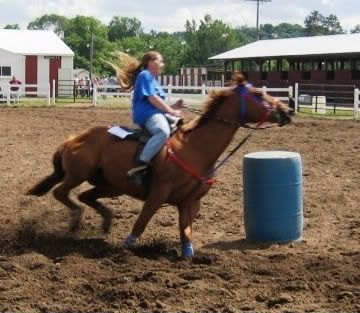 Our sad attempt at WP, we got last place
Last, but not least, is Max. He is a 2 month old Spotted Draft Colt and he is for sale.
---
If you can't feed em, don't breed em
wow..that second pic is wayy intense
it looks awesome!
you've got some nice looking horses!
and max is so adorable!
Nice to meet you! Welcome!
Love your horses! Buck is such a good looking guy!
We have a horse named Beau too, our herd sire!
Looking forward to getting to know you and your horses more! :)
Welcome to the Horse Forum. :) Aw, thanks for sharing, nice pictures!!
---
Ride more, worry less.
Great to see you here!
---
Life is hard enough on its own, please be kind.
love love love the spotted draft colt!!
---
Cocoa - 32 yr old QH, Cherokee - 8 yr old TWH & Toby - 16 yr old QH
R.I.P. Cocoa 4/13/78 - 2/9/11
welcome and excellent action shot-your horses are beauties-
Welcome to the forum!
Wow your horses are amazing!
I love your signature as well
Very cute, I love the second picture.