Here she is! Born at 8:44! Yay!
---
After long waiting.. CJ finally foaled a beautiful little Tovero filly!
Dixon's Triple Threat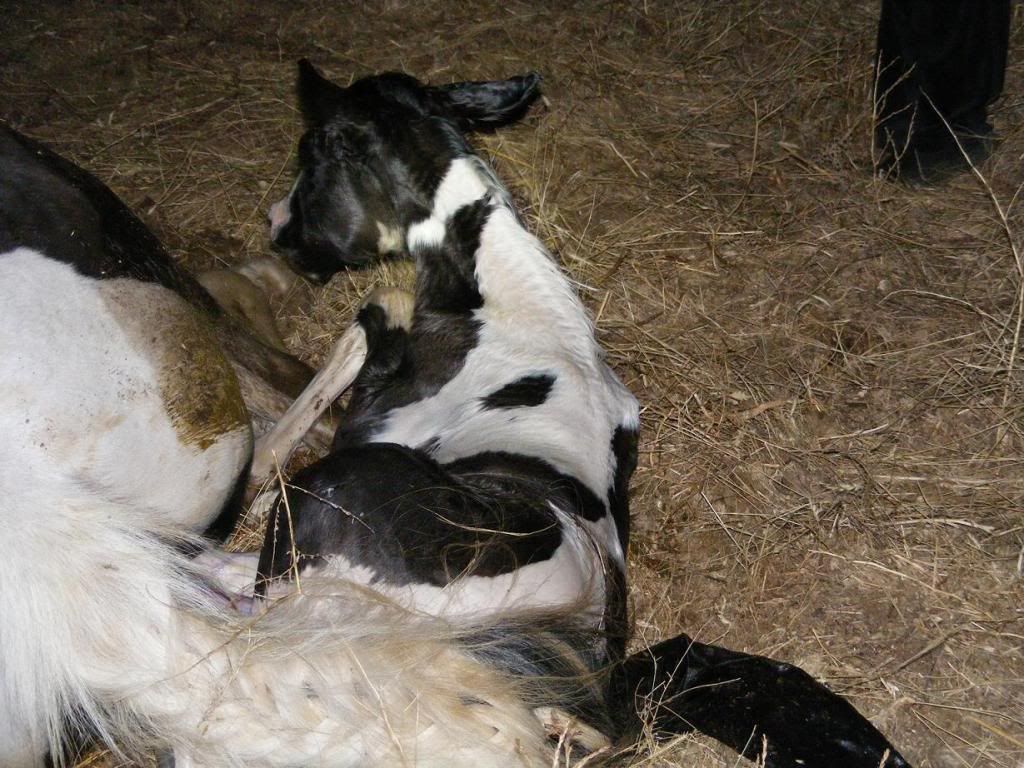 This was nice.. Born not in the middle of the night for once.. LOL, and things went real nice and smooth! The temp outside had a minor crisp, but very nice.. It was alot of fun getting mom and baby moved into the barn once baby was standing and walking! One thing I wasnt able to do was get a pic of her tail.. half way down its all white, then turns black! She is also very vocal!
Two more to go in foaling this year!
---
Dixon's Red Hot Ember
omg she is adorable!! congrats!
---
Courage is being scared to death but saddling up anyway~~John Wayne
Thank you very much! I was soooo surprised.. All the maping I had been working on, I was expecting a ton more white then what I really got, which is wonderful! After I got them put away back in the barn (as CJ wanted to foal out in pasture), I closed them up where mom and baby would stay warm and get a chance to relax.. I will get some more pics tomorrow!
---
Dixon's Red Hot Ember
She is soooooo cute!! Congradulations!!!
AWWW Congrats!
I'm not a paint fan normally, but I always seem to like your horses, she's certainly very good looking :)
x
---
♥ Seoul Searchin' for the Lovebug ♥
Quote:
In this pic, it looks as if she has a number 7 on her head.
Beautiful, lucky girl!
---
Cocoa - 32 yr old QH, Cherokee - 8 yr old TWH & Toby - 16 yr old QH
R.I.P. Cocoa 4/13/78 - 2/9/11
Green Broke
Join Date: Apr 2009
Location: Queensland, Australia.
Posts: 4,488
• Horses:
1
Lol it dose look like she has a seven on her head. She is very cute though:)
---
Sir Success. Eventer.
2000 - 2013,

hehe it does look like she has a 7 on her head....ohhh i wont her shes so cute & 7's my lucky number as well congrats
she is so pretty! congrats :)
Similar Threads
Thread
Thread Starter
Forum
Replies
Last Post
New born colts

Brumby

Horse Training

4

03-17-2009

02:41 PM

what year were you born?

Salty_alydaR

General Off Topic Discussion

125

03-01-2009

11:00 AM

Twins Born

Spastic_Dove

Horse Breeding

5

04-09-2008

07:13 PM

Foal born

kim_20

Horse Breeding

3

10-07-2007

08:15 PM

BORN THIS MORNING

sweetypie16

Horse Pictures

15

09-04-2007

09:53 PM