Holy catfish. I've had Kaja a year.
---
So October 26, 2012, I went to an auction with friends just to be creeps. When I went out back, I made a scene because there was a larger holding pen with a whole pile (27 total) little Fjords. I had wanted a Fjord for a couple of years and had harassed my BO about bringing me one from every auction she went to (entirely unlikely because they are not common, just a joke). BUT when they started running them through, the poor little things were going for $1 or $2. My friends enabled me because they knew it was killing me. I ended up with one of their numbers because I had not even brought my ID so I couldn't buy any tack. I ended up with a $15 Fjord that I assumed was a hungry yearling. Nope. She ended up being almost 3.
But I have pictures of our progress over the last year! I was over my head with this because I had never trained a horse, especially one that, if she had been handled, was very minimal.
The morning after the auction. Yep. I bought this funny looking midget. Her fluff doesn't show it as bad, but she was
maaaybe
a 2 on the condition scale. Maybe. She weighed something like 450-475lbs, if I remember correctly.
After about 10 days. She was very quick to figure out pressure and how that whole thing worked, so tying has never been an issue. Leading took a bit more practice though.
She was very curious about us though.
December 1st, about 5 weeks after. She was waiting to get her teeth done, which is when I found out she was actually closer to 3.
Christmas Eve! A bit more weight. I want to say it was some time around this that she figured out that grain was edible after seeing Abby eat it every day. Kaja also did not understand treats for the longest time, but that has been more than "fixed."
First lesson with saddles. She was very curious and very patient and acted like she had been saddled her whole life. She also did not have much issue with the bit in her mouth either.
Because she was so patient and not copping any sort of attitude, I apparently grew some balls and decided to hop on her for the first time. Not actual riding, but just sitting while being led around. She did great! We had one small freak out, but it was totally fine. This was at the end of January.
Finally shed some of that mammoth coat and the end of March and starting to look more like an actual horse.
She had been ridden several times by this point, mostly using that dressage saddle pictured above. Despite being fine with being saddled and me having been her bareback a couple of times and figuring out how bit pressure worked very quickly, she was NOT okay with me using stirrups to get onto her. That alarmed her more than anything, so it took quite a bit of time. She also figured out pretty quickly that if she bolted and then stopped dead, I would go flying. I ride in a small barrel saddle, so that dressage saddle did not keep me from going right over her head. This resulted in a broken finger and her being pissed when I would push down on her neck to balance myself when she did that. She stopped pretty quickly. Muahaha.
But after at least 10 rides, I realized that she was not mature enough yet to handle anymore riding because she would have frequent meltdowns, so I let her sit and be my fluffy pet for 3 months.
Mid-May. First bath time! She loved it, particularly drinking from the hose. She looks like a drowned rat though..
In May, she got to come with me to the summer camp I work at. I knew I would have an array of western saddles to try on her there so I could try riding her again. (Unfortunately, it ended with only a couple of, "this kind of works" rather than any good fits.)
First time in a western saddle
I can't find a picture of the first ride she had after 3 months. She did wonderful for that and we progressed with training. After some riding in the arena, I decided I trusted her enough to go out into the large pasture she lived in.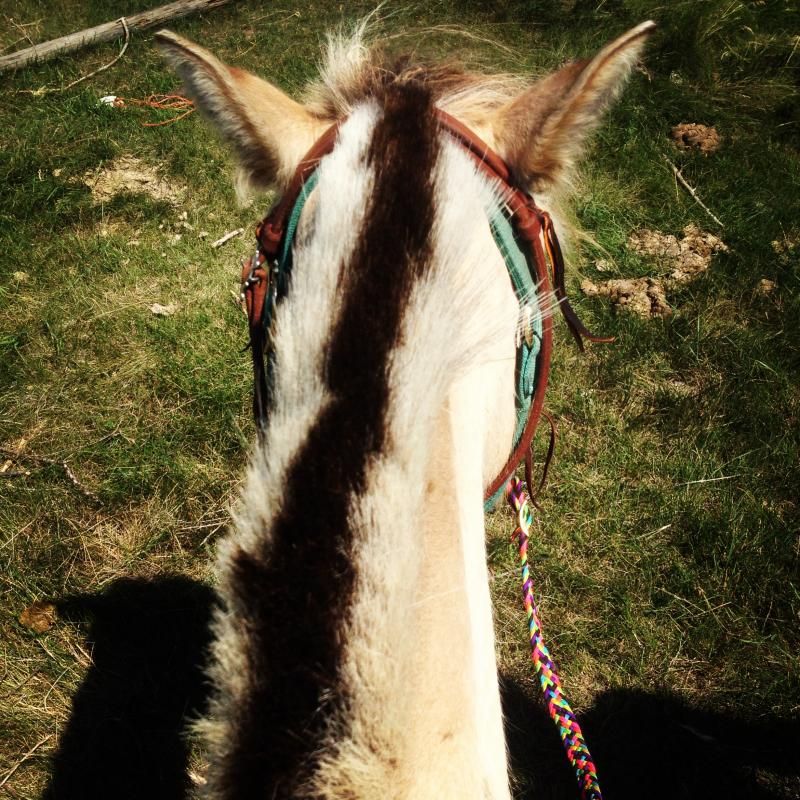 She did great!
Size comparison next to my friend's 17.1hh TB gelding.
Gained more weight and actually looking like a horse! It took about 6 weeks of getting 6lbs of Ultium a day to get her fat.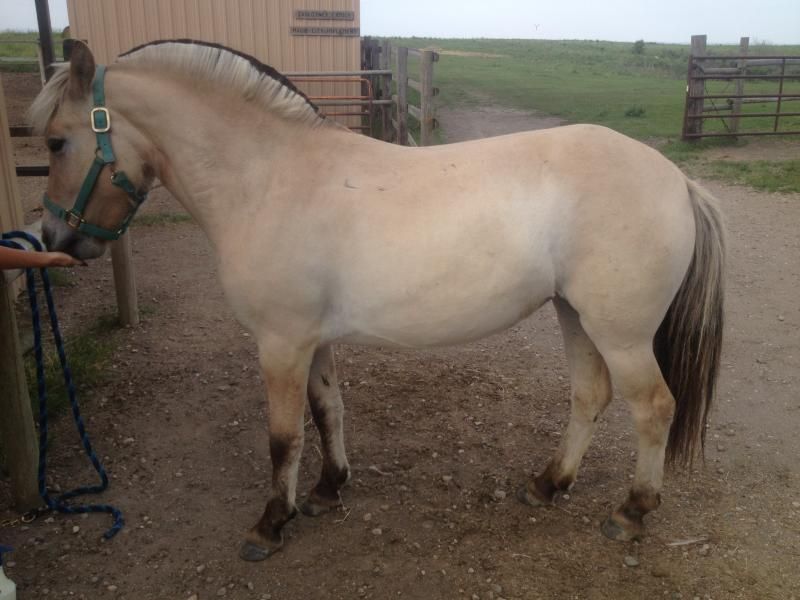 Even bigger pasture with quite a few others.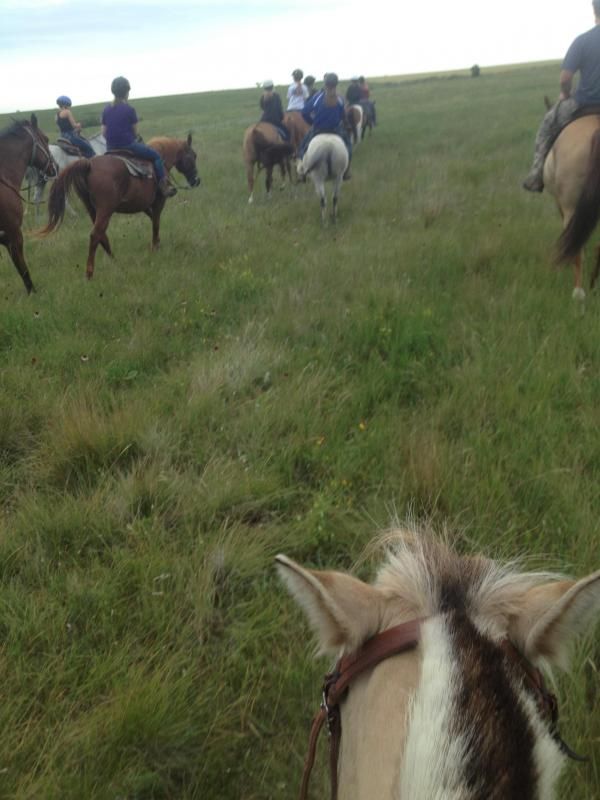 Fat Kaja tonight. Getting all fluffy again and looking more mature. We worked on pivots because I didn't feel like going faster than a walk.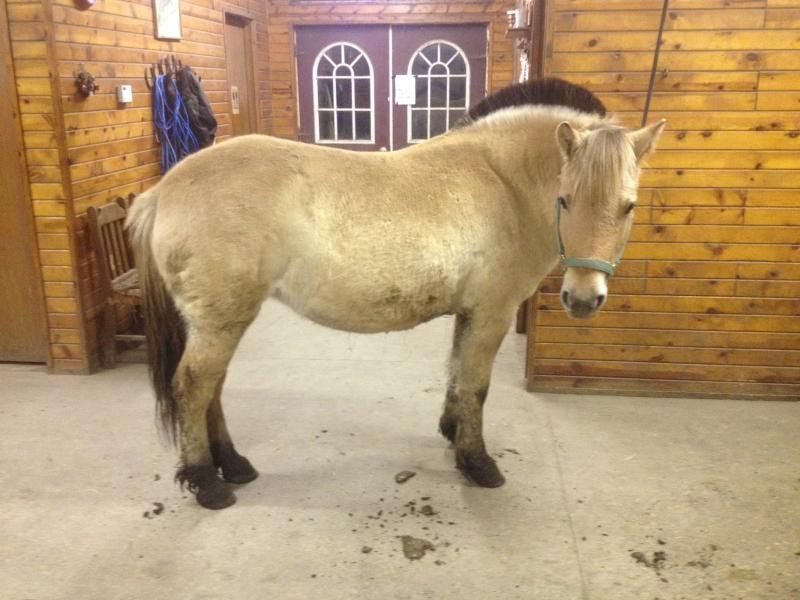 Shanks for looking at all of my peektures of my fat midget horse. I don't mean to brag, but she's pretty much awesome.
---
Last edited by Poseidon; 10-26-2013 at

11:21 PM

.
She looks great, awesome job!!
---
Being horseless is the pits!!
Cute! Looks like a little doll. :) Love that mane too.
---
If at first you don't succeed, try, try again
Love the catch up, she has come a long way during the year
She looks a whole lot healthier with a nicer coat and muscling. What a beaut! I love Fjord horses! Great job.
She is SO stinkin' cute :). I ADORE Fjords, and have always wanted one for the longest time. You did a great job with her, she does look a lot better then those first pictures.
Wow! You've done an amazing job! She is too, too cute!
Excellent progress! You sure did make a very positive change in her life. Love the mane!
Wow, I am impressed... You did a great job with your girl... Love, love, love the zigzagged mane!!!

Donna