How does Bert look in yellow?
---
What do you think? I think I may be getting a yellow saddle pad, I have a few yellow polo shirts for me, so should I get yellow polos for Bert??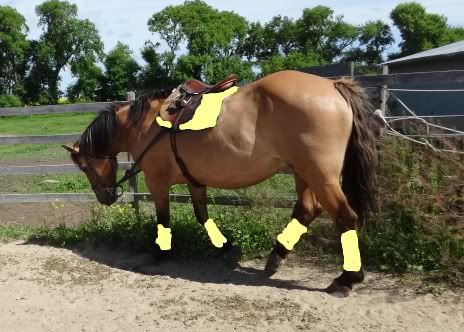 i think yellow actually looks really good! :] i love yellow just dont have the right colored horse for it haha :]
---
just a small town girl with a big town dream :]
I agree, I think it looks great!
I would never have thought of it for a bay (dun) whatever she is but it may just work I think.
I would normally go straight for hunter green
I like it a lot! I think it looks fantastic on her!!!
Me either. Makes me curious to try it on Soda and see how it looks! Right now his leg wraps are burnt orange
Yuck - I don't like it, but then I am a guy and we guys have notoriously bad taste...
Maybe if you wash it in hot water it will fade some...
looks cool! i like the yellow!
---
No whisper of lover, no trilling of bird, can stir me as hooves of horses have stirred.
Wit beyond measure is man's greatest treasure!
LOL, I am in the same boat as Faceman, I'm not really diggin' the yellow. But then again, I don't like yellow in general
.
---
Always remember that feeling of looking at a big, open country over the ears of a good horse, seeing a new trail unwind ahead of you, and that ever-spectacular view from the top of the ridge!!! Follow my training blog:
http://robertsontraining.blogspot.com/
I'm kinda between boats on it, theirs things that could look worse on her but theirs more that would look better my opinion. It almost washes out her color, but then again I'm not a huge fan of yellow.