I'll Miss You...
---
So I'm a little sad right now. As of next Friday I will be leaving my wonderful Demon boy to go take on a working student position for a wonderful event rider about an hour away from where I am now. There are a number of reasons I'm leaving him behind, and I'm feeling a little guilty about it. The number one reason being that I just can't afford to own (or full lease as would be the case for now) a horse at the moment. My plans were to buy him when I could, and his owner already considers him mine. However, on top of not being able to afford him, when I look at this realistically, he's just not the right horse for me. He likely will never pass Training level (if he can even make it that far), and with as serious as I'm getting about my riding, I can't be dumping money into a horse that won't take me where I need to go. It's really breaking me up inside that I've had to make this decision as he doesn't have anyone else. I love him with all my heart and will miss him greatly. I hope he doesn't resent me for this, but I will be visiting and riding him any time I get the chance!
Anyway, feeling a little down I made these corny little edits and thought I'd share. Thanks for reading, and if any of you have been through a similar situation, I'd love for you to share!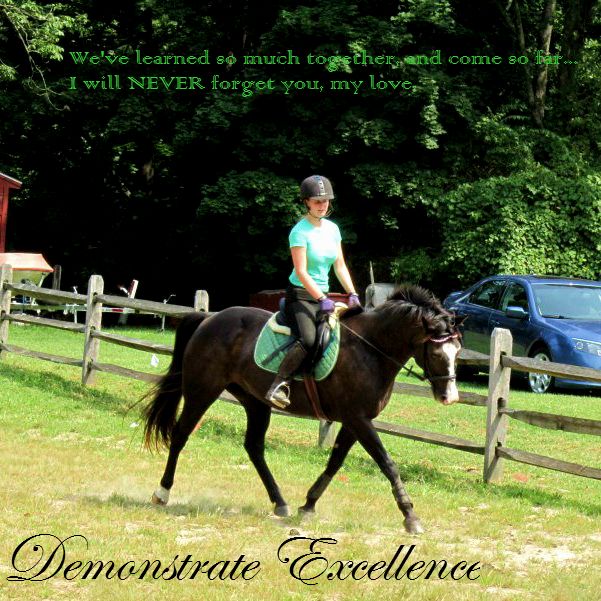 ---
"The art of riding is keeping a *horse* between you and the ground."
Aww so sorry to hear, he's a nice looking boy.
---
Being horseless is the pits!!
Sorry you had to make such a difficult decision. I had to sell my sweet Arab/Saddlebred mare when I was going through nursing school and never really forgave myself completely. I didn't even think about buying another horse till 20 years later and could be sure I could afford to keep one properly. I am so happy now. Things have a nice way of turning out for the best. Stay strong!
Sorry you had to make this tough decision.Life can be very tough at times. Hope you plenty of opportunities t ovisit him, though.