Introducing....Llacey [Lacey+llamas]!!!!
---
Lacey is officially at my neighbor's house!
She had kind of a not so fun trailer ride, she wasn't expecting the first turn and it was kinda sharp so she almost fell over. Over than that, it went well!
She got off the trailer all hot to trot so I walked her into the field and showed her the water, then let her go. She didn't do hardly any running at all! Silly good girl! I guess when you have plenty of grass to eat, that takes precedence.
She and the llamas weren't so sure what to do with each other. She spooked at them once, when they first moved but after that they became "hers." They hadn't gotten real close to each other when I left but Lacey really wanted to. She was basically gently "herding" them around the pasture and actually ended up cutting one and kept it away from the other llama for quite a while considering that the girl has no official cutting training. I also came to the conclusion that I think I would enjoy seeing her go after some cows. She seems like she might have some innate cow-y-ness going on... haha
Picture time! Tomorrow I'll take more pictures, but these are just kinda "see? she's here!" poo-quality pictures. lol
Fresh off the trailer:
Llamas = "OMG, a big white....THING"
[The brown one with the white face is Marina and she's the white and brown one's "baby," the mom's name is Deidre]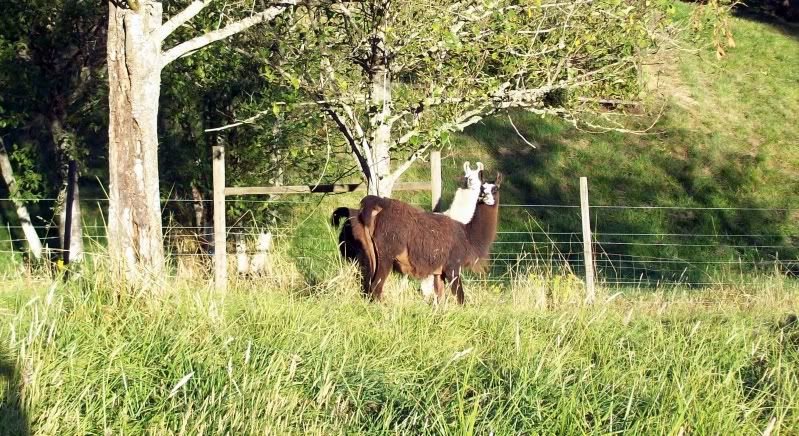 Stunningly white shexy butt...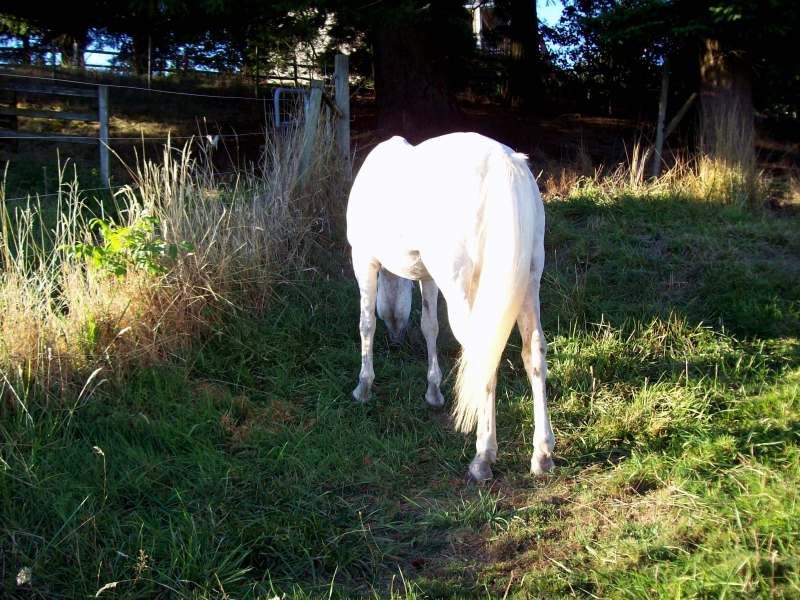 "are you taking pictures of my.....
posterior
?
*gasp*
"
Happy girl!
"Gotta check on my big fluffy things!"
More eating
A little bird told me that Lacey really enjoys the food situation she has going...
She seemed very content and happy when I left her for the evening.
She's gonna be happy here, I think.
---
Fabio - 13 year old Arabian/Lipizzan gelding

~
Rest peacefully, Lacey.

Wow! What a great place! I bet she becomes friends with those llamas! You guys are so lucky to still have pasture! We haven't had rain in almost a month...the pasture is dead! She sure looks happy!
Congrats on getting her home!! She does look contented to be there in all that green grass. Before you know it, she and the llamas will be bumming around together like old friends
.
---
Always remember that feeling of looking at a big, open country over the ears of a good horse, seeing a new trail unwind ahead of you, and that ever-spectacular view from the top of the ridge!!! Follow my training blog:
http://robertsontraining.blogspot.com/
Subscribing to see more photos! Lovin the hair cut on her by the way!
---
Proud owner of ~Mana: 6yo Arabian gelding~Pearl 13yo Arabian~Danzer 14yo Arabian mare~ Tiny mini filly
Started
Join Date: Aug 2009
Location: In the barn whenever possible.
Posts: 1,910
• Horses:
2
Lacey looks beautiful and very happy in her new home with her new friends. :)
---
"Riding a horse is not a gentle hobby, to be picked up and laid down like a game of solitaire. It is a grand passion. It seizes a person whole and, once it has done so, he will have to accept that his life will be radically changed." -Ralph Waldo Emerson
Generally we wouldn't have pasture either but we've had a crazily cool summer and I guess 2 llamas don't eat a whole lot... I dunno! Haha
I'm glad there's pasture too, that means that I maybe, hopefully, won't have to spend so much on hay since she has like a bazillion tons right there. :P
Thanks for all the compliments guys! :)
Link to new pictures!:
More pictures of your favorite geriatric in her new home: Lacey!
---
Fabio - 13 year old Arabian/Lipizzan gelding

~
Rest peacefully, Lacey.