Introducing my Equines.. *I'm new BTW* lol
---
Hello! As some of you might have noticed I am new. lol
I have only been here for well, 2 days. and I have not posted any horses yet. So! Lets change that.
I will post pictures the more that I am here but I think it is good to atleast get a good start. I have put together some simple little pics, we'll start with these and work up to more. <3
Well. Lets get started!
I would first like to start with Vegas, my barrel horse.
I have been to nationals 5 times on his back, and I love him to death.
He has two blue eyes, which you cant tell by in this pic.. and he also has a split in one of his ears which I think gives him character <3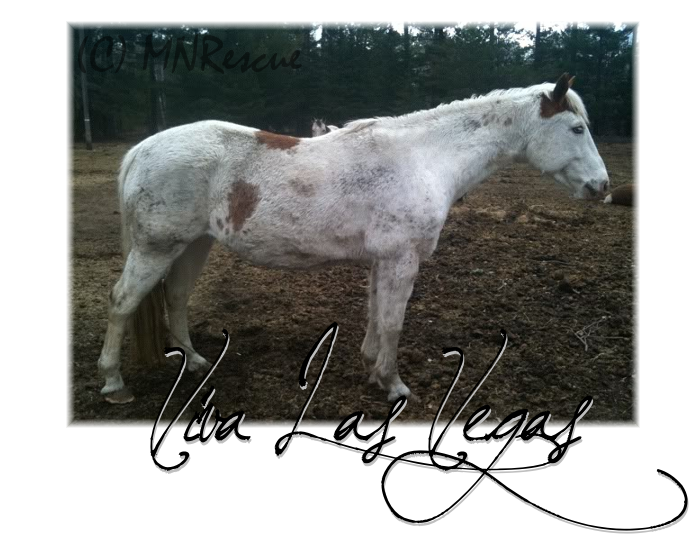 Vegas was an Auction horse, he was extremely neglected when I got him. To where he has suffered some long term damage. However he has come a long way and has been good to me with getting me to nationals. One of the best horses I have ever owned.
**Please excuse his dirtyness in this pic, it was taken in the spring when all the snow was melting and the pasture gets rather muddy. But then again with a white horses what do you expect!**
__________
Bucknuts was originally my dad's horse, but when he passed away I took him under my wing, just couldnt get myself to sell him.
He is a QH Buckskin, he is skiddish on the ground but when in the saddle he is all buisness.
Bucknuts is used generally as a trail horses, however he was bred for barrel racing.
But like I said, I will never get myself to sell him. He means too much to me.
__________
Miss Lulu is the oldest of the ponies that I currently have. I recieved her mom Daisy extremely neglected and little did I know she was pregant. Didnt take long and I was left with:
Lulu was born after a very long labor from her mother, sadly the mother wasnt strong enough and she did pass shortly after birthing. Lulu was a bottle baby, she lived in the house while she was very young, soon after being moved out to the parn and to her own paddock.
Because of everything that she has gone through she will never find a new home, she is here to stay.
_________
Diablo is really important to me, I taught him everything he knows. I taught him how to trust again.. although so far he only trusts me. But that is ok.. he doesnt come in contact with a lot of people.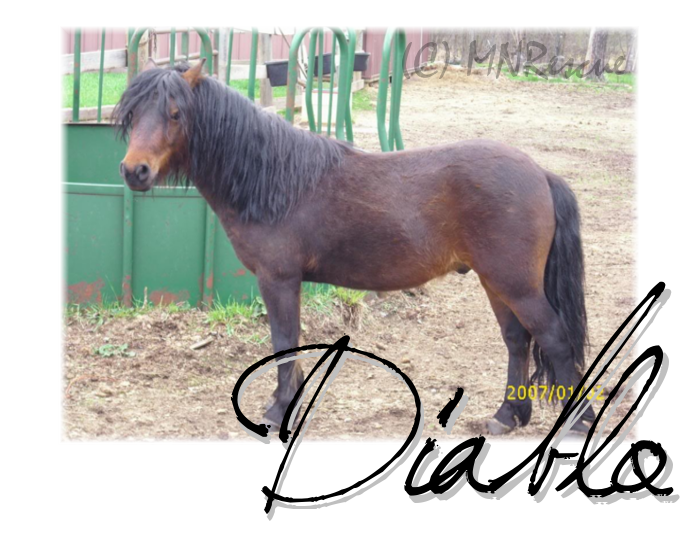 Diablo came to me from a herd of 100+ ponies. The county seized them due to cruelty acts being placed upon them. The person I got them from was usuing ponies as roping practice since ponies were cheaper than cattle. He wasnt halter broke, he wasnt broke to lead, he honestly didnt know how to do anything but stand in a cattle shoot and wait to be let out to run. His life was not very pony like. It took me almost a year to get him to allow me to even look at him without him running away. I finally got him to trust me, and we attend shows almost every weekend for Pony Halter.
_________
Thunder is an auction pony that I got with deformed hooves, I have been working with him for almost a year now where he has almost made a 100% recovery.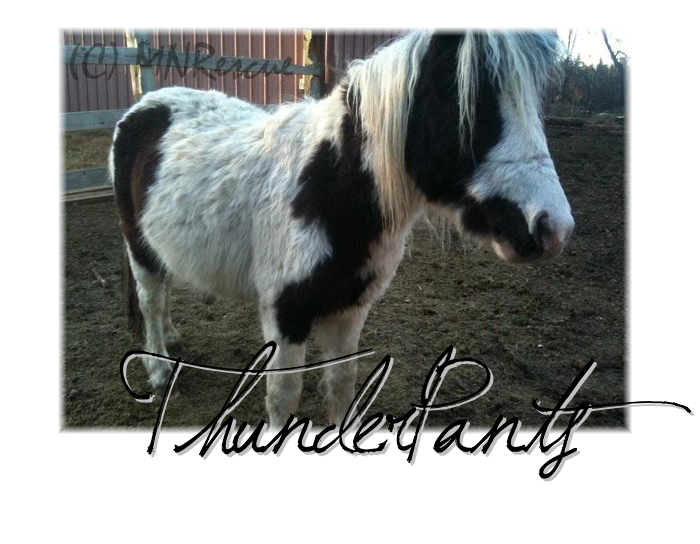 He also shows signs of abuse, being touchy in certain spots and constantly flinches if you pet him in certain spots. The vet has checked and double checked and nothing else seems to be wrong. He is intact, which makes him a stud.
He has quite the stud attitude! lol But he is so enjoyable.
_________
Cinni is actually permanetly handicapped. She has a limp in her step, the vet cant find anything and has just recommended some bute whenever she seems to be at her worst.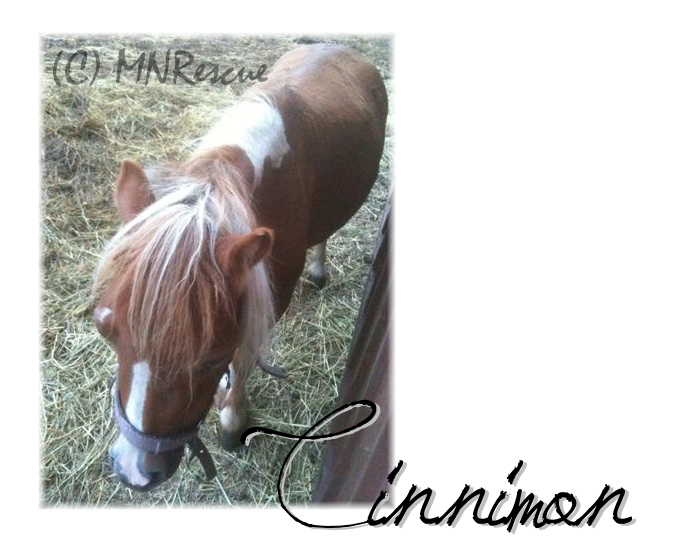 Cinnamon does seem to be a little on the shy side, but she is such a sweetie once she trusts you.
________
Duels was a GrandChampion Western Pleasure horses in her younger years. She is mainly just used as a beginner lesson horses, and a trail horses.
Duels had taught me a lot, she was actually my first full size horses. I got her when I was 10, all my horse before here were only ponies. So she was very special to me and still is. She will remain with me the rest of her life. I will be getting an updated picture soon.
_________
Finnie is a small little pony, very curious at heart. He was seized by the county due to neglect.
He was extremely neglected when I got him, and he has finally started to get back to his normal shape. However, I am going to be waiting on a picture for him until I can get out and get new pics for all of them.
_________
Howie is a small little pony as well, Finnie is actually his brother. He was also seized by the county due to neglect.
He was extremely neglected when I got him as well. He has also finally started getting back to his normal shape, however a bit slower than finnie is. I am also waiting on a pic for him until I can get out and get updated pics of them all.
_________
Thanks for looking! And feel free to ask questions and request certain pics ofa certain horses. I will be more sure to get those pictures first.
MNRescue
ohhh they are soo beautiful...
Quote:
Originally Posted by
myhorsemylove101
View Post
ohhh they are soo beautiful...
Thank you <3
Posted via Mobile Device
awwwwww, Miss Lulu is adorable!!! The whole herd is handsome! I have a mini I just had to change her name recently... she was DEVIL Pony, because she earned the name... ask any vet who has worked with her and her farrier, but I took her to see my dad at assisted living and she is now known as DIVA Pony because she ate up all the attention and oatmeal cookies.. did her little 1 pony trick, called "get your bowl" LOL... you tell her get your bowl and she picks it up in her teeth and throws it. I'm 2 days new here myself!.
---
God Bless you!
Diablo is gorgeous! They are all very nice looking and thank you for caring for abused animals. Also, I am sorry to hear about your loss. May your father RIP.
---
Cocoa - 32 yr old QH, Cherokee - 8 yr old TWH & Toby - 16 yr old QH
R.I.P. Cocoa 4/13/78 - 2/9/11
Beautiful horses! And awesome pictures! they are soo cute! :)
Thanks all. =]
Vegas was my first abused and neglected horse and after him I just took so much pride in how he turned out and he seemed so grateful.

If anyone would like something like this for their horses I can do many different things. I do graphic designs on the side. Lol
Posted via Mobile Device
Beautiful horses! I loved reading all of their stories, even though they had bad stories, they seem to have ended well. Good job on taking them in.
---
RIP Minnie, 1981-January 15, 2010
RIP Maggie Mae I miss you
Aw they're all very cute..
That would be awesome if you could make me one
Here are some pictures..Or you can ue the ones in my barn
Thank you!
Similar Threads
Thread
Thread Starter
Forum
Replies
Last Post
Introducing...

EveningShadows

Horse Pictures

10

08-04-2010

12:09 PM

Introducing.....

Appy Luvr

Horse Pictures

21

02-07-2010

08:43 PM

Introducing Myself

Shellbe

Meet the Community

9

03-22-2009

09:15 AM

Introducing myself!

Neon Light

Meet the Community

6

02-01-2009

06:24 PM

Introducing..

Snapple122

General Off Topic Discussion

1

11-10-2008

04:26 PM