Introducing my herd *pic heavy*
---
After my short introduction on the community board I tought I would 'show off' my herd.
Each and every one of them comes with a special story but I will keep it short...
This is
MyLady
, 9, breed unknown.
We bought her as a 5 year old from a very abusive home just to 'get her out of there'. She has come a long way in those 4 years and the daily handling we've got down pat.
I have no intentions to train her u/s because of her past. She deserves a fantastic life as a 'pasture puff' after all she went trough.
This is
Willow
, 3, MyLady's '07 foal and sired by a QH
Willow was born on my BD and the two of us share so much more than a date. I believe we're real soul-mates. If there is such a thing as ADD in a horse, she's got it! She thinks quick and learns incredibly fast, it's almost as she knew it all already. We have just started her very lightly under saddle and she does fantastic! I'm very excited to find out where this girl is going to take me!
This is
MissDaisy
, 7, Standardbred
We got her last year after her racing career had ended and she seems to love her new 'job' very much! She has become an amazingly reliable horse that is great out on the trails! I have just started taking lessons on her to iron out some of my kinks and teach her true collection
this seems to be the only 'full body' shot I have of her
This is our only male in the herd,
SunnyBoy
, 9, Paint (with lost papers)
He's hubby's horse and our 'packer'. He's one of those horses you would never sell... 100% reliable, sound, sane and good for the 'guests' to ride on! He's a true character and there is not one day he doesn't make us laugh or shake our heads...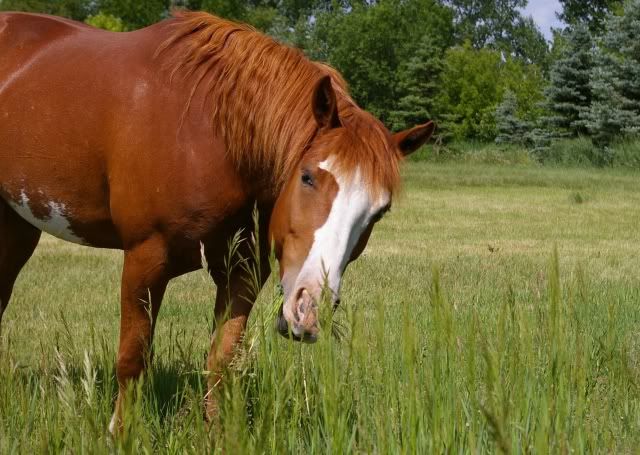 And then we have 3 babies:
Nova
, 1, Canadian (in the process to get registered)
She was advertised online, I liked her, went to look at her and fell in love with her! Next day we picked her up!
The previous owner was sadly forced to sell her and we were the lucky ones who got her. I have learned a lot so far about the breed and am facinated!!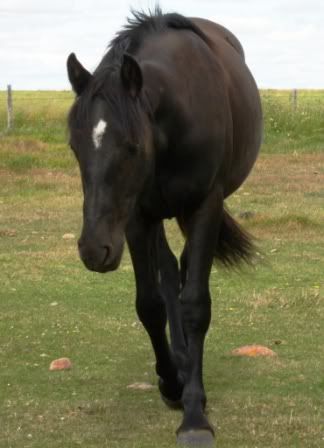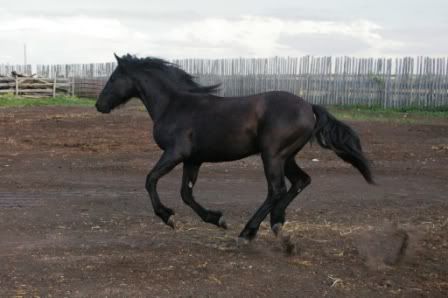 Yuma
, 1, breed unknown.
We got her in July from a rescue place near us as a weaning buddy for our filly. She is the sweetest girl ever and a very quick learner! She had a very funky color when we got her and started to turn blue roan the last few weeks... not sure what she's gonna look like next year in her summer coat!
..and last but not least,
Trinity
, weanling, mom is MyLady and sire is a registered paint.
She was born in May this year and is definitely our sunshine! Always up to something and a real tom-boy. She LOVES our cats and follows them around and is always 'helping' when you're in the field/paddock to muck or brush/trim other horses....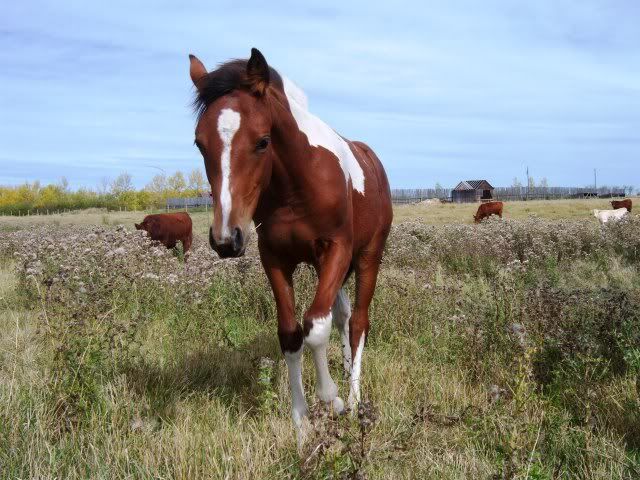 You've got to be real fast to take pics of her or all you get is this:
Awww... I could cuddle her all day long!
Sorry that was long... but kudos to you if you made it all the way down here!
---
Last edited by WWA; 10-07-2010 at

03:13 PM

.
Started
Join Date: Aug 2009
Location: In the barn whenever possible.
Posts: 1,910
• Horses:
2
Welcome to the board. Nice group of horses you have there. Trinity is a doll.
---
"Riding a horse is not a gentle hobby, to be picked up and laid down like a game of solitaire. It is a grand passion. It seizes a person whole and, once it has done so, he will have to accept that his life will be radically changed." -Ralph Waldo Emerson
MyLady is a really pretty horse! They all look royally kept! : )
---
100% Anti-Slaughter and PROUD of it!

Welcome and thanks for sharing the "family" photos.
Posted via Mobile Device
Thank you guys!
We try very hard to provide the best possible care for our horses! To me it is very important that they don't have matted manes and coats and hoof care is one of my pet peeves! Having said that, we just put a truck load of shavings in the run in and they sure love to roll in there... and I can't brush 7 horses at 6AM to just turn them out!
When Trinity was born this year, we were lucky enough to be there for it.
We watched a movie and half way trough it (it was just after 10PM) I said to hubby that I will go check on Lady.... and there she was in labor and we got to see Trinity being born!
I was kind of hoping for a bay filly with 4 white socks and not too much white... and coudn't believe that Lady produced just that!
Your horses are beautiful. I love the 2 pintos. Gorgeous.
---
RIP Minnie, 1981-January 15, 2010
RIP Maggie Mae I miss you