Thanks everyone! I absolutely love this horse with all my heart! He's my best friend and my partner in crime!

The bits I use - well, I have 3 bridles.

1 is his dressage bridle with his KK Ultra Loose Ring French Link.
1 is his CC Bridle, which is a Full Cheek French Link
1 is his Hacking/Schooling/Jumping bridle with his Myler Level 1 Comfort Snaffle

I love his facial markings - very unique eh!! Very distinctive.

He is a love bug! Even though he is 16 - he acts 5. You should see him on Fox Hunts! I have a Prix Saint George Dressage Horse! ROFL! We do Piaffe's perfectly, tempi changes, we do airs above the ground - ROFL.

I love this horse! He teaches me something new everytime I am in the saddle!
---
Last edited by MIEventer; 04-22-2009 at

10:03 PM

.
I wish I had someone who could take pictures of Boo and I, like Pinto Pony has - lucky girl!
Here he is showing off a browband that he got as a gift from a friend back in Canada. I had to take pictures of him in it, to show it off to my friend - he's very thankful :)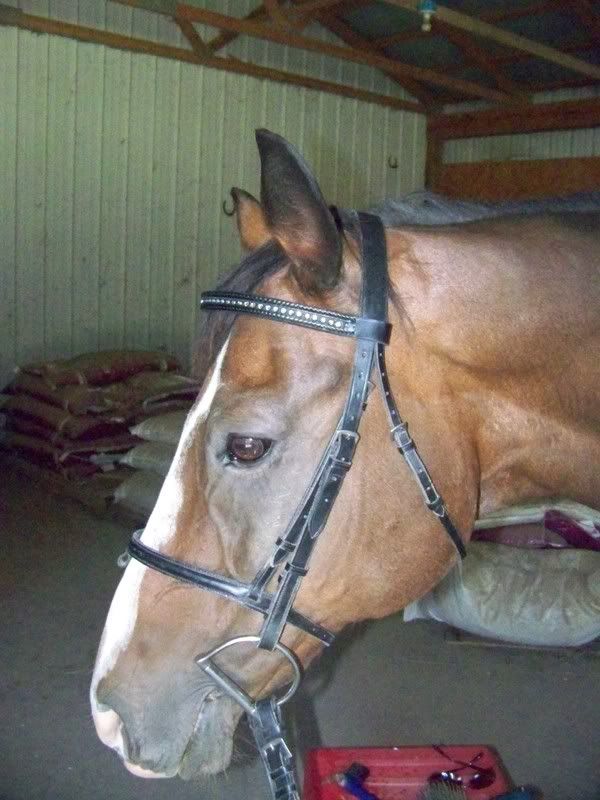 Started
Join Date: Mar 2009
Location: Middle-of-Nowhere, Illinois
Posts: 2,225
• Horses:
1
What an awesome story. A million kudos to his previous owner! Not all sellers will go out of their way to make sure their horse gets the perfect home. He's gorgeous, too. Love his stripe.
---
"A musician must make music, an artist must paint, a poet must write, if he is ultimately to be at peace with himself.
What a man can be, he must be." Abraham Maslow, 1968

Very cute!! Love the markings :)
---
Freelance Graphic / Print / Photo / Web Designer -
Designalist
Stop by and say hey :)
He is beautiful!
What a great owner, trying to find the perfect home for a pricey horse, and giving it away for free.
These days, not many would do that...
I love his face. white the blaze and the kinda star thing in the middle...it's so cute!!
---
Horseriding- The art of keeping a horse between you and the ground.
I love those pictures with the little dog racing along side the horse! What is that, a jack russell?
Yes, Kudos to the previous owner. Shows me she is a TRUE horse lover!

And he is really a handsome boy. His face markings kinda look like someone dripped white paint on him - very distintive. And I especially like the pictures of you jumping with the dog running along side, too cute!

Congrats to you, you guys do look like a pair.
---
Horses are God's apology for men.
Thank you everyone! I was very blessed the day his previous owner gave him to me.

He has taught me so much since we've been together, and I am thankful for everyday I have with him!

I love the pictures with my little dog running beside us - she wil actually do some jumps as well. She LOVES to go on long trail rides and hacks - whenever she see's the barn, she gets all hyper.

She is a Rat Terrier - she was a rescue. Her name is Dixie and she is about 2 years old now.