Its amazing what food, love and exercise can do
---
Its been a long 3 months with my boy Apollo. He came to be extremely underweight...his LONG winter coat disguises his poor condition very well. If you laid a hand on him you could feel every rib, hip bones, shoulder blades and spine. He had no energy and was a mopey little guy...he didn't seem to have much of a personality and wasn't feeling well. After he came to me I got his teeth floated, feet trimmed and put him on a steady diet of oats and unlimited hay. He quickly started to gain weight and he turned into the high-strung little brat he is today...full of personality and has an opinion about everything ;) he still has a ways to go but he is looking so much better...just need to work on his top line and butt!
First week home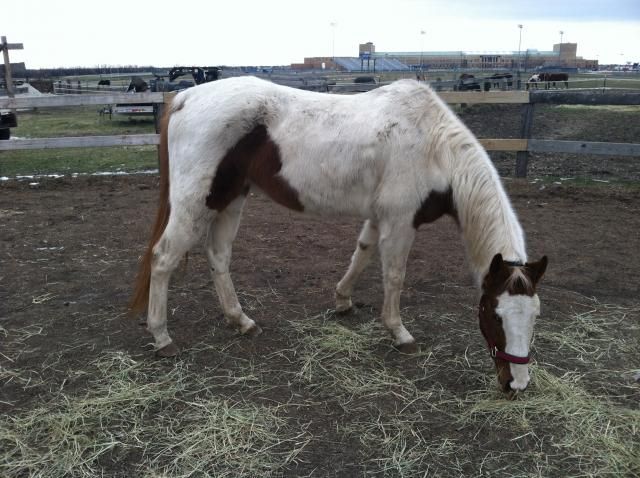 A couple days ago
(I'm having the farrier come out Friday morning to do his feet, I know they're getting pretty long)
He is looking great!
---
Rem - 9 yr old Paint gelding; Lelouch - 9 yr old Connemara X Welsh gelding; Ejie - 8 yr old Arabian mare
I know how that is. My hubby and I rescued one in October and he has come a long way also...I am working on topline now.
Quote:
I know how that is. My hubby and I rescued one in October and he has come a long way also...I am working on topline now.
Good on you for taking on a rescue! I also took one in this past July and we have been working on her topline as well.
He looks so much better, great job!!
---
Being horseless is the pits!!
He's looking great!!!
---
R.I.P Duke <3
No hour of life is wasted that is spent in the saddle.~Winston Churchill

He is looking a lot healthier in the second pic...How is his stamina now that he is getting a nutrition filled diet?
---
I am Second
Born Once, Die Twice. Born Twice, Die Once.
Thanks everyone! I'm proud to call him mine :)
Quote:
How is his stamina now that he is getting a nutrition filled diet?
He's now very full of himself...he has a little too much energy! Definitely not the horse I met the day I went to look at him before buying him. He was very quiet, head hanging low didn't react to anything. His owner rode him, then I rode him and he did very good! Very eager to learn but had a little attitude...thought it was something I could work with on my own since I've been riding for 12 years and have experience with green horses...just not this green (he was just started under saddle). But with how he behaved on our first ride I thought it was something I was capable of finishing on my own with the help of an instructor. But once he started to feel better, he developed this attitude towards riding where you will have a few good rides and then the next day he will throw you off...then have a good ride again (he's not in pain/nothings pinching...I have a thread on that if you want to read about it, I don't want this thread to focus on his training). It can't be his food making him hot either, he's just getting oats and hay...he's just a green horse who doesn't want to be ridden and I don't blame him...he spent the first 12 years of his life in pasture with the occasional ride. So I'm looking for a trainer to send him to for a while to work out this annoying behavior. He's a total sweetheart on the ground though and is SUPER smart, I love him to death.
I've had people tell me the owner probably kept him thin to keep him quiet...which I'm starting to wonder myself. He was the only thin one on the property and I had a vet come out and he give him a clean bill of health before I brought him home (minus his weight...though there was nothing causing it besides lack of food). I assumed it was because he was the low man on the totem pole, but he doesn't really take crap from other horses...he's not submissive towards them but he's not very dominant, he just stands his ground and doesn't like others nipping at him out in pasture...I've seen him throw a couple kicks lol.
He's going to be a great horse once he's finished :)
---
Last edited by shellybean; 03-26-2013 at

03:39 PM

.
oats can certainly make a horse hot, as can this time of year. There are two horses on the farm that absolutely CANNOT have any oats, an appy and a appy cross, they go from being total sweethearts to being bratty handfuls on half a scoop of whole oats.

green horses test. they do really bad things(bucking a rider off, rearing, etc) 99% of the time because of lack of respect or out of fear.

that said, he looks much better :) I would try a food thats not as high 'octane' as oats and see if that makes a difference.