Hoorah
Congrats Tiff, she is going to look just like her mom. Not a single white patch? I'll have to go to photos and take a look at the dad.
Poptart-Thanks! I think she is something else as well!

Meggy-She sure is legs! Well Nita was nearly 3 weeks over due lets home that Meggy doesn't go that long!

Kitten-Yes that was miss Nita. Now that there is little baby there, BAM, totally different horse. I guess she has really strong mothering instintcs.

Jazzy-Thanks, better late than never! ;)

Vida-She is gonna look just like her momma! She just has a few hairs in her forhead. She has white hooves so I'm not sure if she will get socks.
how are mom and baby doing today?
They are doing great! Awww...I'm gonna miss them when they leave!

Momma (all my horses get pegged with this name when the have a foal at side) is being amazing, she is taking such good care of Miss Legs (not really her name)
Miss Legs, thats cute. I wish they didn't have to leave too. Any chance they'd let you keep momma and baby there until she's weaned?

It's not like they can really rider her to anything right now.

But i'm glad they're both doing good and that Nita is being a wonderful first mommy
No...they want to take Nita home right away because they want to breed her back their stallion.

I'm heading out to take more pictures of her right away!
Poor Nita. That's probably the last thing she wants, another baby. I would have waited a year or so to see what type of mom she is. (not that she's not a great mom)

Get as many pictures as you Tiff! Even record a few videos and stuff! hehe
Here are some dry pictures of the little cuite!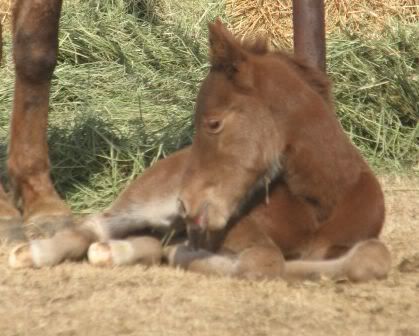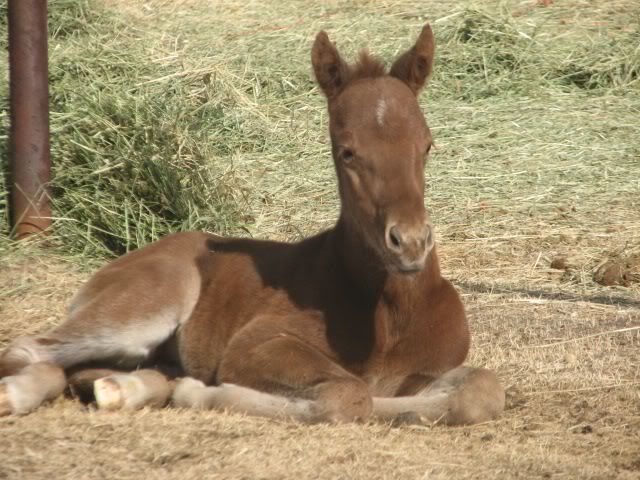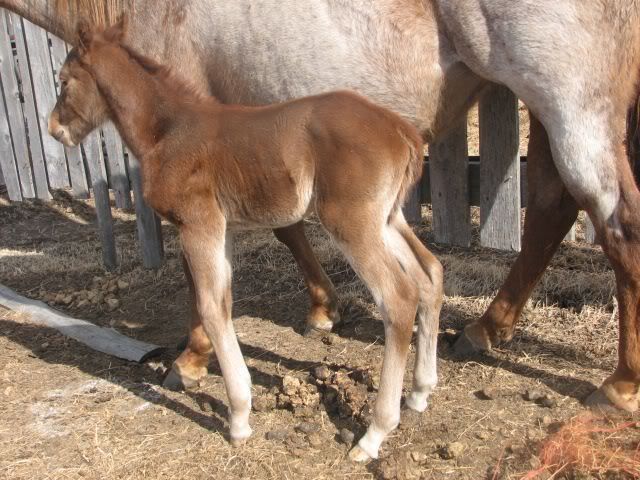 And my personal Fave...Meeting the dog! He was actually licking her face!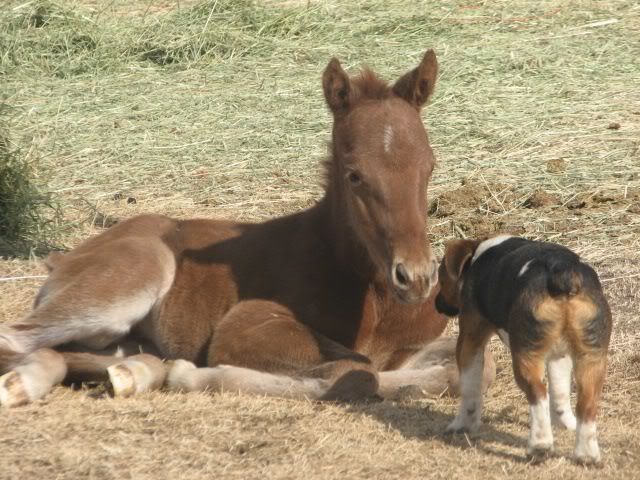 oh my goodness! She is just too cute. I didn't notice the little white hairs on her forehead. That's too cute! In the first picture, Nita looks relieved that her baby finally came out.
Appylover-Yeah she has a few white hairs in her forhead and two back socks so far, we will see if her front legs turn.

Nita is a little tired and sore today! Poor baby! I just went out and gave her some oats and some loving to try and make her feel better.