Jumping 3'9
---
As some of you know Doc is my 9 year old QH gelding. I have had him for eight months. And he is doing fenomally =]] Today our ring was too wet to jump in so we brought a jump out into our work area to work on. Doc was doing so well and the jump ended up at 3'9. I had no idea it was that high untill I got off. Here are some pictures. The first three are 3'9 and the rest are from warmmup =]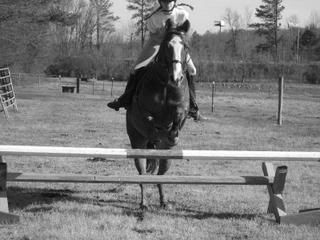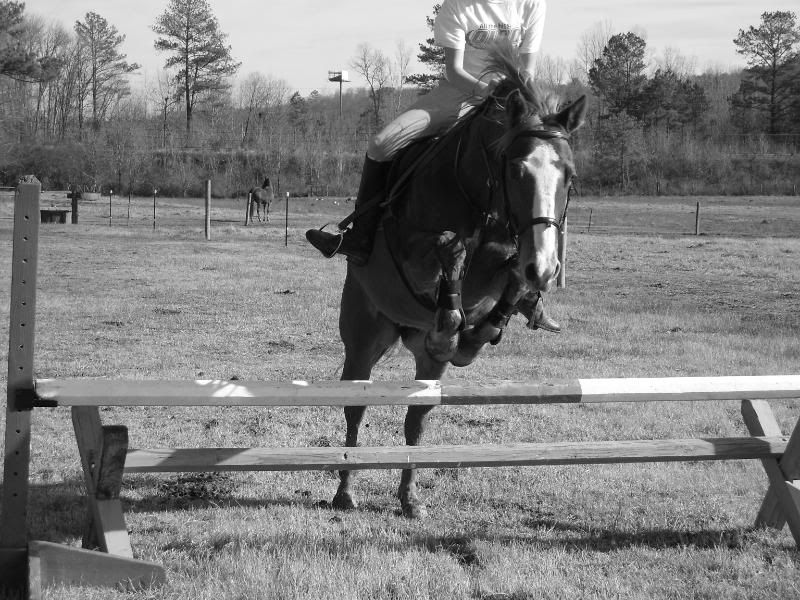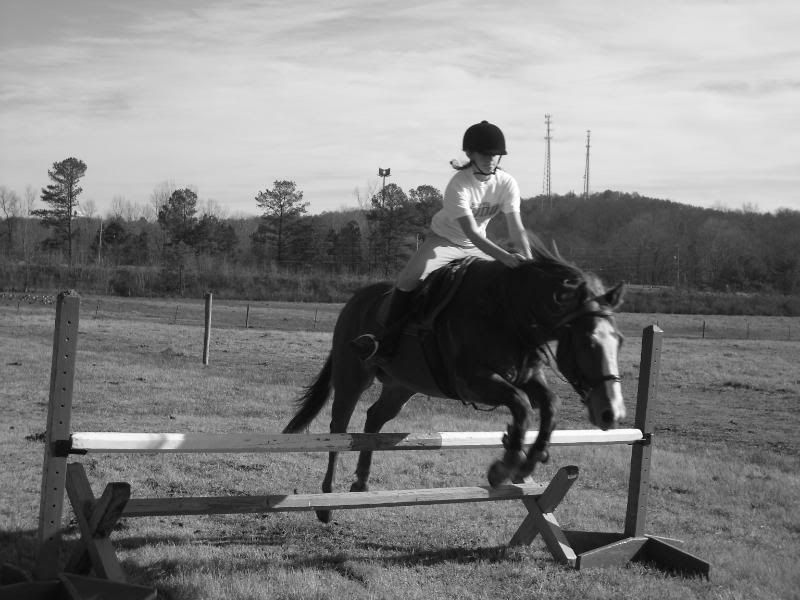 Enjoy
:)
:o
---
good jumping u just need to keep ur toes in i can't tell how ur position is cause of the angle of the photo's but it looks good other then the toes :)
I knoww my position is awful
. My stupid toes.
But I really wasn't paying too much attition to it when I was jumping that hight. :P
---
Sorry...But I must correct myself...The first one is 3'9 The second one is 3'6. But yes i'm sure. I didn't believe it at first so I made one of my friends measure it
The angle makes it seem smaller. Heres a video that shows the size nicely
http://www.youtube.com/watch?v=SpYFFVWmsng
---
Yearling
Join Date: Sep 2007
Location: Delregans Way Performance horses QLD AUS
Posts: 773
• Horses: 0
Hey there,
You seem to twist your body when you are in mid air, thats causing your whole body to be off balance causing your horse to jump to the side...it may just be the photo. Your lower leg is horrible, you need lower your centre weight into your heels. Try trot poles in 2 point.
Otherwise, just work on that and you guys should be on the road to success!!
---
Delregans Way Performance Horses
Bundaberg, QLD
Australia
how big is that horse? Must be HUGE to make that 3'9 good job, congrats!
---
Tomorrows another day, and Im thirsty anyways, so bring on the rain.
Delregan...Yeah I know. He actually doesn't. It's the picture. Yeah my leg really flys back. I'm working on that.
Also...he is 15'3 =] Never underestimate a little horse. He clears them with room to spare too.
---
That youtube link got me started on a 3 hour tour of youtube's horses.
Crazy man, crazy. I couldn't even remember how I got there. *shakes head and wanders back off to the real world*