Just a quick pic of a greenbroke..
---
Well, little ol Silent has been everything to include "impressive"! When I bought her, I absolutely liked her lope in pasture.. I knew this was going to be a wonderful western pleasure mare! The previous owner had some unkind things to say about her, mostly that she was not emotionally attached and ver evasive. I brought her home, gave her some time to adjust to the herd, and let her learn about how things work by observation.
She came around and actually started seeking attention, even after feedings. Well, as much of an adorable PIA she became, I knew it was time to begin training and get her under saddle before fall. This mare was barely halter broke and that was about it. After spending a week just messing with her and seeing what she was capable of on the ground, she took it with enthusiasm! Now her name suited her well.. Silent.. I wondered why, now I know. I threw a variety of things at her, and she was looking for more!
Day 5 came along and I could tell that there was so much to her that I needed to unlock! I brought out the dreaded saddle pad, saddle and headstall. She checked it over and didnt bat a eye! So I started sacking her out, and never a flinch! I went ahead and put the bit and headstall on. She took it but wasnt sure why it was in her mouth! So I worked with her being comfortable with it and giving to pressure and flexion the rest of the day!
Day 6, The headstall went back on, and again.. she was silent! I sacked her out with the pad and not a wince! So, on went the saddle pad followed by the saddle! she looked with curiousity and continued to stand! The scariest of them all.. I cinched her up! Never even sucked up! Walked her around for a short, and complete comfort and ease!
Well, to sum it up.. I was totally impressed with her, and continued to move forward.. I dropped a foot in the stirrup with no reaction, followed by bouncing the saddle with my weight and still nothing! I would never suggest this to another, but in reading her, it went so well and was not stressing, I got on and bounced around a little. The only issue that happened was that new horse balancing game! The one where the legs on the opposite side come up off the ground when you climb up.. trying to figure out why one side of her body was heavier then the other! LOL!
We circled a few times, moved off, backed up and disengaged the hips!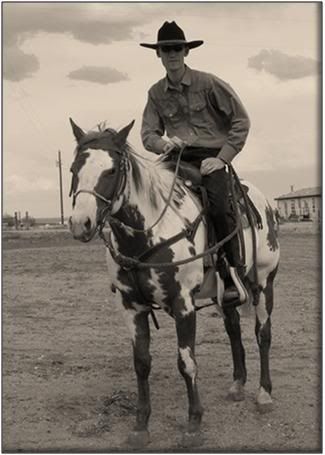 Now on ride 6, we have been loping in the pasture and working with shoulder movement! I can honestly say I have never had one be so eager to please and give me so little (in her case none) problems! I want to see about getting some pics taken of her trot and lope under saddle.. She is sooooo smooth and collected, I know it has to look just as good!
---
Dixon's Red Hot Ember
Banned
Join Date: Dec 2008
Location: At my house, or stable, duh!(Michigan)
Posts: 2,479
• Horses:
3
What breed? im guessing paint/pinto?
}:( I don't see a picture. I want pix of Silent. I am unsure at this point whether it is my computer or not cause it seems to show what pix it wants to when it wants to. I will re-visit and try again later.

Anyway, that is great that you are doing so well with her. She is a very smart, calm horse who, it seems, will progress very quickly with training. I bet she hates to be bored, huh? :) Just keep up the good work and keep posting pix.
She's beautiful!! She sounds like a real little doll! I had a paint mare that started under saddle just as nice as you're describing. Maybe it's in the breed?
MorganShow11:
She's a Sabino Overo Paint.. All I own are paints, LOL!
Silent Score Paint
AussieDaisyGirl:
As for the breed itself.. You know, my thoughts on it.. they are extremely personalible and range widely in their temperments. If I were to try and lay a finger on it, I would have to say extremely emotional and can be moody. I like these traits, cause they are all so different and can be quite the charactors!
SMrobs:
Thats the same impression I get about becoming easily bored! I think with her I am going to have to put up alot of obstacles and challenges and go from there. She is methodical in her travel, so maybe I can really make it interesting for her.
I know Splash gets very moody occassionally and can be jealous! When I was breaking out Silent, Splash stood at the edge of the arena with an annoyed look and squealed at me. I threw some feed down for the others, but she wasnt interested as she wanted the attention. Funny thing is, she isnt really enthused to be riden, so I find it amazing because when it comes to it she should know better then to be upset about me riding another as she doesnt really want that kind of attention, LOL!
---
Dixon's Red Hot Ember
Banned
Join Date: Dec 2008
Location: At my house, or stable, duh!(Michigan)
Posts: 2,479
• Horses:
3
kool, she is gorgeous by the way!
Well, thank you!
---
Dixon's Red Hot Ember
Okay, now my pictures are working again. She is absolutely stunning. What a unique pattern and stunning. She looks very calm and relaxed in the pic. :) Keep them coming.
Absolutely will do! I plan on clipping her soon, and even with whats left of her winter coat, you can tell who's in her bloodlines! She's short, but makes up for it in her build, lol!
---
Dixon's Red Hot Ember
Wow, Lots of Skipper W way back on her, plus some Impressive thrown in.

Very impressive. ;)

What are your plans with her, ultimately? She would probably make a great ranch or roping horse, of course that is what I would see LOL. I don't really know her bloodlines enough to know if they are cutting bred.

Hm, moody and emotional......maybe that's why I don't generally get along with paints. LOL.