Just some pics of Aires
---
I haven't gotten any newer pics of Aires lately, but these are the newest I have. They're from about two weeks ago when he had his first ride in the arena. The trainer at the barn is the one riding him (as I was still laid up with my stupid ankle injury).
Anyway, she said he has the smoothest trot she has ever ridden (she didn't have to post at all...it looked like she was riding a gaited horse, he was so smooth). As far as how he's doing in his training, he direct reins like a pro and works off leg pressure really well. Now we just have to work on me (my confidence is pretty well shot after that stinking mare bucked me).
So, without further ado, here's my boy!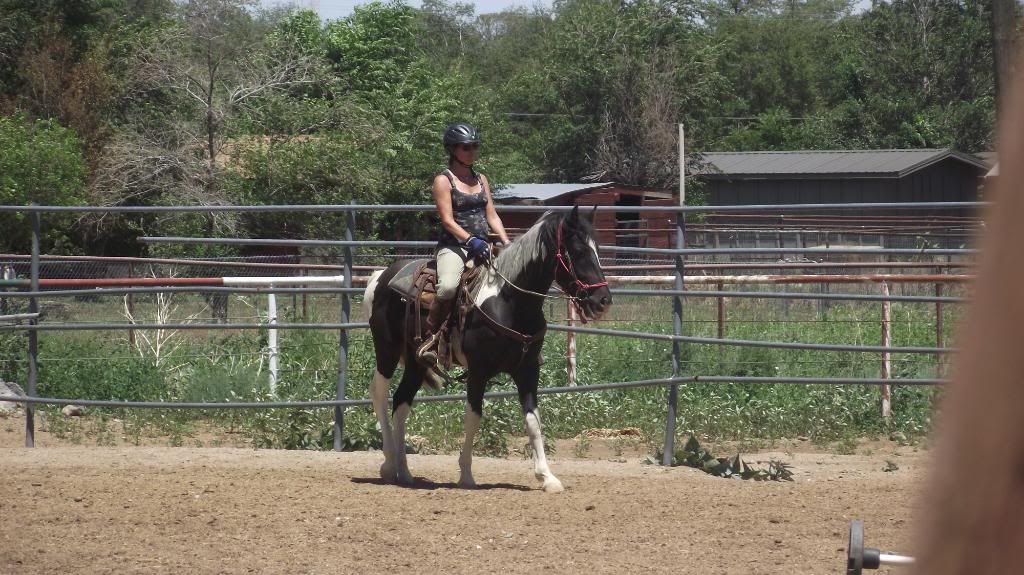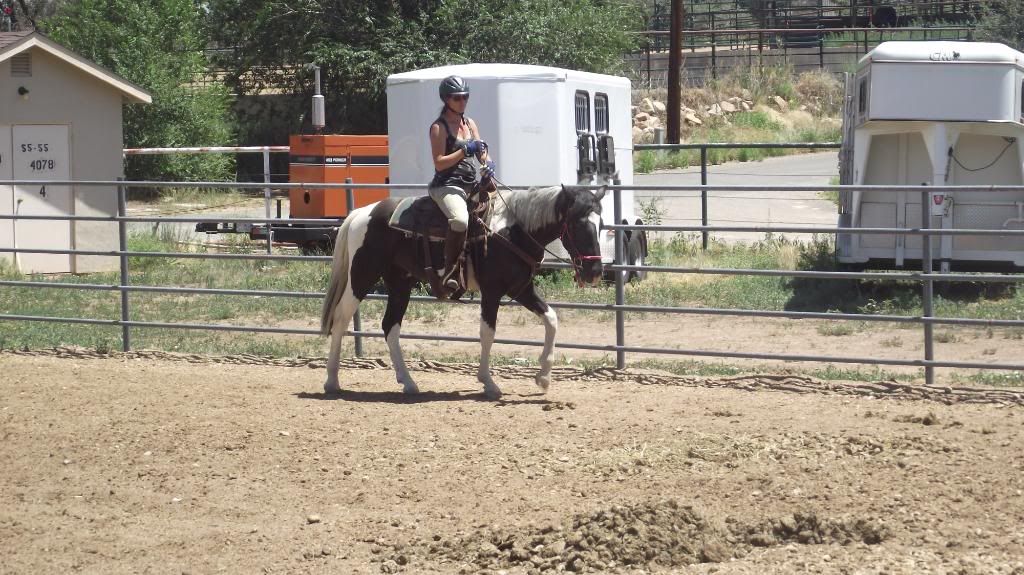 His favorite part of the arena...the trail bridge! lol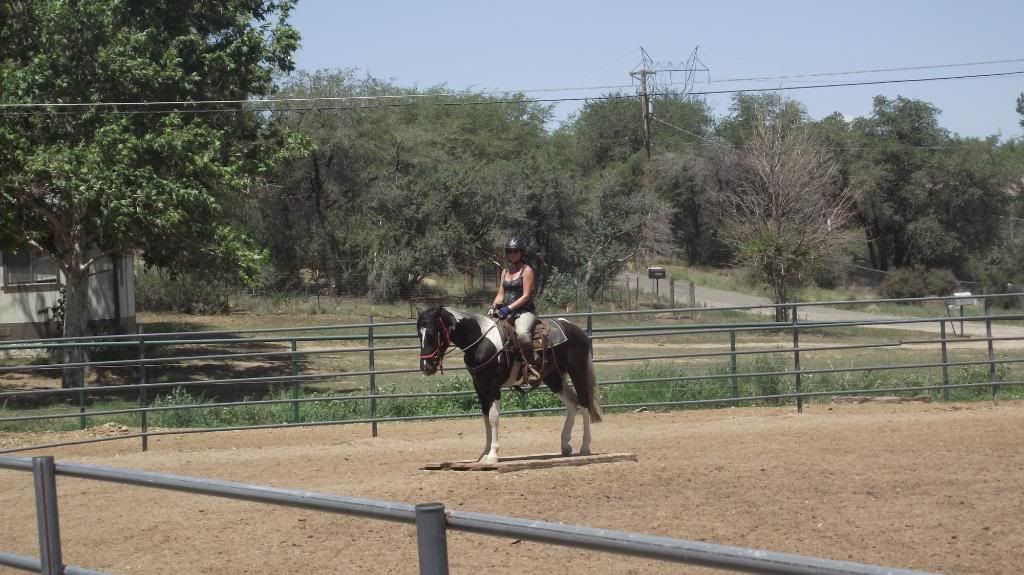 Posting to his trot just to get him used to the motion of someone posting: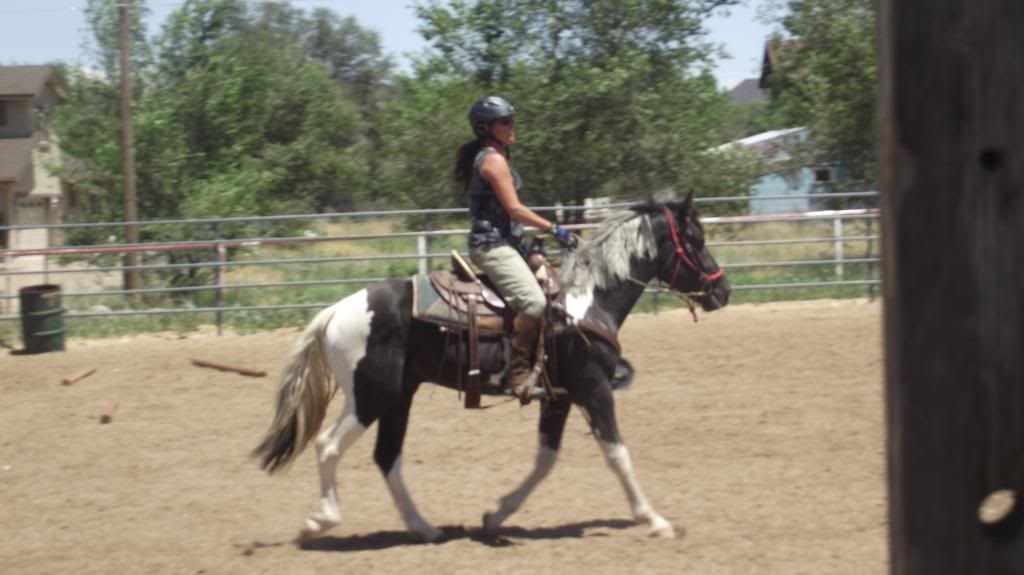 This flew over about 150 feet above us and Aires could have cared less: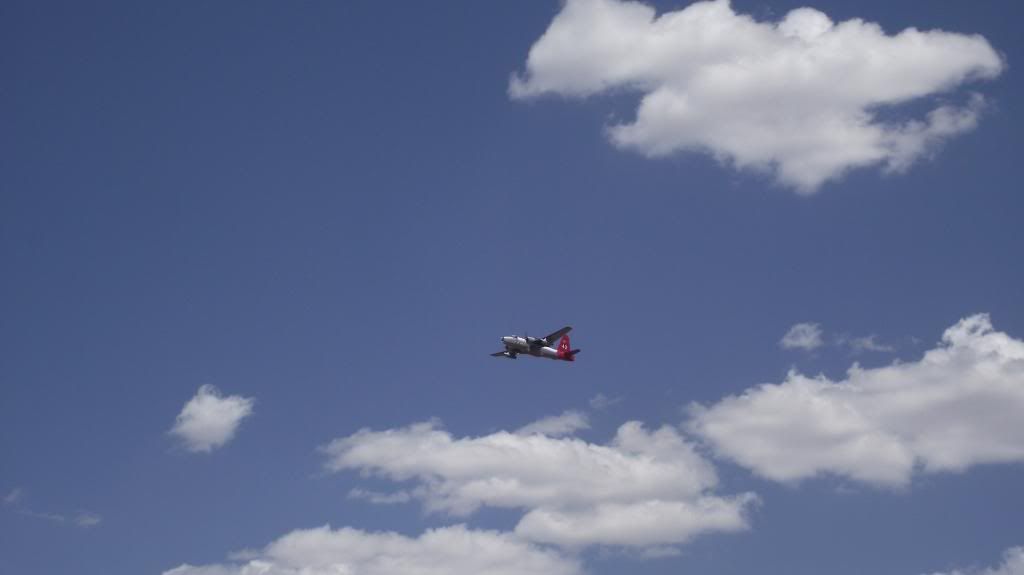 More trotting: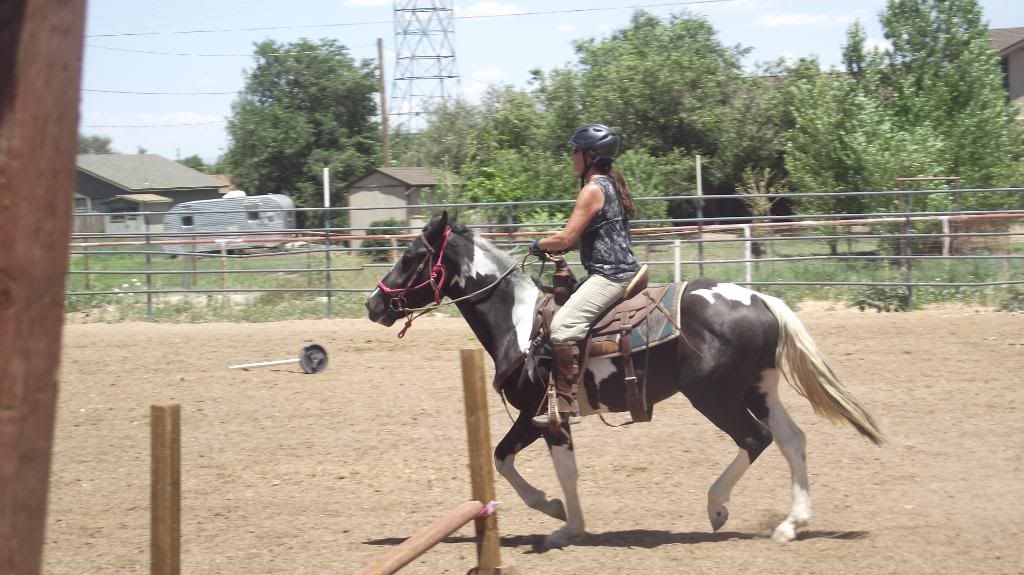 Yes, that is a BIG ol' grin on the trainer's face...she lurvs my boy!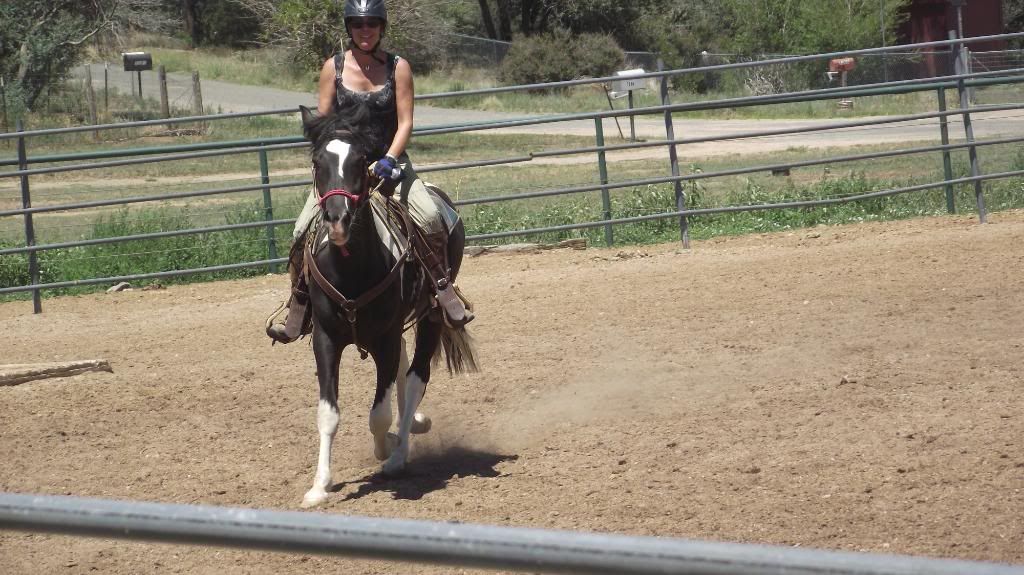 Aaaaaaaaaand she got him to canter! She said all she had to do was kiss and he immediately took off (yay for tons of ground work and lunging!). They only cantered for a little bit.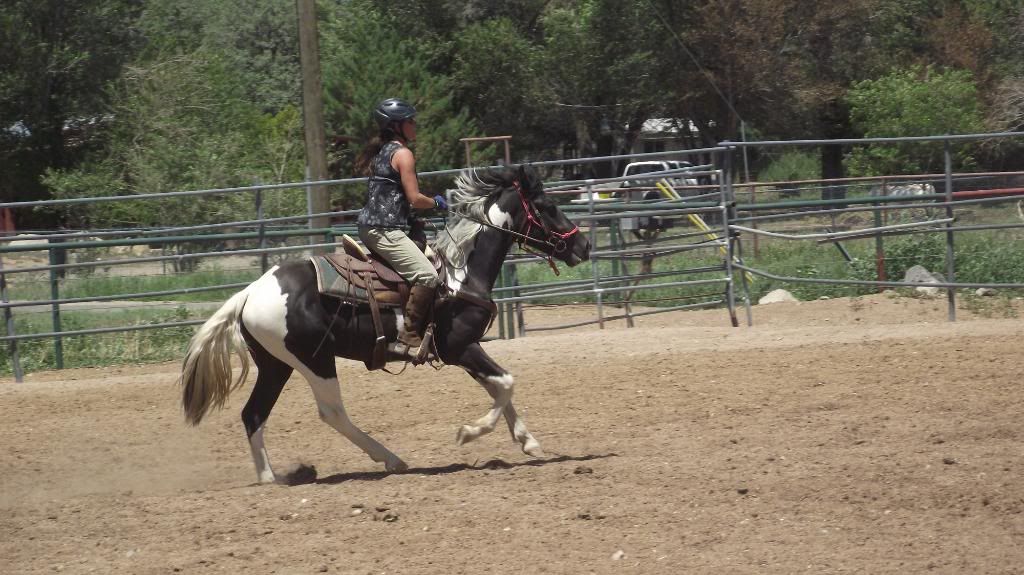 Doing his best impression of a dressage horse.
I know it's kinda fuzzy, but my uber nice camera kinda hates me. lol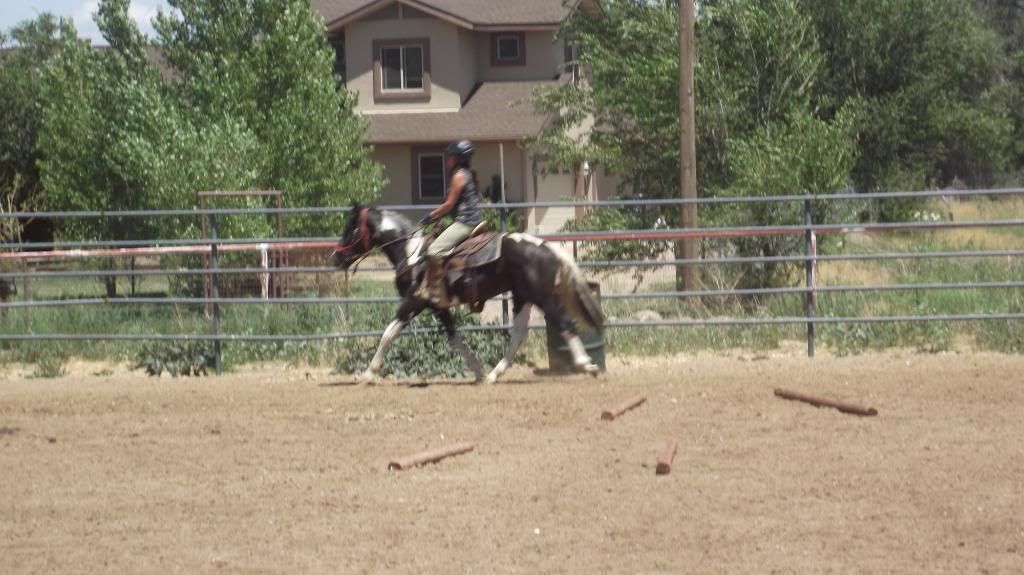 ---
Do not tell me I can't...because I will
show
you that I can.
And this is Aires sporting our new Aussie saddle. I hate the fleece pad that came with the saddle 'cuz it's WAY too big, so I slapped our red AP saddle pad under it. It works pretty well, even though it's a little short. I'm going to make us a red saddle pad that is square in back and rounded to fit the saddle in the front.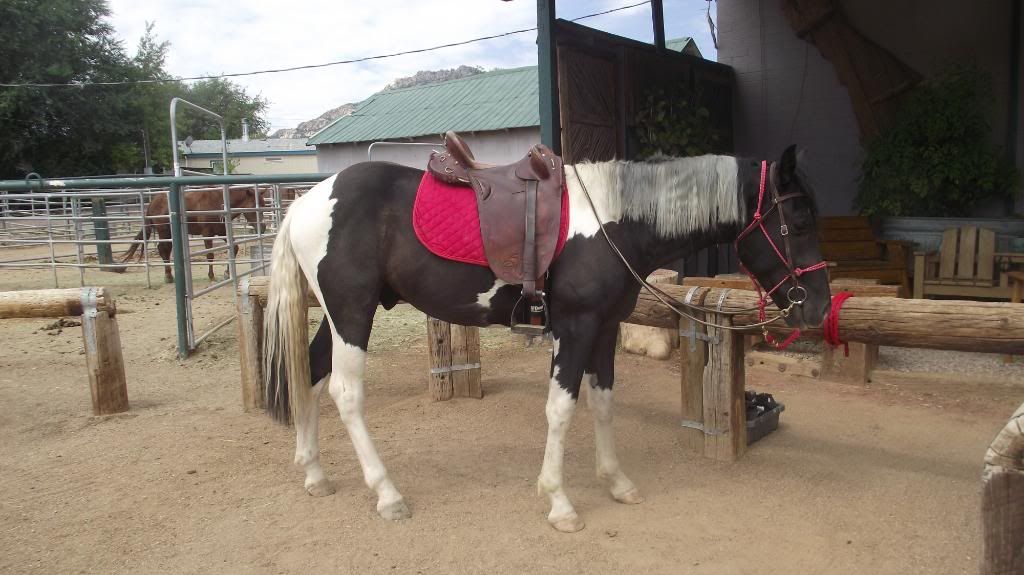 His thoughts on the saddle and saddle pad:
---
Do not tell me I can't...because I will
show
you that I can.
awwww, looks like a fun time... Aires seems like a very nice horse, and congrats on the good training steps =) I like aussie saddles too, but i jump so it's not an option right now...
Thanks, Indigo! The trainer said that there are only two horses on the property she would ever consider buying/owning and Aires is her number one choice. You show him something once and he gets it. These pics are from his third ride ever!

As for Aussie saddles...I am totally in love. I have never felt more secure or comfortable in a saddle in my entire life (I've always ridden western and hated it). I've also seen pics of members here on the forum jumping in Aussie saddles (from what I remember, they were from Australia or thereabouts). I do hate the stirrups I have, though. Actually, I technically don't have any stirrups. lol The endurance stirrups that are on the saddle belong to our BO and I don't like them. I am currently riding in my friend's western stirrups, but they're a little too small for me. I want stirrups like my friend has on her Aussie saddle (safety oxbows from the Australian Stock Saddle Company), but they're $70!
---
Do not tell me I can't...because I will
show
you that I can.
aw, he looks so beautiful in all of these pictures!! may I ask what happened to your ankle? something with a stupid mare..? haha
Posted via Mobile Device
I was being nice to a fellow boarder and agreed to try out her new mare for her (yeah, long story...she got the mare from a rescue and lied about her amount of horse experience so they'd let her adopt). She told me that the rescue said the mare was broke and had tons of rides on her, she just hadn't been ridden in a while. I didn't even get my butt in the saddle and she rodeo bucked me off. My left foot tangled in the stirrup as I came over her right shoulder and it severely sprained my ankle. They thought I had a hairline fracture on my tibia, but it turns out it was just a bone spur that made it look like a fracture. I was in a splint for a week, then a walking cast for two weeks. Here's the full story:
Minor setback...getting back in the saddle afterward
I have since contacted the rescue regarding the mare and the adopter (not to be a b****, but because I was truly concerned that they would adopt a horse like Gypsy to this person) and have received a very positive and helpful response from the lady who runs the rescue.
---
Do not tell me I can't...because I will
show
you that I can.
oh my goshh! at least nothing was COMPLETELY broken, but still! OUCH. that's really immature and not very responsible of the owner. especially putting some one else in danger. sorry this happened to you!!
Posted via Mobile Device
Eh, it's okay. You live, you learn. Come to find out, the lady who runs the rescue had made it implicitly clear that only the adopter, the BO and the trainer at our barn were to be working with Gypsy (mainly due to the fact that she was abused in the past). I was never told that or I would never have agreed to ride that mare. The lady who adopted Gypsy made it sound like no one else was willing to help her, so I took pity on her.
Now, because of what happened, I have panic attacks when I ride my horse.
---
Do not tell me I can't...because I will
show
you that I can.
He is very unique looking horse. Trainer has a good seat!
He's handsome!!! Good luck with his training.
---
Being horseless is the pits!!