---
12th March 2009
After work I rode Kai first. He was so slow and lazy in warm up until we cantered and then he went a little mental so we did lots of trotting today. No jumping. Just working on adjusting speeds at the trot and canter transitions when he was calm. Mum took pics while we warmed up today...
Trotty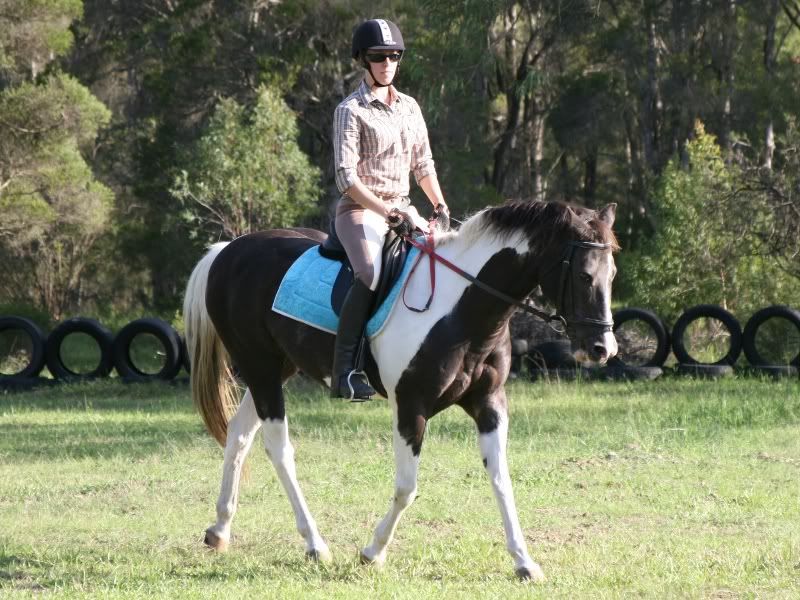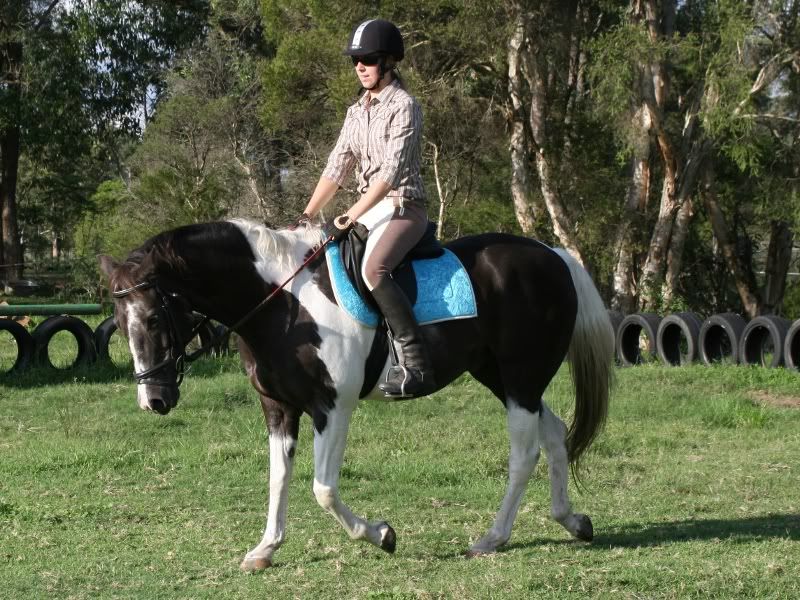 Spaz canter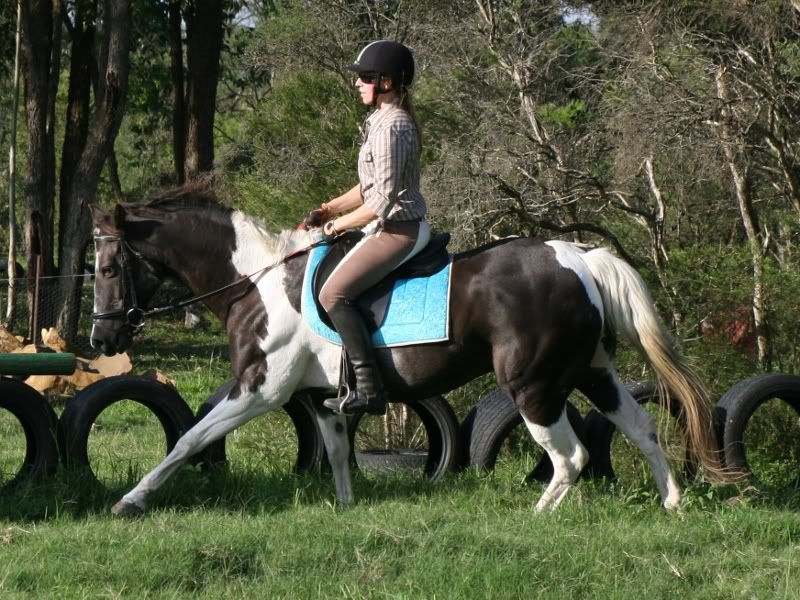 change direction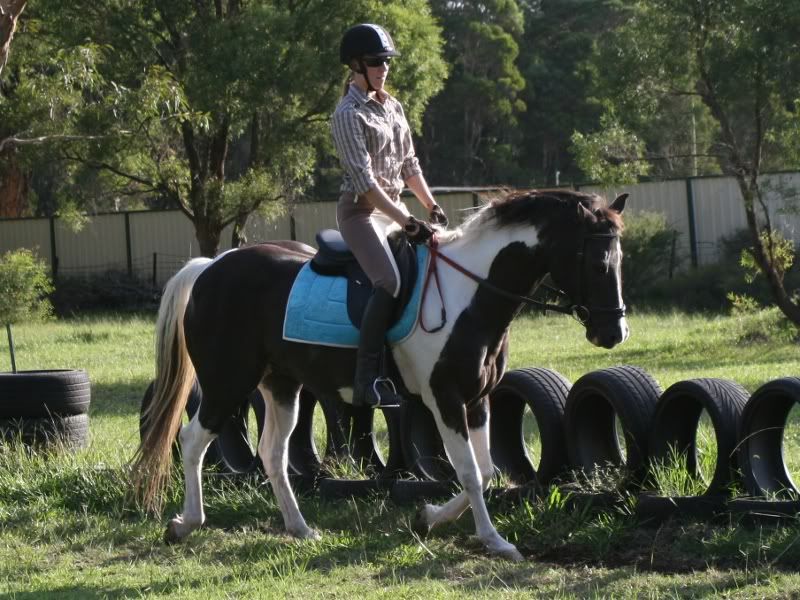 More spaz canter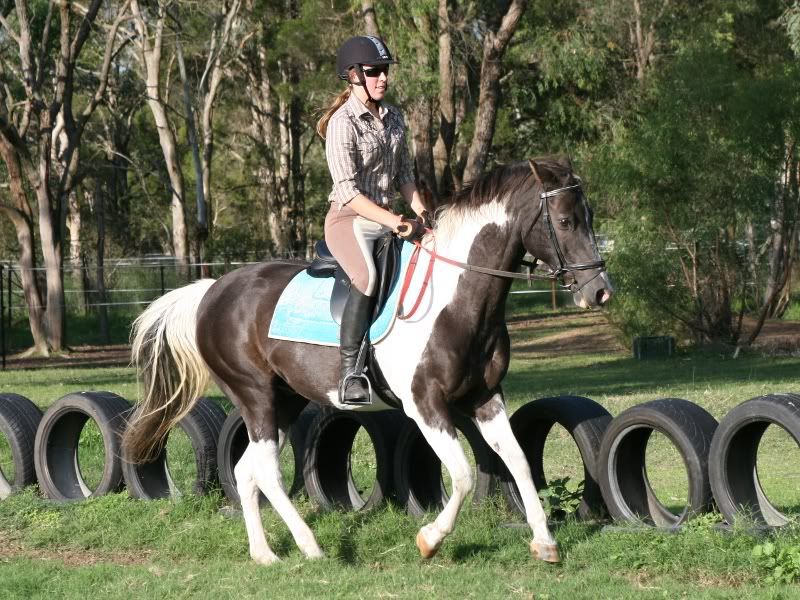 Calming down at the trot again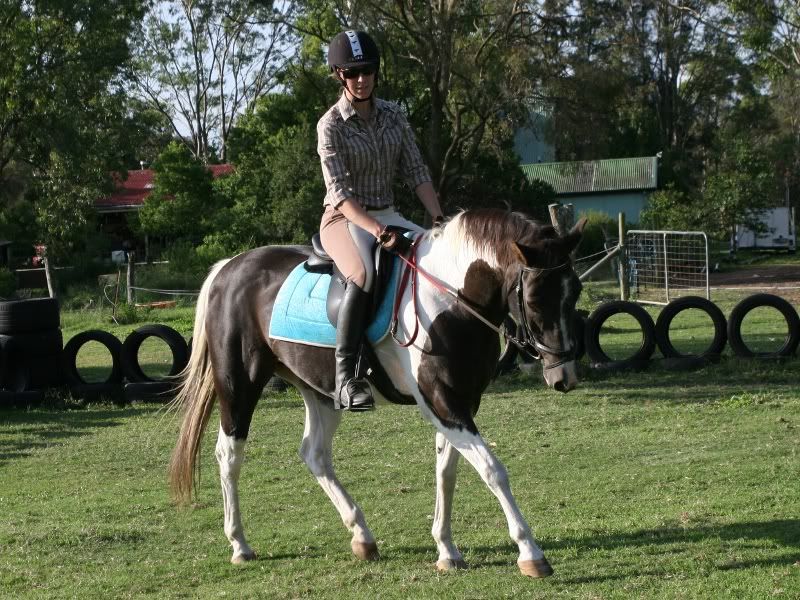 Stretching his neck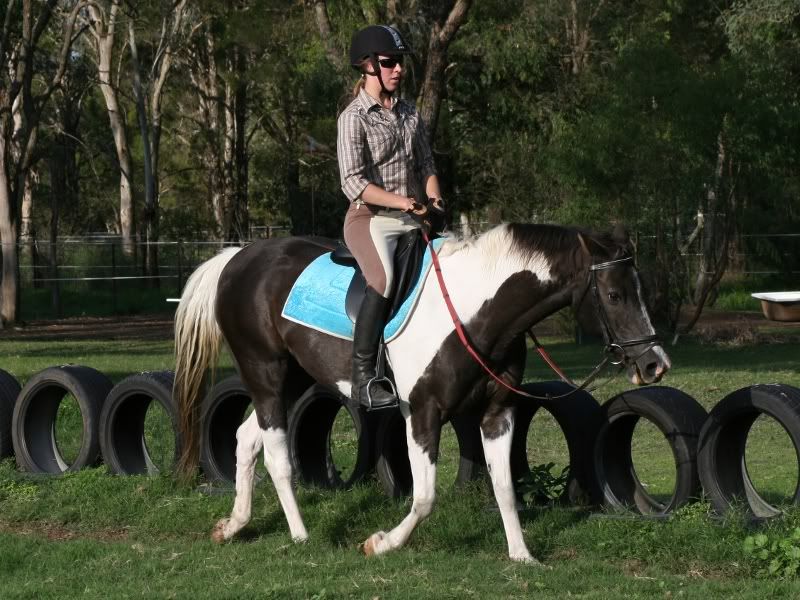 So thats it for pics, the mozzies where mean so mum didn't stay out for when we started to really "work" ahh well, maybe next time
you could call her out after you warm up? maybe
15th March 2009
Hooray, I rode today. It rained yesterday and Friday afternoons so no riding but we had a massive storm last night and the paddocks are flooded again. So just lots of trotting today. He was quite agreeable and we had a good ride. Did a little half pass and got a funny pic hehe. Mum was around for a bit of our ride so here are the pics...
So cute...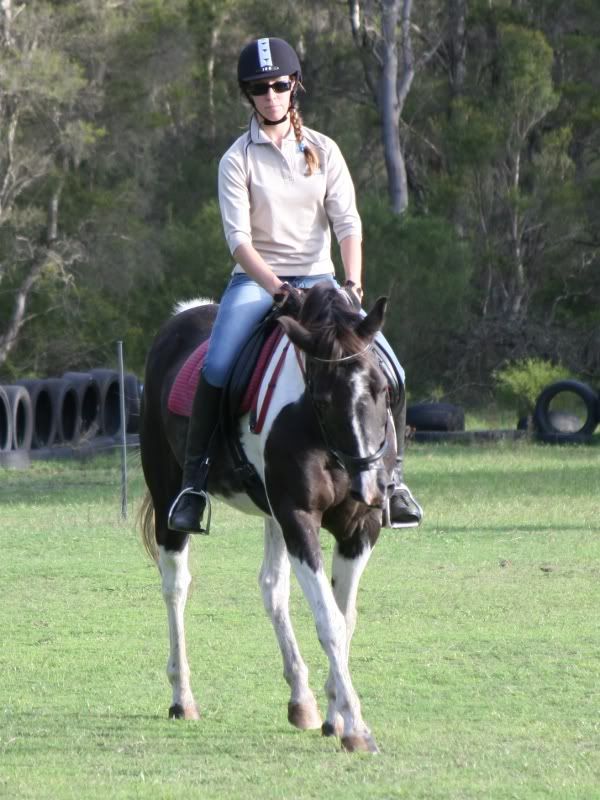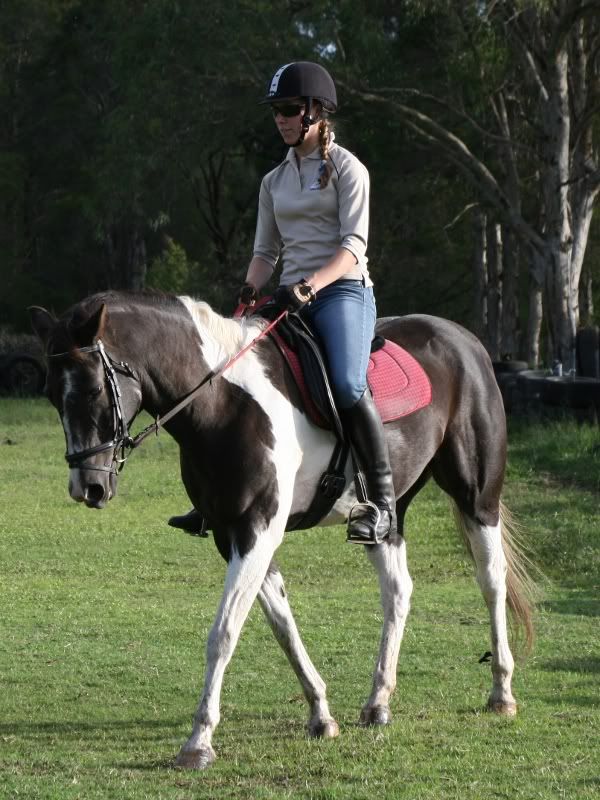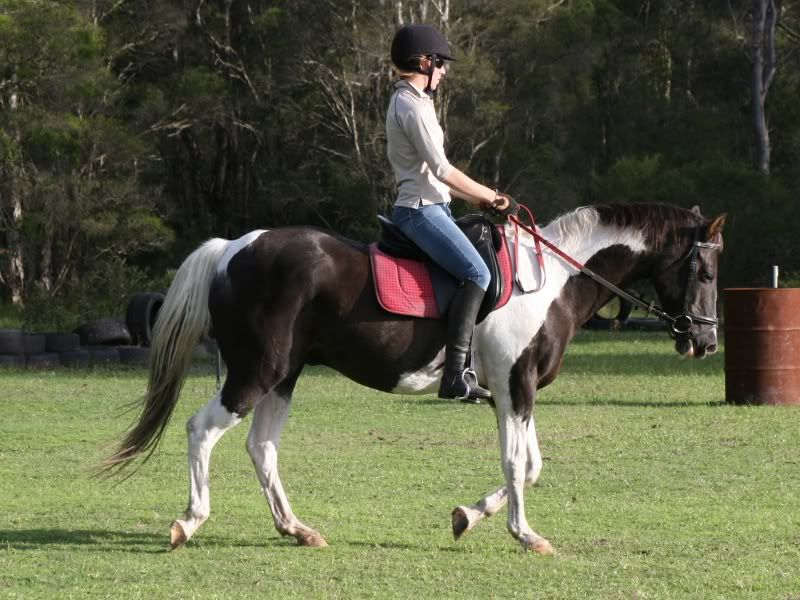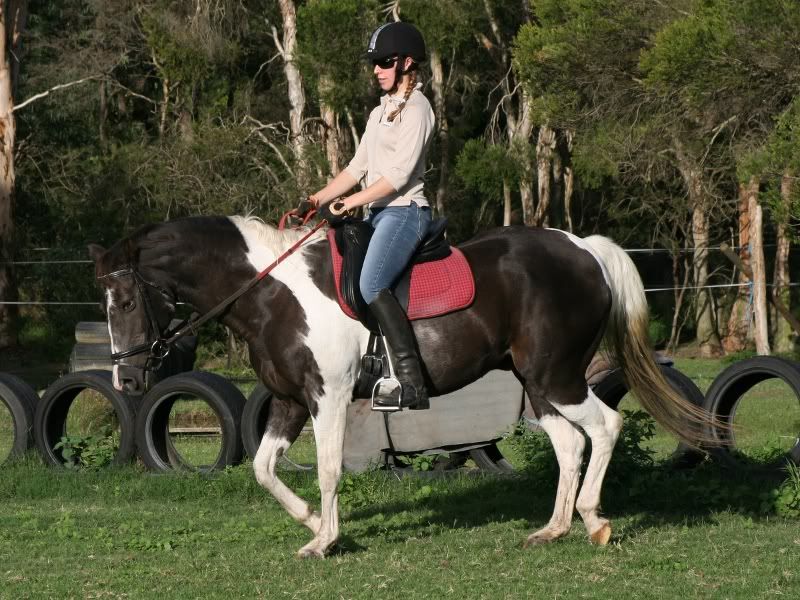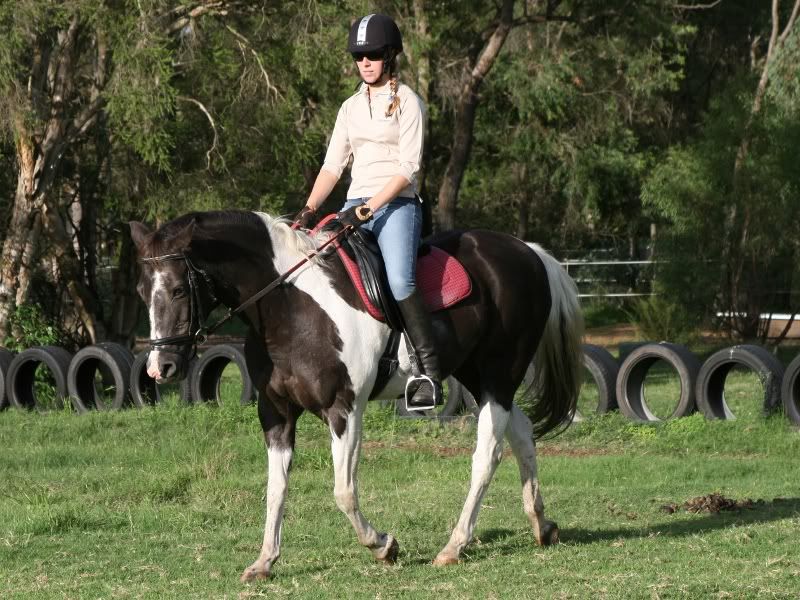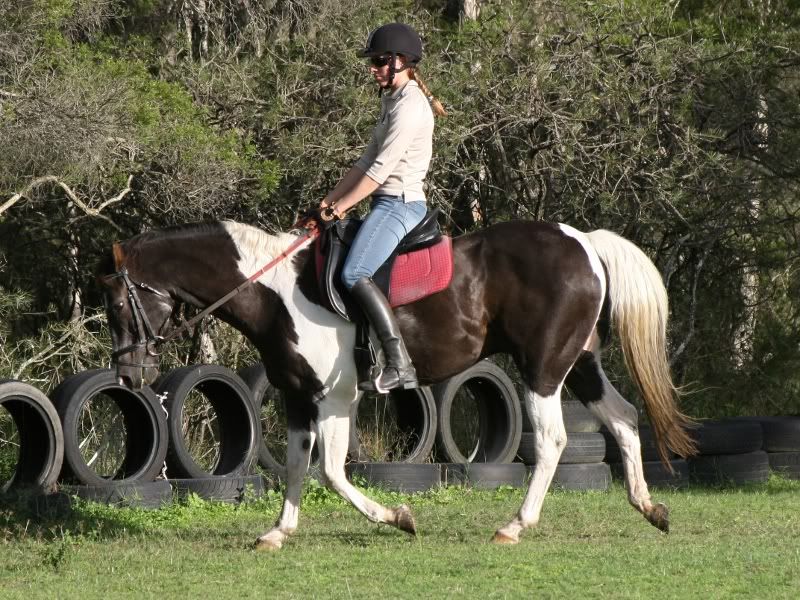 When I asked for a half pass haha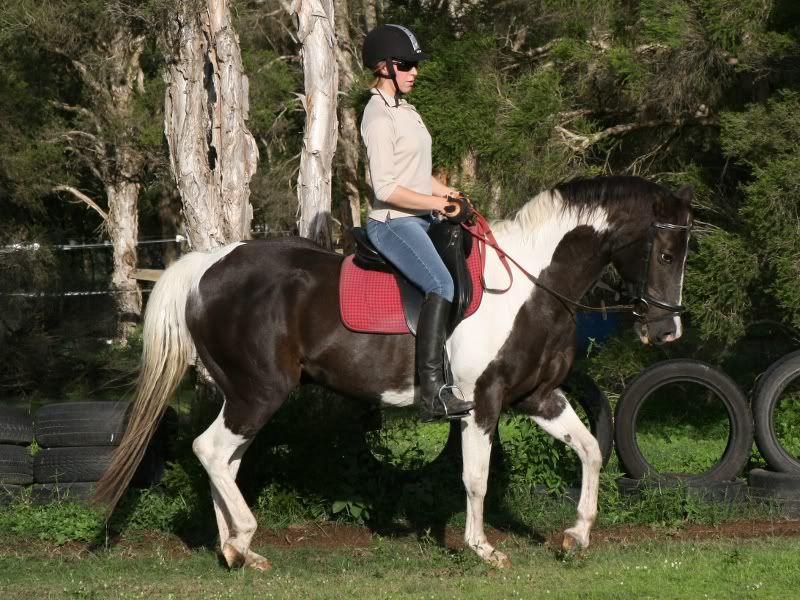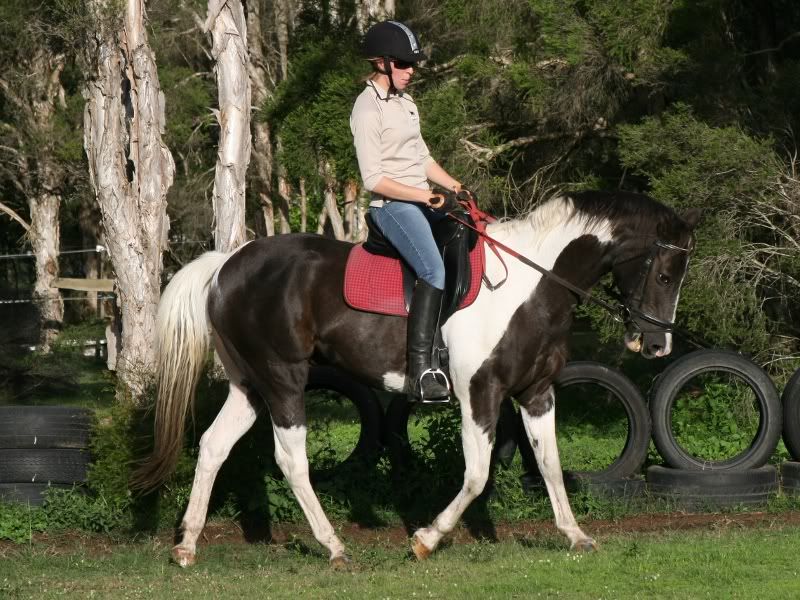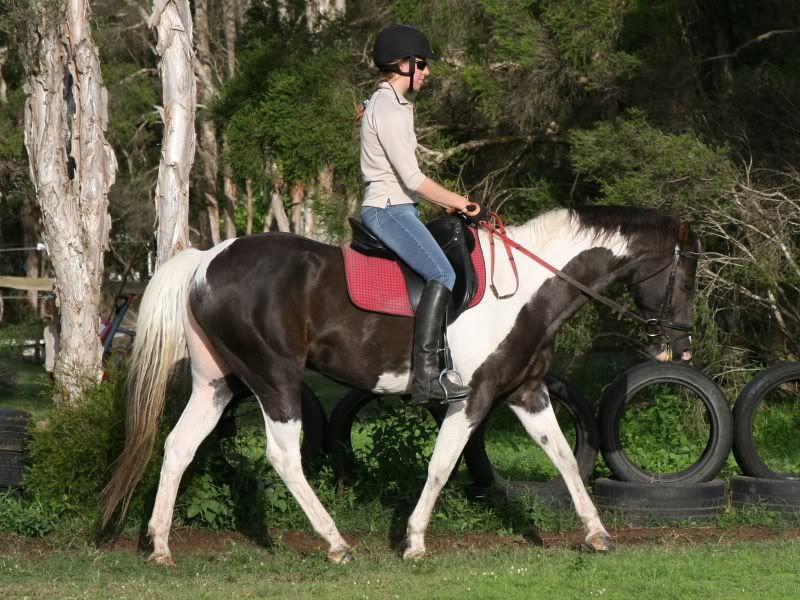 Last pic I promise
17th March 2009
After a crappy day at work I was looking forward to riding Kai this afternoon. Had a look at the ground and decided it was dry enough in most places to jump him cause we haven't jumped in a week. He warmed up really well but his canter to the left was a little spaz around the corners, he kept pulling up to trot. So we did a few trot canter transitions on a circle and he was fine. Dad took pics today, he didn't do a very good job missing most of out jumps. But Kai went a little crazy when we jumped, if I don't jump regularly he gets a little wild!
The canter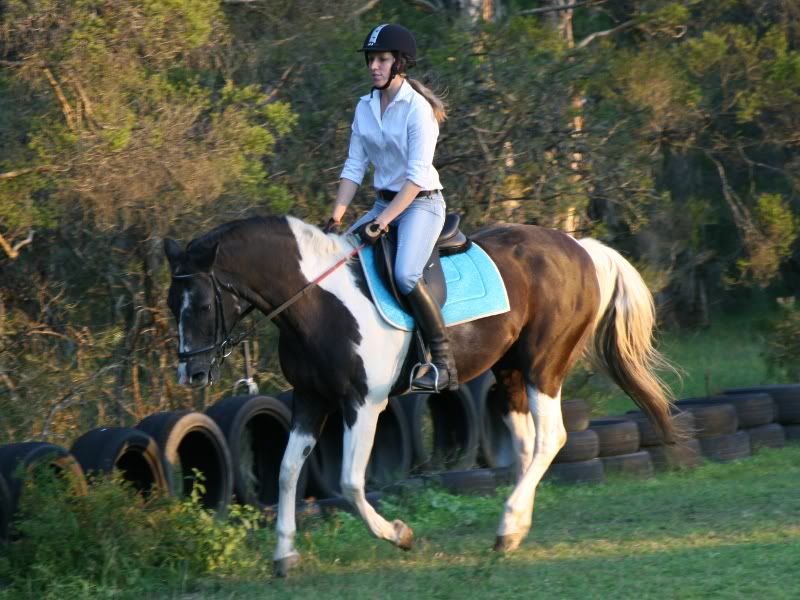 He was trotting soooo smooth today
Spider and Angel watching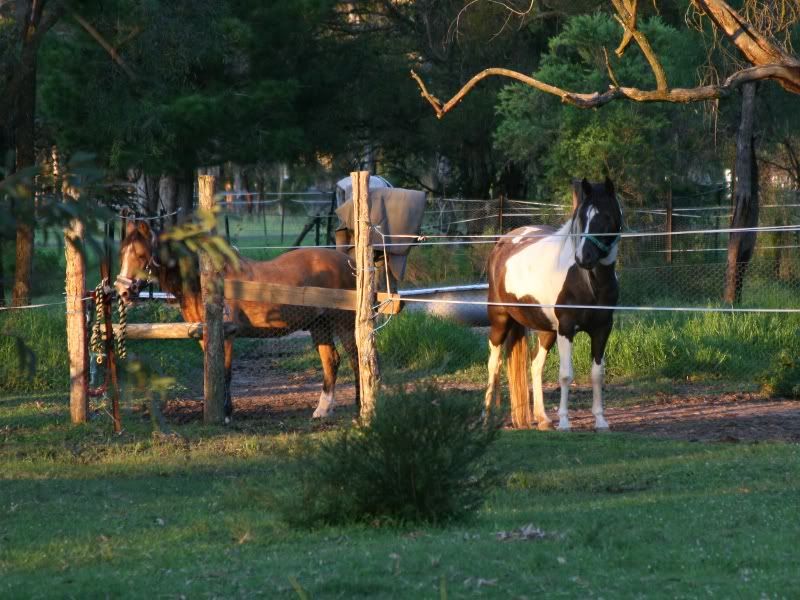 Lots of spaz jumping now...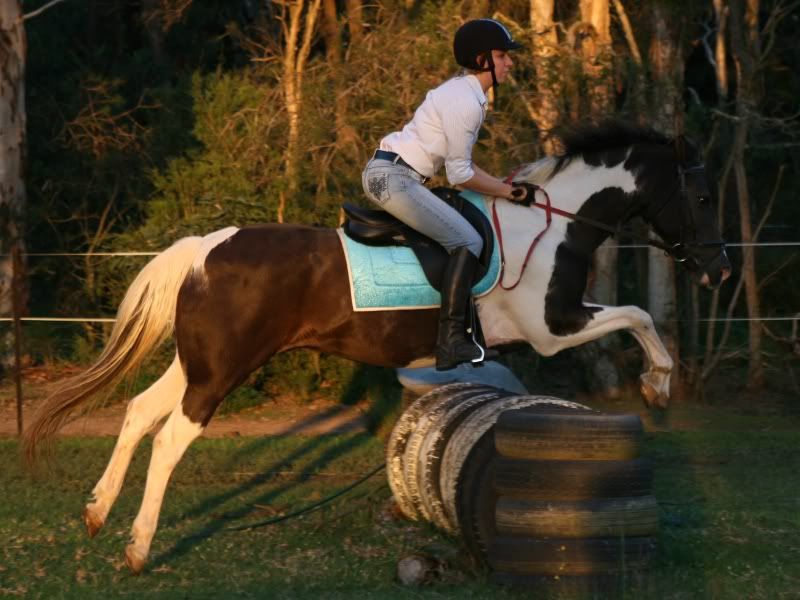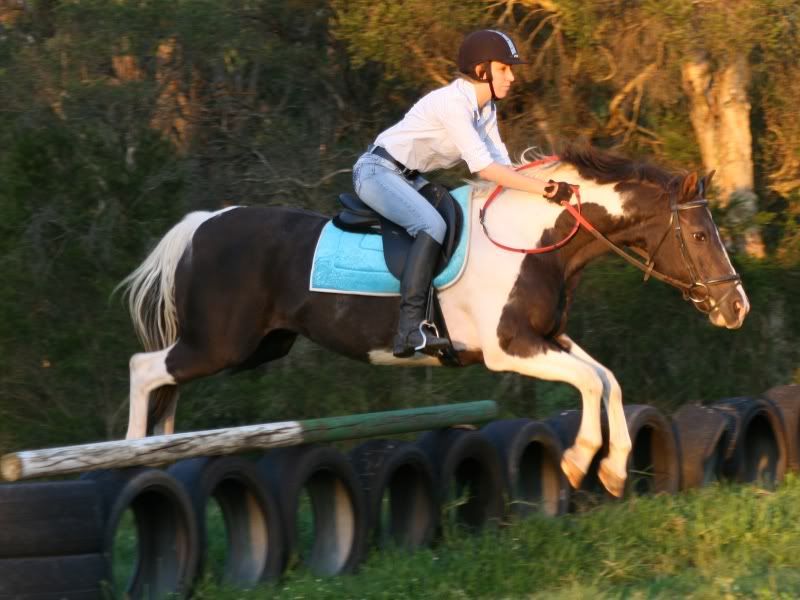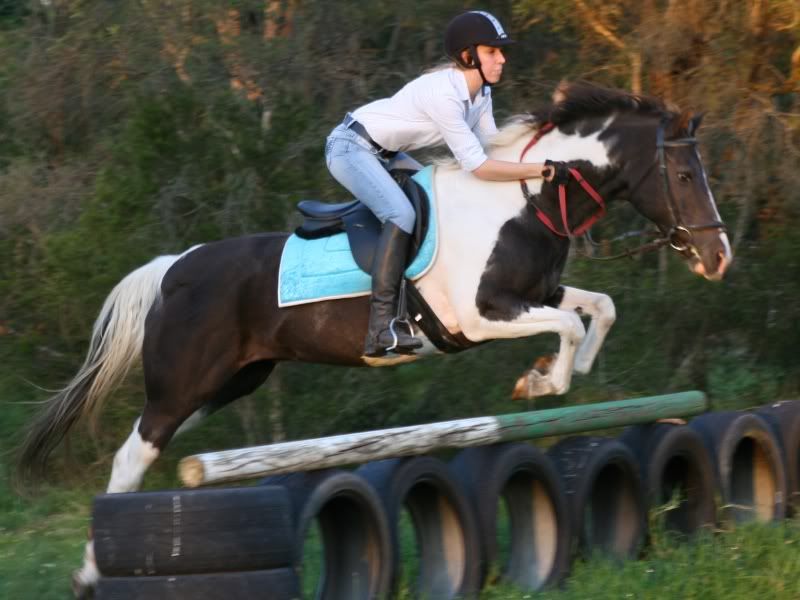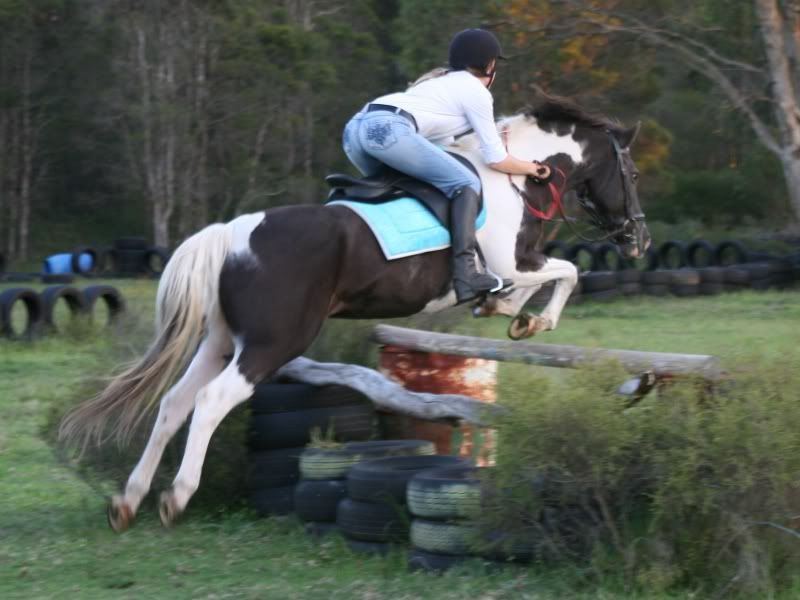 Take 5
Then we went into the front paddock and did a few xc style jumps in there but dad must have been dreaming cause this is all he got...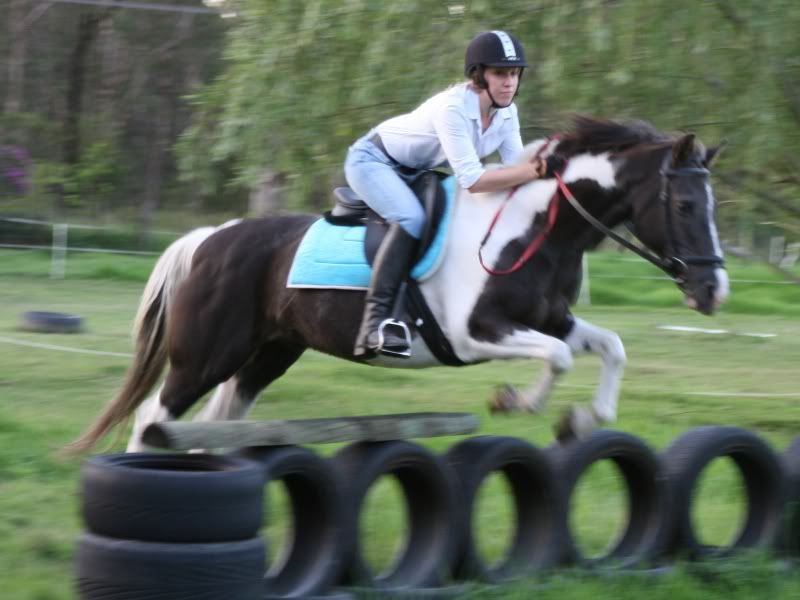 So overall a great ride despite the crazy jumping. He was bold and confident so I was pretty happy.
Wow you are looking great. What a great horse/pony :)
---
Horseriding- The art of keeping a horse between you and the ground.
23rd March 2009
Came home from work and it was soooo hot but I saddles up Kai and some clouds blew across and it started to cool down. We just flatted today and Kai was full of beans. he had a great forward trot and his canter transitions have improved, he was bang into them! Woo. So he was very forward and looks a little jerky in the photos but he felt pretty good and we had a good ride! Mum came out for a little bit but the mozzies where attacking her so she wasn't out for long.
Trotty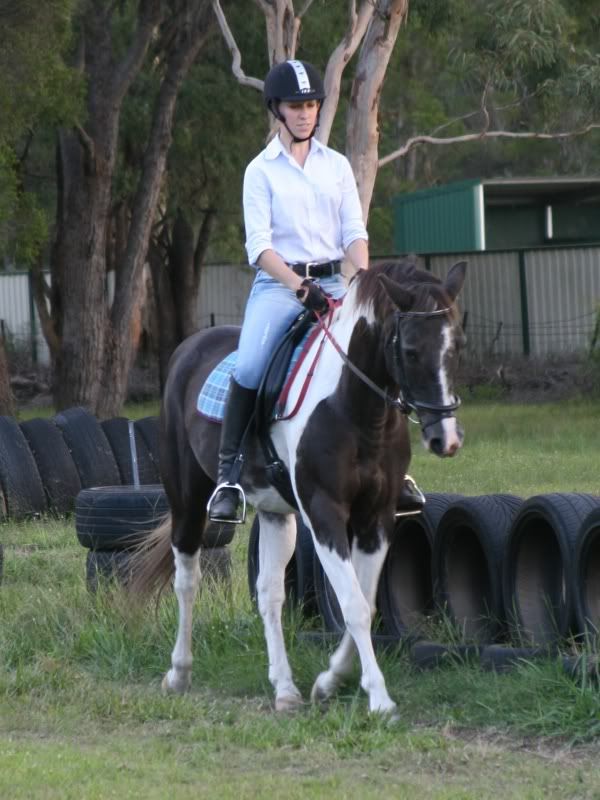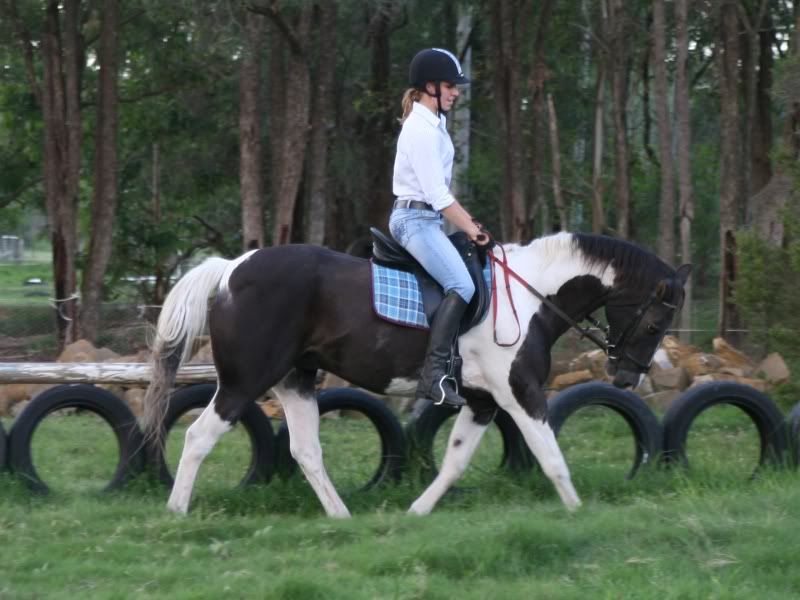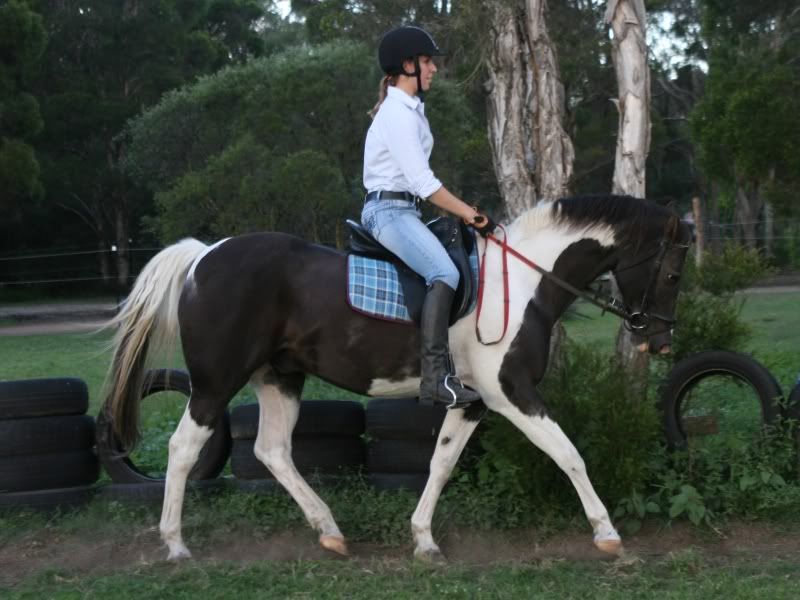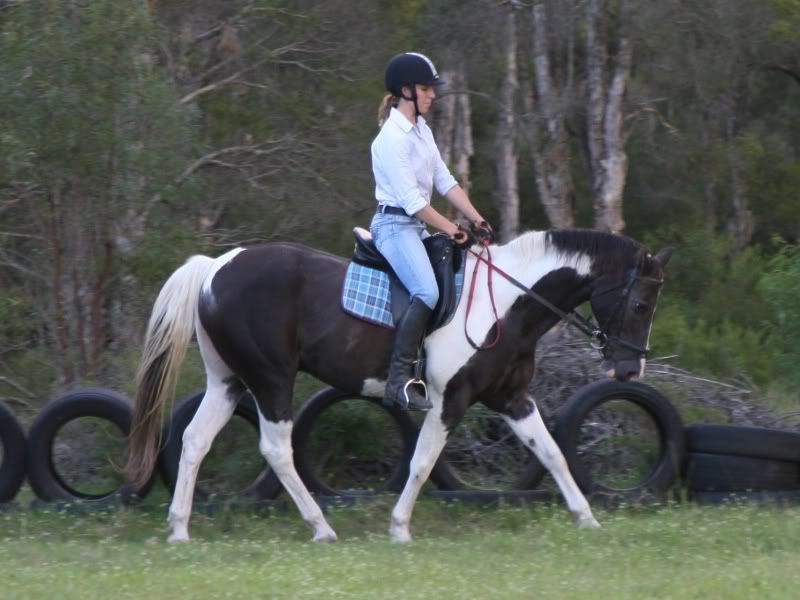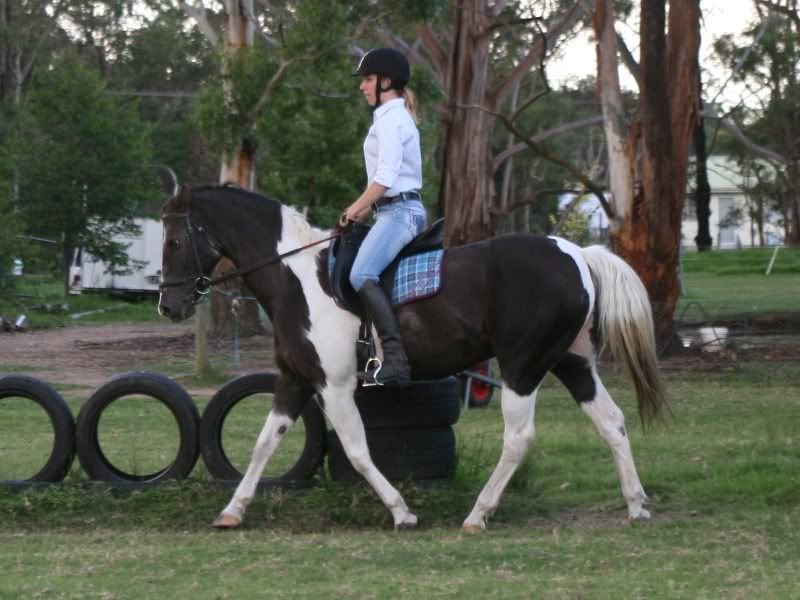 Canters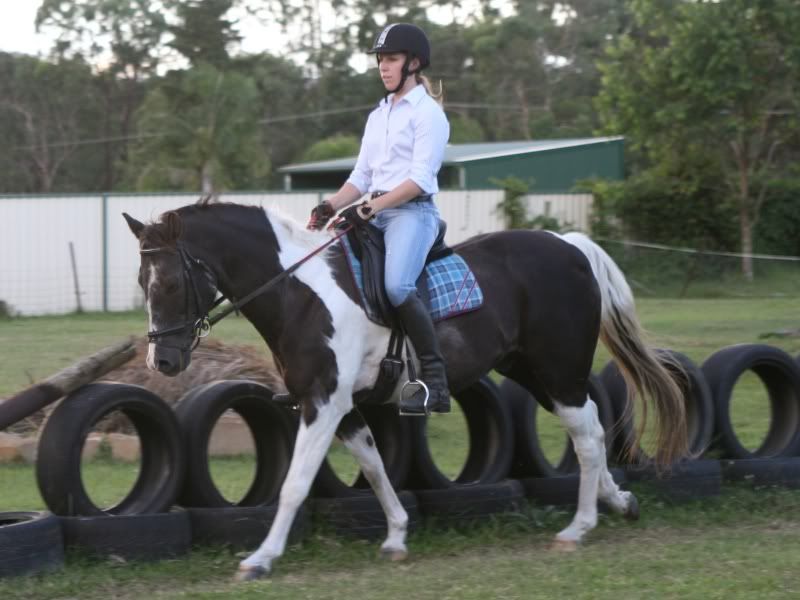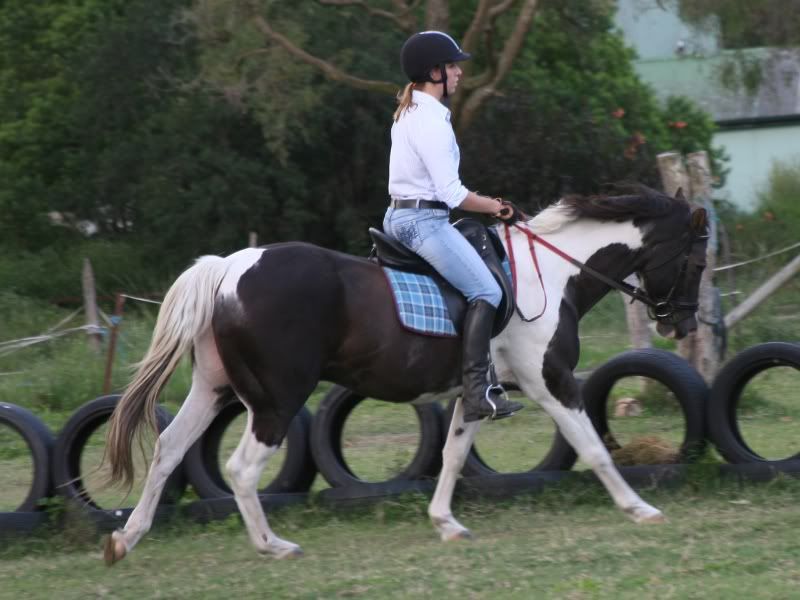 ---
25th March 2009
Had a great ride on Kai today and just missed the massive storm. So we warmed up lightly then got stuck into jumping. I wanted to see how he would go doing a course with 1.05m jumps in it and he was fab! So confident and forward, I think we will be fine on Sunday in the 85cm and 95cm classes.
So we started with the little figure eight exercise but I think he knows it too well now and got his leads straight away. Then we went through the triple...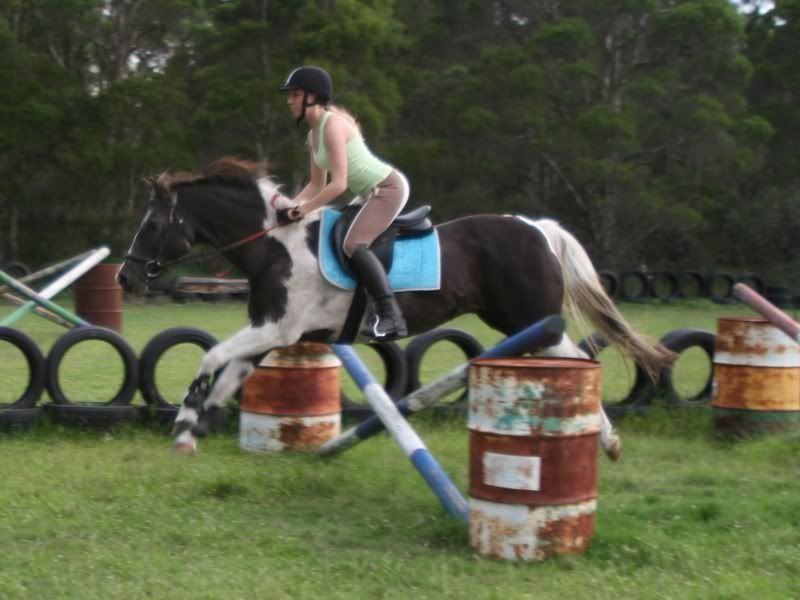 Then over the 1.05m oxer that is hiding in the bushes there...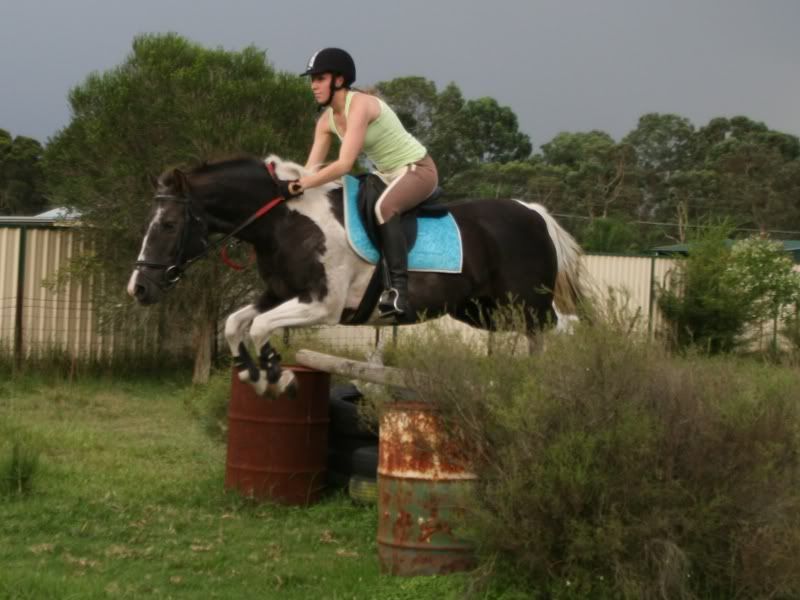 Then popped the last element of the triple up to 1.05m and took the middle one out, so x rail, stride, 1.05m vertical which I rode him quite deep through to keep his confidence and he popped right over no issues...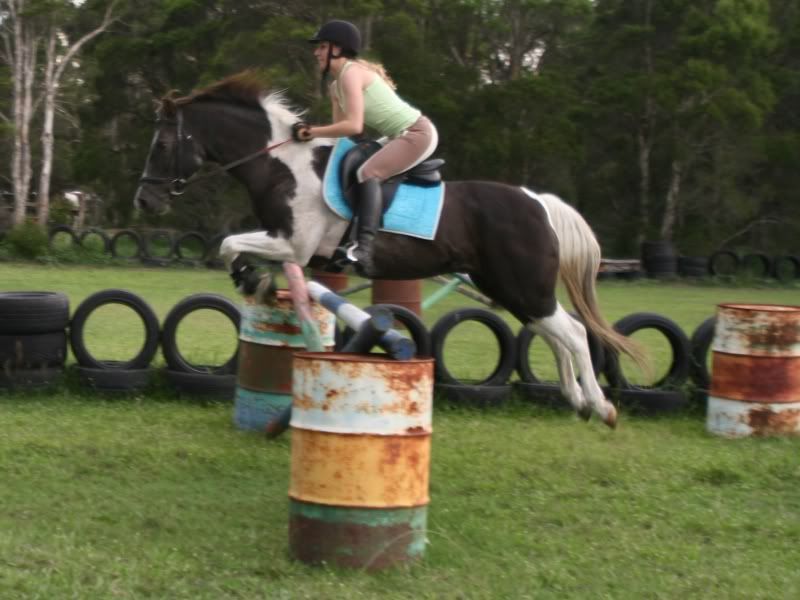 Then again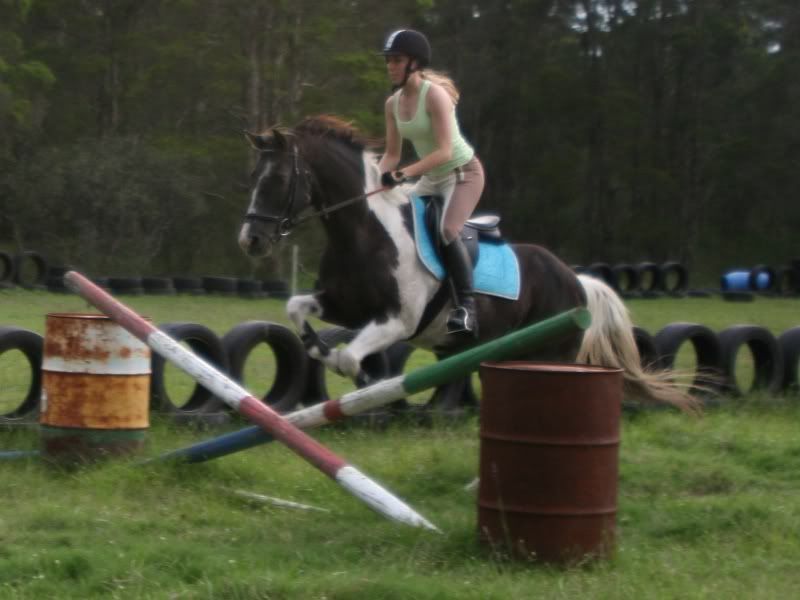 Much more confident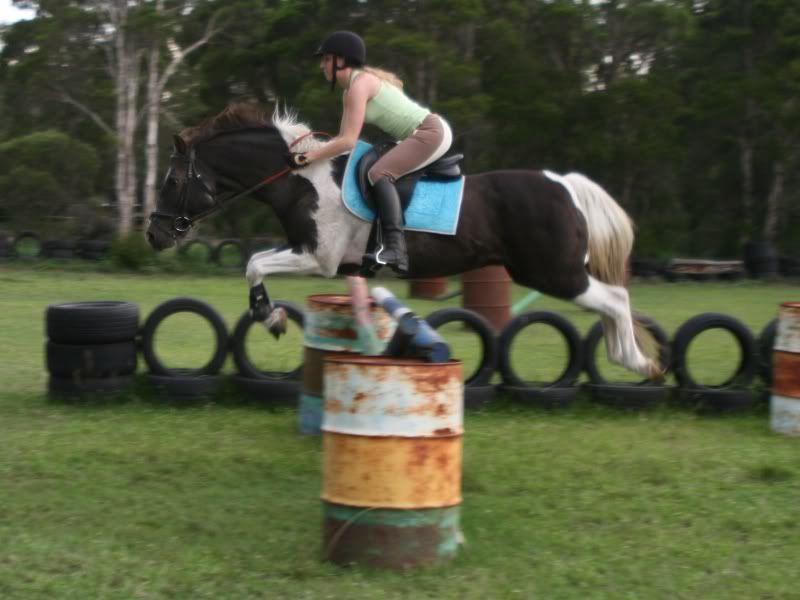 Then we ran the rest of the jumps like a little course (the camera was struggling with the dark clouds, low light) but look at those pony knees! I think the x-rails have helped...
75cm
70cm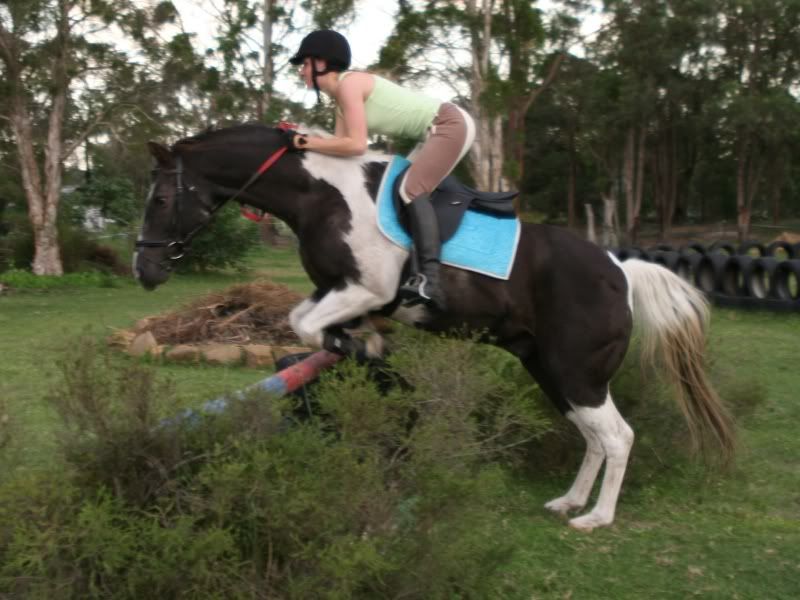 Look at his cute widdle face, awww, 75cm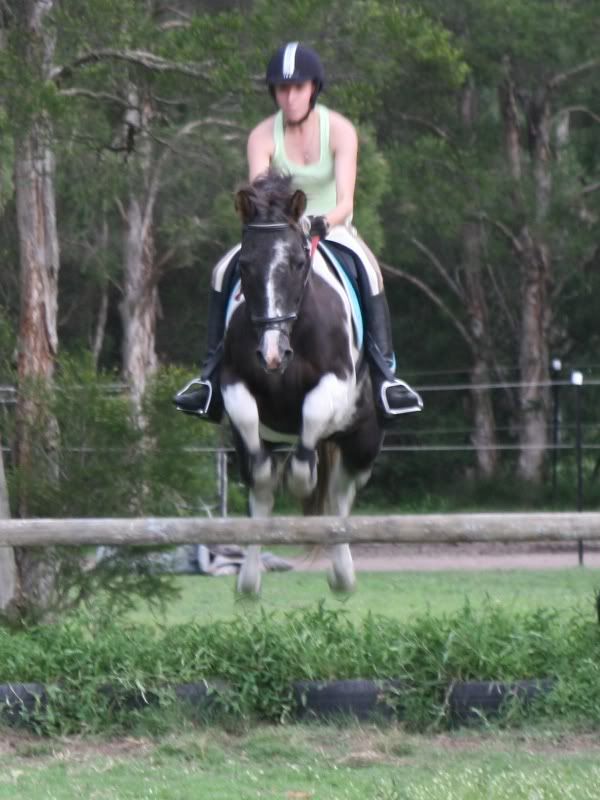 Canter away!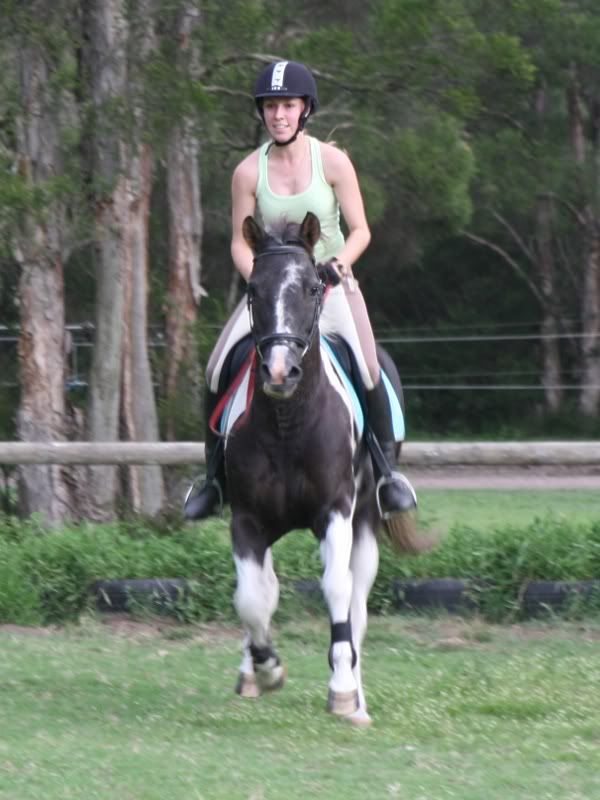 cont
---
Then he LAUNCHED himself over the 1.05m when our stride was out, glad he didn't chip in... so up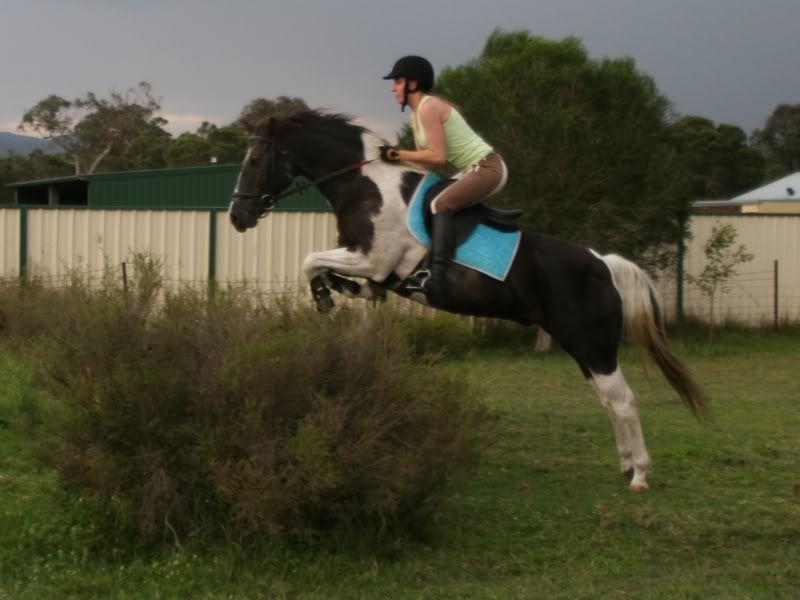 And over
One more time through the one stride and then straight into the oxer (which is hiding behind the bushes!)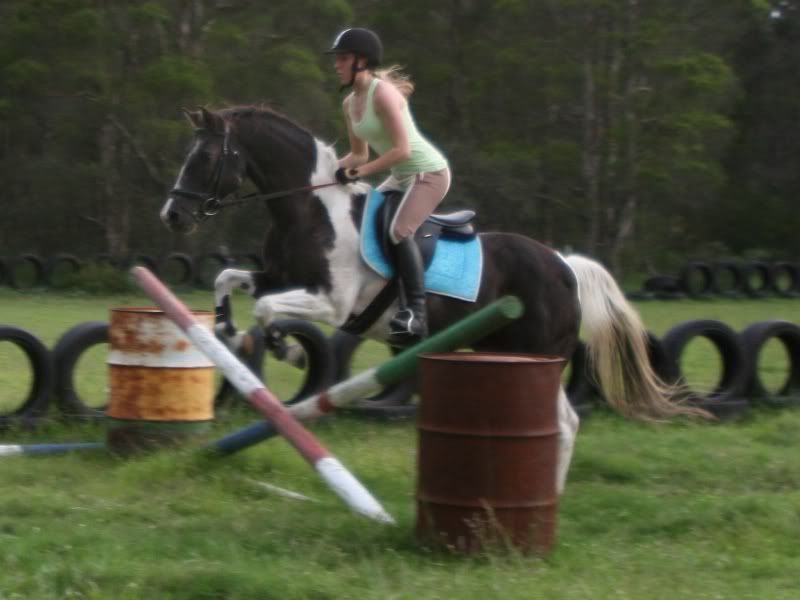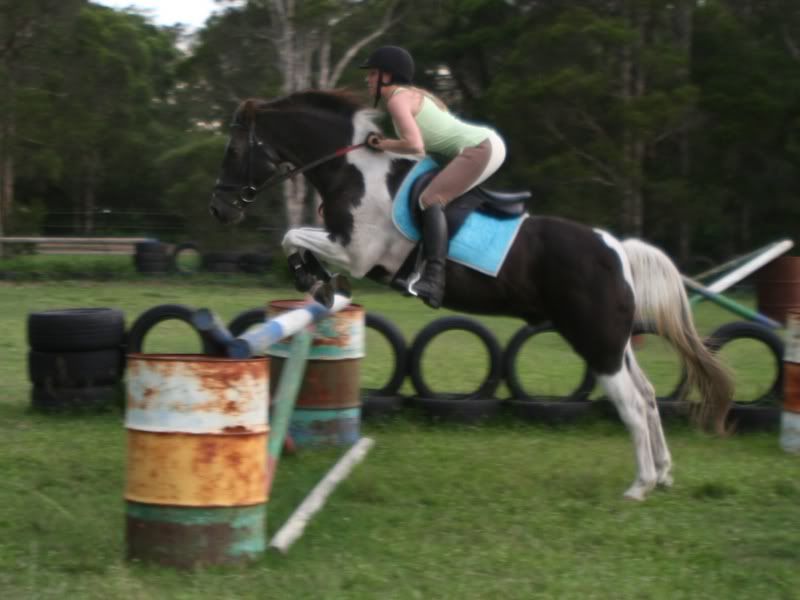 I think I try too hard sometimes haha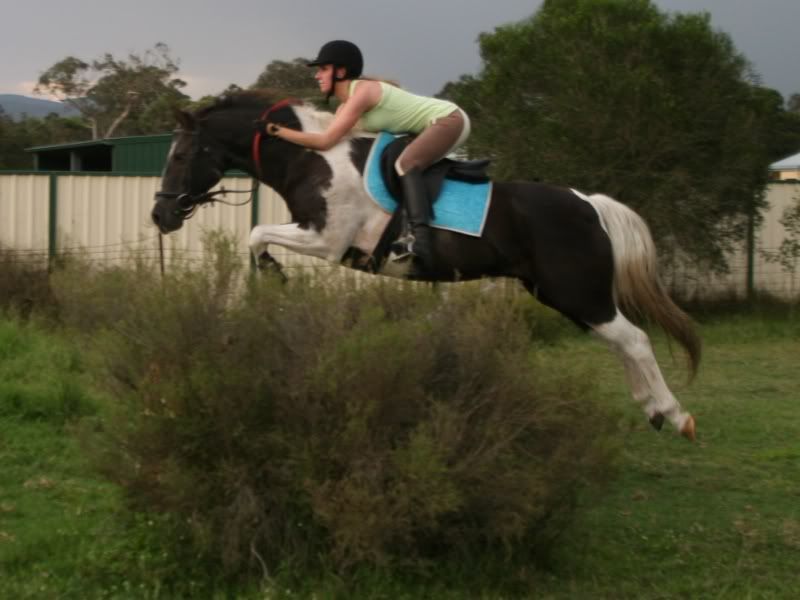 Then dad said there was a storm coming so we cooled out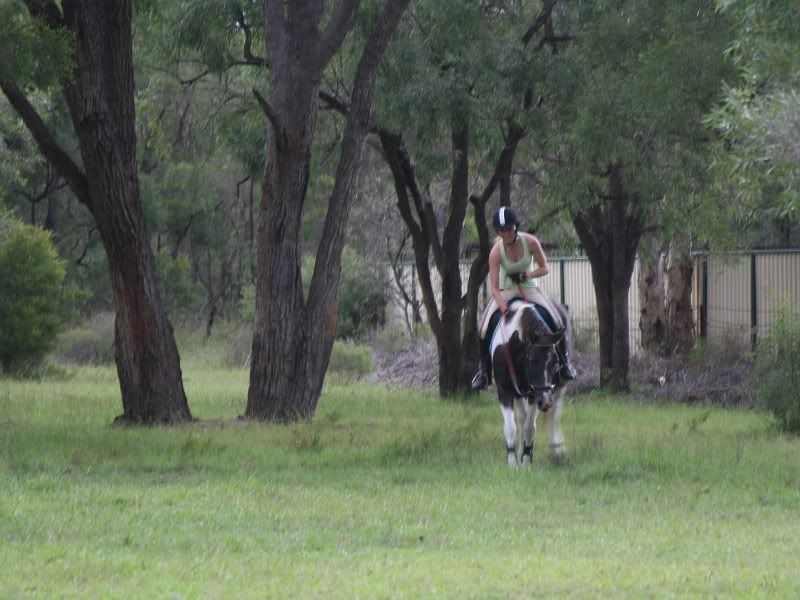 And it started to rain as soon as I got the saddle off.
Overall a great ride, we will flat on Friday then show on Sunday! I think we are actually ready
I love the last picture =) You two look like you're having so much fun. Do you show?
---
Every ride, good or bad, teaches you something new.

Similar Threads
Thread
Thread Starter
Forum
Replies
Last Post
first thread

jazzyrider

Natural Horsemanship

8

02-08-2009

09:29 PM

The day after thread....

DarkChylde

Horse Talk

3

11-29-2008

09:23 AM

Photo

my2geldings

Horse Pictures

10

06-05-2008

10:29 AM

First thread!!

LuLu

Jumping

1

03-19-2008

12:59 AM