Quote:
Originally Posted by
ridingismylife2
View Post
i am sooo jelous!
1. the weather there looks soo nice compared to here (still snowing here :/ )
2. ur eq is amazing!
3. ur horses/ponies look like a bunch of fun :)
It is so hot here!!! I am considering not riding this afternoon cause the humidity is a killer! Give me snow haha.
So how did your show go?
---
Give Blood, Play Rugby
---
The show went really well thanks for asking. I posted in the "Jumping" thread.
7th April 2009
Saddled up Kai first, he was great. The ground was really wet and we could only use the centre of the arena, so lots of small circles. Mum came out for ten minutes when we cantered but the flies and mozzies where sooooo bad, Kai was flicking his tail like crazy so some neat flashy pics haha...
trotty
I can hardly believe he can open his mouth like that with the noseband on? He wasn't being too heavy today either, I think maybe flies bothering him?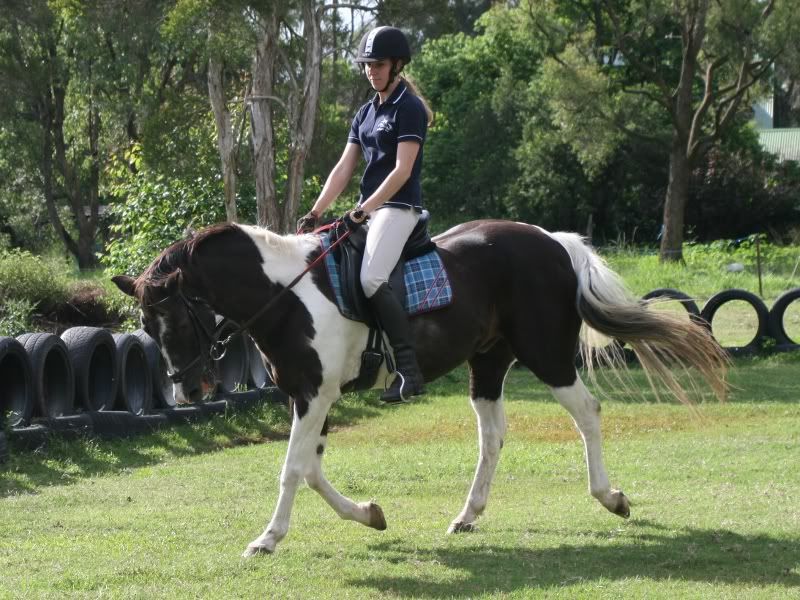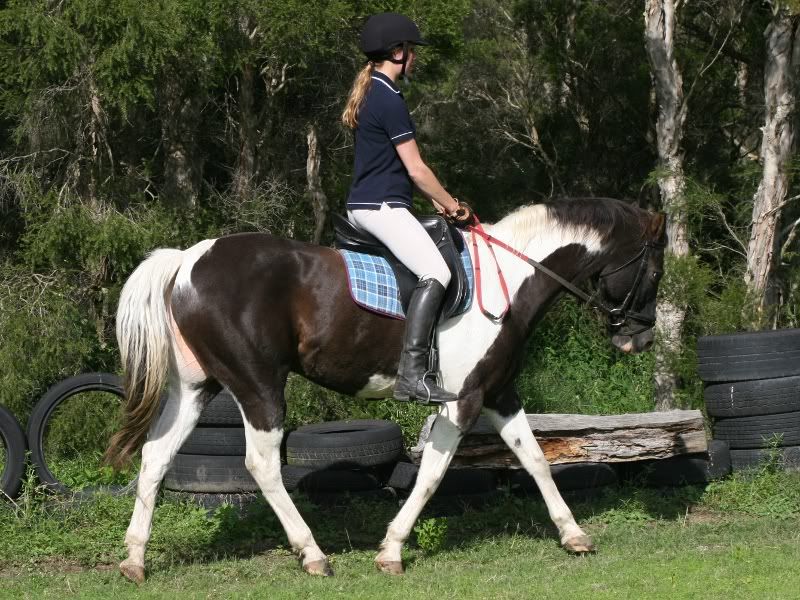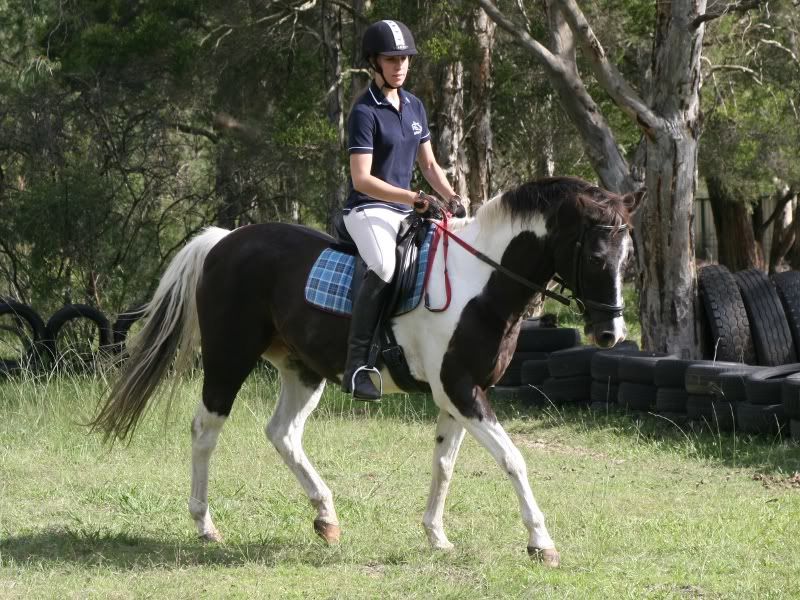 Canter left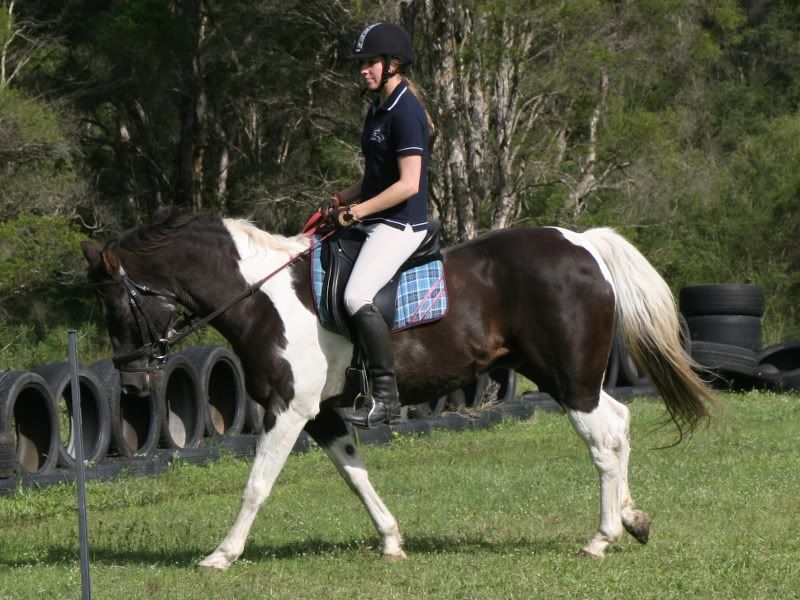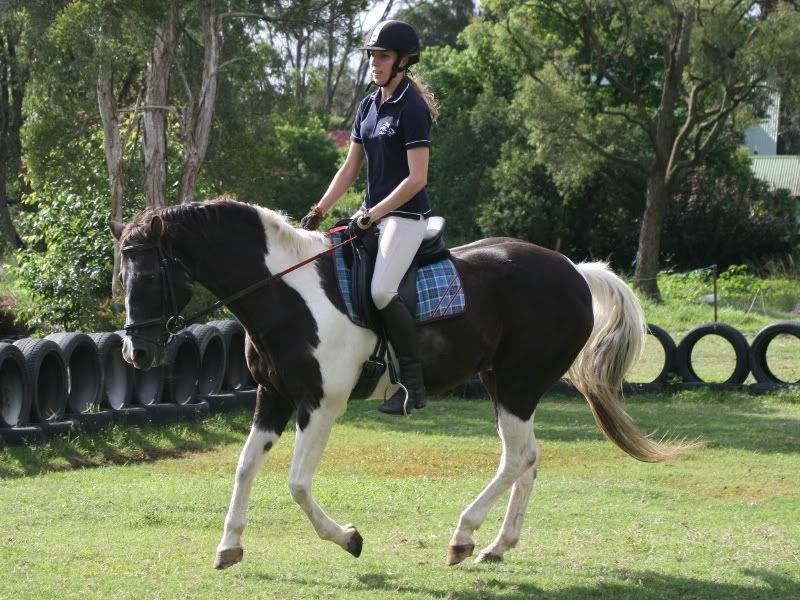 I love the funny timing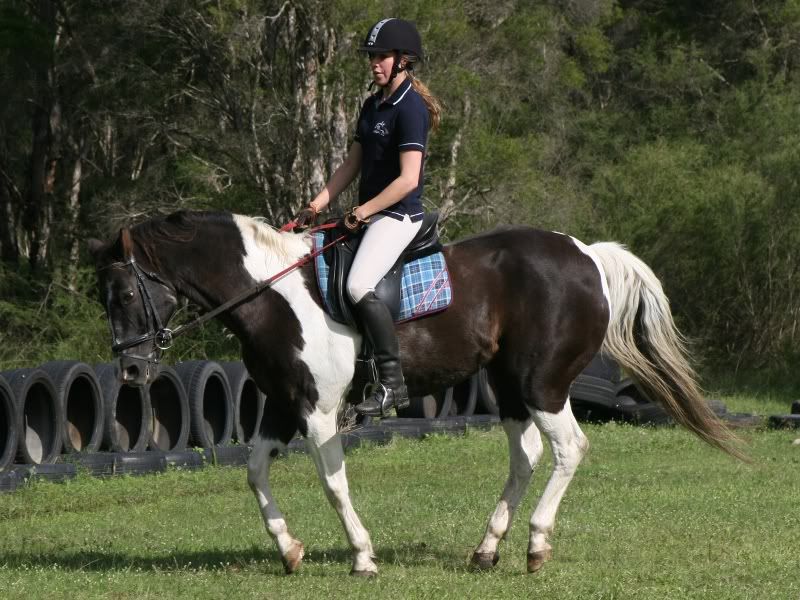 simple change today cause I was worried he would slip
Canter right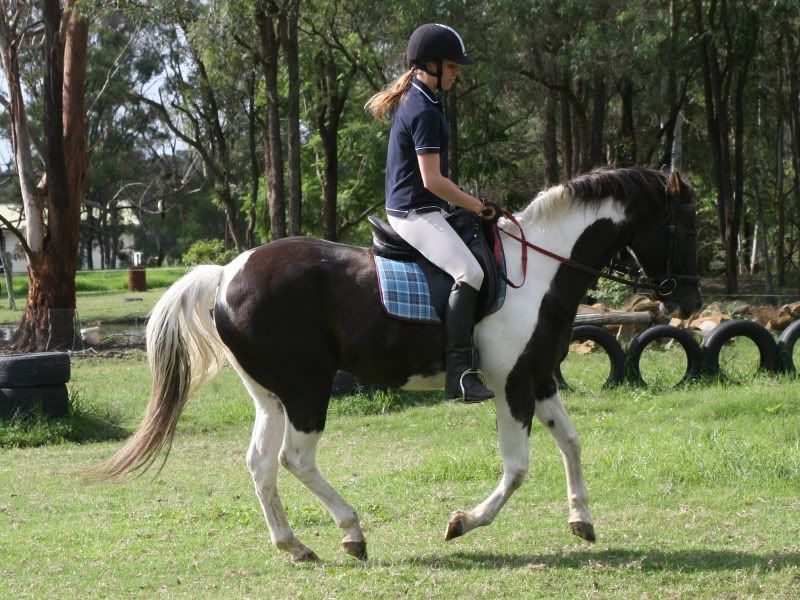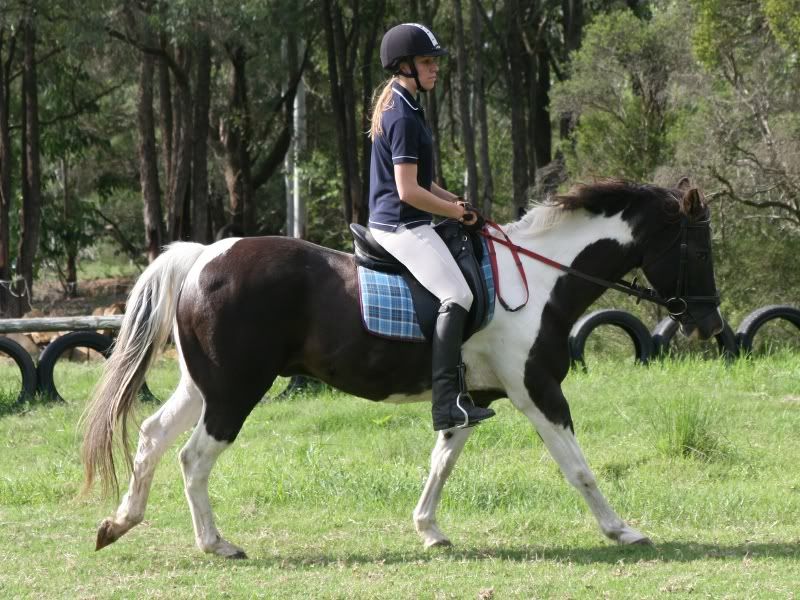 And thats it. I rode Com but mum was fed up with flies so no pics. Com was dead lazy but after a few jabs with the spurs he perked up. He just did walk trot going up and down. His belly is huge after the rain, there is so much grass in the paddock :S so hard to lock him up all the time!
Then I went to see my old student and her new pony. They are doing really well. I hopped on and trotted the mare around for a little, totally different attitude to when we bought her. She is coming along so well and doing hacking classes at the Hawkesbury show. Kai and I are doing jumping and sporting on the 1st May at the show
i ever like pinto horses i will buy arabian pinto horse soon , when i will collect much money .
Aww, wow, you are such a good rider. -wants more pici's- will be waiting for more
---
Horseriding- The art of keeping a horse between you and the ground.
Here ya go Tayz hehe
11th April 2009
Just flatwork today. W/t/c and lots of transitions. Mum came out for a bit to take pics. He went really well but was kinda heavy on the hands during canter, especially to the left. So some pics...
Cantering
Turning
Cantering the other way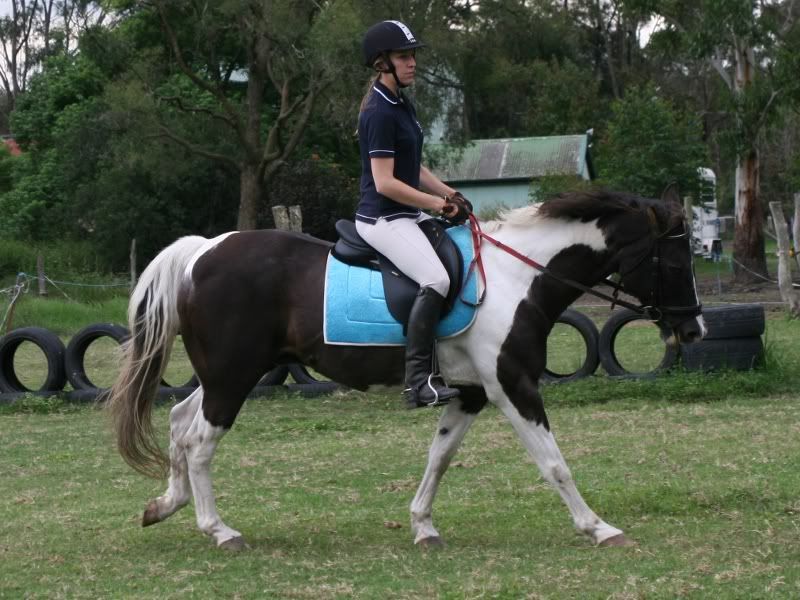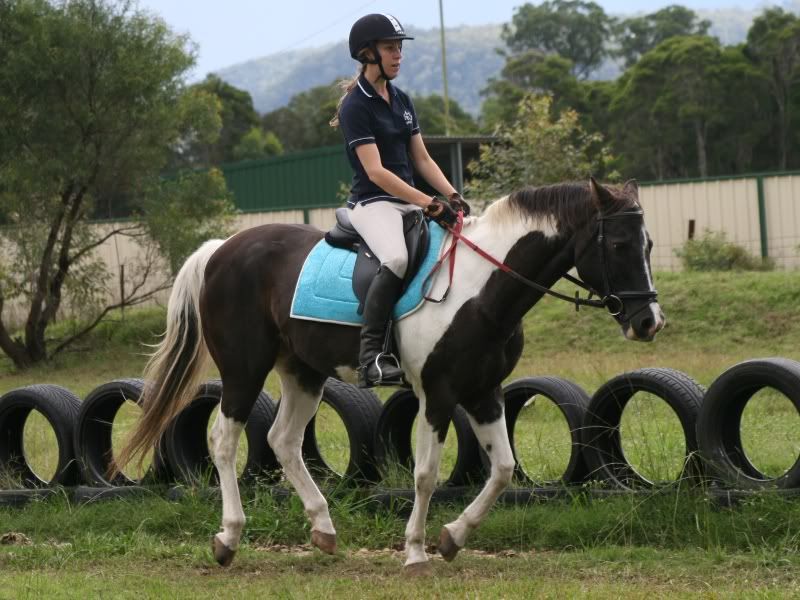 He had a nice forward trot today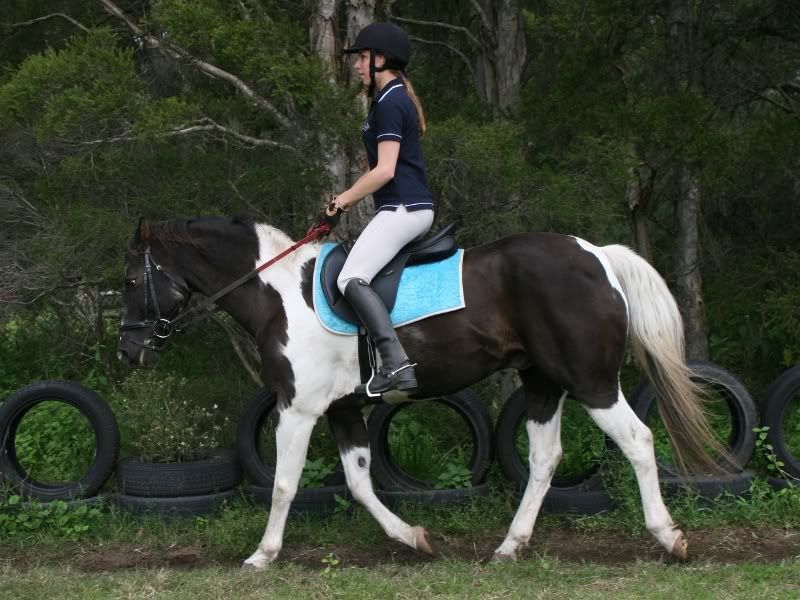 Trotting poles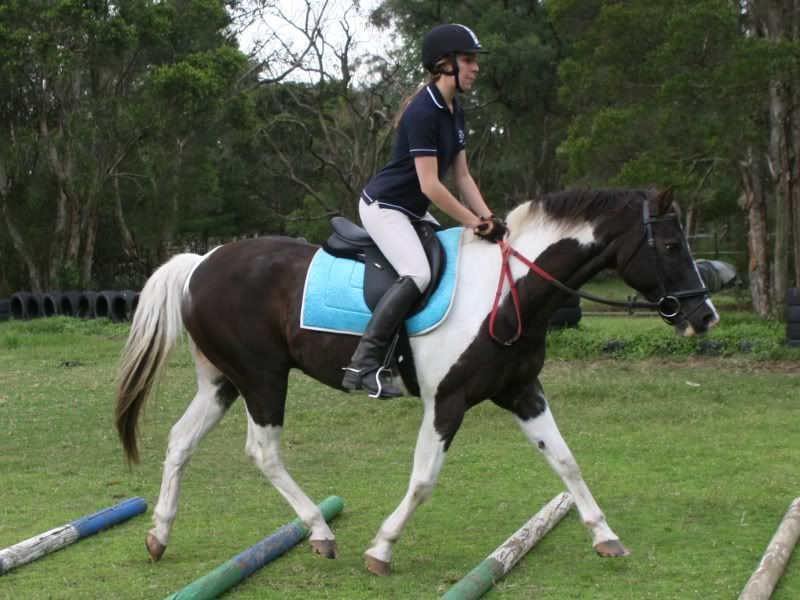 Second time over we almost ate dirt, silly boy
Third time ok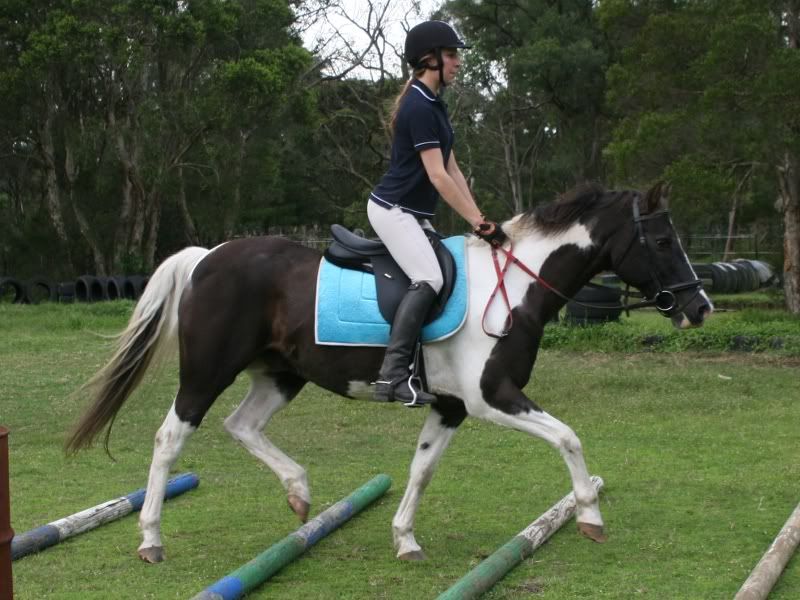 14th April 2009
I felt like some bareback with Kai. So took him into the round yard and I think I will become a trick rider, haha
"Look Ma, no hands!"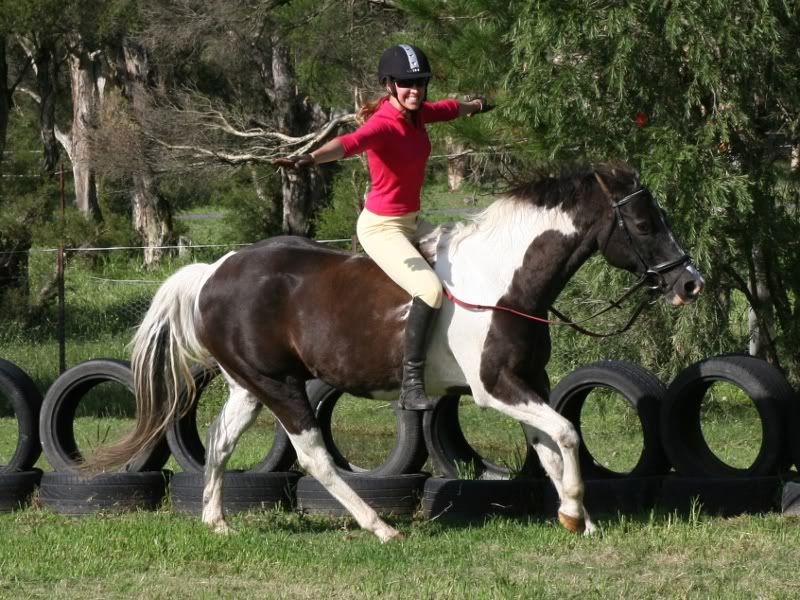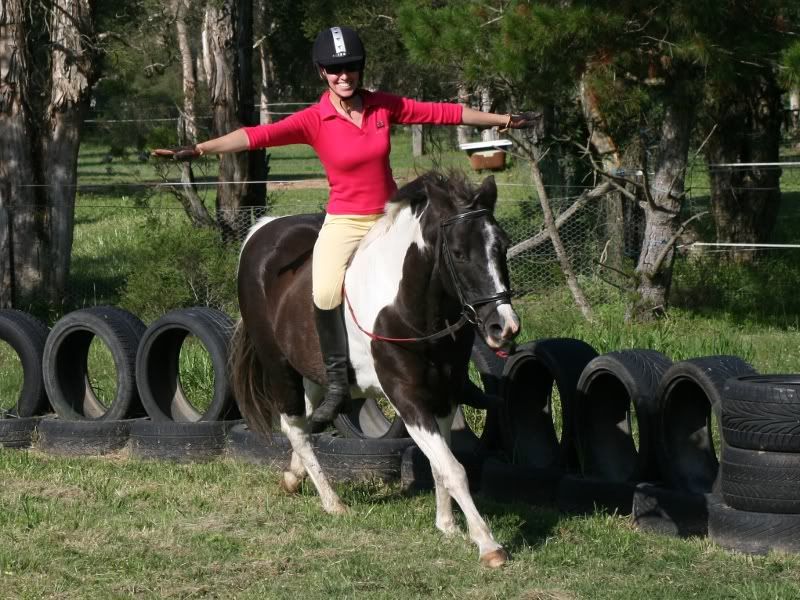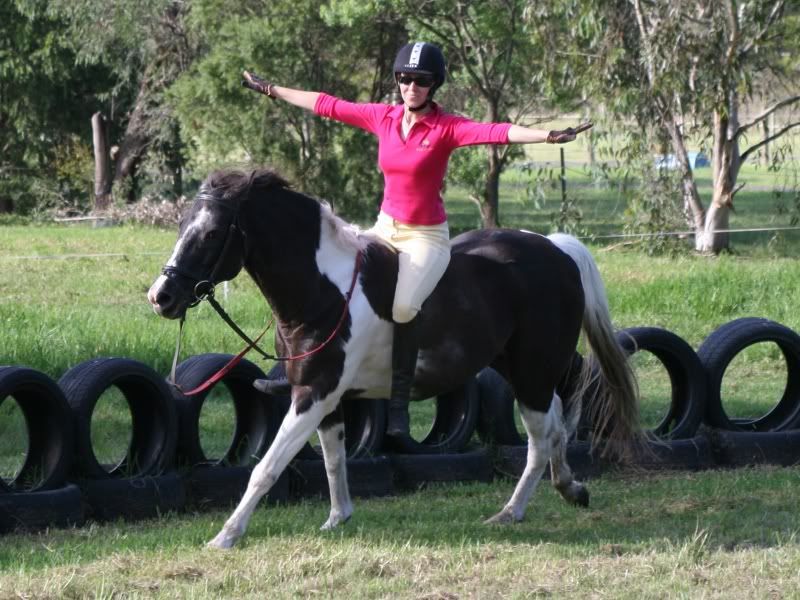 Yeah I was rather excited that he didn't jump out of the arena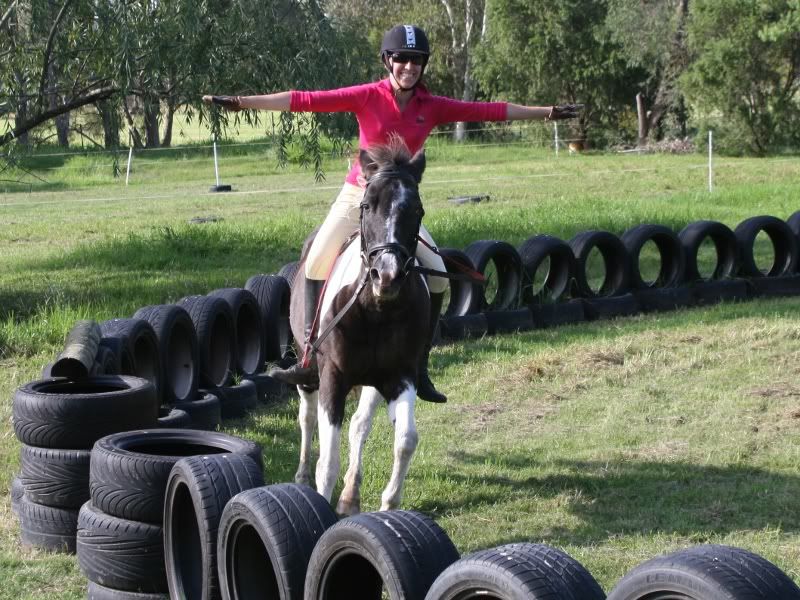 Then I tried to walk him up the big step but he just jumped it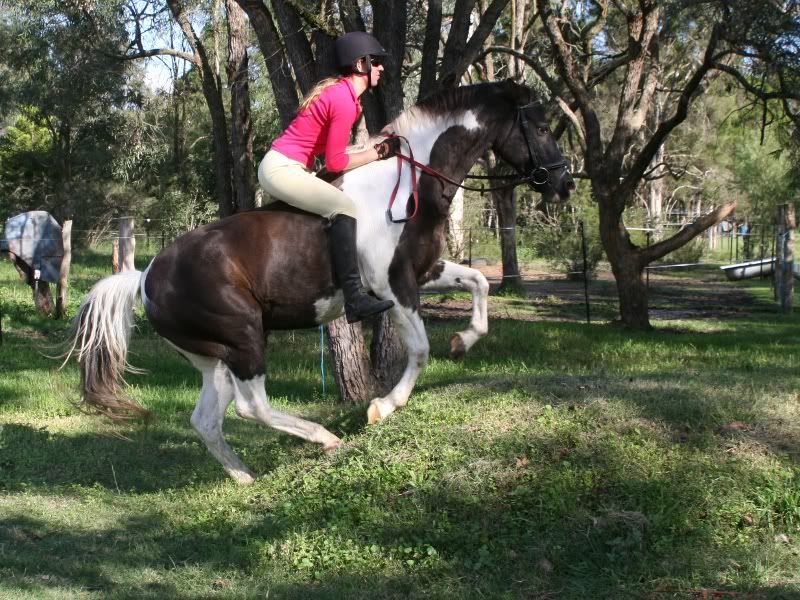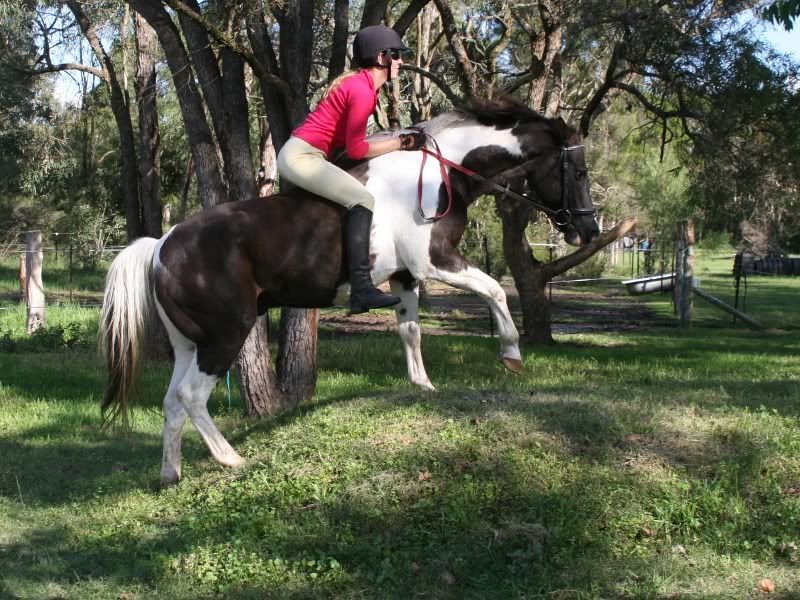 Then over the log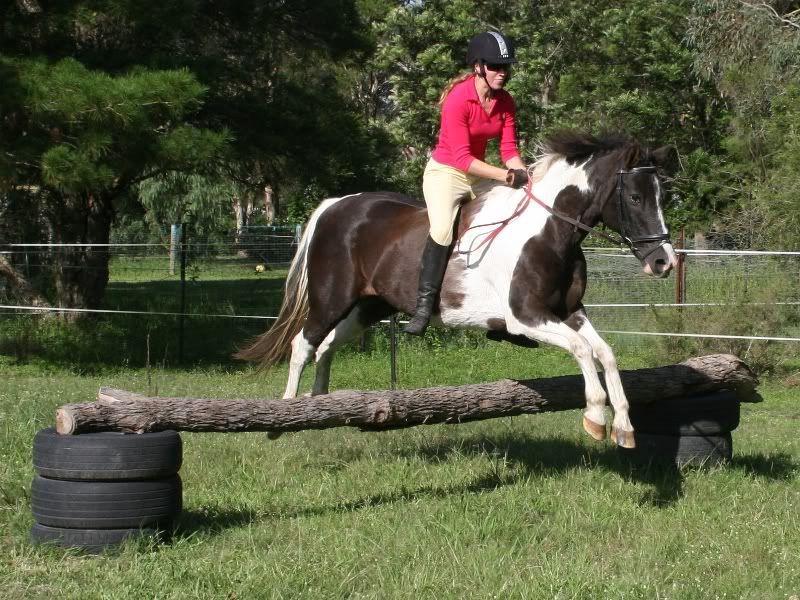 Step again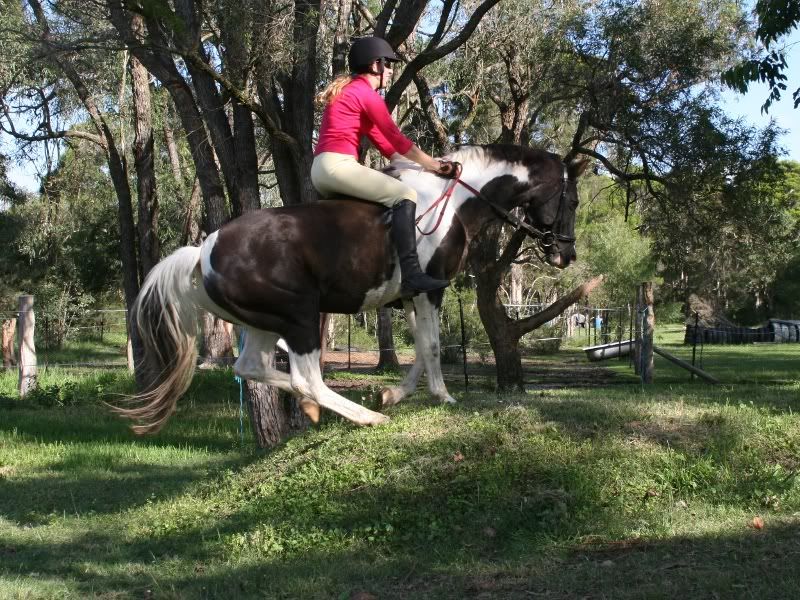 He was thirsty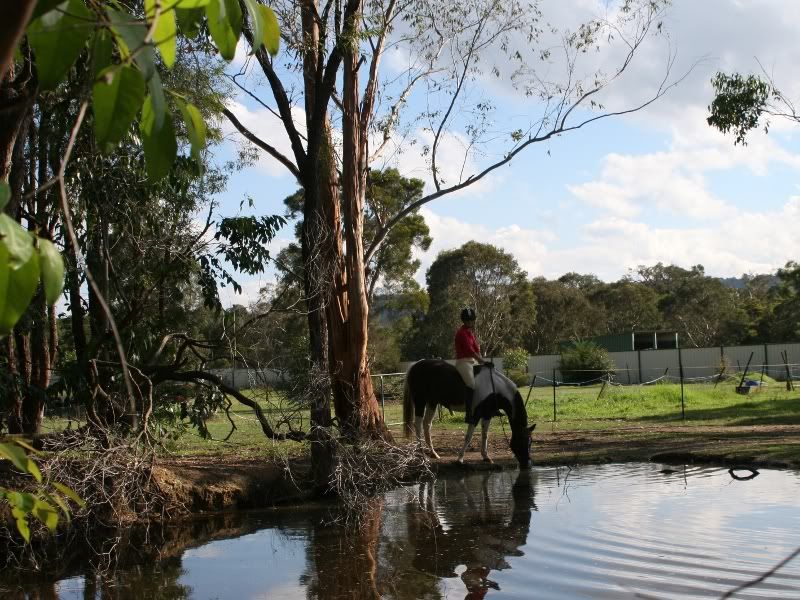 The duck on the right is named Gertrude and I have had her since primary school, mum and I figured she is about 14 years old!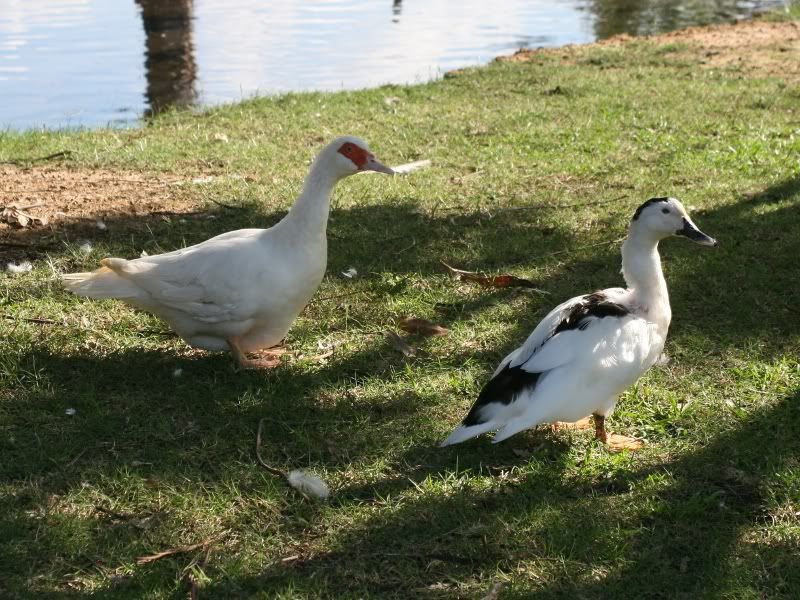 Hugs for sleepy pony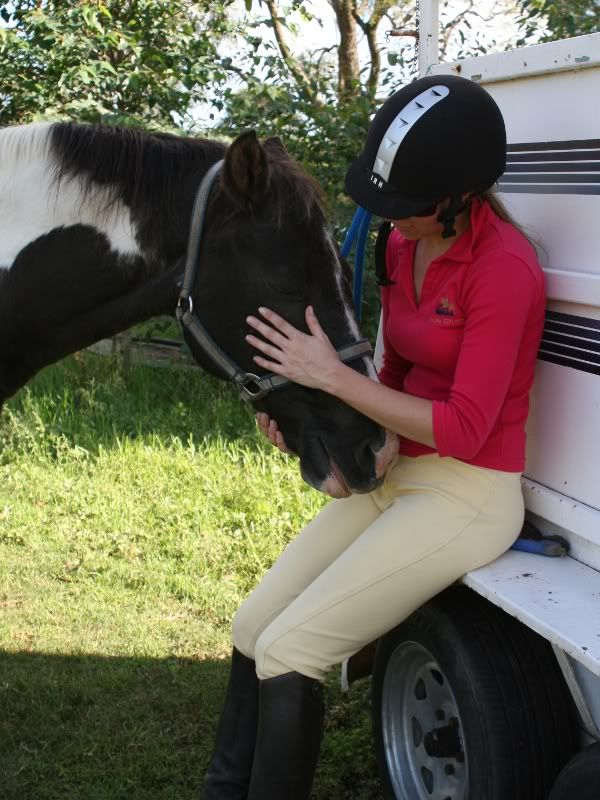 The end.
16th April 2009
Rode Kai today. Mum wanted to see how he would go on the lunge for new students and of course he was perfect. I was the student haha. I should have taken my stirrups off, maybe tomorrow. So after that I took him out the back into the big arena and did some w/t/c and he was perfect and I felt like popping him over a couple fences. So seeing as my "grid" area still has a huge puddle in it we just did a couple, so I will show the pics now...
On the lunge trotting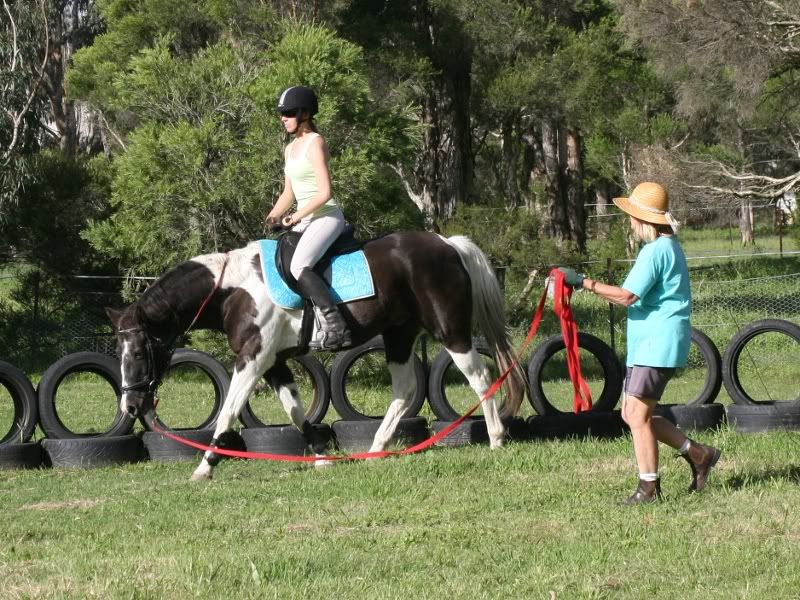 Other way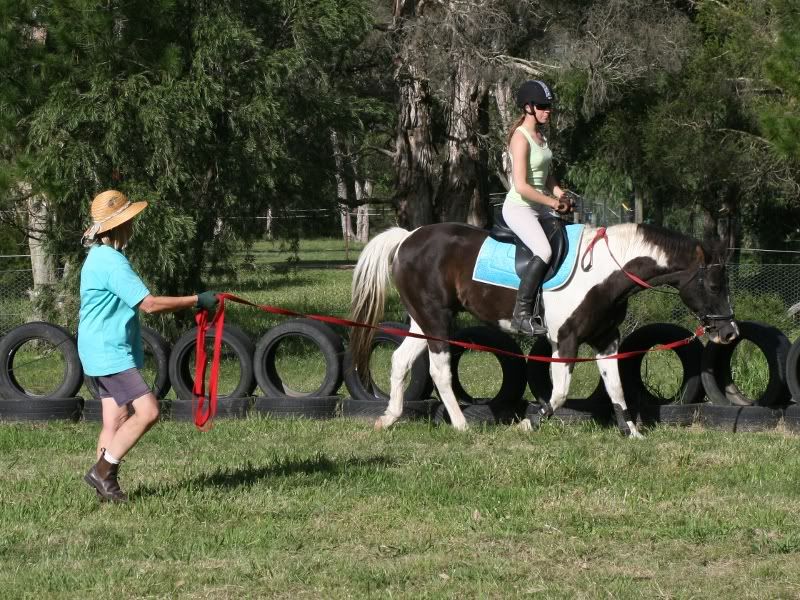 I am such a dork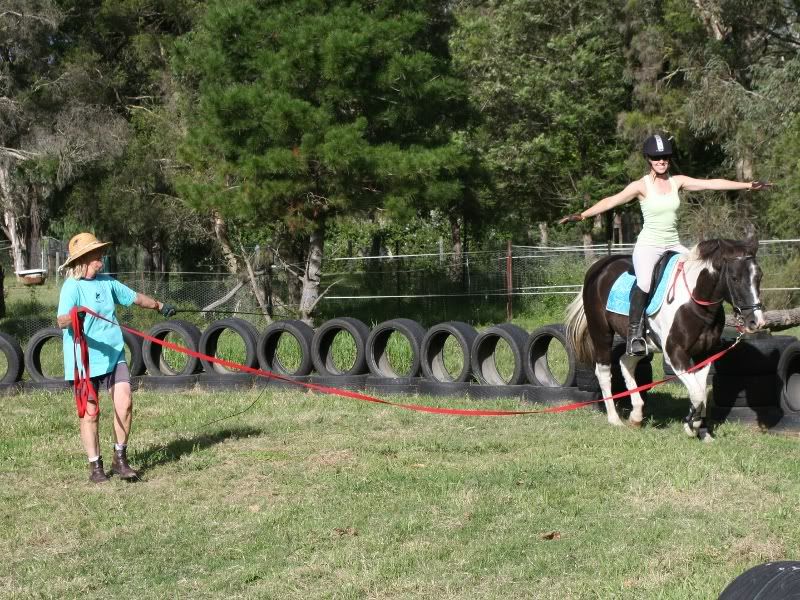 Canter!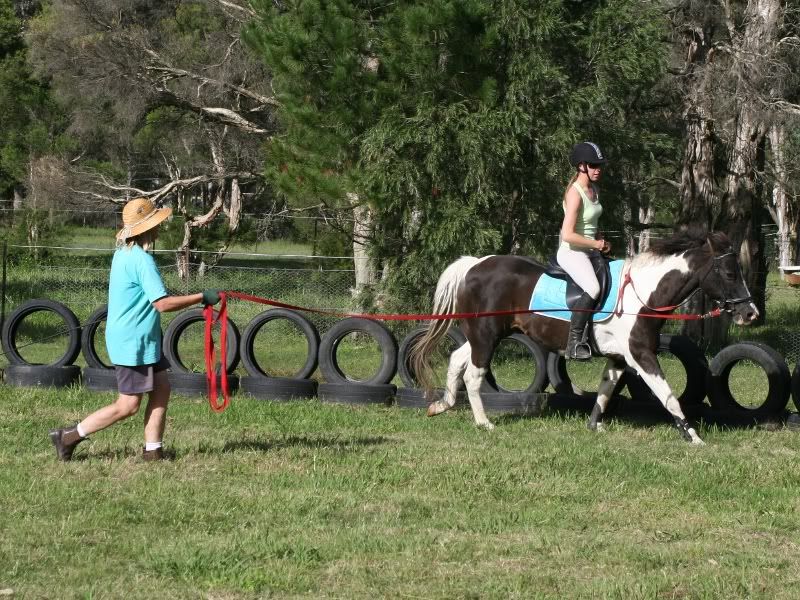 thats is for lunge pics, dad had to go back to work.
Then no pics of our flatwork, mum was cleaning poop up haha, so straight into jumping pics...
Start with a widdle cross rail and he is a spaz and jumps weirdly.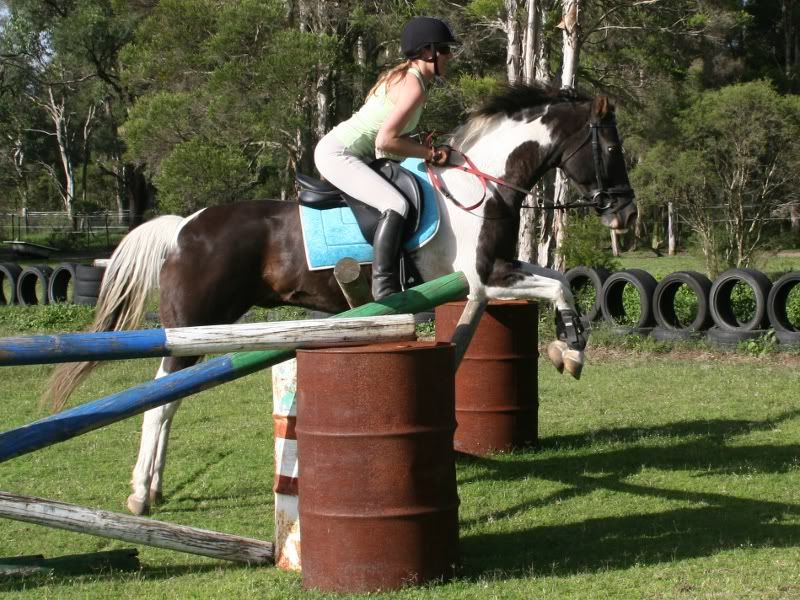 he was pretty hyped so I just took him out to do this 70cm then loop around to the 105cm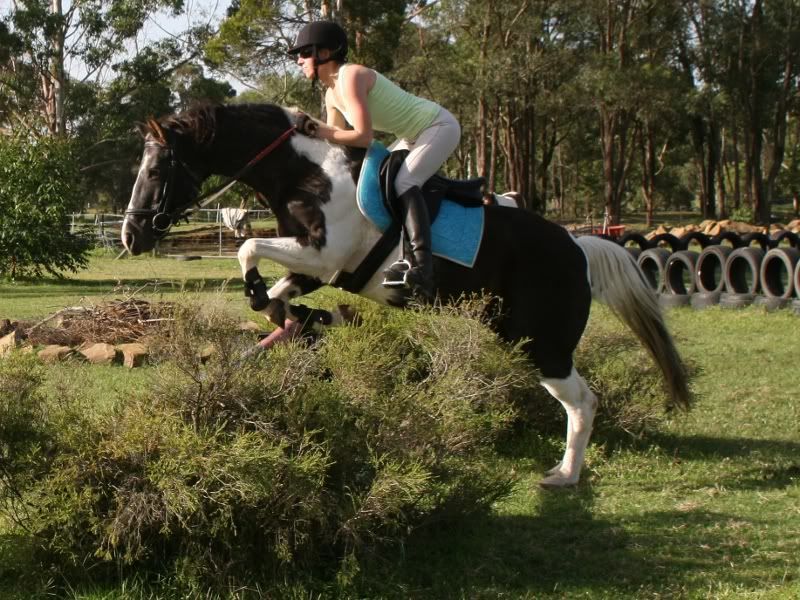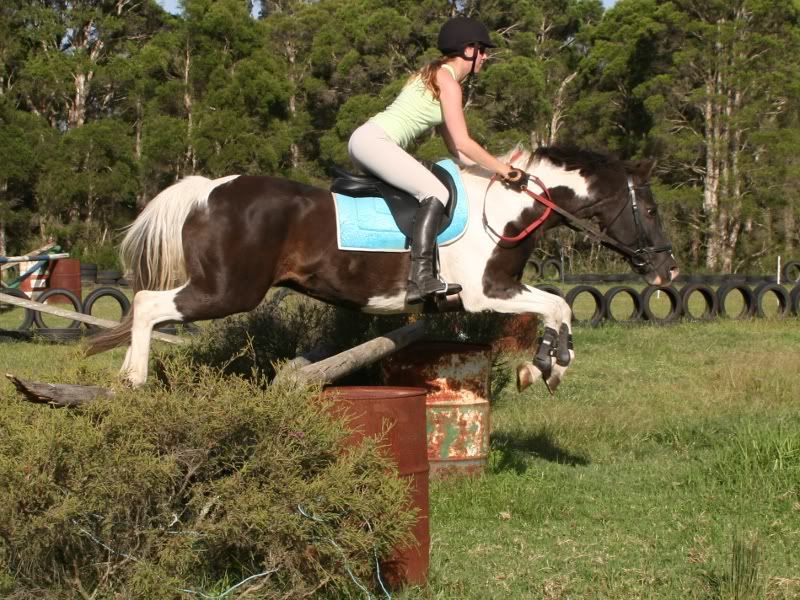 He was very excited first time around so we do it again to see if we can be a little more calm and collected...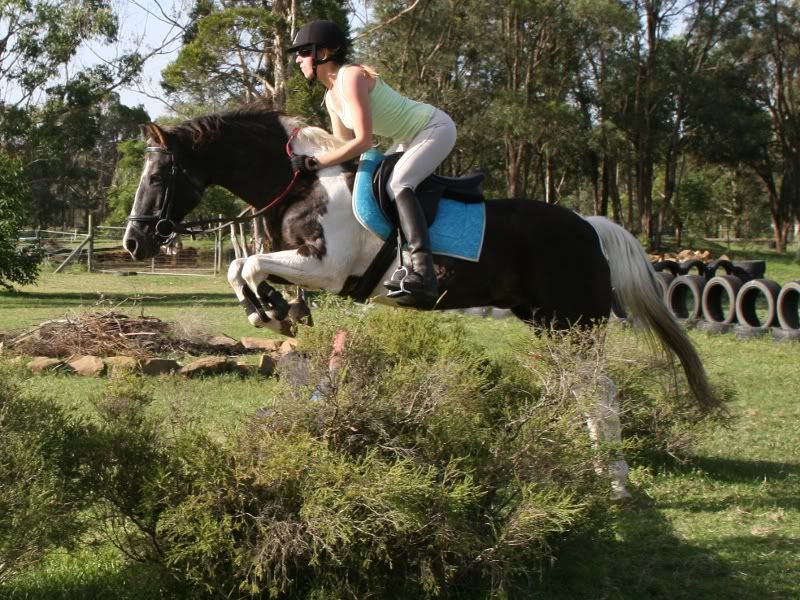 Much better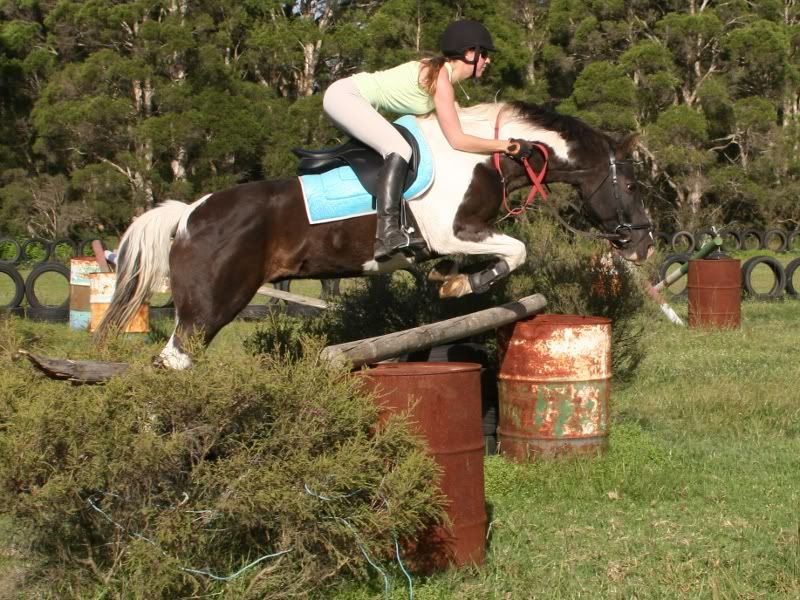 Then a little 75cm into the arena to a 105cm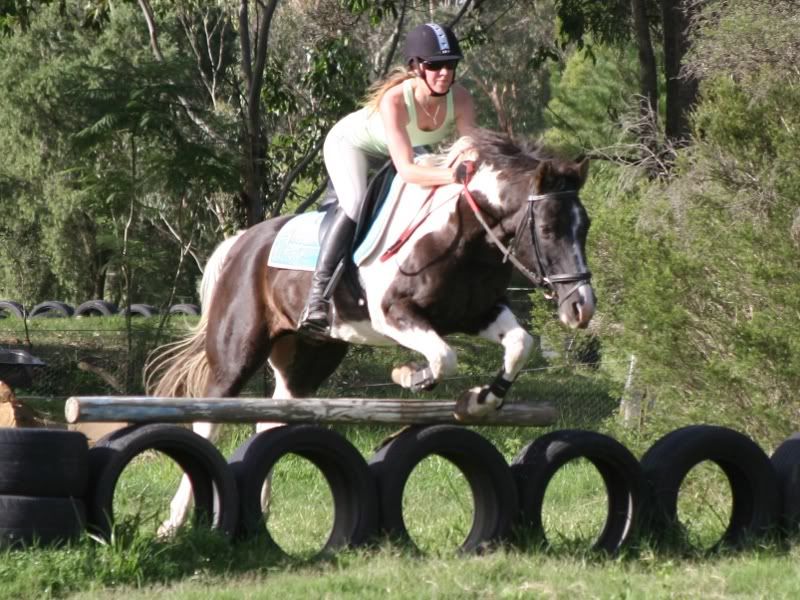 Very nicely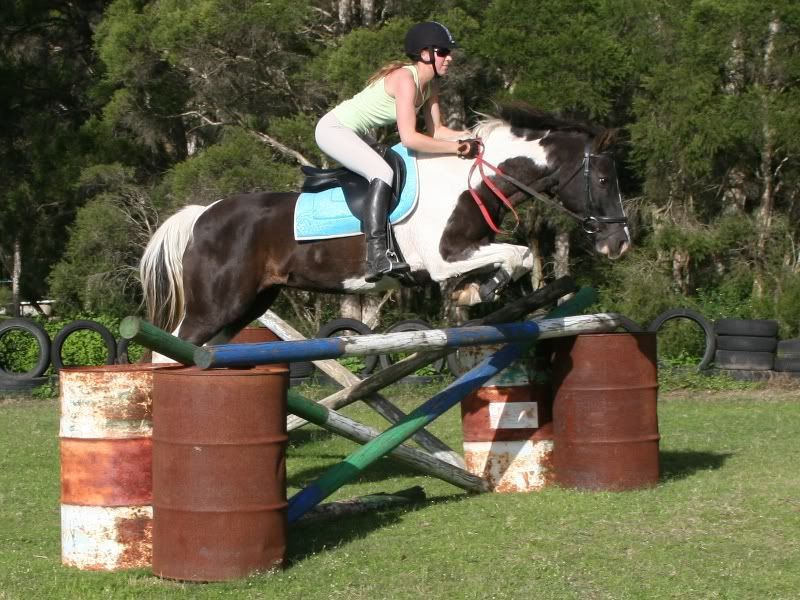 So I made the 105cm a little wider, never tried this before but we are feeling brave so again the 75cm then the wider 105cm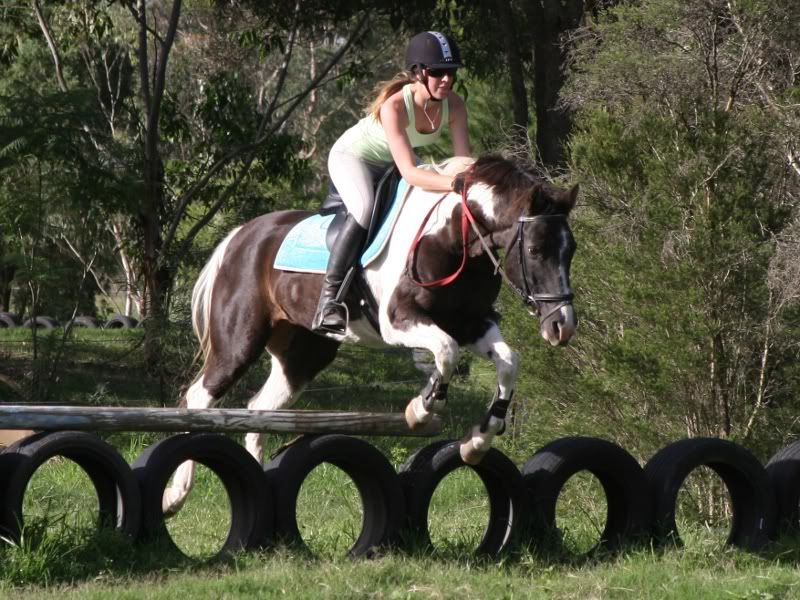 He was a little hesitant but I pushed him over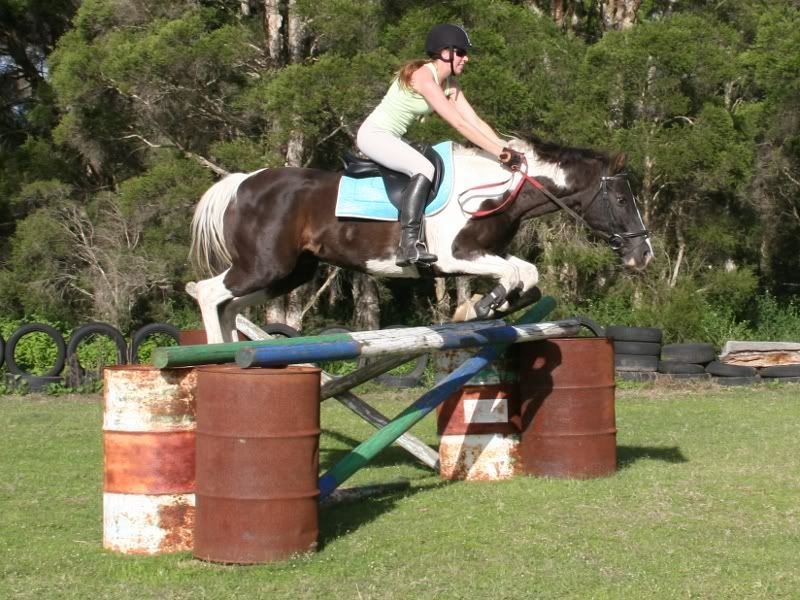 What a good boy he was! So we stopped there, not a lot today over fences but I want to get some grids up and practice horse distances for the show, so hopefully next week the ground will be dry enough and we will do some real over fences work!
One last pic to end...
Similar Threads
Thread
Thread Starter
Forum
Replies
Last Post
first thread

jazzyrider

Natural Horsemanship

8

02-08-2009

09:29 PM

The day after thread....

DarkChylde

Horse Talk

3

11-29-2008

09:23 AM

Photo

my2geldings

Horse Pictures

10

06-05-2008

10:29 AM

First thread!!

LuLu

Jumping

1

03-19-2008

12:59 AM