Kids VS Pixie
---
BO let me take out the little pony for the kids. Meet Pixie. She's a sweetheart with the kids. Her hooves were done yesterday. THey look awful in these pics : /
Letting the bugs out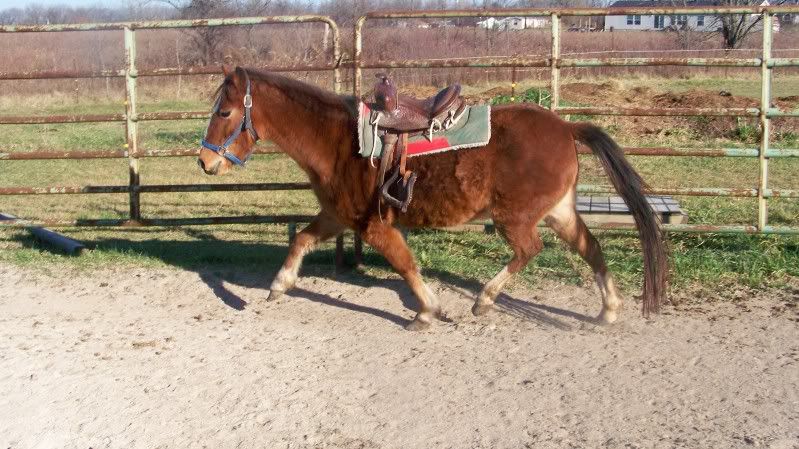 What do you guys think Hackney cross?
Dillon riding for the first time by himself (heels down Dillon)
She wanted to see the barrels.
Teaching him to lead her
Rosalie leading her (she was more cautious)
Dillon helping Rose (she had the helmet on wrong)
Rose's 10thish time by herself
Ohh and a manip I did for the Holidays (not horse related but I thought it was cute)
adorable.
Pure cuteness
---
Thank the gods that we have horses
Awww, cute!
---
Peace, Love, and Ponies of all shapes and sizes.
She's a cute pony! She's got a super kind eye!
Glad that her feet got done, I'd ask the barn owner to make sure it doesn't go so long next time. Having feet that long is really hard on her tendons and can cause lameness issues!
Oh I LOVE LOVE LOVE the picture of the kids! It's so cute, the baby holding the string and the little girl pushing the sign! That's awesome!
Keep that around for a keepsake for sure! You don't see anything cuter than that!
Yea she knows. She just got the pony back from an off site lease. She went and pulled the pony from the people because of the hooves : /.
Similar Threads
Thread
Thread Starter
Forum
Replies
Last Post
4-H and Kids

steffanicgirl

Western Riding

13

06-16-2008

06:54 PM

Kids

FGRanch

Horse Talk

11

02-14-2008

11:44 PM

Perfect for the kids!

River Wood

Tack and Equipment Classifieds

1

08-20-2007

09:22 PM