Kita Finally Foaled! :D
---
So yesterday Kita finally foaled in the very early morning hours (What a brat! She usually foals in the early evening!) So I finally got my colt! YAY! He is a sorrel (right now) which shocked the heck out of me..lol!
He does not have a name yet and all suggestions are welcome.
There is also a debate going on about his color. Anyone wanna take a guess on what color he is going to be. He is out of a blue roan and a gray. Last year the same cross threw a blue roan. I think he's going to be gray but my husband and most of my friends think that he's going to be a red roan. What do you guys think?
And here is the little guy!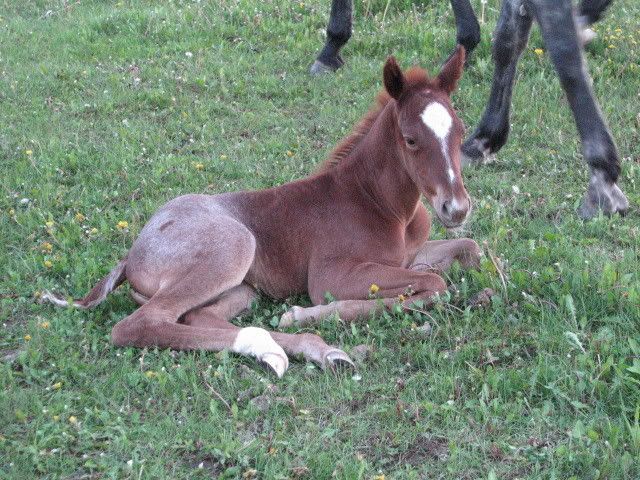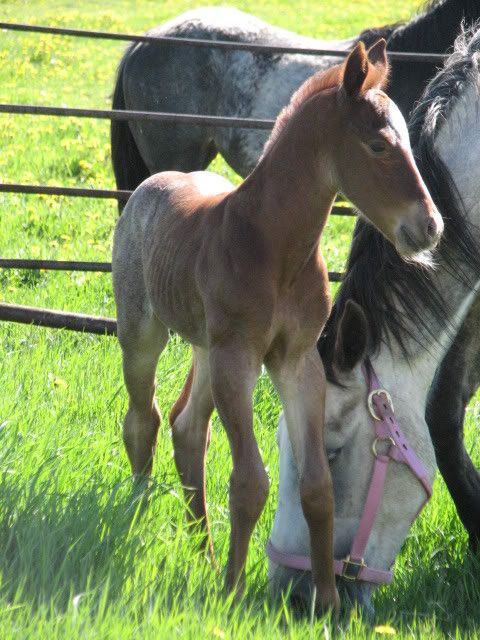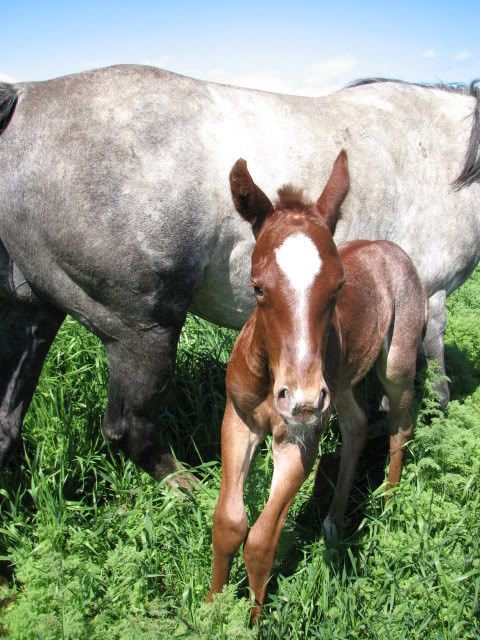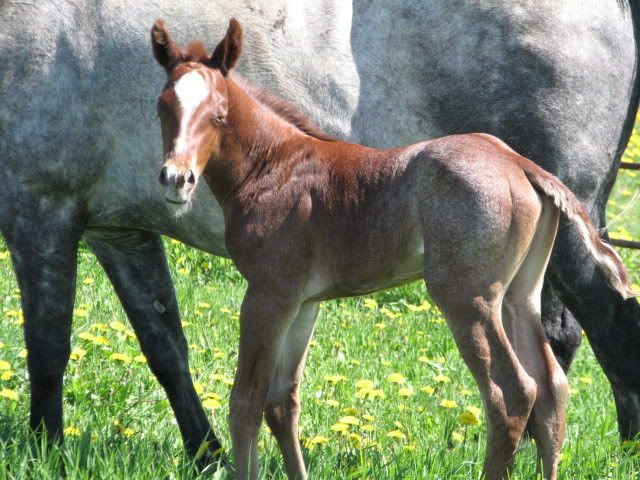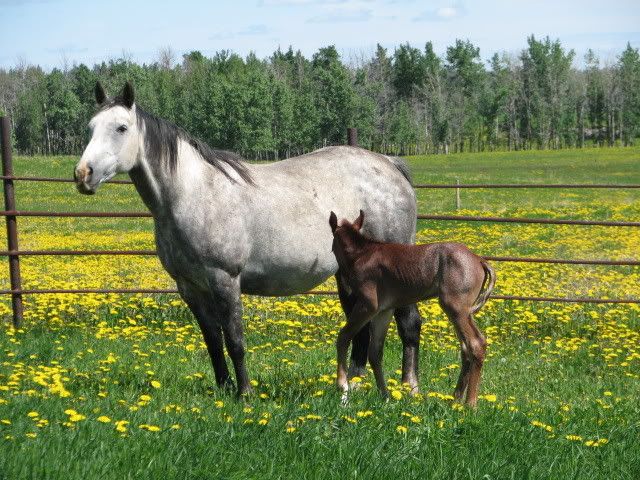 Congrats!!! Hes gorgeous. Omg...your mare is gorgeous too. Lucky. I luv grays. im kinda leaning towards a red roan.
---
R.I.P. KIANE(5-year-old AQH gelding)- I WILL NEVER FORGET YOU
Thanks Jaide! Kita, the mare, is the baby! I'm so proud of my girl! He is a handsome little guy, actually I think he's sort of goofy looking right now, but I'm sure he'll grow into himself!
He is SO stunning, what a cutie!! Congrats...I'm soo jealous lol!
---
Ride more, worry less.
OH he is soo cute!!! so is mum!. He looks like he'll turn red roan. good luck!.
all the best wishes!!!!!
---
Dressage for LIFE <3 Rebel <3 Lakota <3 Tee <3
aww look at those big baby eyelashes! Cute
---
Cocoa - 32 yr old QH, Cherokee - 8 yr old TWH & Toby - 16 yr old QH
R.I.P. Cocoa 4/13/78 - 2/9/11
OMG he's adorable! Look at his coloring!

Im thinking he'll either be a red roan or grey.

Kita looks so proud!
Whad 'ya mean goofy looking?
He's a cutie!
I love the pic of him sleeping.
But what is with the appy markings on his bum?!
LOL
I still say he's gonna turn grey... that looks like what his base coat colour is.
Plus I only see one sock, not three... :p
Aw, I just love babies!
And I'm thinking he'll be a strawberry roan, but who knows.