Lacey!
---
On Saturday Lacey and I had a wee bit of a photo shoot and here are the results:
I just love how photogenic she is!
I took this one quite a while ago but I let photobucket "auto fix" it today and now it looks even cooler.
Who knew she could lift her legs this high!
Does somebody want to be a saddleseat pony? Haha
"Look Mom, I know you
have
to be hiding carrots somewhere inside the workings of that camera, just let me help you find them!"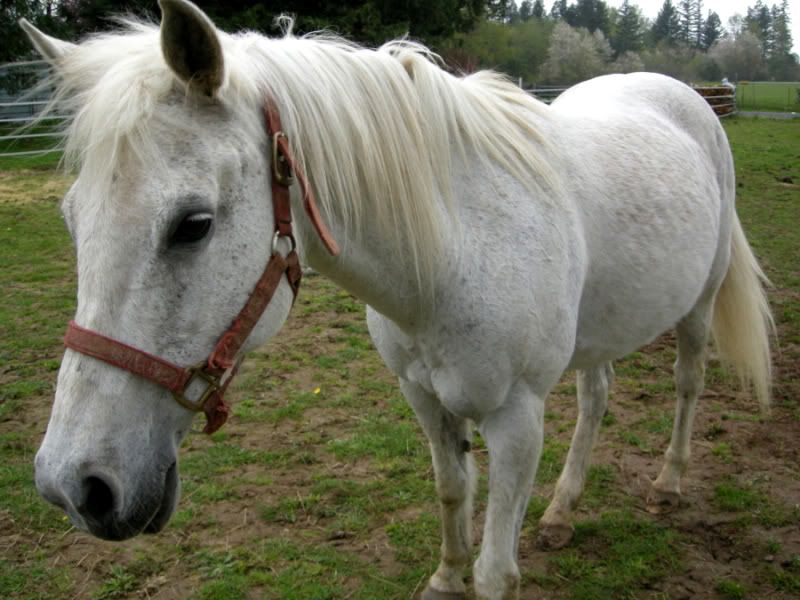 This one is my favorite of the bunch. I love how athletic she looks. It's such an amazing thing to me that under 9 months ago she was so obese and out of shape that she couldn't even trot for 5 minutes without being completely winded. And now she can stretch all the way out like some little super star. Haha
I think she was pretending to be a mustang or something in this one.
And last but not least: The majestic lady surveys her vast kingdom.
awww what pretty pictures!! she is lovely thanks for sharing! I really like the 3rd to the last... if I am correct, she is tracking up nicely in this one?
Thanks! She's my sweetie.

She is tracking up pretty well in the third picture, you're correct! =D
she is looking very fit! what kind of excersise routine do you do?
Welll... All winter I've been lunging her once or twice a week, w/t/c, trotting over poles then turning them into "canter poles" for her to canter over. Then after she behaves herself for that I let her off the line and she trots and canters circles around me and turns when I tell her to. Haha
I've been riding really sporadically because she's not so good to ride yet so I've been working on our ground relationship. She loves me completely and totally on the ground now! =D

On Saturday I rode her for the first time in a month or two and she did really well, I was proud.

So it's not really anything too special, it's just what she likes the best. And what I like the best since I don't tempt death everytime I see her. She's not really that bad...just so everybody knows. =P
---
Last edited by Wallaby; 04-29-2009 at

12:39 AM

.
awww sounds kind of like my routine as well, except I just started the poles. Grats on your guyses relationship, stuff from the ground really can make a difference!
Similar Threads
Thread
Thread Starter
Forum
Replies
Last Post
Critique Lacey!

Wallaby

Horse Riding Critique

8

03-15-2009

06:08 PM