Lacey got another bath! :D
---
And I really went to work on her legs, and yknow what? I'm pretty sure she's sabino! Just for coolness factor. She has two white socks and a "partial fetlock", but all of them have little chunks taken out down around the coronet band where her skin is gray again, that's a sign of sabino right? If not, I'm still happy, it's cool that she has little chunkies! haha The edges of the markings are all really jagged, not crisp at all.
I wonder what would happen if I got her face really wet, I wonder if she has any facial markings...
I kinda doubt it, but I didn't think she had any leg markings up until a few months ago and I didn't know that she had cool gray chunkies in them until today, so anything is possible!
The next time I give her a bath, I'll attempt to take pictures of her legs so y'all can see how awesome it is. Heehee
Pictures!
I forgot again to take a before picture. >.> Alas. Next time!
All sudsed up!
SOOOOO thrilled.
All clean! You can see her back socks in this one pretty well. Her front white foot is on the left side as well, but it's harder to see since there's a large gray spot in it right where you would look to determine that she has one.
Blindingly white!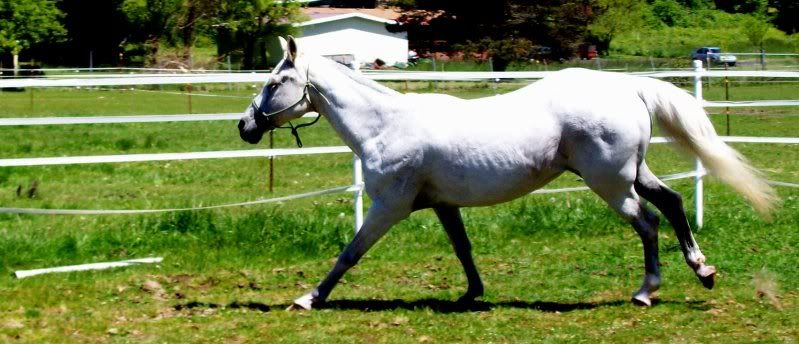 I think my farrier must have done a super excellent job the last time or something because Lacey has been trotting so much prettier than she used to! She always had a nice trot but now it's REALLY nice looking. And she has a lot of knee action coming out now, which is interesting since her stride is still long AND she has major knee action. I always thought you could have one or the other, not both.
I really like this one: look at that overtracking AND the suspension.
Super intense!
There's her front "partial fetlock!" It decided to come out of hiding.
Sorry for how bright these pictures are! My camera hates Lacey's whiteness and sunny days. :/ I tried to fix them with my editing program and I made them better, but not really. >.<
Yay for clean horsies and sunny days!
Also, we had a great ride! We worked on our cantering and I actually got her rating herself at the canter!! We took some corners while cantering and I just said to her "easy" and she slowed her canter down significantly and got us around the corners without dying!
She just wanted to go go go though. Which was kinda a problem but we got through it ok. It's very interesting how she has learned not to trot fast if I'm sitting but if I post, it's all out. For instance, we were trotting so fast for a little bit (I just told her to go all out since she wanted to trot and I figured, "posting practice!") that I was pretty sure she could have taken off if she had wings. Like, we were trotting faster than I have ever seen her canter. It was super intense.
Yay for summer!
---
Fabio - 13 year old Arabian/Lipizzan gelding

~
Rest peacefully, Lacey.

good looking horse trotting out there so happily. =)
AWW!! I am so jealous!!! Deja doesn't bathe....she told me so. LOL I love your pictures of the Lacey pony! They say that all horse people are crazy, but I think us ay-rab lovers are just a little bit crazier!
---
Proud owner of ~Mana: 6yo Arabian gelding~Pearl 13yo Arabian~Danzer 14yo Arabian mare~ Tiny mini filly
My she cleans up really well!
She looks fantastic!!!!
Hmmm...now I've got that 'itch' to bathe every one...watch out horses!!!!
---
"The ideal horseman has the courage of a lion, the patience of a saint, and the hands of a woman..."