Lacey got a new piece of "clothing!"
---
I finally found her a breast collar! I've been wishing for one for a while because she's exactly the kind of horse that saddles dislike staying steady on. She's so round and hefty that even her massive withers and tightening the cinch to the point where she gets mad, don't stop the saddle moving all over kingdom come. Hopefully it'll be better once my saddle gets here since it's slightly narrower than the one I'm using right now (which is slightly too wide) but since I'm going to be riding a lot of hills and spending a lot of time in the saddle this summer, I figured, better safe that sorry, yknow?
She wasn't a huge fan of putting it on but once she had it on, she seemed to think she looked pretty snazzy.
Only problem with it is that it's SO neon pink that it makes the pad look dull! Oh noes! Hahahaha
Also, the vet came out today to do shots and Lacey was a dream about getting her shots! I was totally expecting her to be kinda funny about them since she was rather excited, but nope! She just kinda twitched and looked at the needle and settled right down. The vet also checked out her melanomas and told me that they were nothing to worry about at all, at least for the time being.
The vet was also TOTALLY gobsmacked about how old Lacey was. She kept asking, and double checking. It was really funny. But, I guess it's probably a good sign when a vet tells you you're doing wonderfully with your horse! Haha
But anyway, I only took one picture today (lame I know) but I'll supplement with a few of my favorite pictures from Tuesday. Heehee
Tuesday: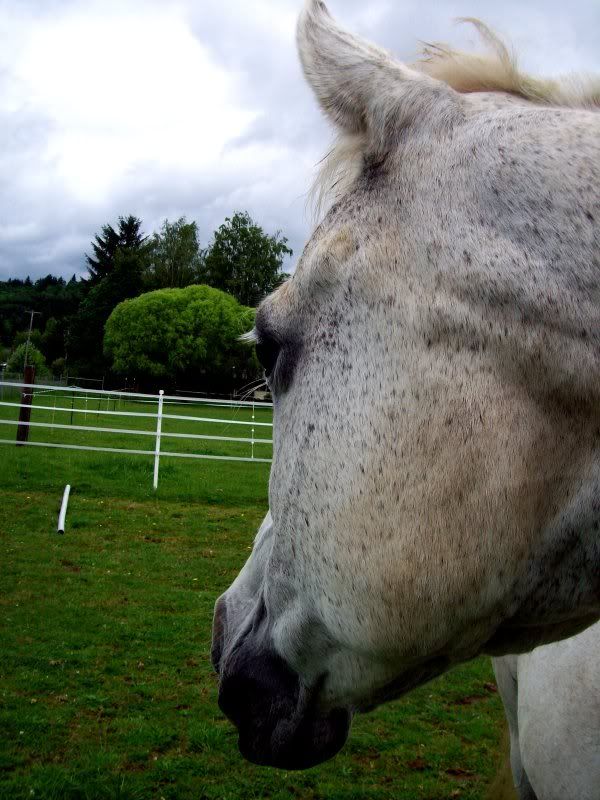 I really like this one:
Today, modeling her breast collar! Funny story about it actually, Lacey and I are eerily similar in a plethora of ways. Her blanket size is 69 (from the middle of her chest to her middle of her tail) and I'm 69 inches tall. We have a bunch more similarities that are interesting, but the one that was discovered today is that we both have broad shoulders! The breast collar is pony/cob sized (which should have been right since she never fits into horse-sized stuff) and she was on the second to last hole on both sides! The one between her legs had more holes left, but those shoulders! I was actually worried that it wouldn't fit. haha But it did, thankfully!
Doesn't she look thrilled? Heheheheh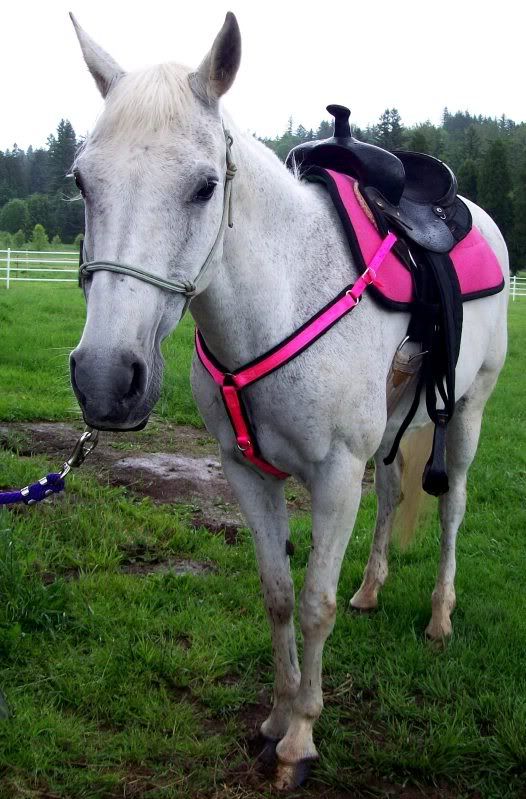 I didn't actually ride because it was pouring rain and I didn't feel like making Lacey work super hard after getting shots so I just made her model her new "clothes." I'm a GREAT horse mom. Haha
Then, I put her blanket on since she hates being wet, and turned her back out. She was a fan of that whole situation, I wonder why!
---
Fabio - 13 year old Arabian/Lipizzan gelding

~
Rest peacefully, Lacey.

Holy that breastcollar is BRIGHT! I love it!
So, how old is she? I knew she is old, just don't know HOW old.
I love it too! It's like hunting orange, only way better! Hahaha
She is 25.
---
Fabio - 13 year old Arabian/Lipizzan gelding

~
Rest peacefully, Lacey.

Absolutely love that second photo. It's so clear and the color is outstanding! I loooove the pink! where did you manage to find such flashy colors?!
Thanks M2G! I really feel like I'm finally beginning to figure out how to get the best out of my little poo-y camera.
I love the pink too! I think Lacey pulls it off very nicely. I don't know where the breast collar came from originally, I actually bought it from a member on here, CloudsMystique. I bought the pad on ebay. It's just a no brand pad that might be a little thin for some horses but it works well for Lacey. So, it was all basically luck of the draw. :)
---
Fabio - 13 year old Arabian/Lipizzan gelding

~
Rest peacefully, Lacey.

what a beautiful girl. Pink is her color
---
quarter horses.....simply the best
Wow, she looks great and certainly no one will ever miss when you walk by LOL. If she keeps getting wider, you can find a dog collar the same color and width and add it to your tugs just to give you some wiggle room.
I just LOVE the breastcollar!!!! And I'm a sucker for greys as well
---
June 14, 2012
Thank you ladies! Lacey gives you all virtual snuggles for being so complimentary. heehee

That is a GREAT idea smrobs! Thank you! I was kinda worried about that but not anymore! Brilliant!

As an added plus I just thought of, at camp the kids will be always able to id a wrangler if they're riding Lacey! haha
I think there is currently about a zero percent chance that we could happen upon anyone/anything without them seeing us first. Hahaha!
---
Fabio - 13 year old Arabian/Lipizzan gelding

~
Rest peacefully, Lacey.

Oooh...wow brightness, that's for sure!!! Love it!!! She looks great in pink!
---
"The ideal horseman has the courage of a lion, the patience of a saint, and the hands of a woman..."