Lacey got some new "clothes"!
---
Her two new blankets came today!
I'm pretty pleased with them both. They're both a little big in a neck hole area and a smidge snug over the point of her shoulder but that's to be expected since she has the weirdest neck/shoulder thing ever. Silly girl!
She also has scratches on all four of her feet. :( However, she seems to be on the mend now that I got her some antibacterial shampoo and now that I shaved all her legs. I was very proud of her, she was super well behaved about getting her legs clipped. I mean, she's basically going crazy mentally since I haven't really exercised her since Monday and she needs daily exercise to stay sane, but she didn't kill me when I came after her with the clippers! And, she stood veeeery still so I could clip. I was impressed.
In clipping her legs, I discovered that her back left one has a bunch of scars all over the fetlock joint and the pastern. O.o I know she had them when I got her (one is big enough to be relatively noticeable) but it's weird. They're on the inside of the joint/pastern but most of them look like scrapes, like somehow she dragged that area over something... One is probably a cut since it's a short, wide, line but the others look like scrapes... I wonder what she got herself into! Once the scratches go away I think I'm going to photograph it.
Anyway, these are her blankets. The green one is a lightweight and the red one is medium weight. The one thing I don't like about them is that they both don't have velcro in the front to help you get it buckled, but other than that, they're pretty quality for spending only $60 each! They're Weatherbeetas. :)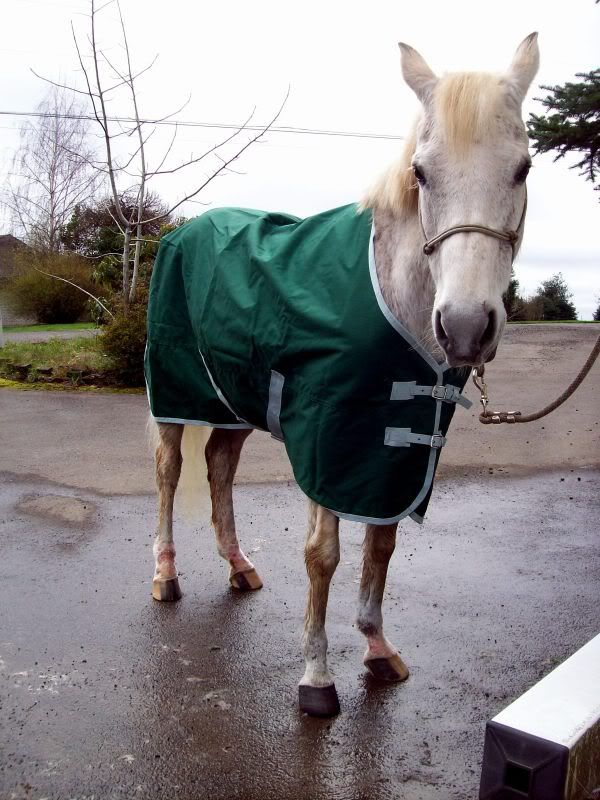 "Mah home is that way. I would very much like you to take me over there..."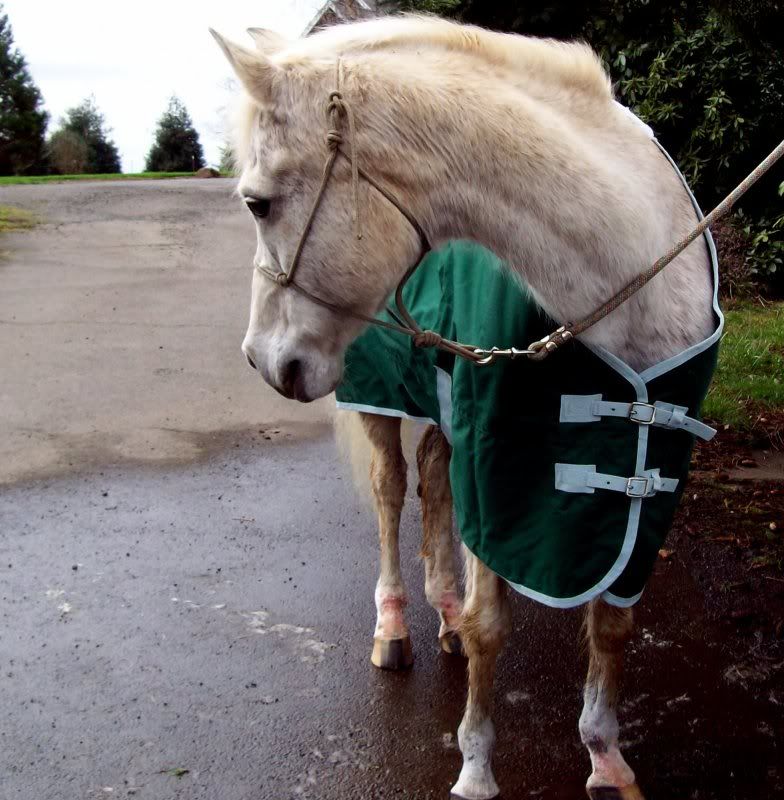 "...What?? You refuse?"
Note her gorgeous tail: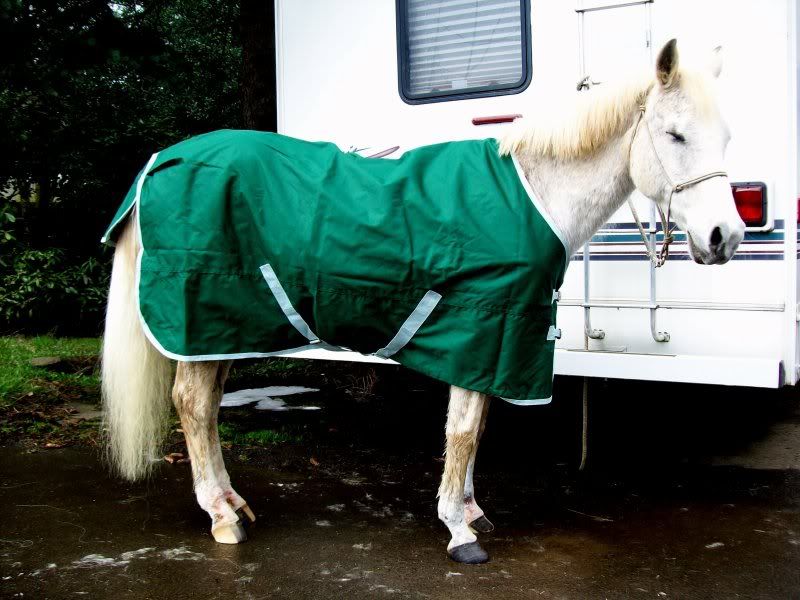 "What?? This blanket makes me look like a BOY!"
"Thas right, I went there."
"Maybe if I kind of arch my neck, I'll look my girly...?"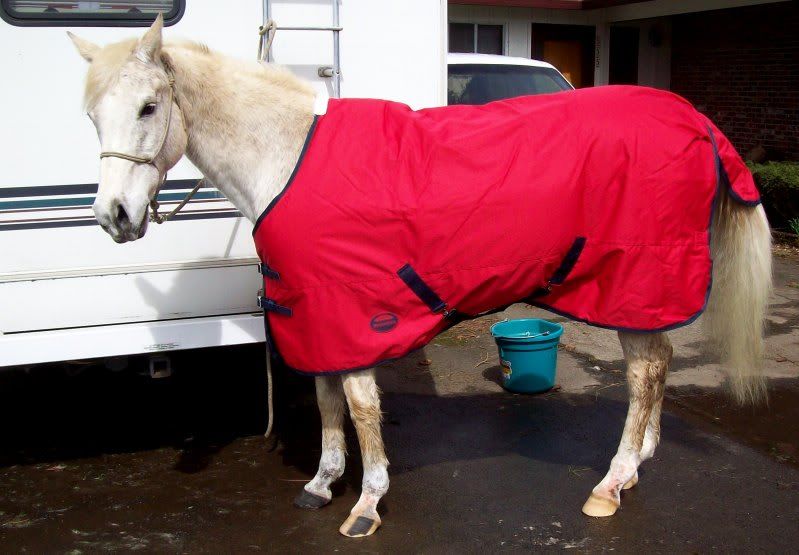 Cute face: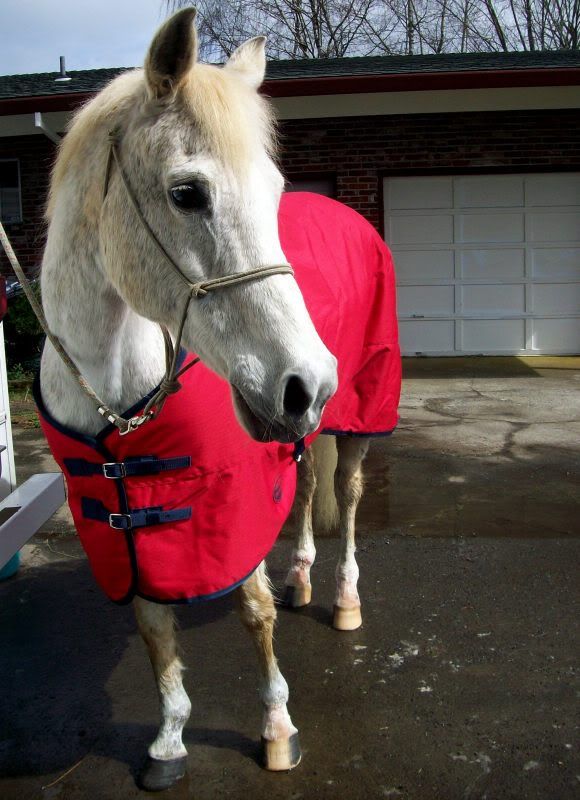 Also, disclaimer:
Lacey may appear to be tied to the ladder on the RV, but she is not for reals. Her leadrope is just wrapped around the ladder in such a way that it would immediately unwrap if necessary. Also, in the three years I've owned/worked with Lacey, she has never once pulled back, even when she's really freaked out. I know that that does not mean it will never happen but I feel pretty secure in thinking that it would take a literal act of God to get her to pull back.
Yay for being super ghetto! haha
---
Fabio - 13 year old Arabian/Lipizzan gelding

~
Rest peacefully, Lacey.

Cute pics, love the captions you have for her:) Love both the blankets too! They look great on her!!
Nice blankets! She looks very cute and girly, even in red
Naww! She looks adorable! They suit her - even the red one :) Her tail looks lovely and tangle free.
I love the Weatherbeta's. They are the only ones that Pumpkin has not totally killed :/
---
There is one principle that should never be abandoned, namely, that the rider must first learn to control himself before he can control his horse. This is the basic, most important principle to be preserved in equitation - Alois Podhajsky
What a sweetie pie. She's one of my favourite horses on the forum! She's got quite the tail on her!
---
Live to ride. Ride to live.
Hahaha. She looks so disapproving of the red blanket. She looks quite lovely in green though.

I hope her scratches clears up quickly.
She looks great in both of these!! shes so pretty too by the way :)
awww i just love lacy!

and wallaby i wanna add a suggestion on the possibility of the old scratches, my mare has some. from myself actually. she got intangled in a rope and got some severe rope burn on the inside of her pasterns, and it's left scars. rope burn always does on horses.. maybe thats it?
---

Baby, Sparta, Carmen, Henry, Hooch, Mercedes, Butterscotch
I'm very proud of her tail! haha It's super thick and nice, it used to be really nasty but I've braided+bagged it all winter for the last two winters so it looks much better than it did. The only problem is I think she finds her lady parts super itchy (I wash them alllll the time so they shouldn't be itchy!) so she basically itches out the very top of her tail every summer, leaving these nasty lil short pieces. :(
i love Weatherbeeta's too, they're the only ones that are relatively nice to her shoulders, other brands seem to expect her to have "normal" shoulders. Hah!
She does have quite the tail! When I got her I really had no idea of the sheer amounts of hair she has! Like, her mane and tail are basically a force of nature. LOL!
She really likes the green one. It's been warmer out lately, enough so that she's perfectly happy in the green/LW one and man, that color is growing on me. I went out there today to get her and I saw her with her "long" (it's only about 7-8 inches long but that's the longest it's been in about a year) mane and her long, thick forelock and I was like "who is that horse????" and then she nickered at me and I was like "
". hahaha
Me too. Her legs have been staying pretty dry and I've washed them with medicated shampoo 3 times in the last 3 days so I'm crossing my fingers!
I've seen rope burns before and this really isn't like that... I guess if it was "rope" like twine or something...but not any thick rope... I'll have to take a picture and share it. :)
Also, in case ya'll haven't seen enough:
Sleepeh poneh. (plus her cohorts, Bailey and Roxy)
Grazing in my yard after being "traumatized" by having her legs washed. She was really pretty good about it considering that it was 50 degrees out, hailing, AND she was having her legs washed with cold cold hose water! Poor baby.
And this is what she thinks of her new blankie: *insert very high, prim and proper voice* "No look is complete without the addition of a little mud!"
---
Fabio - 13 year old Arabian/Lipizzan gelding

~
Rest peacefully, Lacey.