The Lacey monkey-girl!
---
These are pictures from this last week.
She's been really seeming to enjoy being at my neighbor's house. I think maybe I'm less high energy at home and so that translates into her being more manageable because she basically copies every emotion I'm feeling on the inside, on her outside.
We've been going for long hand walks along the roads in my neighborhood and she's been loving it! She loves exploring to begin with and the fact that my neighbor's all love her and come out of their houses to pet her when they see her, all kinda combine to create Lacey's dream life. Haha!
And! I got her a fancy-shmancy blanket for this winter. O.o It's a Pessoa (
The Pessoa Tundra H/W T/O Blanket and Heavy Weight Turnout Horse Blankets | EQUESTRIAN COLLECTIONS.COM
) and I'm pretty excited about it. It looks and feels like there's some quality going on there. Also, she looks quite fetching in it, in my opinion. So, of course, there are pictures of her trying it on. Haha
Picture time!
Fog!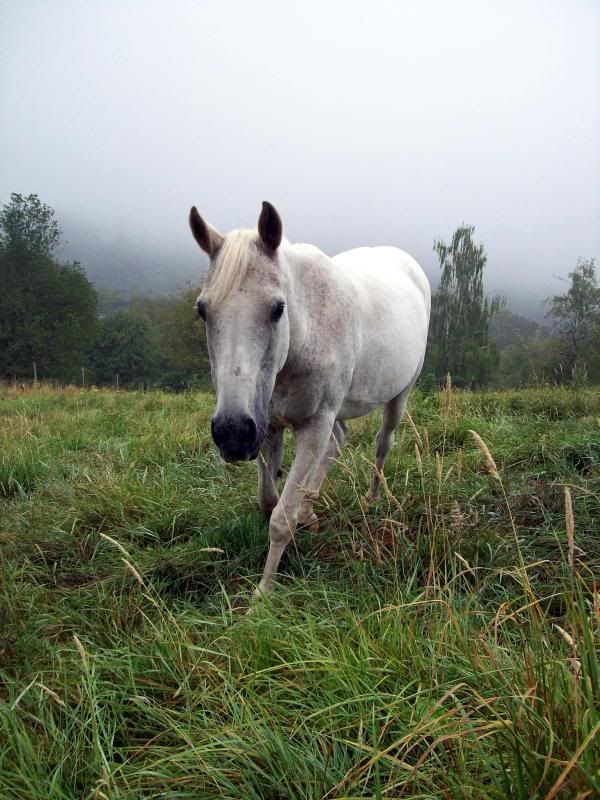 Here's the full body blanket shot (my camera was set wrong and so it got super mad about Lacey being white, but then once I fixed the settings I forgot to get another body shot)
"Ah, yes... I do looking quite fetching, don't I?"
"Paparazzi already??"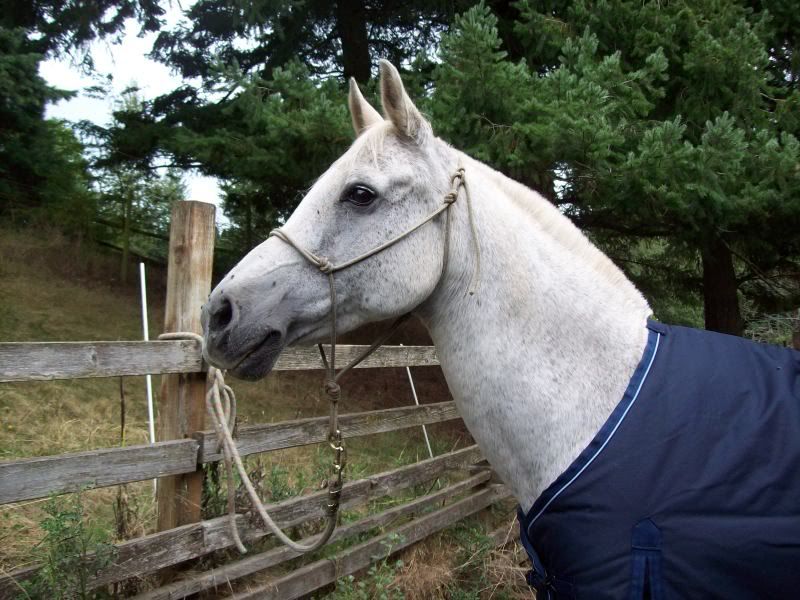 "It's becuase I just can't help myself! You understand, don't you, dahling?"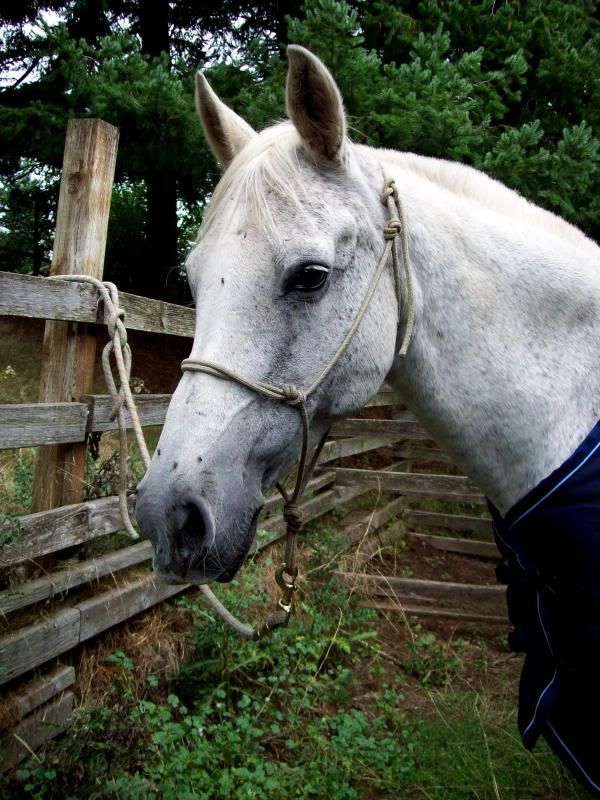 "Being beautiful is SUCH tiring work!" (Also, she has the best cheeks, I love them, they're so sturdy. hahaha)
Doing the model walk off to her buddies... She's so funny, her booty shakes so much when she walks that her tail bounces like crazy. Aslo, check out the fully body, tail included shots, her tail looks long there, but when she holds it up it loses like a foot of length! That girl has THE LONGEST tail bone EVER. Hahaha
Happy girl
Her current favorite grazing spot:
"More pictures?"
Mah kitteh! His name is Booth, like Seeley Booth from "Bones."
---
Fabio - 13 year old Arabian/Lipizzan gelding

~
Rest peacefully, Lacey.

I love love love the black and white photo- amazing!
---
"Equine-facilitated therapy employs a form of biofeedback for practicing self-awareness, emotional management, and relationship skills that human role-playing exercises and discussion groups cannot begin to access." Linda Kohanov (The Tao of Equus)
Your girl is so gorgeous!!! I am an arab lover so i think she's super perdy! Also love the scenery. Always wanted to visit the very north western states! So pretty up there with the mountains and all!
The blue looks great on her! look at all that grass! that is one happy horse!
Lacy looks so content in her new home! What a classy old broad. <3 her
Aw! She's lookin good as ever! I agree, the black and white picture looks beautiful.
---
Lettin' the cat outta the bag is a whole lot easier than puttin' it back. -- Unkown

Thank you ladies!
She's lucky she's pretty, otherwise, on days when she decides to act like an untamed wild mustang (like today), she would be much harder to love.
I love the scenery of the Northwest too! I'd prefer if it were a bit drier so that one could ride more in the winter, but if it were drier, everything would probably be a lot less attractive looking in general which would basically be a bummer...
Funny story about the place I'm keeping Lacey: that's actually the place where I petted my first horse, ever, back when I was a wee tot! So it's kinda like we've come full circle or something...
---
Fabio - 13 year old Arabian/Lipizzan gelding

~
Rest peacefully, Lacey.

Second to last picture is amazing! You spoil her, you know you do.