Lacey! More pictures of your "favorite" geriatric pony! :D
---
(I had trouble coming up with a creative title... hahaha)
Anyway! Lacey's happy. Basically thrilled to be alive. On Tuesday we rode down my hill into the neighborhood below and on to the cemetery beyond that. It was great. Actually, I wrote out a tale of our adventure on another thread so I'll just copy and paste it here. It was super funny.
Lacey and I went out for a ride on Tuesday and we got over to where 4 different roads all meet. We usually turn to the right to go on the easiest to get to trails, but today Lacey was really pushing for going straight (we've never gone that way before since it's a lot more riding on the road to get to the trails) so I decided "what the heck" and let her go straight. After a bit we got to the trails and once we reached the end of them (maybe half a mile down) I turned her around to go home. Well, we got about halfway back up this trail (towards home) and she started acting weird so I had her stop. When we started again, she immediately turned around (I let her because it's amusing to watch her mind work) and headed back down the trail. She maneuvered around the gate at the bottom of the trail and walked straight out into the neighborhood there. I was basically crying, I was laughing so hard. She was being all weird becuase she wanted to look at the neighborhood! Silly girl.


She didn't want to go home the entire time! She just kept pushing to go farther. By the end I MADE her turn towards home because I knew we'd be hitting the darkness and the edge of her fitness level by the time we got home.
She did really great, especially for never having seen that neighborhood before, ever. She really likes neighborhoods, I think they're one of her favorite things.
It was also great because by the time we were going home, school buses were going around dropping kids off and the kids got a HUGE kick out of seeing us. Also, I was impressed, she didn't bat an eyelash when the school bus had to go past within 5ft of us. O.o I was scared and she so wasn't! Haha
Also, a mom who's daughter wanted to take riding lessons stopped us and asked if I gave lessons and since I do, I gave her my number and all that! So I even got a prospective client! It was great.
Anyway, picture time!
Backlit mohawk poneh!
This one makes her neck look ridiculously skinny. O.o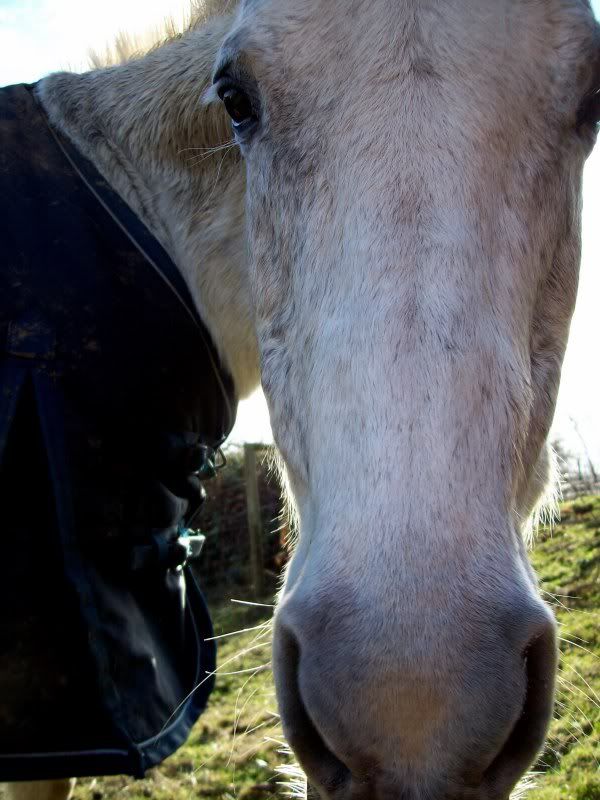 Sleepy old lady.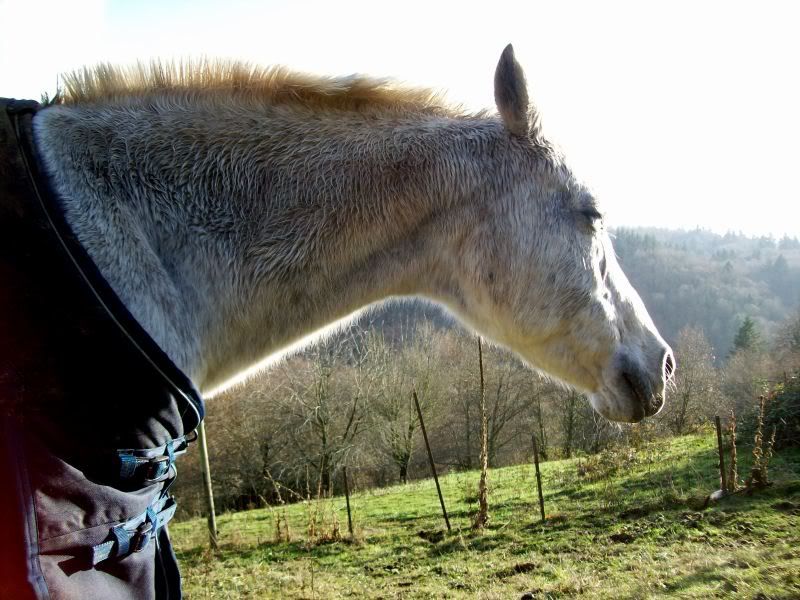 Today:
"You came to visit me?"
"Did you bring me yummy things?"
"snuffle, snuffle" *is mobbed by poneh*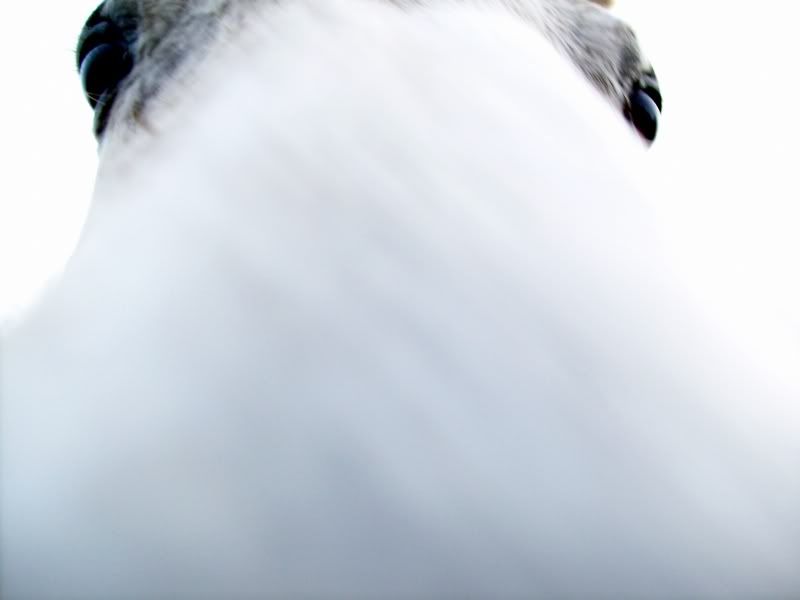 "Apppppplllllleeee! Yummy!"
(she eats her apples very carefully, always in at least three bites. I have to hold it for her so she can take her bites, if I don't said apple will be shunned)
"Omnomnom"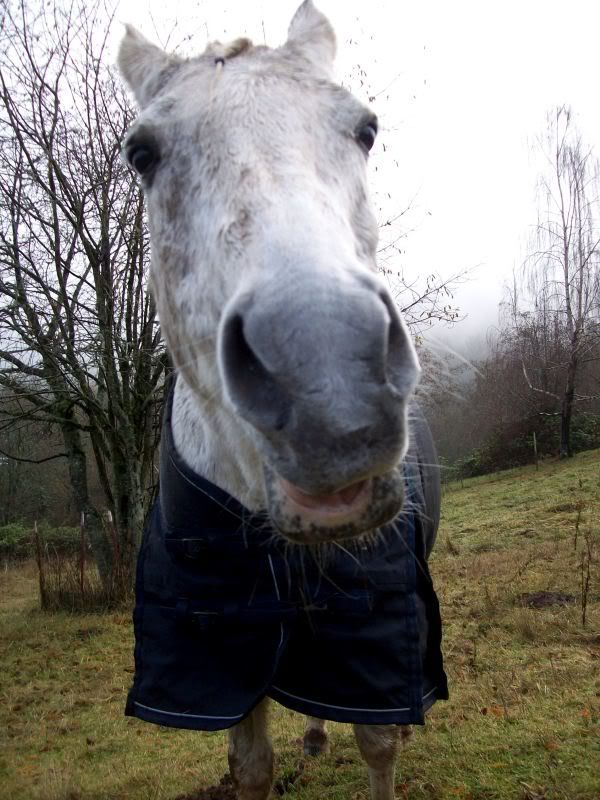 "More noms for meeeee?"
Then, she wanted to show off her tail bag, that I made for her. It's the one tail bag, ever, that she is fully unable to get out of. It actually wasn't hard to make it, I thought it would be harder.
Then I lunged her and it started raining. She was displeased, to say the least.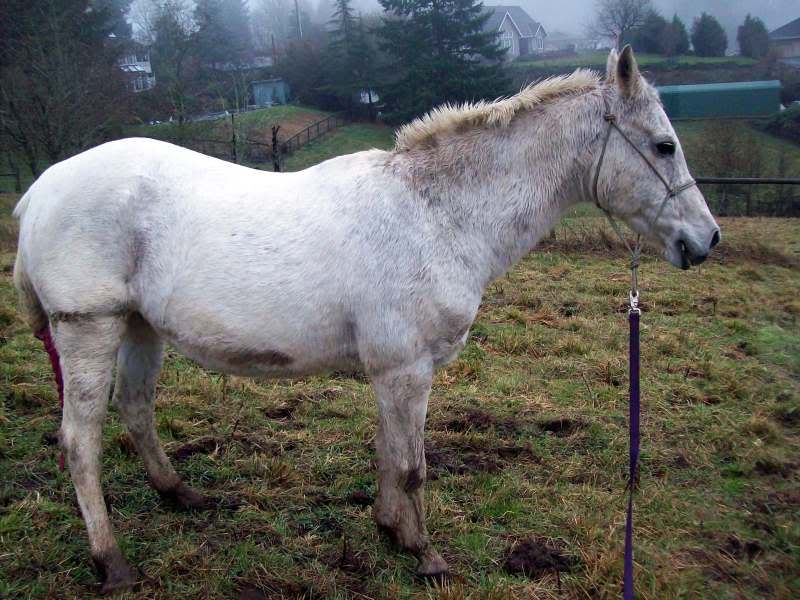 And a giant bird that was in a big tree on the edge of her pasture. I have no idea what it was, but it was huge!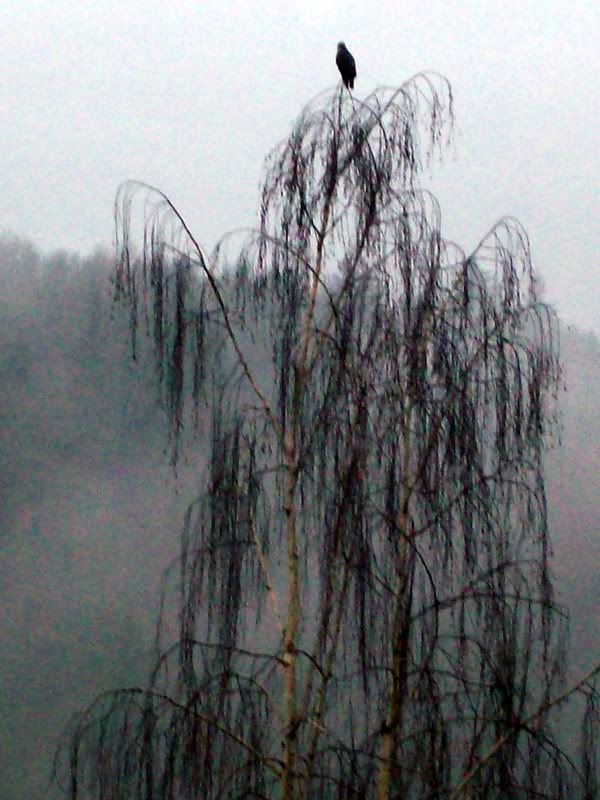 Thanks for looking!
---
Fabio - 13 year old Arabian/Lipizzan gelding

~
Rest peacefully, Lacey.

Lacey is adorable! Aren't you lucky!
adorable!!
---
RIP Minnie, 1981-January 15, 2010
RIP Maggie Mae I miss you
Heehee, too funny! Guess Lacey knows her way around town.
Love the photos! She is such a cutie.
She is the most adorable horse I have ever seen!
---
Tango - 6 yr Sorrel Quarter Horse Gelding
Corn - 8 yr Gray Quarter Horse Gelding

Gorgeous pics! She's so expressive lol!
---
Horses are like therapy ~ and almost as expensive
Thanks ladies!
Her adorable-ness gets her in trouble sometimes though, I mean, how can you discipline a face like that? Haha!

My next horse is going to have such big shoes to fill... I already kind of feel bad for him or her. They're going to have to be adorable/handsome, sensitive, sensible, sane, steady, hard working, athletic, comfortable, have a fast walk but at the same time be willing and able to walk at a snails pace if necessary, never buck, ever... That's a hard to fill list! Poor horse! :P
---
Fabio - 13 year old Arabian/Lipizzan gelding

~
Rest peacefully, Lacey.

Aw yay! I love love love seeing miss Lacey-girl! Glad you trust her like that too! Bella use to dictate where we would go on trail rides..... although I do not suggest it all the time, she got us lost once.... that wasn't fun lol

It's great that she is showing incentive to keep going... means 1) she trusts you and enjoys your company at least a little lol and 2) she is feeling stronger and healthier! Yay for Lacey :) I am sure Bella will be happy to hear her buddy from across the web-world is doing good and having fun with her two-legged friend hehe
---
♥ Gypsy gold does not chink and glitter. It gleams in the sun and neighs in the dark ♥