Lacey "playing" in the sunshine!
---
I guess she really wasn't playing, but she definitely was feeling good today. It was really nice to see. She was offering to canter when I was lunging her on the line and I didn't have to push her and push her to keep her cantering for more than one circle around me. Good poneh!
Anyway, so I was messing around with the preset settings on my camera because the prettiest light in the arena was coming from behind Lacey and on the "auto" setting everything was getting painfully washed out. The "backlight" setting didn't really help so much but I got some nice pictures. That's one thing I hate about my camera, everything gets washed out very easily when it's sunny. I've tried changing the settings all over the place and nothing helps. =/
It was 60 degrees today when I was hanging out with Lacey.
SIXTY DEGREES!!! It was GREAT. I would have probably taken my hoodie off it hadn't been so dang windy. I actually left her blanket off when I turned her back out. I'll probably put it back on tomorrow morning when I go out (since I won't go back out until Monday) but I figured that the old woman might like some nakey ime in the sun. Heehee
Pictures!
She's looking a little ribby. =( But I guess that's kind of to be expected when she's in a field with young PIGGIES. haha She's not losing weight, just maintaining that so I'm not tooooo worried.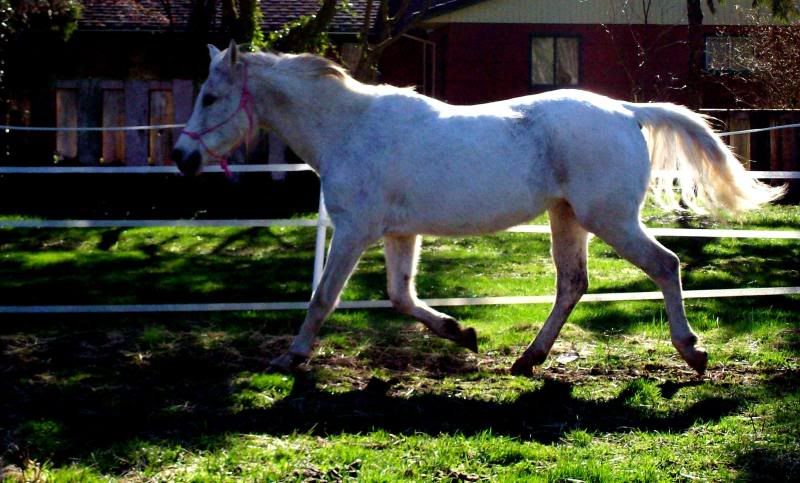 Her tail looks like it's on fire!
"I can haz sunshinez!"
I thought this one was kind of cool, how half her face is REALLY bright and the other half is really dark...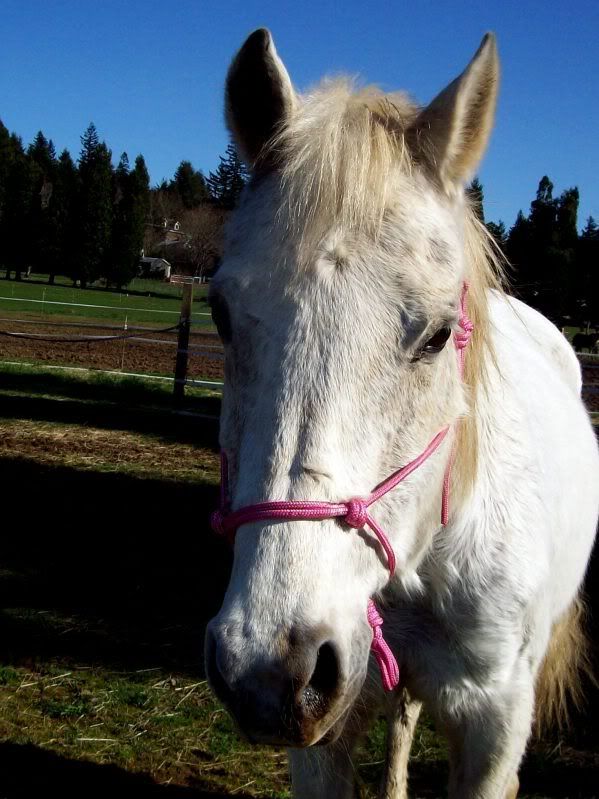 I love how she practically has her back legs crossed over eachother in this one...And then her facial expression like "What? I'm normal! I swear!"
Snoozing in the sun...
"You want me to wake up? Are you kidding?"
And then this picture. It's my complete favorite, the one that made that whole photo session completely worth it. She looks like an angel!
Somehow, I caught her in the best part of her stride, in the middle of the sun AND my camera didn't do weird things! Yay!
---
Fabio - 13 year old Arabian/Lipizzan gelding

~
Rest peacefully, Lacey.

Hey!! It's my favorite pony on HF! Little Lacey!

That last picture is AMAZING!!! It's perfect. Good job!!! Her stride looks awesome and her ears are perked. The sun is in the perfect spot. Too perfect!
---
"I was eight years old, and I've never forgotten her face when she told me about watching you ride. She told me she saw you, and your horse was dancing in the moonlight."
-- A.C. Crispin's "Sylvester"
Started
Join Date: Aug 2009
Location: In the barn whenever possible.
Posts: 1,910
• Horses:
2
Lovely pictures!!
---
"Riding a horse is not a gentle hobby, to be picked up and laid down like a game of solitaire. It is a grand passion. It seizes a person whole and, once it has done so, he will have to accept that his life will be radically changed." -Ralph Waldo Emerson
60 DEGREES! You lie!!! Not fair!!!

Lacey looks gorgeous as usual!
B'aww, Lacey is adorable as always. Love the pictures, especially the last one.
She seems to be enjoying the warm weather.