Lacey's new blanket! =D
---
I thought it was going to be more purpley but instead it's dark gray green and pinky red. Oh well. I still like it.
Pretty pony plus blanket: (the drop length ended up being a little long for her but it fit everywhere else so I'm not complaining and it's really snuggly)
"Are you kidding me? It's 70 degrees and I'm wearing a mid weight blanket? I seriously could care less that you think it's 'kyoote' or whatever."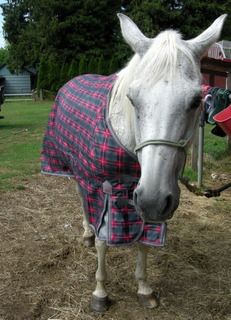 "I will not hesitate to call animal control on you. Big meanie face."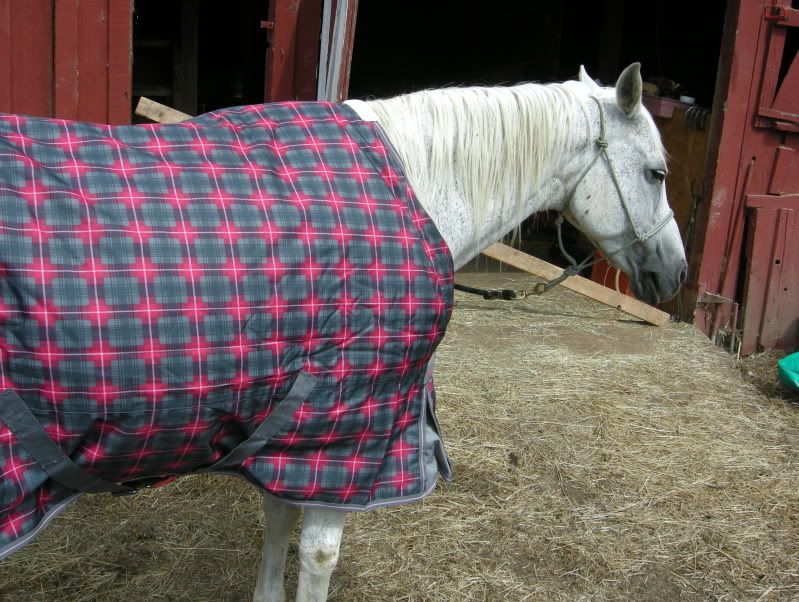 Yep. Wallaby the animal torturer. Lacey hates me. =P
---
Fabio - 13 year old Arabian/Lipizzan gelding

~
Rest peacefully, Lacey.

I LOVE it! She looks great!!
---
Haha, I tried a heavy turnout on my boy (with a neck) in 80 degree weather. He was NOT pleased

Very pretty, I love the colors
Hehe..So cute I LOVE the captions :)
---
Blue Eyed BLY~ 2/3/03
Calico Sonny Stockman x She's On Cloud Nine
Aww! She looks so cute in that! Love the captions by the way :)
---
Awww, so cute! She looks SO impressed!! haha. I love the blanket.
---
RIP Minnie, 1981-January 15, 2010
RIP Maggie Mae I miss you
Thanks guys!
I'm really glad I was able to find a blanket in her size that was cheapish and pretty! It was iffy for a bit there.

1dog3cats17rodents- I can only imagine the expressions on your boys face. hahaha
---
Fabio - 13 year old Arabian/Lipizzan gelding

~
Rest peacefully, Lacey.

the rug's lovely and it looks like it fits her shape really nicely !!
good buy indeed !!
Daw! It's adorable! I need a blanket for Crick, too.
---
"I was eight years old, and I've never forgotten her face when she told me about watching you ride. She told me she saw you, and your horse was dancing in the moonlight."
-- A.C. Crispin's "Sylvester"
i love the way the colors match her complexion! i think you did a great job picking it our for her, and the captions are funny, as always XD