Latest Show Pictures
---
This is Boo, the multi-talented saddlebred (usually running barrels) taking a stab at an open w/t/c class at a local show - we won one class and were reserve in another:
---
kickshaw
Justin (qh/tb)
Boo (asb)
Wow, he's beautiful! Regularly a western horse??
How come no helmet? :P
---
"'For I know the plans I have for you,' declares the Lord. 'Plans to prosper you and not to harm you, plans to give you a hope and a future'" ~ Jeremiah 29:11
Quote:
How come no helmet?
haha...because it was 95 degrees with 95% humidity...and the show is soooooo local that some people actually show in shorts
---
kickshaw
Justin (qh/tb)
Boo (asb)
haha people show in shorts! now thats a sight. haha
---
Awesome!
You guys look fabulous! :)
thanks
, and yes, he's usually a barrel horse: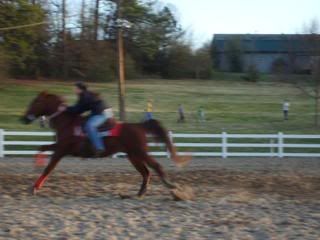 I loves him!
---
kickshaw
Justin (qh/tb)
Boo (asb)
He's so cute! You guys look great.
---
Ride more, worry less.
its like he KNOWS he looks good!
like hes saying "yea! thats right! look at me cause i'm the best one in this show!!"
He sure looks good! He looks nice in both sets of pictures! Versitile horses are so nice!
Waw you wouldn't think that was your first show! You guys looked good! You should consider entering more english flat classes like that. He looked like he really enjoyed himself.

Congrats on the placings!