I actually don't have any photos of my first pony on my computer, and no printer to scan them with
---
"The ideal horseman has the courage of a lion, the patience of a saint, and the hands of a woman..."
I grew up riding the nastiest ponies that I had to share with my older sisters. At five, I got my first pony of my very own. A cute welsh mare that was SUPPOSED to be under saddle. Well, she wasn't and we had a tough start with her running away with me regularly. However, we taught each other and became BEST friends!
When I first got my own pony....Moonshine
ponies weren't my only mount (I had such a crush on this boy
Later, my sisters and I were members of a saddle club (the outfits). We did gaming gymkhanas. The little buckskin on the right was Florida State reserve champion pole bender. The chestnut next to him was Florida State champion barrel racer. The horse I am riding was borrowed. My horse wasn't allowed to game. My coach forbade it..LOL.
The light chestnut on the far left was my sisters crazy half arab. Not good for much of anything beyond constantly bucking her off.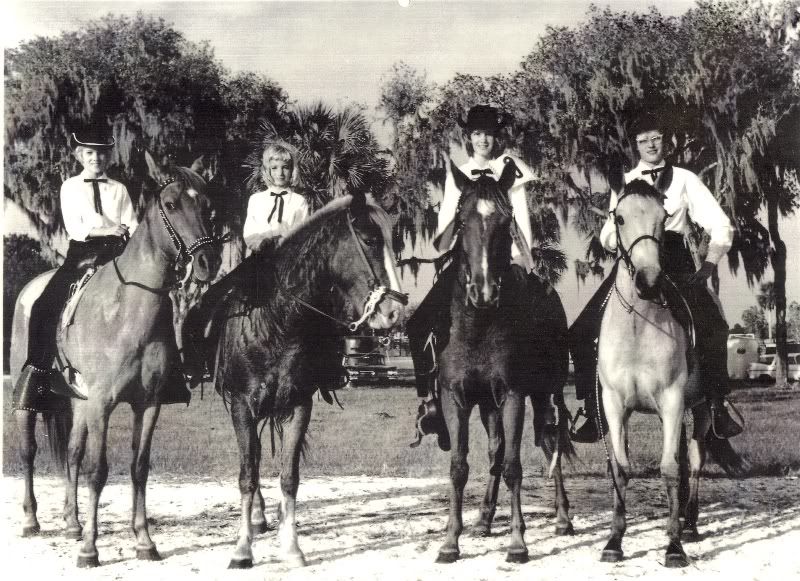 ---
Last edited by Allison Finch; 05-14-2012 at

01:54 AM

.
Quote:
I actually don't have any photos of my first pony on my computer, and no printer to scan them with
Take a picture of the picture?? lol
---
"Strength is the ability to use a muscle without tension"

You asked for pictures...
---
**I did edit photos smaller- it takes photobucket a bit.
Allison Finch- I LOVE your face in that first picture!! That picture does say a thousand words :)
I loved everyone elses photos too! What a great thread! I wish I could post my old riding photos, but the only ones I have are from when I went through a perm stage. And no one wants to see that (trust me)
I still have my first horse (100% all mine) but leased a couple before him. It was a quick decision to buy my horse- but I couldn't have asked for it to turn out any better. I'm pretty convinced me and this horse were made for each other.
I got him when I was 16 (best sweet sixteen present!) He was a chubby, naughty (actually he was good for the first week, and then the naughtiness abounded) boy who had spent the last three years on pasture and forgot most of his 'training'. I still remember the troubles we had with leads, going into the middle and everything in general.
When I first found out he was mine (at his old home) See the worried look in his eye? ;)He also looks a LOT shorter than he is... haha he's a full 16.1 hands (and honestly I'm only 5.5', the angles are all messed up)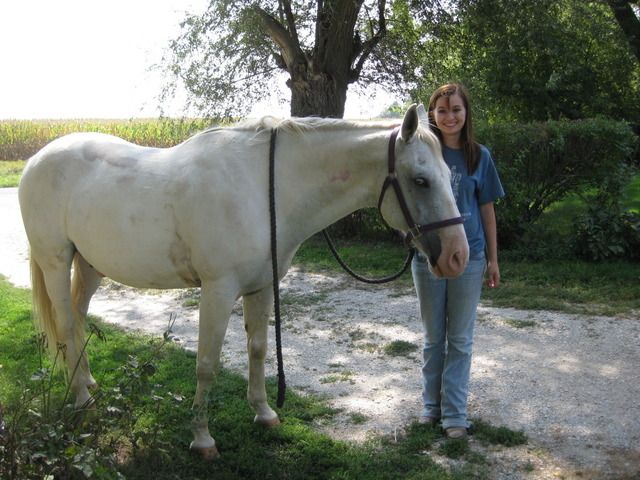 When I first brought him home!
I was starting to realize what a pain in the butt I had gotten, but I still loved him!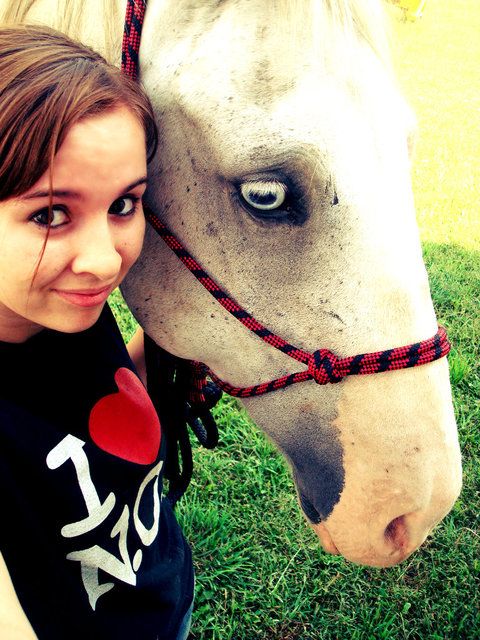 When I first got him, my first ride was bareback in a rope halter. My brother saw and wanted to try too. One of the first signs that I had bought a winner was that he put up with all of this! :)
After months and months of battling this horse in riding with my trainer, I had a fallout with my trainer/BO (NEVER good idea to have that combination) and moved to a new barn where everything began improving in leaps and bounds. I was always told saddle fit didn't matter as long as, "he doesn't buck because of it" (had to ride in an english saddle that sat on his withers... I did lots of bareback against this instructors advice) and that to get a horse's head down you need to "karate chop" their face with full force (they meant extreme see-sawing, can't make this stuff up). Needless to say, both me and my horse were happier!
This is about the time I began to appreciate my horse and we began to actually bond instead of fighting against eachother all the time. My nieces and nephews LOVE/D him! He would always jog his slowest with a little one on his back :)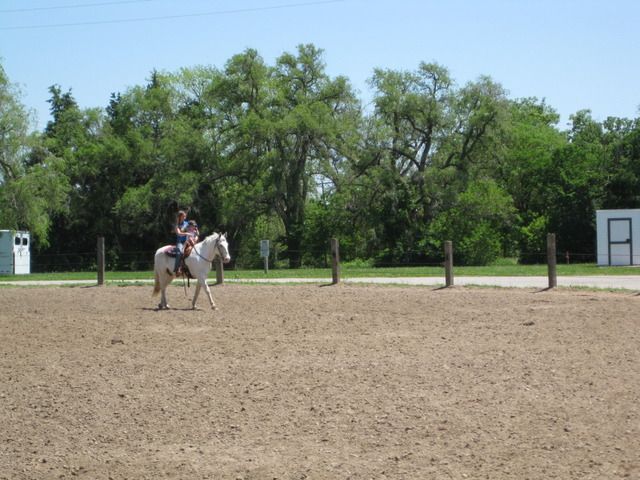 Then over the years we got to where we are now. I couldn't love this horse more, and I like to feel that it's mutual.
Sometimes he gets annoyed at me...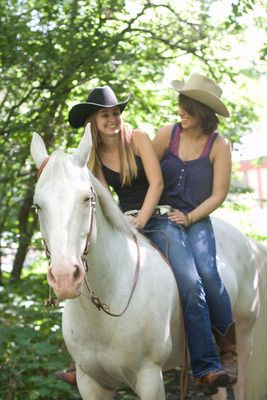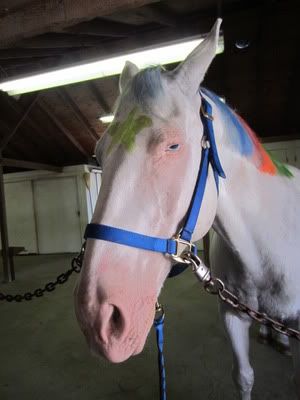 But he still loves me! (After all, I am the food woman, heheheh)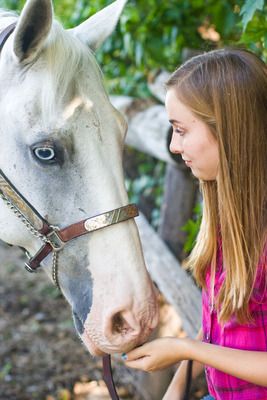 And I will always love him :)
I'm blessed to have this goof forever :)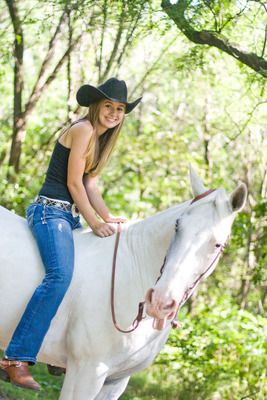 ---
Take a ride across the badlands
Feel that freedom on your face - Breathe in all that open space
You'll understand why God made -Those fly over states
I love your horse's ghostly eyes!
Quote:
I love your horse's ghostly eyes!
Thanks, they were always my favorite too! Unfortunately he only has one left now, but he's just as beautiful :)
---
Take a ride across the badlands
Feel that freedom on your face - Breathe in all that open space
You'll understand why God made -Those fly over states
Dylan
---
My first and current horse
This is my first "real" horse and my horsie love. I only had him about a year but he taught me sooooo much and built my confidence back up. I had to make the hard decision to sell him because he was the hardest keeper I knew and only 6 years old. I still get rude remarks from people on my decision to sell him but it was in his best interest I just couldn't keep the weight on him. I still LOVE this boy and he's fat and happy now :)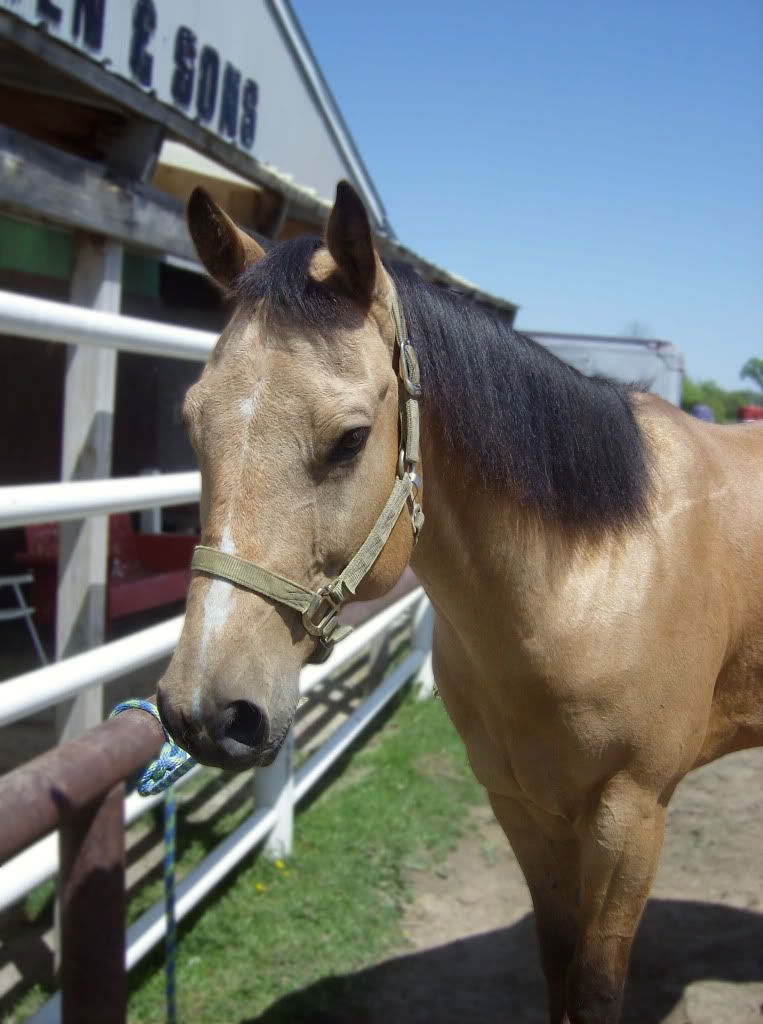 Posted via Mobile Device
This is my first horse Phoenix, i've had him for almost 6 years now, he'll be 11 in June.
Sometime he looks respectable and well behaved..
photo (6).jpg
Other times, not so much..
photo (7).jpg