Quote:
Thanks, they were always my favorite too! Unfortunately he only has one left now, but he's just as beautiful :)
What do you mean he only has one left???
---
I love my horse -Cisco!!
All horses deserve at least once in their life to be loved by a little girl....
Quote:
What do you mean he only has one left???
I won't go into all the grizzly details- I have a couple threads about it if you want to check them out. But we had a trail riding accident a couple months ago that resulted in my horse loosing an eye :(
---
Take a ride across the badlands
Feel that freedom on your face - Breathe in all that open space
You'll understand why God made -Those fly over states
Im so sorry....i'll have to look at the threads you posted.
---
I love my horse -Cisco!!
All horses deserve at least once in their life to be loved by a little girl....
My mare Gypsie was my first ever actual horse... She became mine when she was around 8... she's 18 now.
---
Horseshoe Loop Farm: Home of Gypsie (22 y/o TWH mare), Dakota (10 y/o TWH gelding), Codie (18 y/o Walkaloosa gelding) & Harlow (9 y/o APHA mare)
This is my first mare that I got, it was only a few years ago, but she was my first horse that was actually mine. I had one a few years prior when I lived with my parents, but she was more of a family horse. The first picture is Ladybug, she was 25 years old when we bought her and lived another 5 years. She was our family horse. The rest of the pictures are Ninja Barbie, my first mare that I bought. She reminds me a lot of the two that I have now. I have a thing for the red off track thoroughbreds
When I got Ninja Barbie, I couldn't even halter her. She spooked at everything and after a month of hard work, she followed me around like a little puppy. She was a great horse for me to learn with. She really showed me how to build trust between rider and horse.
This was my first pony. :) About 12.2 hh.
His name was NFB King C.O.
He is about 22 years old in these pictures.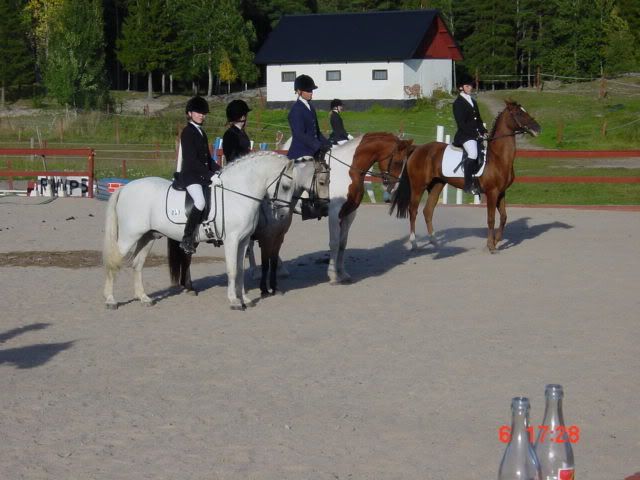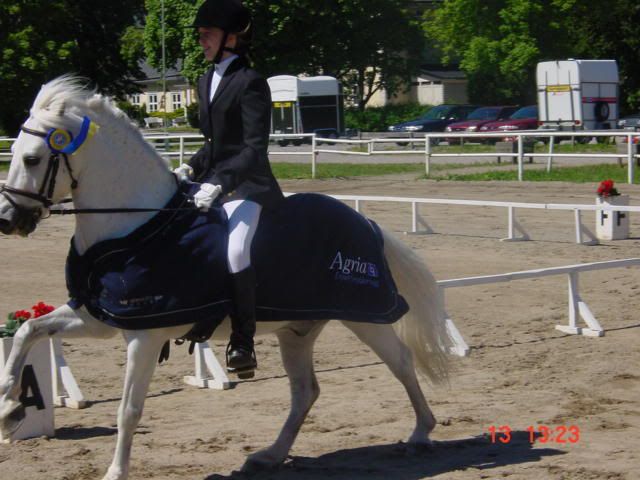 And here he is about 30 years old.
I just got my first horse at the start of September! I started riding when I was nine, so seven.. almost eight years, and I've been leasing for the past four. I leased an older Quarter Horse mare who first showed me some of the responsibility it takes to own a horse, and then for the last two years, I leased a green-broke Quarter Horse gelding. I did most of his training and he's now an incredible horse, he's had an insane amount of interest with a lot of prominent trainers in my province inquire about him. He's English trained but definitely has that natural Western "vibe" so to speak.
Onto Indie! I decided that I wanted a Thoroughbred mare, preferably, I wanted the horse to be under eight.. but I made a compromise there, as Indie is ten. She'd been out of work for a couple years and had only been being ridden for a couple months, although she was still incredibly stiff and needed
lots
of work, which she still does. Well, against my better judgement, I decided to go down and see her a second time. She was sweet and charming, and had lots of potential. Needless to say, we ended up buying her and she came home a couple weeks later once we got x-rays done and had everything finalized.
Just in the past month (got her home on September 7), she's gone from running from leg pressure, not being able to walk on a loose rein without breaking into a trot.. to a horse who happily walks along on a loose rein, side-passes like she's done it all her life and catches on
very
quickly. She gets worked up easily but we're working on it! I've kept a progress journal of every ride and I love looking back on it. We've bonded so much this past month (it seems like it's been so much longer!).. we had a rocky start but now we get along great. She's hilarious and cracks everyone up with her personality, she's incredibly quirky. When she gets too relaxed, her bottom lip will sag and she'll start drooling.. I also like wigging her lip around.
IMAG0329
by
Right Cute Cali
, on Flickr
---
Forever loved, never forgotten; my beautiful Indie. <3 Hoofprints on my heart.
Here is my first horse with my little brother. He was such a good sport hacking the little guy around lead line. This picture was taken 7 years ago when I first got him.
---
<3 Dallas, Dakota, and Shaymus <3
RIP Shaymus 8/16/13
I have three horses.. but Camo.. Is my100% horse. I paid for her myself:) So if my parents wanted to sell the horses.. well, he could sell her.. but I WOULD GET THE MONEY.. but thats never happening.. anyways here she is
I bought her from my dad. In the first place we bought her from a gal that rescued her. Camo's mom was skin and bones pregnant and not expected to live. The gal thought it would be easier on the mare if she was out on pasture instead of in a stall. And hay was getting expensive so she didnt have enough hay to be able to bring a mare and foal up to healthy weight. Camo was born.. and then I bought here 2 weeks after:)
First picture is her at 4 months.( she was born july 13) and the second picture is her a couple weeks ago.. at 1 year 3 months:)
---
http://www.horseforum.com/member-journals/sunnys-thread-160521/ << read about Sunny and I. Our journey