Let's see those rescue horses!
---
I'm not sure if a thread like this has been this already, I searched and couldn't find one so thought it would be okay to start my own.
Let's see your rescue horses, before and after pictures!
I really love the idea of rescuing a horse and hope to be able to do so in a few months.
---
passion is when you put more energy into something than is required to do it. it is more than just enthusiasm or excitement, passion is ambition that is materialized into action to put as much heart, mind, body and soul into something as is possible. // <3 starlite - dream - lady - georgia
I dont have any before pics but here's my boy :)...Rescue horses are great! Hero is an ex racehorse and was saved from slaughter. Absolutely love my first horse and wouldn't trade my limited trained thoroughbred for the world! Hero <3
---
Chad Barnes 6-16-85~7-22-13
Hero Act - Thoroughbred Gelding ~ Gunner - Quarter Horse Gelding ~ John Deere - Mini Gelding
Here is a work in progress right now. We call him Rascal and have no idea what breed he is.
When we got him:
Last monday - which makes it week 5 here:
---
All I pay my psychiatrist is cost of feed and hay, and he'll listen to me any day!


Six months ago (should have taken more photos!):
Look at all that hair! He had about three inches of it. It hid a lot...for instance, the space between his jowels...you could easily slide four fingers standing upwards into that space and not touch anything. His face was a skull.
Definitely not the worst case I've seen, but he was getting there. For a long time he couldn't even trot for two or three minutes without getting winded. He was taken from behind a foreclosed home.
Recently:
All he needs now is (a lot ) of muscle.
I don't have any great "before" pictures buuuut here is my adopted horse before and now, months later, in his transition period.
I adopted him for free with grown out feet and toes, seriously rotated feet and what we worried was heaves. He was grade 3 of 5 lame, had a lack of muscle and his owner had long since abandoned him.
Now he is spoiled and has attention and vet care and love and his feet are on the road to recovery. He no longer staggers around and everyone around the barn is blown away by how well he is doing
---
Just got her today
---
This is Cherokee now, will post pics by the day prolly! She needs alot more weight put on her, and her feet trimmed plus a hole lotta love!
---
Last edited by darkpaloma; 06-20-2010 at

11:59 PM

. Reason: forgot to put name in
Those are outstanding horses guys. Show the world that your rescues are absolutely stunning! beautiful horses!
I wish I had some of willow when we first got her, but sadly I don't.
Try to picture this chubby thing as a yearling with ribs sticking out, a missing eye, and covered in scars and blood. This is her as an 8 year old a few months ago :)
Barney, you can also see others on my website...:)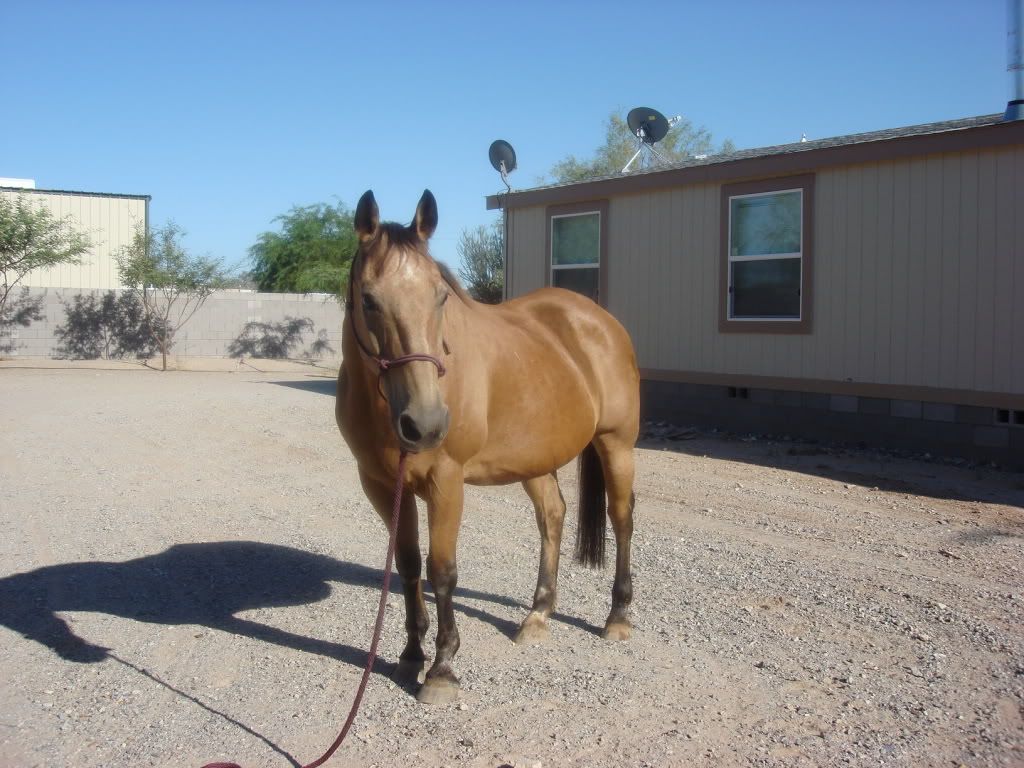 1 year later.his bcs was a 1, near death, very sick, and had all kinds of issues..hes my beauty now, just recently got sick, so he lost alittle but is still doing great, but he still has diarrhea..I hate it....
Wow! Everyone's horses' transformations are amazing!!!
Are PMU's considered rescue? He was rescued from slaughter in Canada and I bought him.
I don't have any pictures of him when we got him as a frightened, scrawny, 14.3 hd., 11 mo. old with wads of winter coat on him (computer crashed, hubby has yet to figure out how to retrieve the pictures!) but here's one of us when he was 2 1/2. My head was still taller than his back!!
Now he's 18 hds and a pocket pony!
---
Dana
Riverside, CA