Little and large
---
But which is which
One of these guys is 18 months old, the other is 11 months, both have the same sire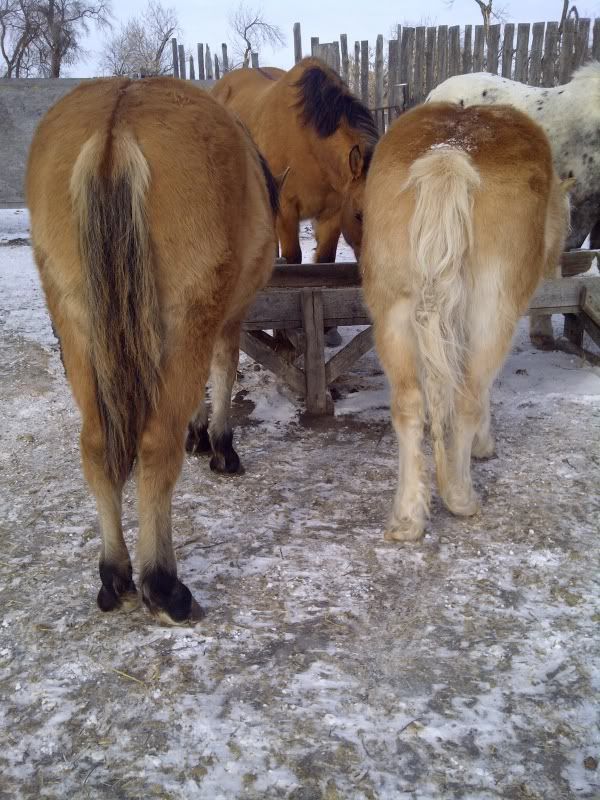 of course I do have to admit that one dam was just under 14hh and the other a shade over 16hh
Showing
Join Date: Jun 2011
Location: Cariboo, British Columbia
Posts: 11,951
• Horses:
3
nice horse butts lol
---
Country Woman


And I'll admit although both darling, I stalk only one of them!!
Hehe i know which one. Cute bums.
---
quarter horses.....simply the best
CUTE! Winter fuzzies
---
RIP Minnie, 1981-January 15, 2010
RIP Maggie Mae I miss you
I almost choked on my drink of water when that came up - I wasnt expectin to be lookin at two hairy butts! haha! Very cute!
I can't believe how much Stewie has shot up again, that is one big butt
Holy s*** and shinola!!!! Stewie is taller than Rafe
.
Oop, never mind, I read that as Stewie was 16hh, but you meant Bert
.
Still, he's ginormous!
I'm a sucker for big butts!
---
Be the kind of woman that when your feet hit the floor each morning the devil says, "Oh crap, she's up!".