Little Miss Thang', and sunshine!
---
So, Lacey's right on the end of being in heat, so she's feeling sassy! and, it didn't help that one of the dogs that lives at her house decided to come hang out with us. Lacey hates dogs. Hahaha She's never attacked this dog, yet, but she makes hilarious faces, pins her ears all over the place, and snakes her neck at the dog. It doesn't work. Too funny.
But yeah, she's a happy girl, I think. I also made her a sidepull/halter thingy that we were trying out today. She went really well in it and it solves my problem of needing to have her tied up at camp, but not being about to have her real bitless bridle thingy on over a halter, and then not wanting to put a bit on her becuase she can't seem to figure out how to drink water while having a bit in her mouth. Silly girl! So yeah, things are looking up.
Here's the lovely lady herself! The dog is a German Shepherd mix, she's about 9 and her name is Deisel. :)
Caught her right as she was transitioning from a canter to a trot:
Saddleseat much? Seriously, when does she ever need to lift her legs that high? :P Sorry for how blurry it is, I thought it was funny enough to post anyway.
Trotting....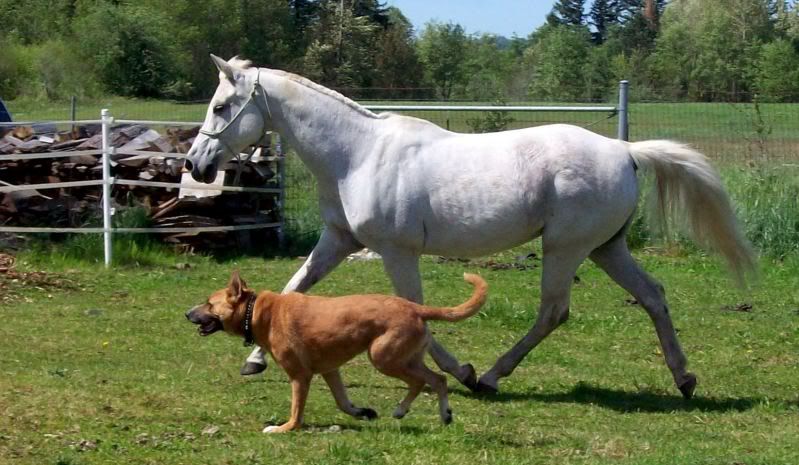 That dog wanted to be...buddies? Haha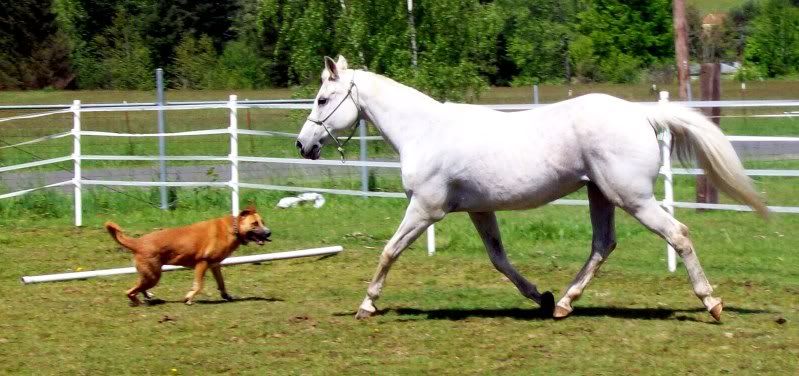 RUN FOR YOUR LIFE DOG!!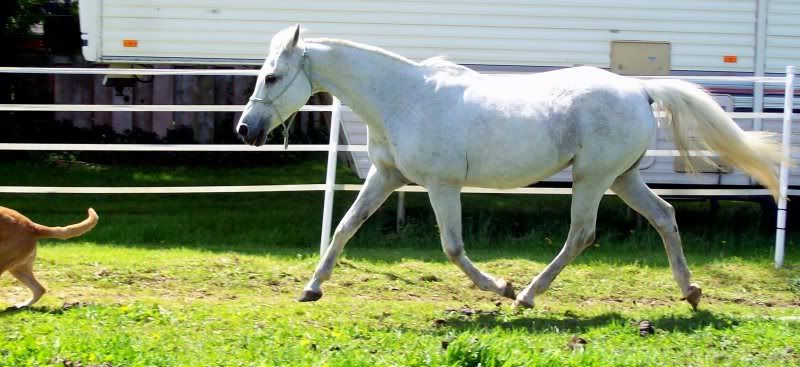 We go over trot poles with style, yo.
My favorite picture EVER. Lacey was going to annihlate that dog. Look at the look on it's face! Hahahahaha
Once Lacey stops moving, she could care less about the dog (maybe she doesn't like how the dog is always in her face?). So funny.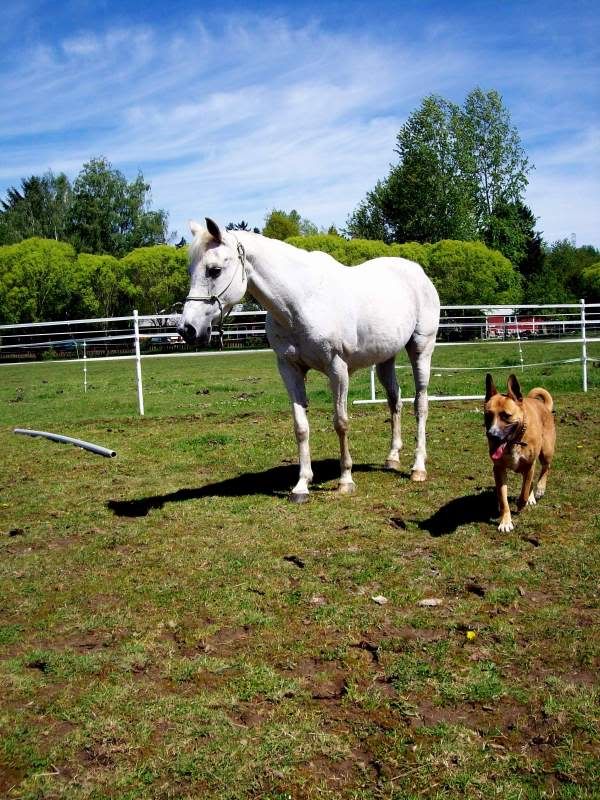 Her neck is super intense looking.
Her new halter thingy!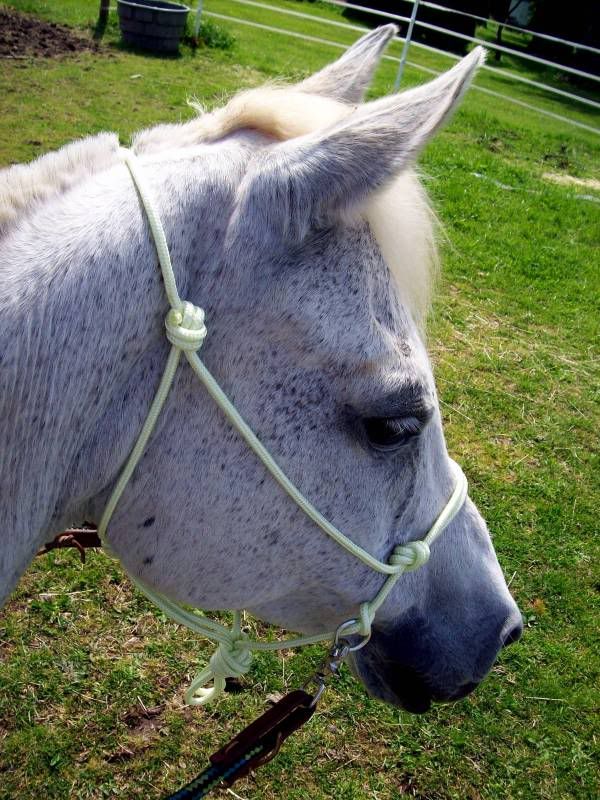 Lacey can rock bright colors like nothing else:
I hope everyone is having a lovely day!
---
Fabio - 13 year old Arabian/Lipizzan gelding

~
Rest peacefully, Lacey.

Some gorgeous shots! Makes me wanna climb on & ride her...
---
Horses are God's apology for men.
Green Broke
Join Date: Mar 2009
Location: Kansas in the summer, Kentucky most of the time
Posts: 3,028
• Horses:
3
She's my favorite old woman pony EVER!
---
Look like a SUPERSTAR, Ride like a FOUR STAR, Win like a ROCKSTAR
Eventers: Making BAD Dressage look GOOD!
She is so pretty! And such a gorgeous head, too, I love dished faces.
Green Broke
Join Date: Oct 2009
Location: Witbank, South Africa
Posts: 2,681
• Horses:
2
I love her! I love the trotting pole pic as well, its just too cute!!!
---
Every girl wants their own LOVE STORY, I found mine... :)
I love Lacey! She looks great!
---
I give myself very good advice, But I very seldom follow it
oh my gosh, that black and white photo is stunning!
Lacey is such a pretty girl, I love seeing pics of her :)
---
-Horse racing is my passion-
Athena:15y Palomino QH & Shirley's Brittney:8y Bay OTTB
Similar Threads
Thread
Thread Starter
Forum
Replies
Last Post
Sunshine!

speedy da fish

Horse Pictures

12

03-23-2010

01:27 PM

Sunshine anyone?

my2geldings

General Off Topic Discussion

7

12-09-2008

07:36 AM

Little Miss Sunshine

threestargirl

Horses for Sale

6

09-03-2008

11:46 PM

Little Miss Sunshine

threestargirl

Tack and Equipment Classifieds

5

08-28-2008

08:13 PM

little bitz of sunshine

KANSAS_TWISTER

Horse Memorials

3

09-11-2007

09:21 AM