Lost a very important part of my life today
---
Today at 7:30 am I got into my lunch room at school to eat breakfast and I checked my phone (Normally I would have left it in my locker but today for some reason I left it in my pocket and checked it when I sat down to eat.
I noticed I had 2 missed calls from my dad, so I called him back and I hear "Dani, Minnie is down". I couldn't believe it. We have been nursing my dad's beloved Belgian mare Minnie back to health since this summer. And my mom called me into school sick today, I rushed to the barn as fast as I could. I got there and she was flat on her side and my dad was sitting there almost in tears. She was still alive.
So we called the vet right away, and guess what we got "Sorry, we can't help you today" from literally 4 different vets. our last hope was a lady that is about an hour away from us. She said she could do it, but it would take about 4 or 5 hours to get out to the barn. We said "Ok, atleast you can get out here"
We didn't know what was wrong with her, so we stayed outside with her in 30 degree F weather and had her covered up gave her food and water. We almost had her up a few times, but she just couldn't do it.
The vet got there at 3:00 and she looked at Minnie, she was at this point Hypothermic (Even though she was eating and had blankets and everything on her) and the vet thinks her liver and kidneys were shutting down.
The vet said, we can try to fix her, or humanly put her down. (She said either way the outcome would be the same, Minnie wasn't doing well...)
So Minnie was put down at 3:20 this afternoon. I have been crying since.
Minnies story is long and sad, we were told when we got her that she was 16, found out today she was actually around 30.
She had been worked almost to death, and we were finally starting to get weight back on her and getting her happy, but today was her time to go.
This is Minnie about 2 months after the guy we bought her from had her, she was actually a lot skinnier, but the angle makes her look like she had more weight on her...Sadly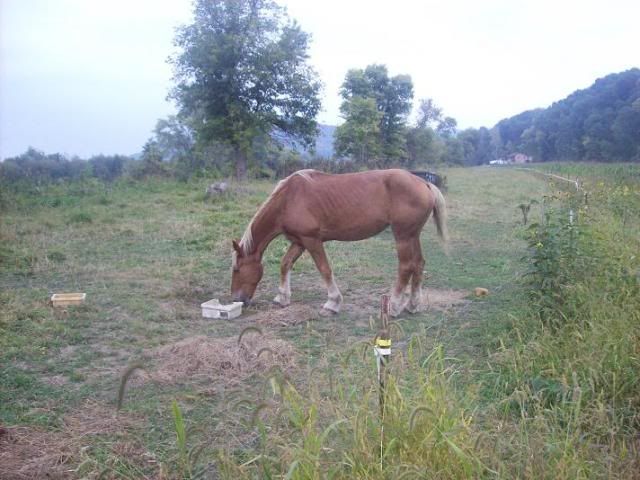 (I will put the picture of her and my dad in a link so if people don't want to look) It isn't gruesome or anything. (The rub mark is from a couple weeks ago she rubbed the hair off trying to get hay out of the feeder.)
http://i96.photobucket.com/albums/l1...15-2010008.jpg
---
RIP Minnie, 1981-January 15, 2010
RIP Maggie Mae I miss you
Green Broke
Join Date: Mar 2009
Location: Kansas in the summer, Kentucky most of the time
Posts: 3,028
• Horses:
3
oh my gosh I am so sorry for your loss. Minnie certainly looked like a brave soul.

At least you now know that she was older than you originally thought and she had a good, long life.

RIP Minnie. May heaven be better to you than earth was. :(
---
Look like a SUPERSTAR, Ride like a FOUR STAR, Win like a ROCKSTAR
Eventers: Making BAD Dressage look GOOD!
Awe im so sorry ! *hugs*
I almost went up into tears, Im very sorry for you're loss.
RIP minnie
i am very sorry for your loss. she was lucky to have had you and your family make the end of her life so much better for her.
---
Gypsy & Scout <3
Everybody is a genius. But if you judge a fish by its ability to climb a tree it will live its whole life believing that it is stupid. ~Albert Einstein
In the end she knew she was loved.
---
"Be a best friend, tell the truth, and overuse I love you
Go to work, do your best, don't outsmart your common sense
Never let your prayin knees get lazy
And love like crazy"
That picture of your dad and Minnie brought tears to my eyes. I am so, so very sorry for your loss. Im here if you ever need to talk. I know how it feels to lose a horse very close to your heart, and all I have to say is that you are lucky that you got to say good bye.

Rest In Peace Minnie. ),:
---
You can never take a Thoroughbred away from a horse crazy girl.
I am very very sorry for your loss :(
Bah I'm crying - I am so sorry for your loss! **HUGSS**

My heart goes out to the both of you, but try to cherrish what Minni brought to the both of you and your lives. Gifts were given, and even though Mini is gone, those gifts will always remain.

R.I.P
---
I'm so sorry for your loss. My eyes were filling up reading your story and when I clicked on the photo link, seeing the cat sitting on Minnie made me smile.
---
Stella - sweet, timid, elegant, lovely, lively, amazing
Luna - large, unattractive, naughty, adored